Skrill is one of the biggest EWallet payment systems in the world, with only PayPal proving more popular. Skrill is offered at virtually every bonafide online casino, giving players one of the best payment method options on the market.
Today, we're going to take a look at what Skrill actually is, how you can use it when funding (and hopefully withdrawing from) your online betting accounts, as well as highlighting some of the main pros and cons.
Gambling Sites That Accept Skrill
TBD
What is Skrill?
Skrill is an online payment service that was initially founded back in 2001 under the name Moneybookers. Skrill has seen a number of changes during its lifetime, but thankfully it's managed these changes well, ensuring players always enjoy a reliable and secure payment experience.
The general idea is to enable people to make and receive payments on the internet without having to use online banking or debit cards. Payments sent from one Skrill account to another are instant, and it's usually completely free of charge, making it easy to see why the EWallet is so popular.
In fact, thanks to the fact that their main rival, PayPal, isn't widely accepted at online betting websites, Skrill has actually become the more popular choice for online gamblers, as it offers both fast and fee-less money transfers – something that even debit cards often don't offer these days.
If you already have a Skrill account then you are good to go, but as you're reading this page there's a good chance you don't, so let's start by covering the basics of setting up a Skrill account, alongside how to verify and fund it for the first time.
Opening a Skrill Account
Step #1: Input Basic Preferences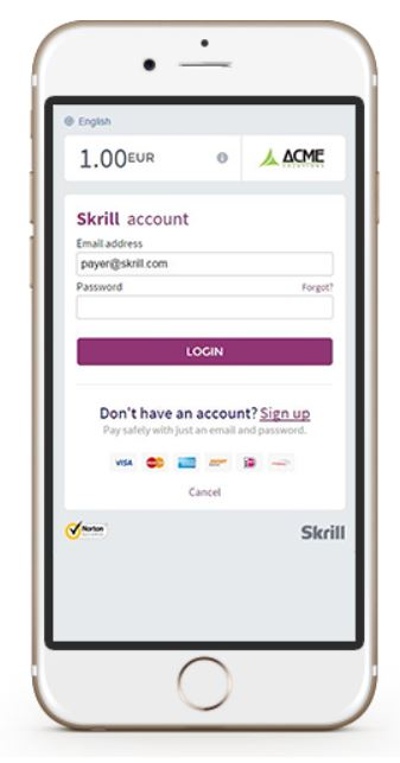 To begin with, head to the Skrill website (still indexed in some search engines as Moneybookers for some reason), and then choose which type of account you want to open; this will almost always be a personal account.
Once you've completed that step, you'll be asked to enter some generic information about yourself – your name, address, and date of birth etc – and once you've done that you'll receive an email with a verification link to finish the process. Click the link and you're verified.
That's really all there is to it. You will need to select which currency you'd like to use and your preferred language, but all in all it takes just a couple of minutes to sign up.
Step #2: Fully Verify Your Account
While this stage isn't strictly necessary, it does help to ensure that your account doesn't get limited in a way which could affect your online gambling, so it's worth taking the extra 10-15 minutes to do and avoid any issues later on down the line.
To fully verify your account, you'll need to upload a copy of your driving license or passport, along with a copy of a utility bill showing your address. A scan or photo taken from your mobile phone is perfectly acceptable for these.
This is purely to satisfy anti-money laundering laws, and is something Skrill are bound to do by the United Kingdom Government (through the FCA); so while it may seem annoying, it's in your best interests.
Once your documents are uploaded, it can take a couple of days for them to be processed and either accepted or rejected. Saying that, it's usually a lot quicker, and is generally all done and dusted within a few hours.
You now have a fully-functional Skrill account, which you can use to deposit and withdraw at online betting websites.
How to Deposit and Withdraw Using Skrill

It's pretty easy to use Skrill for deposits and withdrawals, but the first thing you'll need to do is to ensure you've got funds in your account.
To add funds, you can either send them from another Skrill account (if a friend or family member has one for example), or you can fund it yourself by transferring money from your debit card, or by making a bank transfer.
Hint: Using the bank transfer option will ensure your money clears instantly; the same cannot be said for debit cards, as sometimes these transactions can take a few days, so we personally recommend using a direct bank transfer even though it takes a little longer to set up.
You can begin using your account right away, and while the exact method varies from one casino to another, the general idea remains the same. Simply head to the Cahier/Deposit area as you would normally, and select Skrill as the option you wish to use.
You'll then be asked to enter the email address you want to use (i.e. the one you used to create your Skrill account), and the amount you want to deposit.
Fill out both of these fields accordingly, and once you click the 'Deposit' button, you'll be taken to a new pop-out window at the Skrill site itself, where you will be asked to log-in and confirm your payment.
Once you've confirmed it, you'll see the funds available in your online betting account virtually instantaneously. You can see for yourself how quick and hassle-free it is, and it's no wonder so many players around the world use it for almost all of their online gambling transactions.
When it comes to withdrawing it's almost exactly the same scenario. Simply head to the 'Cashier' section of the online betting website in question, and click on the 'Skrill' option. You'll then be asked to input your email address and enter the amount you wish to withdraw.
This time however, unlike when depositing, you won't have to go to the Skrill website to confirm anything, and once you click the 'Withdraw' button the transaction will begin right away.
The exact time this takes to complete can vary greatly depending on the betting site you're using, but most try to process withdrawals in under 24 hours; and the beauty of Skrill is that withdrawals are credited to your account instantly, so there's none of that 3-5 day waiting period as you would experience if you were withdrawing with a debit card.
Advantages and Disadvantages of Using Skrill
As with pretty much any payment method, there are a number of pros and cons – particularly at online betting websites – and below, we'll cover some of the main advantages and disadvantages.
Advantages:
Fast and Secure: Payments are instant which means there's no chance you'll have to wait for your funds to show up. It's also incredibly secure, utilising some of the best technology in the business, so you can rest assured there's no chance your funds will fall foul to fraud or anything like that. In fact, Skrill use state of the art encryption to ensure that their website is one of the safest on the planet, and to date, the company have never had a serious leak or security breach.
Instant Withdrawals: Obviously this doesn't include the time in which it takes online betting websites to process your withdrawals, but once a withdrawal is processed you'll see the money available in your account instantly. There's no waiting around, no having to wait for banks to credit your account with the newly updated balance; it completely eliminates that annoying processing time.
Widely Accepted: Virtually every online betting website on the planet accepts Skrill, and if you find a site that doesn't, you should probably question its integrity. Skrill is everywhere.
Disadvantages
While it all sounds great on paper Skrill does hold a few disadvantages, and the main one is that to comply with anti-money laundering laws, the EWallet company are required to carry out some pretty stringent checks.
This can occasionally involve asking for copies of your bank statements to see where your funds are coming from – although it should be pointed out that these requirements are the same one's online betting websites follow, and they shouldn't really pose too much of a problem unless you're extremely security conscious and value your privacy.
Conclusion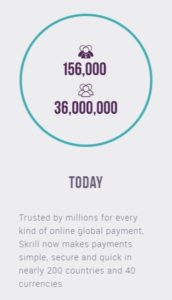 On the whole, Skrill is one of the better online EWallets, and whether you're looking for a payment processing system to use once a month, or you want to find a reliable method to use every day, you'll find Skrill both reliable and easy to use.
Signing up for a Skrill account is very simple, and takes just a couple of minutes to complete; and while the initial verification process may be a tad lengthy, once you've gone through it all the first time you'll very rarely have to do so again – unless you want to vastly increase your sending/receiving limits, for example.
Another thing to note, is that all online betting websites that accept Skrill (and that's virtually every one of them) will display the logo at the bottom of their homepage, so you can quickly check to see which sites are accepting it to save signing up needlessly.