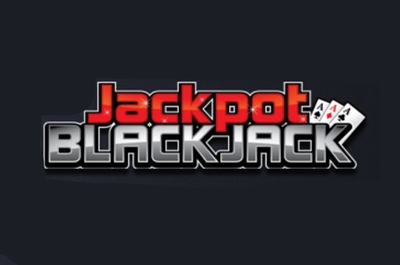 Blackjack is a game most players love because they know it typically has a very low house edge, meaning that it is often possible to play for a relatively long time with and at low risk levels. If funds are short and you want to enjoy a good, long casino session, then blackjack is the game for you.
The downside of that is that unless you are prepared to stake huge sums, it is quite hard to win big. The maximum payout is 3/2 for a blackjack and whilst you may be able to win a little more through doubling and/or splitting hands, playing blackjack is unlikely to deliver a huge win for most recreational casino fans. But what about jackpot blackjack games?
Jackpot blackjack, or progressive blackjack games, are offered by all of the best blackjack sites around. We have a separate feature that looks at blackjack side bets in general and jackpot or progressive versions are one such side bet. If grinding it out and pursuing optimal strategy are reasons you love blackjack then such games might not be for you. On the other hand, if you like the game but just wish it offered a bit more in the way of excitement and was also a bit less dependent on your own strategy and decisions, the jackpot blackjack games will be perfect.
How Do Jackpot Blackjack Games Work?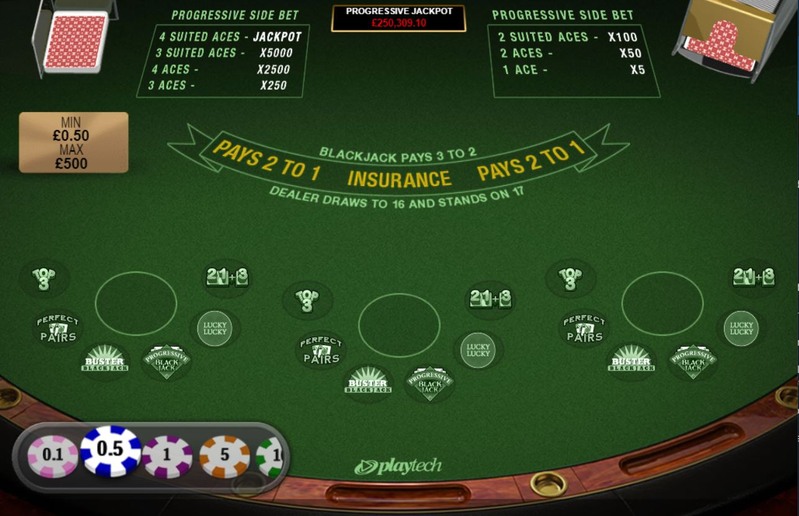 Some online casinos will have dedicated progressive jackpot blackjack whilst others will allow access to it via All Bets Blackjack. Either way, it is essentially a side bet that tends to be dependent on the player being dealt a number of consecutive aces at the start of a hand. The basis of all progressive games is that in addition to your main bet on the game itself, there is also a wager on something else within the game. With slots, a proportion of the standard stake contributes towards the progressive jackpot whereas in BJ it is funded via a direct side bet that makes one eligible for the jackpot.
Assuming you access such a game via All Bets Blackjack, you can choose to play as many of the other side bets as you want, or just play your main hand and the progressive game. Typically a stake of £1 will be required, although this may vary from site to site and depending on what software is being used for the progressive game. You will bet on your hand as normal but then the £1 side bet is dependent on you being dealt aces.
Precise payouts vary, as do the precise requirements to land them, but the table below relates to the progressive blackjack available at a major UK casino powered by one of the most famous software companies around. There are various jackpot blackjack games available at UK online casinos, each with their own progressive jackpot and some with different pay structures, so this is just one example.
| Hand | Win |
| --- | --- |
| Four aces of the same suit | Jackpot – £248,647 |
| Three aces of the same suit | 5000/1 |
| Any four aces | 2500/1 |
| Any three aces | 250/1 |
| Two aces of the same suit | 100/1 |
| Any two aces | 50/1 |
| Any ace | 5/1 |
Most games now require four suited aces to deliver the jackpot, though some will pay out for four aces of the same suit. One interesting thing about such jackpot blackjack games is that they can in theory have a negative house edge, which is to say they favour the player. When the jackpot rises above a certain figure (the precise level required varies according to the specific rules of the game) its size means that on average the player can expect to profit by playing the game.
In some ways this a case of "lies, damned lies and statistics" though as it is only the single player that scoops the large jackpot that will experience any benefit from the negative house edge. Even so, for those interested in hitting progressive jackpots and prepared to take a chance on a game with huge variance (almost all players will lose but the one that wins will win big), jackpot blackjack's biggest prizes are well worth looking out for.
Biggest Progressive Blackjack Jackpots
Over the years a number of punters have scooped huge sums playing blackjack. The biggest have tended to be on non-progressive games, with high rollers staking the sorts of sums that most blackjack fans can only dream of. One of the most famous such wins was enjoyed by the famous Australian gambler and media tycoon Kerry Packer, who died in 2005 and was worth around £3bn at the time.
He is famed for a three-day losing spree in London casinos that set him back an estimated £13m but given he reportedly won $26m (USD) playing blackjack in Vegas at the MGM Grand in 1997 it probably didn't cause him too much heartache. That win came in just a few hours playing eight hands at $250,000 a time (some reports say six hands at $200,000 a time – as with many of Packer's gambling tales, separating fact from fiction is never easy).
However, whilst the Australian's blackjack win may well be the biggest ever, it does not make our list as it was achieved playing regular blackjack. One interesting blackjack win that does count in our eyes occurred at the Grosvenor Casino in Glasgow. As recently as 2017 an unnamed player landed £73,000 playing a form of jackpot blackjack called Ace King Suited Blackjack. This was a side bet that had a progressive rolling jackpot that came good when our mystery punter landed the required suited ace and king natural. Nice work!
Indeed the Grosvenor themselves confirmed an even higher win on the same game a year earlier, with another unnamed player landing more than £100,000 at their Coventry casino. There have been a number of players to have landed five-figure wins playing the Grosvenor's game but details of online progressive jackpot wins are surprisingly thin on the ground.
There is no obligation for a winner to go public of course but if jackpots have not been won then that only means there are more – and bigger – prizes out there waiting to be landed. At the time of writing the progressive prize on Playtech's jackpot blackjack game is almost a quarter of a million pounds. It seeds at £50k, so that is the minimum prize you will see but some estimates suggest that £80k is the average win, with a jackpot of almost £600k required before the game turns player favourable as discussed above.
Microgaming's jackpot offering, Triple Sevens, is won by hitting three sevens of diamonds. The biggest win seen on this game was almost £150,000 and this jackpot variant actually becomes player favourable at "just" £109,000. There are other progressives out there too, so be sure to check out jackpot blackjack next time you fancy a few hands of this brilliant game at your favourite online blackjack site.