One game which always draws a big crowd is Roulette. There are actually many different variations of the game, but they all usually play to a fairly standard format.
Roulette Articles & Guides
How To Play
To play, you will first have to purchase chips which will be used to place your wagers onto the betting layout. Unlike most other casino table games, each player will receive different coloured chips, so that the croupier and other players can identify whose chips are whose. This also happens when playing online in a multi-player roulette game.
Wagers are placed directly onto the roulette table and in a number of formats. The following are some of the most common roulette bets:
Single Number – Betting on a single number (or multiple single numbers) pays out at 35-1. You can bet on any number including zero.
Two Numbers – Placing a bet on the line between two numbers pays out at 17-1 if either number is spun.
Corner Bet – Placed in the adjoining corners of four squares, this bet pays out at 8-1 if any of the four numbers chosen are spun.
Red/Black – This is a bet placed on what colour you think the next number will be. Winning bets pay out at 1 to 1.
Odd/Even – Similar to Red/Black, this is a bet on whether you think the next number will be odd or even. Also pays out at 1 to 1.
1-18/19-36 – This is a bet on whether the next number will be between 1-18 or 19-36. Pays out at 1 to 1.
Dozens – You can also bet on whether the next number will be in the 1st, 2nd or 3rd dozen (eg: 1-12, 13-24 or 25-36). This pays out at 2 to 1.
Columns – The roulette layout is in three columns, and you can bet an any of them. The payout here is also 2 to 1.
You are allowed to place your wagers on any betting position on the layout, including the zero, and if you wish to place more than one chip on any single betting position make sure that you stack them neatly one on top of the other to avoid confusion.
Something you should be aware of is that in some online casinos and most local casinos, only the net win is handed directly to the player. The bet that won remains on the table and it is your responsibility to take it off if you do not wish to repeat the wager.
Hints and Tips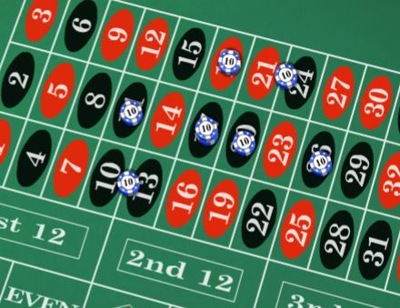 When you are playing at a busy table and have difficulty reaching across the table to place a bat due to other players being in the way, the croupier will be more than happy to place them for you. Just hand over your chips and tell them which positions you want them to be placed on.
For the best chance of winning you need to make sure you track down the best Roulette available. This will mean you can forget about playing variants such as the American Roulette game, which boasts a massive house edge thanks to its second zero; along with other games such a Mini Roulette which has an even bigger house edge.
One game you should be looking to play is French Roulette which has the lowest house edge on offer.  This is because of the La Partage and En Prison rules which mean that even money bets do not lose straight away if a zero spins in. Instead, your bet is held 'En Prison' and your stake is returned to you if it wins on the second spin. Alternatively, half of the bet is returned to you immediately (La Partage).
Variations
Roulette has been around for hundreds of years, however it is in the last decade or so that we have seen new variants of this age old classic being designed and released. This is due in no small part to the advent of online gambling, and many of these new variants are only available online. In this section we'll take a look at some of the more popular variations.
French Roulette
The French Roulette wheel boasts just one zero and the usual thirty six standard numbers. However it also comes with a couple of extra rules which make this one of the best games you can find.
Depending on where you play, you may find yourself playing with the La Partage or En Prison rule. Both of these rules offer some kind of payment for even money wagers whenever a zero spins in. The La Partage Rule will see you get half of these wagers returned, and the En Prison Rule will see these wagers remaining on the table for the next spin. If your spin wins, you receive your original stake back. These rules result in a halving of the house edge for even money bets, making it the smart players roulette game of choice.
American Roulette
If you were to ask an online casino operator which of their Roulette games is the least played, most would cite American Roulette. The reason for this is the fact that there are two zeros on the wheel instead of the usual one found in European of French Roulette – doubling the house advantage.  We advise you to stay far away from this game.
European Roulette
The European game is the most common form of roulette, both online and in local casinos (in the UK at least). This game has just one zero on the table, and whilst it isn't as low a house edge game as the French variant – as it hasn't got the special La Partage or En Prison rule – it offers a reasonably low house edge and a large range of betting options.
Live Roulette
This is the same as European, French or American roulette but with one major difference. Instead of the numbers being generated randomly by a computer, a real live roulette wheel is spun. This spin will take place in a real casino or in a special Live Casino studio, and the action is relayed to your computer screen via a video feed. Bets are place via a standard interface.
Double Bonus Spin Roulette
One of the newest and more unusual types of variation is the Double Bonus Spin game. This game uses a standard Roulette wheel with an extra ball well added. The extra well is yellow and is slightly larger than all of the other wells – one and a half times the size of a regular number.
Once the ball lands in this well, a bonus game is triggered. Two lights will illuminate and start to spin around the outside rim of the wheel before finally settling on two numbers. All wagers placed on the game which triggered the bonus game stay in place for this bonus spin and are paid out accordingly.
Triple Bonus Spin Roulette
As you can probably tell from the name, the way in which the Triple Bonus Spin works is similar to the Double Spin version of the game, except for the fact that there are now three zeros as well as a yellow ball well.
Once the ball drops into the yellow well, then three lights spin around the rim of the wheel and three additional numbers will be paid out.
A good option if you want to put a bit of a 'spin' on things.
Three Wheel Roulette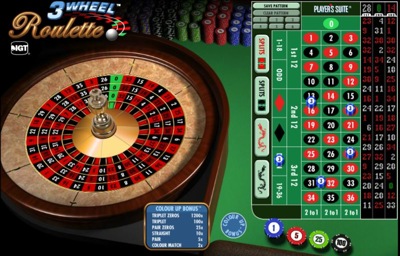 This is exactly as it sounds – Roulette with three wheels. To play, you need to place three wagers onto the table for each betting position you choose to bet on. So if you wanted to bet £1 on number 17, you are actually placing £3 in wagers (three £1 bets).
To make this game a tad more exciting to play, there are a range of additional wagering options which can be bet on, all relating to the outcome of the three wheel spins.
Hot Streak Roulette
This game has an optional side bet that could result in a payout of 25,000 times your wager. To play, you must place a bet on one or more sets of six street numbers. If any of those six numbers is spun, then a bonus payout is paid and the bet remains in place for the next spin. Increased bonus payouts are then awarded each time your street is spun, culminating in a jackpot worth 25,000 times your bet. Once your street has not been spun, your bet is removed and the payouts return to their starting level.
Mini Roulette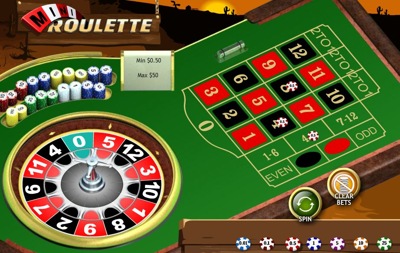 This mini version only uses the numbers one to twelve on the wheel along with one zero, which results in a dismal house edge much greater even than that of American Roulette.
Put simple, this new arcade type game is one which is best left well alone.
Pinball Roulette
This game has a betting layout just like the European version and boasts the usual thirty six numbers and one zero in play. However, the way in which the winning number is selected is different. Instead of a wheel being spun, the ball drops down from the top of the screen and lands in a line of horizontally moving number wells at the foot of the screen.
For all intents and purposes this game is identical to European Roulette, it just has a different visual.
Multi-Player Roulette
Whilst playing Roulette online has been a solitary thing to do in the past, many of the major online casinos now offer a multi-player version. They tend to use European Roulette as the base game, and you will be able to play alongside other players and communicate with them via a chat feature.