Ladbrokes is a global online casino that offers players across the world the chance to enjoy a huge range of casino games in a fast paced and thrilling online environment. It's often considered to be one of the most advanced and trusted online gambling sites in existence, and the thousands of players using the site daily are a testament to this.
Ladbrokes showcase a huge variety of games, from Table Classics to Video Slots, Video Poker, and even Virtuals – but we'll cover the games in just a moment.
First, it's worth pointing out a new feature that allows for near instant sign up if you have a PayPal account. When creating your account, click the 'Sign up with PayPal' link and sign into your PayPal account, and the Ladbrokes sign-up form will be pre-populated with all of your details apart from your account password; simple.
There is also a great support system in place, with help available from a dedicated team working 24/7 who all have an in-depth knowledge of the casino and the games on offer. This means communication is always smooth.
There's nothing to download, install, or activate; you can access the entire Ladbrokes experience from your internet browser.
Casino Games
Ladbrokes provide a wide range of games to play, and you'll find a host of different software providers to choose between.
You can opt forthe better known developers like NetEntertainment and Microgaming, or, if you want to try something different, there are some harder to find providers on offer as well, so you can experience games that you might not usually play.
There are a range of table limits offered at Ladbrokes, including micro stakes, low stakes, medium stakes and high stakes. This ensures you'll always be able to find a game to suit your budget, and you can always play a game that won't upset your account balance.
You can also choose to play all games (excluding the Live Dealer games) for free using demo money, giving you a taste of how the game plays out before wagering your own cash. To do this though, you will need to be logged out of your account.
If you already know which game you want to play, the easiest way to find it is to use the search box found on the main game categories page. If you don't know the name of a game or you just want to explore and discover something new, you can browse the game catalogue by using any of the tabs on the game navigation menu, which includes Table Games, Video Poker, Live Games, Jackpots, and more.
Jackpots
Talking of jackpots, this is an area that Ladbrokes know a lot about, and you'll find over 50 progressive jackpot games while playing at the site.
Believe it or not, some of the jackpots at Ladbrokes range into the millions of pounds, and their biggest jackpot game – Jackpot Giant – currently features a jackpot of over £4 Million! That's a pretty good incentive to play we think you will agree.
Other games on offer include a large selection of Playtech titles, the two most popular being 'Gladiator Jackpot' and 'Everybody's Jackpot'. Gladiator Jackpot has been a long time favourite for players around the world, and has proved to be one of Playtech's most successful games ever. Featuring a current jackpot of over £800,000 there's never been a better time to play, and who knows, that whopping chunk of change could be resting in your bank account soon.
Live Dealers
Whereas Ladbrokes used to include their Live Dealer games within the main 'Casino' section of the website, they now operate an independent 'Live Dealer Casino', which you'll see at the top of the webpage as you play and browse the site.
Unfortunately though, there are only five games to choose from here, which seems awfully tight given the size of the casino and the number of players they cater to; but nonetheless, they include most of the games you'd probably want to play: Roulette, Blackjack, Casino Hold 'Em, Hi Lo, and Baccarat.
The lack of any poker games (aside from Casino Hold 'Em) is a shame, as these are often some of the most popular games within a Live Dealer Casino, so it seems odd to miss them out. We can only assume that Ladbrokes will be adding these at a later date, but only time will tell, so be sure to keep an eye on this page and we'll update you if and when they do.
The Website
The Ladbrokes website can be a little confusing at first, especially to players who perhaps aren't as familiar with the workings of online casinos. This is due to the company offering so many different products, so they have decided to split the site into multiple different categories – and there are a massive number of them to choose between.
Aside from the Casino, and Live Casino which we have covered, you'll also find Poker, Bingo, Lottery, Virtual, and a Sports tab; there are even dedicated tabs for Slots and Games.
As you can see there's a ton of choice, so if you're new and just looking to get started playing casino table games or popular video slots, we recommend you stick solely to the 'Casino' tab for now, as you'll find most of the relevant games in here.
In terms of the usability of the website there's no doubt that it could be quicker, but it's a lot faster than it used to be, and in just a few short months Ladbrokes have managed to take their site from a fairly antiquated product to a state of the art webpage allowing you to play thousands of games with ease.
There is no software to download and all you need to do in order to begin playing is select the game you like the look of and click the 'Play' button. This will open the game in your internet browser window so that you aren't bogged down by multiple windows to keep up with.
Mobile Casino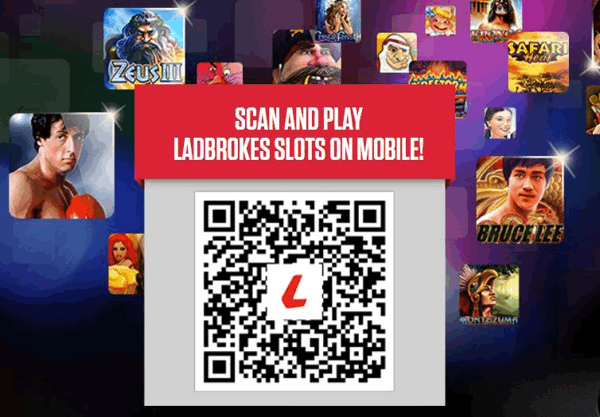 You can also gamble with Ladbrokes from mobile phones and tablets. Simply head to the Ladbrokes casino website from a mobile device and you'll automatically be redirected to their mobile site, where you can log in and play your favourite games from the comfort of your home or even whilst on the way to work (maybe even at work if you think you can get away with it, just don't blame us).
If you're an iOS or Android user then it gets even better, because there is a free mobile app available to download that offers a slightly better performance. Apple users can download the app from the AppStore, while Android players will have to first head to the Ladbrokes website from their device and download the APK (installation) file, as Google no longer allow any real money gambling apps within the PlayStore.
Loyalty Program
Ladbrokes operate a comp points program like most casinos of a similar size, and there's no opting in or anything like that. As soon as you create your account, you're enrolled, and from the very first pound you spend at the casino you'll begin earning points.
Here's how it works:
For each £10 that you wager (this doesn't have to be in one go or on one game), you'll be awarded 1 comp point. As these points build up, you'll find yourself able to exchange them for a variety of gifts and rewards; and some of the prizes you can exchange your points for include casino credit, free spins, re-load bonuses, and even gadgets and laptops.
Of course, it takes a relatively long time to build up enough points for a laptop, but it's nice to have something which you may benefit from eventually, and let's be honest, who doesn't like free stuff?
Payments & Limits
Ladbrokes offer a wide variety of payment methods, and while it's not quite as vast as we'd perhaps expect to see, unless you have very specific requirements you'll easily be able to find the right payment method for you.
All major Debit cards are accepted, and EWallets available include PayPal, Neteller, and Skrill.
The minimum deposit for most payment methods is just £5, which is perfect as it allows recreational players who want to gamble without too much pressure to do just that.
Ladbrokes process withdrawals in around 24 hours, although it can be longer during peak times. This is a little longer than we'd like to see, and, with most online casinos managing to process payments in under 12 hours these days, it appears Ladbrokes have a bit of catching up to do here.
Nonetheless, they do try to keep pending periods as short as possible, so you may find your request processed within a few hours; it's the luck of the draw at the end of the day.
History & About
The Ladbrokes casino is part of the Ladbrokes brand, one of the biggest and most recognisable companies in the United Kingdom.
Ladbrokes have dominated British high streets for over 60 years, with their betting shops a familiar sight to people all over the country. No one could have foreseen the success that would be enjoyed by the company when it was first founded all the way back in 1886.
Mr. Schwind and Mr. Pennington were the initial founders, and while they originally worked as horse trainers, they soon began transitioning into bookmaking, taking the name Ladbrokes from Ladbroke Hall, a historical building in Worcestershire.
1961 saw the British Government legalise betting shops, and this was when Ladbrokes really began to take off. Over the next 40 years, the company built more shops, employed more staff, and attracted more customers, largely thanks to their generous prices instore, and the impeccable levels of customer support punters received while gaming.
In 2005 Ladbrokes was sold for a reported £3.3 Billion, and this was another turning point for the company, as it was when the online side of things started to take form.
Since then, the gambling giant has gone on to develop a number of online products, linking them all together under one core website, and today, Ladbrokes is unquestionably one of the most respected, trusted, and reliable gambling brands on the planet.