IBAS is the Independent Betting Adjudication Service, an impartial adjudicator that arbitrates in disputes between gamblers and the bookmakers who are registered with them. IBAS was created in 1998 and is a non-statutory organisation that has the approval of the government and gambling industry and seeks to provide an unbiased method of resolving any issues that may arise between punters and bookies.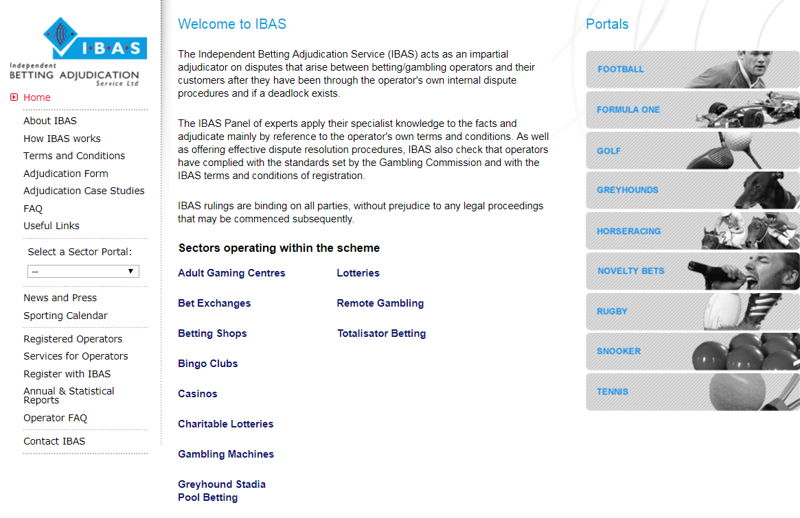 In 2007 IBAS became legally endorsed and works alongside the Gambling Commission and although its rulings and decisions have no legal enforceability, in an era where bets are viewed as legally binding contracts, any judgement made by IBAS would carry significant weight in any legal dispute.
In order to refer an issue to IBAS the customer must first try and resolve the issue directly with the bookmaker – only after that option has been attempted will IBAS consider the matter. Decisions are made based on the cold, hard facts, rather than level of professionalism in their presentation and whilst there are no appeals, IBAS may look at a case again if new information is provided.
Disputes must be registered in writing and the process can take a variable length of time depending on complexity and the prompt provision of any requested information. IBAS does not award compensation but you are free at any stage during the process to accept any offer made by the bookmaker.
IBAS provides an excellent method of resolving disputes without recourse to costly legal action and in the majority of cases provides a satisfactory resolution for all parties. Using the service is free and simple and it is genuinely a disinterested and fair-minded body that uses objective standards and common sense.