Each way betting originated and is most popular in the world of horse racing. Having said that it has become increasingly popular in other sports too in recent years.
It is a way for punters to lessen the overall risk of their bets, in that they will get a payout if their selection either wins or in fact doesn't win but does finish in one of the leading positions.
Of course, with less risk comes less reward, but a little of something is better than a whole lot of nothing. Getting the balance right with these bets is what is important, and the bookies give us plenty of options here so that we can make more savvy decisions and better protect our bank.
Each Way Betting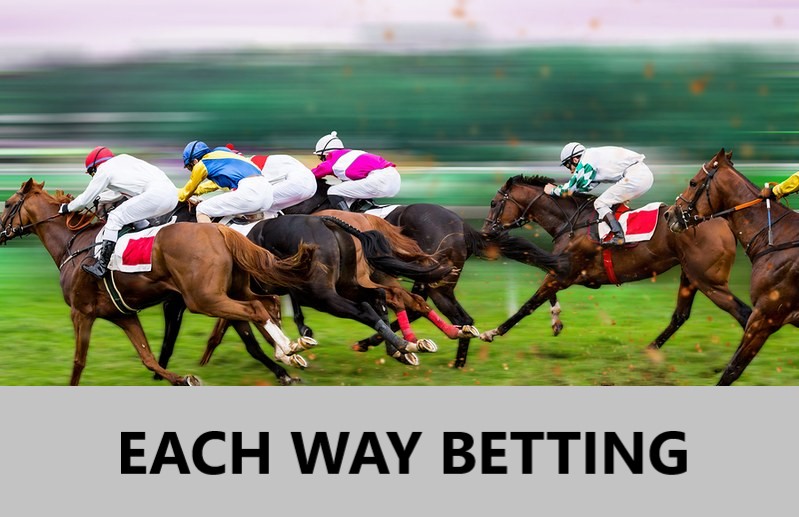 As opposed to standard bets (which are the simplest form of bets for someone or something "to win") each way bets are effectively two bets in one with half of your total stake being placed on your selection to win and the other half for your selection to "place". The exact position in which your selection must finish in order to place depends on the specific details of the race, sport or event; in horse racing it is commonplace for ¼ of the odds to be paid out for a top three finish on races containing, say, eight horses, or up to the top six or seven on the biggest races such as the Grand National.
As the each way bet is effectively two bets, if you place "£10 each way" it will cost £20 in total: £10 on the win part and £10 on the place part. So if you back a selection at 20/1 with £10 each way that pays out ¼ odds for the place part and it wins you would recieve £200 for the win part, £50 for the place part and your stake would be returned, so you'd receive a total of £270. If it came second you would get £50 for the place part and £10 of your total stake returned (so £60 in total).
Each way betting is popular in many other sports aside from horse racing including football, tennis, snooker, darts and golf, the latter of which often has fields of over 100 players and each way terms that cover players who finish in the top six, seven or eight places (though beware of dead heat rules when betting on golf!).
Place Betting
Unlike each way betting, place betting is just a single bet and does not include any extra winnings if your selection wins the race / event, it simply counts a win as one of the places. Thus you would receive the same payout if your selection wins or finishes in second, third, fourth, or whatever position is included within the place terms of that particular race or event.
The odds for place betting are understandably much lower than those available for each way bets, but the advantage for the punter is that you pay half the stake. Place bets are best utilised when you think your selection almost certainly won't win but has a very good chance of placing. Examples of popular place bets include the "podium finish" market in Formula 1 or "to make the final" bets in football or tennis tournaments, among other sports but place betting remains most popular in horse racing as an alternative to each way betting.
How Many Places Does a Bet Pay Out To?
When it comes to placing each way bets you need to understand how the bet works and the two most important aspects of that are: 1. the odds that are being paid (which we will look at shortly) and 2. the number of places the bookie pays out to. Obviously if one bookie is paying each way bets for the top four places (for instance in a horse race), that gives you a far better chance than if they were only paying for the top three places.
To some degree this is standardised, meaning that it is usually the same at all bookies. We will look first at horse racing because this is the sport with the most history, certainly in terms of betting. Much betting terminology, process and functionality derive from the earliest days of betting on horses and so this is the obvious place to begin.
Each Way Places On Horse Racing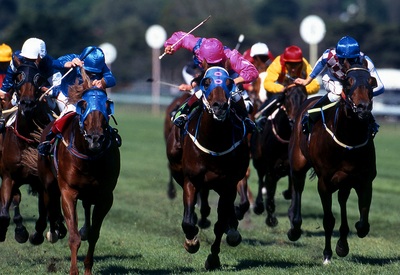 When it comes to the so-called sport of kings, there is a range of official bodies that deal with various aspects of the sport including betting on it.
Among these are the Jockey Club, the British Horse Racing Authority, in a broad sense the UK Gambling Commission, and also the Tattersalls Committee. Few people are overly familiar with the full Tattersalls Rules and may not even be aware that "Rule 4" (part of which governs what happens to bets when there is a late non-runner) is taken from these laws.
The rules were "first issued in 1886 and were last revised on 17 May 2010", which suggests they have been fit for purpose and served the sport well.
They cover a number of simple issues, one of which is each way bets. Whilst Rule 4 may be the one that we've all heard of, it is actually Rule 3 which typically has more impact on your average horse racing punter. This rule states the following each way place terms:
Fewer than 5 runners – all to win
5, 6 or 7 runners – a quarter of the odds for first or second
8 runners and above – a fifth of the odds for first, second or third
Handicap races with between 12 and 15 runners – a quarter of the odds for first, second or third
Handicaps with 16 runners or more – a quarter of the odds for first, second, third or fourth
Note that these are the minimum terms that can be used, although bookies can, and quite often do, offer enhanced each way terms, as we shall discuss. However, any UK bookie (licensed by the UK Gambling Commission) offering each bets must, without exception, offer at least the above number of places in accordance with how many runners there are. In addition, it should be noted that the rules specifically state that these place terms apply based on the "actual number of starters", so even very late non-runners are discounted.
Enhanced Terms – Extra Places
So competitive is the modern world of bookmaking, with hundreds of online betting sites available, that many offer extra places, going above and beyond the minimum requirements as set out by the Tattersalls Committee. This is especially the case when it comes to big meetings or races on which they know a lot of money will be wagered.
The most obvious example is the Aintree Grand National which, as a handicap race with over 16 runners, should typically see each way paid for the top four at one quarter of the standard odds. However, nowadays it is very rare to see any bookie pay at these standard terms. Most offer each way payouts down to five or six places, whilst some go even further and in the past there have been promotions where up to the first nine places have been included!
Some bookies regularly offer races with an extra place (or sometimes even two), perhaps picking the biggest contest every day or selecting a race in what appears an ad hoc fashion. It is crucial to note two things when it comes to extra places being paid though. Sometimes you may find that where an extra place (or more) is offered, the fraction of the odds is reduced. So if the standard Tattersalls rules state a quarter for a top four, you may see a bookie offering just a fifth for a top five or top six.
Another key variable to consider, one that should always be considered, is, of course, the odds. It is quite normal to find that a bookie has lower-than-average odds if they are paying extra places on their each way bets. Sometimes a site may not only have lower prices, but they may also pay out at a fifth instead of a quarter (or a quarter instead of a third).
Quite how you assess the relative merits of different odds and terms at the various bookies is not straightforward. Factors to consider include your approach to risk, how confident you are in the selection and just how big the difference in odds, places or payout is. Ultimately you need to make your own mind up but in general, if you are betting on a big outsider we tend to favour the extra places, even if it does mean accepting lower odds. A quarter of 20/1 is, after all, a lot more than a third of nothing.
Each Way Places In Other Sports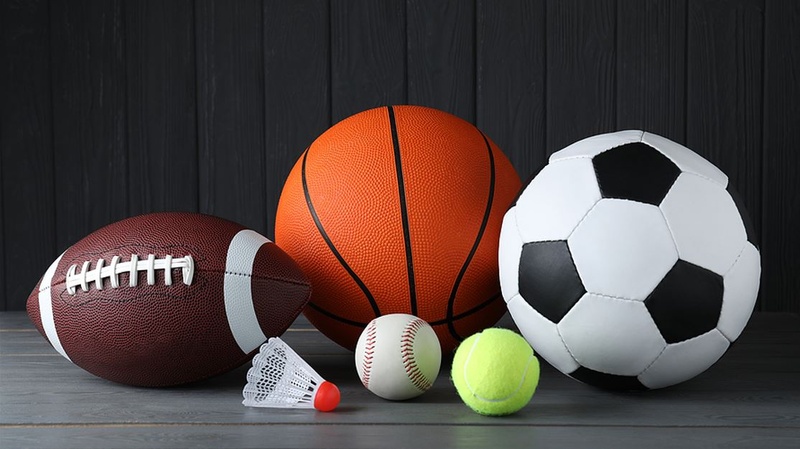 Whilst Tattersalls' Rules On Betting provide fixed each way minimums for horse racing, when it comes to other sports where each way betting is popular, bookies have far more freedom. In general, most bookmakers offer the same when it comes to each way bets and broadly speaking this is as follows:
Outright tournament bets where there is a clear final – be it the FA Cup in football, the World Championship in snooker, the Masters darts or the tennis US Open, if there is an obvious final between two participants, an each way bet will pay to two places. In other words, if you back Manchester United each way to win the FA Cup, or Ronnie O'Sullivan in the snooker, they must get to the final to land your bet.
Outrights with league/standings – in sports like football, rugby and cricket, where there might be a league format, and also for other outrights such as the top scorer in the Premier League, each way will usually cover the first three or four places, though once again this varies, both between different bookmakers and according to the sport and event in question.
Golf – due to the huge field in most tournaments, each way betting is very popular in golf. There is more variation when it comes to the number of places but five is the most common, though an increasing number of sites are paying to six or more places.
Greyhound racing – because the vast majority of dog races have six runners, each way betting is not particularly popular. However, as standard you can expect to find it paid on just the top two places.
Specials and TV – each way betting is offered on a wide range of events, including such novelty bets as Eurovision, I'm a Celebrity Get Me Out of Here and other TV shows. Unsurprisingly, unlike horse racing and the Tattersalls there is no 19th-century rulebook here so things vary, but normally you can expect the first three or four places to be paid.
Motorsport – once again there is variation here. Most bookies pay each way bets on F1 Grands Prix to two places, though you may occasionally see three, whilst in other motorsports two or three places is once again the norm.
Obviously before you place an each way bet it is crucial that you understand how many places are being paid. Backing a team to win the league each way based on them making the top four is very different to backing them when only the first two places count. When you place a bet online the number of places will typically be shown either at the top of the market information or on the slip when you go to make the wager. In the latter case, there may be an each way box to tick to confirm you want to make the bet as an each way selection and alongside this you will normally see both the number of places it includes and what fraction of the odds will be paid.
More On Extra Places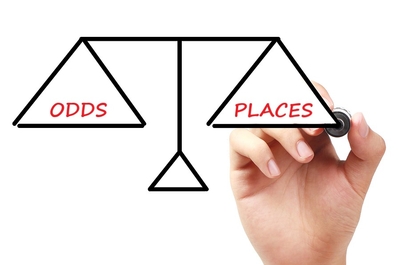 We have looked at how bookies may pay more places on each way bets than the Tattersalls Rules of Racing requires but as touched upon, enhanced each way offers are also quite common in other sports. The number one place you will see them is undoubtedly golf and in particular for the four major tournaments, the Masters, Open Championship, US Open and US PGA.
The most places we have ever seen paid was 11, an incredible offer, whilst in recent times we have even seen some bookies go as high as 10 places for relatively small events. This was the case at the 2022 Mexico Open but it should be noted that the site that paid 10 places did not offer the best odds on a single player in the large field.
What's more, the difference in the odds was sometimes quite big. For example, the second favourite, Abraham Ancer was 20/1 with a few leading bookmakers but just 14/1 where 10 places were offered. Lower down the market there were bigger differences, for example 28/1 versus 60/1, 33/1 versus 70/1, and even 66/1 compared to 150/1.
With many bookies offering a different number of places on golf bets, as well as paying at either a quarter or a fifth the odds, and there being such variance in the initial prices, it really can be tricky for a punter. At least if you are aware of these different factors you can consider them and if you are tempted by 10 places then checking the odds for a simple top 10 bet (perhaps alongside a smaller to win bet) might be the best option. Decisions, decisions.
Does the Payout Vary Between Bookies?

Well, the short answer, as we have seen, is yes. When it comes to horse racing and the standard each way odds that are dictated by the Tattersalls Rules, both the number of places and the fraction of the odds are fixed. However, when it comes to other sports and even horse races where bookies are offering extra places, you will see that the payout can and often does vary between bookmakers.
As one would expect, in general, the sites that pay more places do so at a lower payout fraction. To give you an idea of how that looks in practice, let us return to the Mexico Open golf event and look at a selection of 10 top bookies, comparing the number of places they pay and payout.
| Bookie | Payout for each way | Number of places |
| --- | --- | --- |
| 1 | 1/4 | 5 |
| 2 | 1/5 | 7 |
| 3 | 1/5 | 8 |
| 4 | 1/5 | 8 |
| 5 | 1/5 | 6 |
| 6 | 1/5 | 8 |
| 7 | 1/5 | 6 |
| 8 | 1/5 | 10 |
| 9 | 1/5 | 8 |
| 10 | 1/4 | 5 |
As you can see, the only bookmakers that pay what would have typically been considered the normal one quarter odds are the ones that pay the fewest places. This picture is repeated no matter what sport or event you look at. For example, we checked various horse races and whilst almost all major bookies had the exact same terms for most races (as you would expect), we quickly found one race where a particular site was paying three places each way instead of just two. The catch? Winnings were a fifth, not a quarter, for successful each way wagers.
Whilst this is, for obvious reasons, generally the case, you may sometimes see exceptions. Deciphering which combination of odds, places and fraction of payout is best is not easy, but if you see a bookie offering both the highest fraction of odds and an extra place or two then you have done very well indeed.
How Do Each Way Bets Work in an Accumulator?

Each way betting is an essential part of any punter's arsenal, especially if they like horse racing or golf. However, really canny bettors have long espoused the usefulness of each way accumulators, especially where these are limited to doubles or trebles. We look at how each way accas work in our dedicated piece on accumulators but we will explain the basics again here, as well as why some punters love to make this particular type of bet.
If you make an each way acca then all legs must be available to back each way, you cannot just back some of them that way. Typically this sort of wager will be made on horse racing, though you could place an each way double on the PGA Tour and European Tour golf if you wanted, or even a season-long each way top goalscorer bet on two or more divisions, such as the big five European leagues. For the sake of our example though, let us imagine you opt for an each way fourfold using four races on a hypothetical Saturday afternoon, as below:
| Leg | Race | Horse | Odds | Place Terms |
| --- | --- | --- | --- | --- |
| 1 | 1.30 Cheltenham | Sir Winny | 10/1 | 1/4 odds for a top three |
| 2 | 1.45 Kempton | Captain Win | 12/1 | 1/4, top three |
| 3 | 2.00 Cheltenham | Admiral Mustwin | 20/1 | 1/4, top four |
| 4 | 3.10 Aintree | Win McWin | 8/1 | 1/4, top two |
A £10 each way fourfold will cost you double the unit stake, so £20, with one single bet covering all four races. The place terms apply on a race-by-race basis and whilst in this example all four will pay at a quarter of the full odds for a place, they do not need to be the same. In essence, you have a £10 win acca and a £10 place acca and these bets are treated entirely separately.
In order to win the first part (and indeed both), all four horses must win. In this scenario you would take home a very tidy £272,770, plus your £20 stake. That's an incredible return but of course landing four out of four horses at odds of between 8/1 and 20/1 is a huge ask. If just one of the four finished second, even if only on a photo finish, then the win part of the bet is settled as a loser.
Three wins and one photo-finish second is the same (as far as the bet is concerned) as having all four horses merely place. To land the place part of the bet you need the first two horses to make the top three, the third to finish inside the top four and the fourth and final leg of the each way acca must see your pick finish inside the first two.
As all four legs are paying a quarter of the standard odds, the each way portion of this fourfold has effective odds of 2.5/1 (5/2), 3/1, 5/1 and 2/1. Should your four horses all make the places at least (including any that win, assuming that not all four finish first) then your return is £2,520. A far more modest return but still very impressive and especially good that in theory your horses could finish third, third, fourth and second, with no wins. If any of your picks do not finish inside the specified places for their particular contest, the entire bet loses, both the win and the each way parts.
We will look in more detail at the strategy some punters use for each way mini-accas when we consider whether or not each way bets offer good value. For now though, let us move on to another potentially confusing issue, that of dead heats and each way bets.
How Do Dead Heats Effect Each Way Bets?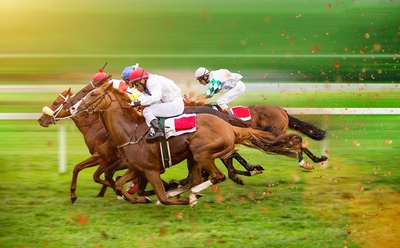 Dead heats are not especially common in any sport and in essence a dead heat is when two (or more) participants cannot be separated and a single winner cannot be decided. We look at dead heats in general terms and in more detail in our dedicated article about them. If you are not exactly sure what a dead heat is then check that piece out but if you do know, but just aren't sure how they work when it comes to an each way bet, allow us to explain.
Having said that dead heats are quite rare, they are not actually all that rare when it comes to each way betting. That is largely because most sports use some form of tie-breaker to separate teams or players that finish joint first. Most tournaments, cups, trophies or leagues require a winner and so the sport itself often has a mechanism to separate those who finish tied in first.
In a league this might be goal difference, run rate or another statistical metric; in many sports such as tennis, players just keep going until there is a winner; in some top goalscorer charts, assists or minutes played are secondary options if there is a tie; whilst in golf and some other sports, there is a play-off. Horse racing does not have this, although in days of yore horses would sometimes either re-run the whole race or have some form of sprint if they finished level.
These days the horses are better cared for and so there are no re-runs, whilst better timing technology and photo-finish equipment means that true dead heats are now very rare. In this scenario the race is declared a dead heat, the horses are joint winners – or, if there are three or more – co-winners and dead heat rules apply (for full info on these, see the dead heat feature).
However, whilst sports often use some form of mechanism, play-off or stat when participants finish joint first, rarely is it deemed necessary to separate people who finish tied for second, third or any of the lower places. A player might simply be the joint second-top goalscorer in a tournament, or golfers often have a string of results in their form chart that are prefixed by a "T", such as T20-T2-8-T7, indicating they finished tied 20th, tied second, eighth (by themselves), and tied seventh in their last four events.
From a sporting perspective, such ties are fine. Glory and often prize money is shared but what about for us each way punters? With modern online bookmakers paying a huge number of places each way when it comes to golf, dead heats (ties) for the relevant places are very common. How are bets on such players settled?
If we take a look at the 2022 US Masters, the final leaderboard was as below:
| Position | Player | Score |
| --- | --- | --- |
| Winner | Scottie Scheffler | -10 |
| 2 | Rory McIlroy | -7 |
| T3 | Shane Lowry | -5 |
| T3 | Cameron Smith | -5 |
| 5 | Collin Morikawa | -4 |
| T6 | Corey Conners | -3 |
| T6 | Will Zalatoris | -3 |
| T8 | Im Sung-jae | -1 |
| T8 | Justin Thomas | -1 |
Let us imagine that you had made a bet on the Canadian Corey Conners pre-tournament, wagering £10 each way at 50/1 on the Ontario-born youngster (yes, we are getting old but yes 30 is still, just about, youngster territory in golf). If the each way terms were based on six places, paying a quarter of the odds, you might well expect to receive a return of £135. Afterall, your player hit the six places the bet offered and so a quarter of that handy 50/1 price, and your £10 each way stake back, equals £135… right?
Sadly this is not going to be the case because your pick, Conners, did not truly finish sixth, he finished tied for sixth, in a dead heat for sixth. Dead heat rules always apply on such markets and these rules are an industry standard, so it does not matter which bookie you make the wager with in this regard.
Effectively Conners can be seen to have finished half sixth and half seventh. The half that finished sixth won but the half that was just beyond the specified place terms lost. In this situation, dead heat rules dictate that half of your stake is treated as a winner and half as a loser. So of your £20 total stake, the £10 win portion is lost, as is half of the £10 each way part, leaving £5 to be paid as a winner at a quarter of the original 50/1 price. As such, in our example, the bet would return £67.50.
There are many possibilities of dead heat rules coming into play when it comes to each way wagers, especially on golf, but also on markets like the top goalscorer in football, such as at the World Cup or Euros. Sticking with our example of Conners at the Masters, had your bet been made with a bookie paying each way for seven places, you would have got the full payout because the tie for sixth was with just one other player.
However, ties in golf can include a great many players and there have even been play-offs with six to settle who won the tournament. This has happened on the PGA Tour twice, once in 1994 and again in 2001. The golfer that prevailed won, whilst the other five on each occasion were placed T2 and the next best player would be ranked seventh. In this situation let us imagine each way paid to just four places.
A golfer who made the play-off but did not win would be sharing second with five players. This can be viewed as them finishing a fifth in second, a fifth in third and so on, down to a fifth in sixth. With each way paying to four places that means that the fifths of your stake that "finished" second, third and fourth would be winners, but the fifths that were fifth and sixth would not. As such, three fifths, or 60%, of your stake would be paid as a winning bet with 40% of the stake lost.
As said, there are so many slight variations on this but if you have any doubt about how your each way bet has been settled, contact the bookmaker's customer service team. Dead heat rules are often misunderstood, though they are quite simple once you get to grips with them. If you have been paid less than you were expecting this might be why and the bookie should be able to clarify this quickly and easily for you.
Are Each Way Bets Good Value?
There are lots of different ways of looking at whether or not each way bets are good value and really it depends on what we mean by value.
Value in betting is usually about how the odds of an outcome relate to the chances of it happening but here we really mean, more simply, are each way bets a good idea?
There are so many different variables, many of which relate to the bettor personally, and so rather than give a simple answer we will just look at some of the major issues and concerns and give you the information you need to try and decide for yourself whether to make an each way bet in any given situation.
The obvious things to consider when deciding whether you want to make an each way bet are:
The price of the runner
How confident you are that it can place, and also that it can win
The each way terms
How much risk you want to take on
How much bragging rights you want over your mates
On the simplest level, the odds are probably the biggest factor for most people. This is because if they are too short, the each way part of the bet is virtually a waste, whilst if they are too long, the same might be said of the win part. If you back the favourite in a horse race at evens then a quarter of that (the each way return) is hardly worth the bother. Make an each way bet at those odds and unless the horse actually wins you are going to lose money, so why bother with the each way bet at all?
On the other hand, some may feel that backing a 50/1 shot each way is a waste because what chance does it have of winning? If the odds are to be believed then somewhere around the 2% mark, so rather than risk the same amount of money on it placing as you do on it winning, perhaps a smaller bet on it to win and a larger bet on it just to place would be a wiser move.
Of course, whilst in theory a 50/1 shot has the same chance of winning no matter how many opponents it is up against or what sort of race or bet it is, punters often feel differently. In golf's outright markets players at that price frequently finish in the top spot and indeed those at triple-digit odds, and the same can be said of big-field horse races such as the most famous of them all, the Aintree Grand National. Indeed, in 2022, Noble Yeats romped home at exactly 50/1.
It should, of course, be remembered that in a golf tournament featuring 150 players or so, there may well be a sizeable majority that are priced at odds of 100/1 or more. As such, the fact that one of those wins is less surprising. But should you make an each way bet on Harry Hacker (we've made him up by the way) at 200/1, you don't need any of the long shots to win you need that specific 200/1 one to do so.
Equally 16 of the runners at the 2022 Grand National were priced at 50/1 or more, with plenty at 33/1 or higher too. So whilst you may feel that backing outsiders in these types of events is different from backing a 50/1 shot in a game of football or a boxing match, the reality is that it is a lot more similar than you think.
That said, with such huge odds you only need to find a winner once a season or so to be doing well (depending on how many bets you make); and even if they don't win, the place reward should they get in the mix will still be substantial. But would you really be better just backing them to the top five, 10 or 20 (in golf) or for a place in horse racing?
How you decide that will, in large part, come down to the other factors on our list above: how confident you are, how many places each way is being offered and how your personal risk/reward meter is skewed. In terms of risk, the biggest variance bet is a straight win single. Whether you back a horse at evens or one at 100/1, this is an all or nothing bet that delivers the biggest returns… or nothing at all.
At the other end of the spectrum, the bet with the smallest risk, least variance and, unsurprisingly, offering the smallest returns, is backing a horse just to place. The second-least risk option is a small stake on your pick to win and a larger bet on it to place. Next, and the second riskiest option available is the each way bet, where you are risking the same amount of money on both halves of the bet.
Some punters are all-or-nothing sorts of people and find each way bets fiddly and somewhat pointless. Why bother with a sort of half win when you could bet on the win single and take home more than twice as much? Others err very much on the side of caution and feel that trying to get a place is hard enough, let alone the outright winner.
There really are no hard and fast rules (it's horses for courses) and you must make your own mind up. However, generally speaking, most punters favour each way bets only at odds of at least 6/1. Here a place will usually deliver a small overall positive return, whilst the win yields more handsome results. Of course, some will go lower and view a small loss on a place as an acceptable risk, whilst others will look at 10/1 as their line, a number where even the place returns a fairly decent result.
At the other end of the spectrum, things are perhaps even more difficult, in part because the place-only odds are often deemed by many punters to be poor value. One might think that a 40/1 shot should be perhaps 10/1 for a top five finish in golf, if bookies are offering a quarter of the odds and paying to five places. But that is not the case and odds of 11/2 or perhaps 13/2 are more normal, the price reflecting the fact that whilst they are not fancied to win, a top five finish is far more realistic. And of course, with a place bet you are not having to risk a stake on the win portion.
This perceived lack of value, accurate or not, in the place markets, means that many punters tend to stick to each way bets. Whether you think they are worthwhile will depend on the situation but hopefully now you understand the various factors to think about.
Each Way Doubles And Trebles
We do not like to speak about betting tactics or strategies as the only real way to keep your balance positive with gambling is to consistently find value bets. No simple technique, be it a staking plan, a "system" (the worst of all the phrases in this area) or an approach can overcome bad value. That said, and bearing in mind what we have already noted about each way bets, each way doubles and sometimes trebles are an option that many shrewder-than-average punters swear by.
This is far from a fool-proof approach and it is still crucial that you select your horses wisely and with value in mind. However, even without doing that, it is an approach that betting novices can use to obtain a good mix of risk and reward and also a bet that will hopefully keep their interest over a number of races.
You can refine and tweak it as you see fit but basically your starting point should be finding short-priced horses that you think are at least decent value. In an ideal world your picks will be priced somewhere around the evens mark in races where it is deemed by the bookies that only a couple of horses have a decent chance of winning.
So perhaps you fancy a second favourite that is nicely priced at 6/4, with a slight favourite ahead of them in the betting at evens. Because there are two clear market principles, the third favourite might be priced as long as 6/1 or even higher, with other horses priced at 8/1 and above. As said, this is not a fool-proof theory by any means but the hope is that your horse would at least place.
As a 6/4 second-favourite with the field 6/1 bar it has a great chance of winning according to the bookie, but if the race goes anything like the odds suggest (no assurances, of course) you would hope it would at least finish inside the top three (figure assuming each way to three places and a quarter of the odds). An each way bet at odds of 6/4 is unlikely to be deemed worthwhile but if you combine two or three similar selections you start to see the potential.
If you land two winners at 6/4, a £10 each way double will return over £81. If one or more fails to win but both place, then you make a very small loss on your £20 stake, getting £18.91 back and living to fight another day with most of your bank intact. With odds just a fraction longer you will be up even with two places, whilst two winners will return an even bigger sum.
Of course, if you go for an each way treble, things look even brighter should your three horses do the business. At 6/4 you would get over £182 back from a £10 each way treble. What's more, if all horses place but one or more don't finish first, you will still be up, getting £26 back from the bookmaker.
Of course, odds-on shots do sometimes fluff their lines badly, pull up lame, lose a shoe, pick up an injury in the race, fall or unseat the rider or just simply not turn up. Just because a horse is well fancied and well clear of its rivals in the betting is no guarantee it will win, let alone place.
This is not a magical system. It will, however, more often than not, give you a strong interest in a number of races with relatively low risk and variance, and still give you the chance to land a decent result. Good luck!