Rule 4 is often perceived in a very bad light and is also often thought of as being very difficult to understand. In truth it is quite simple and is also very fair – even if it might not always feel that way. Rule 4 is simply the means by which a bookmaker adjusts the odds when a competitor (usually Rule 4 applies to horse and dog racing) withdraws when a price has been taken.
Firstly, let us say that Rule 4 does not apply to bets placed at the starting price (SP) and nor does it apply to ante post betting. Rule 4 applies to bets placed after the final declarations for a race have been made, be that on the day of the race or earlier for some big races. If you have ever backed a non-runner and got your stake back then you should thank Rule 4. Having your stake returned is the positive side of Rule 4 that people often choose to overlook when they are unhappy about getting a reduced payout on a winner.
Rule 4 in Action
Let us assume that there are three horses in a race, a huge favourite, Bob The Great, at 2/7, Sahara Sue at 24/5 and Dawdling Dave at a distant 11/1. If you place a bet on Sahara Sue at 24/5 but then shortly before the race the favourite is withdrawn, your bet at 24/5 would suddenly offer huge value, given Dawdling Dave probably only has three legs and is lame in one of them. It would be unfair to expect the bookmaker to pay odds of 24/5 on a horse that now has a much better than evens chance of winning.
Of course, how would you feel if you had backed Bob The Great and were told you wouldn't be getting your stake back? In order to pay back the stakes on the withdrawn horse the bookies – and the rule is a standard one across the entire betting industry – use Rule 4 to reduce the odds on the remaining horses to ones that now fairly reflect their chances of success.
Rule 4 Deductions
The amount of the Rule 4 deduction depends on the odds of the horse or horses that have been withdrawn in order to fairly and impartially produce new odds. Non-runners at odds of more than 14/1 attract no deduction on the basis that their chances of winning were slim anyway. This slides down on a scale whereby a non-runner at between 9/1 and 14/1 inclusive means a deduction of 5%, or 5p in the pound, whilst a huge favourite at odds up to 1/9 attracts a whopping 90% deduction. No matter how many non-runners there are the deduction shall not exceed 90% and this does not affect your winning stake, which is returned in full.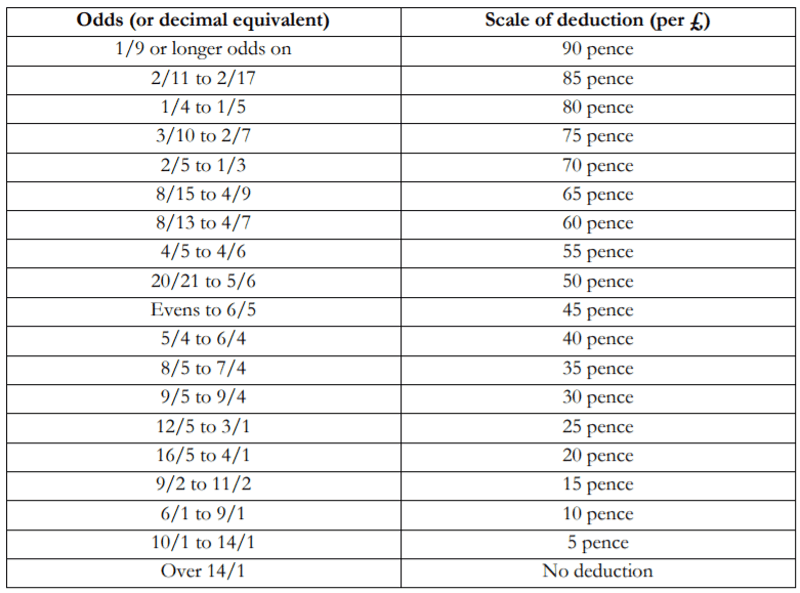 As said, ante post and SP bets are unaffected, the former because bookies are not obliged to return and the latter as that price will always fairly reflect the confirmed runners and riders. In summary, as with many things in life, forewarned is forearmed and as long as you know the Rule 4 basics you need never be stumped again should your return on a bet be lower than expected.