American Football can be too stop-start for some sports fans, but from a betting perspective, it is a sport where you get your money's worth.
Although there is only 60 minutes of gameplay per match, an entire game in the NFL averages over three hours due to all the stoppages. This is not down to time-wasting though, rather that the game clock only runs when the ball is actually live and in-play (more or less). This can mean that your bets end up staying alive for a lot longer than they would with some other sports and a single clash can give you a whole evening of entertainment and excitement.
As the name of the game suggests, American Football is primarily played in America and this is where all the big-name teams are based. Sports betting is still illegal in many US states but more than half now allow this form of gambling. As American football also has a considerable global following, bookmakers operating outside the US frequently provide odds on the action. So, no matter where you live, being able to bet on American football should pose little challenge. Indeed, in the UK it is seeing a real surge in popularity and punting on the sport is now big business for the major British betting sites.
How to Bet on American Football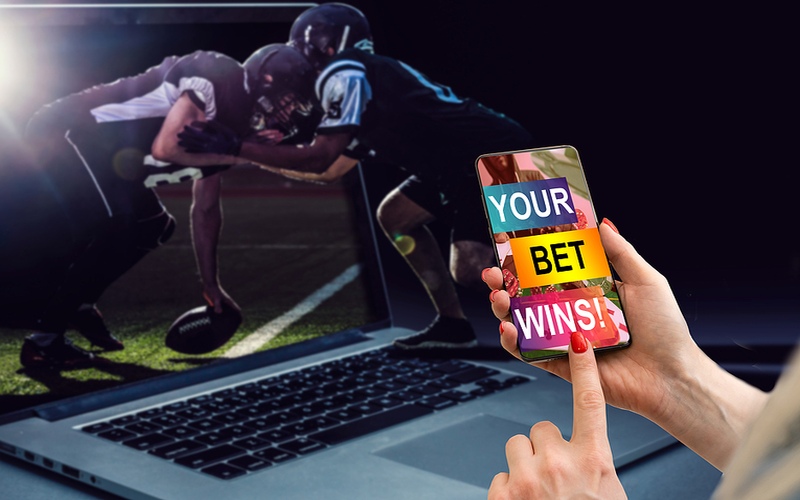 Betting on American football usually means betting on the NFL, although many betting sites will also provide odds for the NCAAF (college football) and the CFL (Canadian Football League). Competitions do exist outside of North America but finding odds for these is more challenging given their relatively low profile.
Due to the lack of professional American football leagues out there, it does not tend to be something you can easily bet on year-round. The NFL tends to begin in September and stops with the Super Bowl in early January. The NCAAF largely follows the same schedule while the CFL starts earlier, in June, but is finished by November to avoid the harsh Canadian winter months.
When you also take into account that teams do not play that many matches (each NFL side only plays 17 games during the regular season), there is relatively little American football action compared to many other sports. As a gambler, this just means you have to make the most of what is available. Thankfully, although fixtures may not be abundant and year-round, you do at least have access to lots of markets.
Super Bowl is Betting, Sporting and Entertainment Extravaganza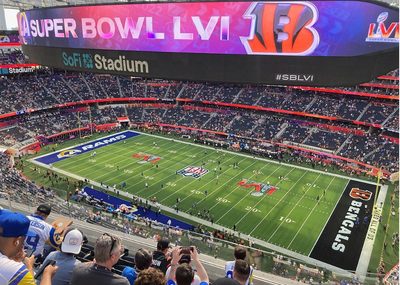 Then of course there is the Super Bowl, the show-stopping finale of the NFL season. There are few sporting events like this, certainly from a betting point of view.
For the 2023 Super Bowl, around $16bn was wagered on the match in America alone. This total does admittedly include casual bets among friends and those placed illegally, but it still goes to show what a truly massive occasion the Super Bowl is.
If you are only going to bet on one American Football match per season, the number of offers and promotions available make this a fine choice.
Every market you can imagine is available and the depth of analysis and statistical info on offer means you won't be short on data. If studying all the numbers to decide on your own bets is too much hassle, you'll also find that the media coverage of this huge game is incredibly extensive too, so finding an opinion on how the game might pan out is also very easy.
Main Bets on American Football
It is interesting that many non-US bookmakers use some of the market terminology you would find in America when it comes to 'their' sports.
This can make things a little confusing for anyone betting on them for the first time but we will cover all the main markets below.
Also, be aware that while some markets will appear comfortably before a match is scheduled to begin, many will not appear until a few days beforehand.
Match Bets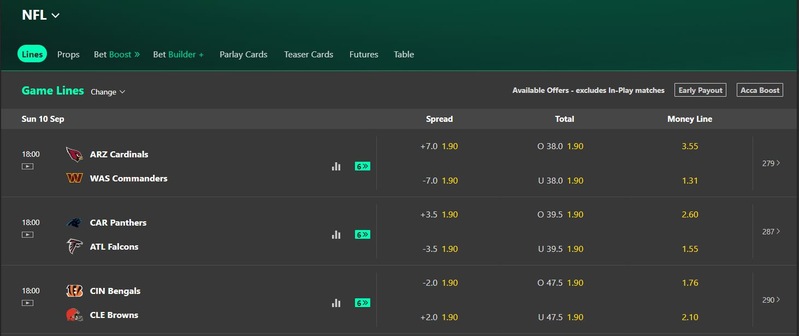 With the main match betting markets, you will be placing a bet that relates to both teams on the pitch rather than just focusing on one.
Moneyline – This term is not one generally used for non-US sports but is simply a bet on the team you think will win the match, so the same as a potentially more familiar 'match result' market.
Spread – This is the US term for handicap betting so you will be backing a team with a score advantage or disadvantage applied e.g. Cardinals +5.5 points. The main spread betting market will aim to create two evenly matched outcomes by adjusting the handicap values as appropriate.
Total Points – A bet on if there will be over or under a certain amount of points in the game.
Alternative Spread/Handicap – The same format as with a normal spread bet only different +/- point values will be applied to the teams. This allows you to bet on a side with a small or very large advantage handicap, creating odds that can be either shorter or longer.
First Score Method – What will be the method of the first score, touchdown, field goal or other? You can either bet on this to cover both teams, or pick the team you think will score first and by what means.
1st/2nd Half Spread – A usual spread bet but this only relates to the score in the first half or second half, depending on which market you choose.
1st/2nd Half Moneyline – Which team you think will score the most points in either the first half of the match or the second half.
Winning Margin – Pick which team you think will win and by what margin. Usually the margin comes in bands e.g. 1-6, 7-12, rather than requiring you to get the exact number.
Race to Points – Which team (or neither) will be the first to reach (or exceed) a specified number of points e.g. 10.
Quarter Markets – You can bet on markets such as total points or spread betting but specific to a particular quarter.
Overtime? – If you think the match will end with an even scoreline in regular time, you can bet on it going to overtime.
Player Bets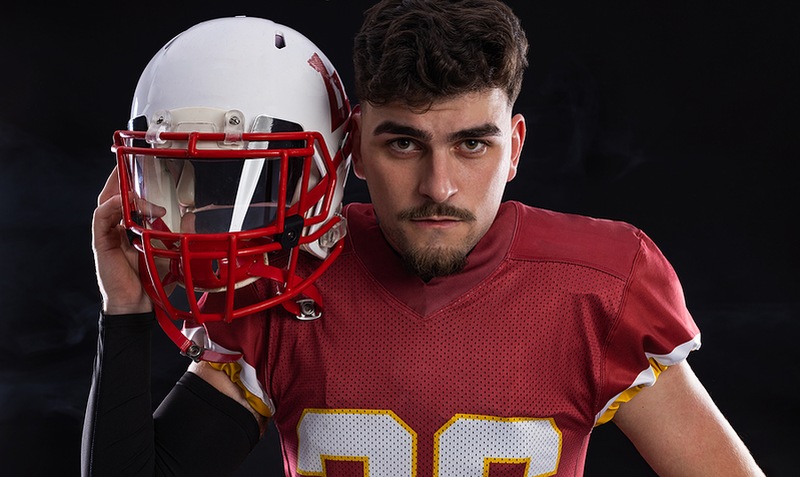 Rather than looking at the match as a whole, you can also stake money on the performance of just one player.
You will usually find these in a separate 'player props' (short for proposition) or 'player betting' section of a selected match.
Touchdown Scorer – Place a bet on a player you think will score a touchdown in the match. For larger odds you can dip into the 'first touchdown' or 'last touchdown' scorer market.
Player Passing Yards – How many passing yards a quarterback will amass during the match. This tends to be a bet on over/under a specified amount of yards. The yardage will change to create two evenly priced betting options, though once again, alternative yardages will be available to create bets at different odds.
Player Receiving Yards – Works as above but here you will be picking over/under receiving yards for a stated player.
Player Rushing Yards – How many yards a player will travel while running with the ball, over/under a specified amount.
Player Interceptions – Choosing if a player will get over/under a set amount of interceptions during the entire match.
Other Types of Bet
Although many bettors will choose to put their money pre-match on one of the markets listed above, there are other ways to bet on American football.
Bet Builders
Bet builders are something that first came to prominence within football (soccer) betting but they have since branched out into some other sports. Although not something you will find at every betting site for American football, an increasing number of bookies do now offer the feature.
What it enables you to do is select multiple markets from within the same American football game and use them to form one single bet. This means you can place a bet such as Chiefs to win, Chiefs to score over 25.5 points, and Mahomes over 265.5 passing yards. Some experts refer to these bets as same-game accas, and they allow you to make very detailed predictions with correspondingly rewarding odds… if you get them right.
In-play Betting
The stop-start nature of American football might not be to everyone's tastes but it does ensure the sport works very well with live, or in-play, betting. Due to the stoppages, you will find yourself with regular opportunities to weigh up what you think will happen next and bet accordingly, without having to rush or worry that the status of the game, and the odds, will change. American football is something almost all betting sites will cover in-play and there will be many markets to choose from.
Parlays/Accas
When combining several betting selections together to form one bet, this is known as a parlay in the US, or more commonly elsewhere as an accumulator (acca). It is a great way of boosting your odds as all your selections have to win for you to land a profit. With many American football markets featuring over/under odds at just under even money, having this option to increase your payout is a popular option.
When creating an acca, you do not have to stick with the same markets or even the same sport. This means you could back the Lions to win, Falcons to score over 20.5 points and the 49ers to win with a +2.5 handicap.
Outright Betting
As most American football action takes place in a league format, you can find a decent variety of season-long bets in the 'outright' or 'futures' (to use the more common American term) section when betting. Some sites offer a huge list of these longer-term bets, allowing you to bet on individual stats likes most passing yards, individual awards such as defensive rookie of the year or team performance for example 'worst regular season record' or 'to make the play offs'. Outright bets tend to only cover the regular season unless stated otherwise.
Important Rules for American Football Betting
Betting sites have rules relating to each specific sport they offer odds for and American football is no exception.
Although rules can vary depending on where you bet, the list below are what we consider to be quite standard terms for the sport, though ones that might be unfamiliar to punters who usually bet on other sports.
Overtime – Perhaps the key rule to be aware of when it comes to betting on the NFL is that overtime counts for all full match markets unless stated otherwise. Overtime also counts for 'second half' bets but not fourth quarter. This is different to football, rugby and other popular sports, where extra time does not typically count. It is also more common as overtime (OT), is played in all games that end level after normal time, not only in play-off or "cup" matches as in other sports.
Postponements – If a match is postponed by more than a day or two, bets will typically be made void.
'Push' Bets – If there is an exact tie with a bet, e.g. you bet 'over 50 points' and there is exactly 50 points, bets will be refunded providing you could not bet on the draw.
Player Involvement – If you place an individual player bet, e.g. 'to score a touchdown' but they do not play in the game, your bet will be refunded.
Abandonment – If a match is abandoned, markets already settled will stand but open bets will be voided.
Dead Heats – Some season long bets may end in a tie e.g. most regular season touchdowns. If there is a tie, dead heat rules apply.
American Football Betting Guides
It's not a sport we typically grow up with here in the UK, so to our untrained eye it can just look like a lot of armour clad men bumping into each other, but American Football is becoming popular in the UK in a big way, and that means more betting markets are opening up.
If you are fascinated by this American import and want to learn how to bet on it more successfully, then work your way through the articles below. Soon you will know the difference between a quarter back and a running back, be able to name all 5 positions in an offensive line, and really understand what's happening on the gridiron. Relax champ, we'll see you safely to the End Zone.