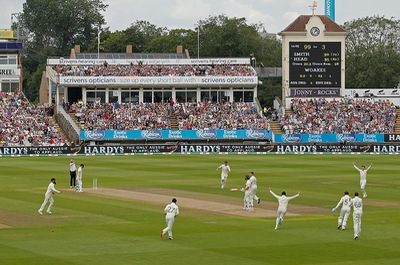 The duration of a cricket match isn't as standard as many other sports.
Football matches tend to last around 90 minutes (typically alongside an additional few minutes to compensate for any stoppages, usually injury-related plus delays caused by substitutions); Rugby matches tend to last up to 80 minutes; and basketball is said to have a playing time of 48 minutes (although frequent stoppages to the clock mean games tend to last around two hours on average).
Cricket matches, however, can last much longer than the average sport.
Some forms of the game are played for up to five days, whilst other forms are played within the space of a single day, or even just a few hours. But why exactly do some cricket matches last much longer than others?
First-Class Cricket/Test Matches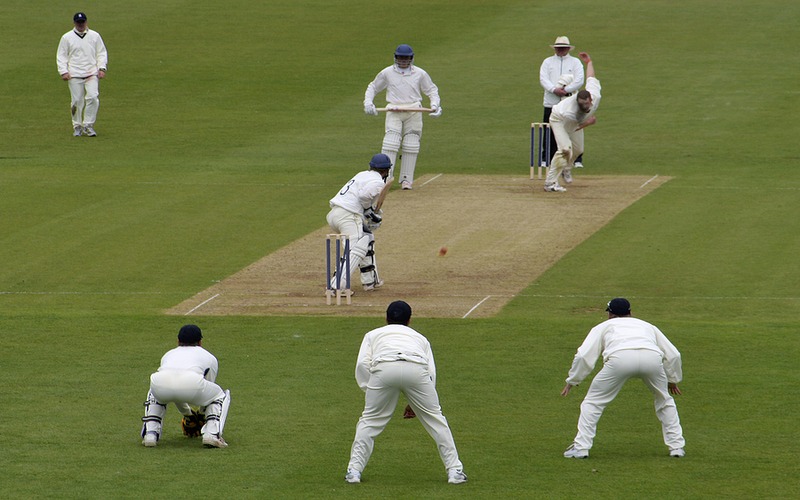 Although most forms of cricket are regarded as long-lasting compared to other sports, the most drawn-out format of cricket comes in the form of both first-class matches, and Test matches. These are the original forms of the game and, to traditionalists at least, the pinnacle of the sport. Sometimes known as red-ball cricket, or long-form cricket – as opposed to white-ball or short-form cricket which we shall look at shortly – this form of the game dates back to the mid-19th century.
First class matches are regarded as the highest standard matches in cricket and these are matches with three or more days of scheduled action between two sides adjudged to be worthy of 'first-class' status. An example of a first-class cricket competition in England comes in the form of the County Championship, with all matches lasting up to four days. Australia's first-class competition is the Sheffield Shield, where regular matches last up to four days whilst the final lasts for five days.
Test matches are essentially a form of first-class cricket, however 'first-class cricket' typically tends to refer to domestic competition whilst Test matches tend to be referring to international matches.
Played over a maximum of five days (moves in 2020 to reduce games to four days never amounted to anything), Tests are given their name in light of the long, gruelling matches typically played, which are often physically and mentally testing for those playing. In this format, two teams consisting of 11 players play a four-innings match, with each team batting twice. An innings either ends once all the batting team have been bowled out, the captain declares their team's innings closed, the team batting last reaches the required number of runs, or the five days are over.
When it comes to Test cricket, teams tend to compete over a number of matches spread out over a month or so. This is called a Test series and the biggest nations typically play each other over a best-of-five series, though sometimes a series may be three games and occasionally it may even be two, four, or very occasionally six, with one-off Tests also a possibility.
One of the most notable Test series is The Ashes, which is contested between England and Australia, whilst India v Pakistan is also a huge occasion. Other series include the Anthony De Mello Trophy contested between India and England (specifically in India, the Pataudi Trophy is awarded when the series is held in England), and the Richards-Botham Trophy contested between England and the West Indies. Additionally, 2019 saw the introduction of a new Test Match Championship, the ICC World Test Championship. This competition featured nine teams, with New Zealand becoming the competition's inaugural winners after narrowly defeating India in the final.
In light of newer, shorter forms of cricket such as 'The Hundred' and T20 being introduced (of which more shortly), some suggest that first-class and Test match cricket are losing popularity. Despite this claim, a 2019 poll by Marylebone Cricket Club suggests that 86% of cricket fans actually support Test match/first-class cricket: doing so more than any other format.
First Class/Test Match Session Times
To break up the day, both first-class games and Test matches tend to be divided into three segments; a morning session, an afternoon session and an evening session.
Each session tends to last around two hours, with a 40-minute lunch break between the morning and afternoon sessions, alongside a 20-minute tea break between the afternoon and evening sessions.
Below is a rough timing guide to indicate a typical day of Test match/first-class cricket, although note that the final session invariably lasts longer in an attempt to get the scheduled number of overs (groups of six balls bowled) completed:
Morning session – 11am to 1pm
Lunch – 1pm to 1:40pm
Afternoon Session – 1:40pm to 3:40pm
Tea – 3:40pm to 4pm
Evening session – 4pm to 6pm
Alongside this schedule, players are allowed a break of around 10 minutes once one team's innings comes to an end. However, a break between innings can sometimes be longer if one innings comes to end shortly before a scheduled start of a lunch/tea break. For example, if one team was bowled out five minutes before an outlined tea break, it may be decreed that the tea break is to begin five minutes early.
The Hundred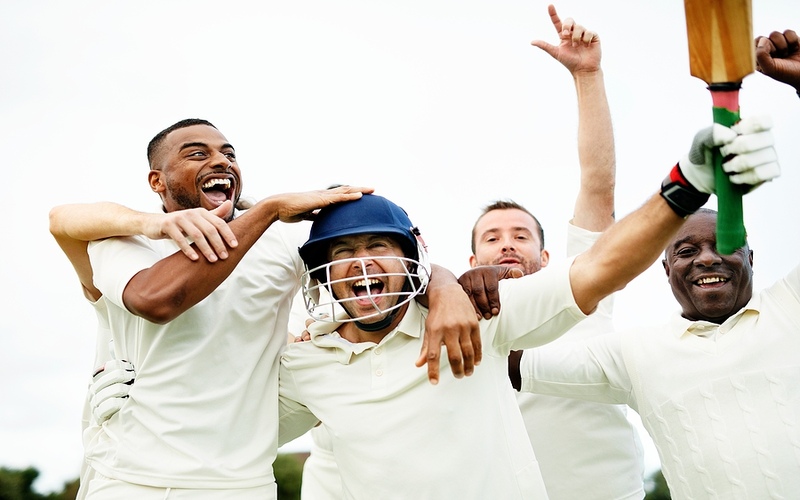 One of cricket's newest formats, 'The Hundred' was created with the aim of attracting younger, more diverse crowds to cricket matches. The tournament also aimed to bridge the gap between the men's and women's games and achieve greater equality by giving both male and female teams equal prize money. On top of this, male and female matches took place as back-to-back double headers at the same venue on the same day, with ticketholders having access to both games, giving women's cricket a degree of exposure it had never before enjoyed.
Most crucial to this format is the fact that games tend not to last too long when compared to the length of Test matches. Typically lasting around two and a half hours, it's one of cricket's quickest formats, albeit still longer than sports such as football and rugby. Penalties are in place to assure that sides complete their 100 bowls at the required pace after research suggested that late finishes and over-long games were one of the main things preventing more families and children from attending cricket.
Each team plays a single innings, in which they have 100 balls to bat. The match then ends either once both sides have faced their 100 balls, one team has successfully chased the other team's batting score, or the team batting second has had all their players bowled out without being able to successfully catch the previous side's batting score.
When first announced, the reception The Hundred received was mixed. Although players such as Joe Root and Eoin Morgan welcomed the plans in light of their potential to attract new audiences to the game, hashtags such as '#OpposeThe100' trended as people took to social media to let their criticism of the new format be heard. However, following the conclusion of its inaugural tournament in the summer of 2021, it was found that the tournament broke several records in television viewing and match attendance figures. Despite some huge obstacles served up by the global events of 2020 and beyond, The Hundred had been a success and despite critics claiming it was an extra format we didn't need, it looks set to grow.
One Day Internationals (ODI)
One Day Internationals are a form of cricket between two team with international status that takes place over a day. The format has a fixed number of 50 overs (300 balls) for each team's innings, and matches usually take around eight hours. They often start and finish at similar times to Tests, though day-night matches, starting in the afternoon, are also increasingly common.
Although now a recognised part of the cricket landscape, this form of the game has only been around since the 5th of January 1971. The first ODI occurred during what was supposed to be a Test match between Australia and England. However, due to persistent rain stopping play for the first three days, it was instead proposed that the Test be abandoned in place of a 'one-off' one-day game consisting of 40 eight-ball overs per side (since then, the balls per over has changed to six). Of course, as we now know, this new format wouldn't be a 'one-off', and 1973 saw the creation of the ICC Women's Cricket World Cup, shortly followed by the ICC Men's Cricket World Cup in 1975.
Similar one-day events take place in domestic cricket too, with different tournaments over the years being played with between 40 and 60 overs per side. 50 is now the recognised number of overs for "one-dayers" though and there are various cups, leagues and trophies played around the world between clubs at all levels.
Twenty20 (T20)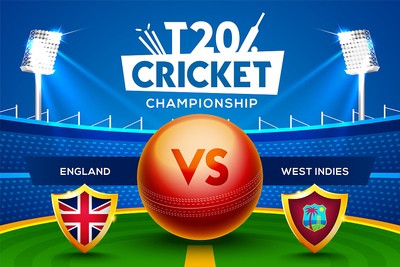 Claimed to be the most popular form of the sport, T20 cricket sees two teams having a single innings each and each innings restricted to a maximum of 20 overs (120 legal balls). Much shorter than a typical Test match, T20 matches typically last for around three hours and like 50-over games, are played at both international and domestic level.
The format was first introduced to the world in 2002 by the England and Wales Cricket Board (ECB), in response to dwindling crowds and reduced sponsorship revenues. With the intention of delivering fast-paced cricket matches to excite those put off by cricket's generally long formats, the ECB proposed a 20-over-per-innings game.
The 13th of June 2003 saw the first matches of this new format played in a newly formed cup competition; the Twenty20 Cup (later named the T20 Blast). The Surrey Lions would go on to become this competition's inaugural winners, beating Warwickshire Bears in the final.
As with most new things, T20 cricket had its critics initially. Former Australian Test captain Ricky Ponting, criticised the T20 format for its 'detrimental' impact on batting skills and Test cricket, but others such as the Indian National Team's former fitness coach Ramji Srinivasan declared that T20 cricket has greatly raised player's fitness levels as well as improving fielding and increasing speed, strength, agility, and reaction time.
There is a T20 World Cup which attracts a lot of global attention, whilst international matches in this format are also hugely popular. However, T20 has proved most popular in franchise format, with leagues around the world attracting the game's best and most explosive players for annual cup contests. The Indian Premier League (IPL) is the biggest, best and most lucrative of these, but Australia's Big Bash and the Caribbean Premier League are just two other events where player can earn huge sums.
Ten10 (T10)
One of cricket's shortest formats, T10 is fairly recent addition to the sport with it being first introduced in December 2017. Two teams play a single innings each, with said innings restricted to a maximum of 10 overs (60 balls) per side. In terms of time-length, this format is most similar to sports such as Rugby and Football as many matches in this format last for around 90 minutes.
There's little in the way of competitions/leagues using this format in England, although it is seen more in Asian countries. For example, Abu Dhabi's T10 League was introduced in 2017, and Qatar's T10 league first introduced in 2019. There is no major international competition at this level and in truth it is not a format most English fans will be familiar with.
Super Overs
In the event of one day matches such as those in T20 and ODI cricket finishing with the scores tied, a super over can be used which often lengthens a match's timespan. In a super over, each team plays a single over, and whoever attains the most runs wins the tiebreaker, and therefore the match.
A Super Over finishing in a tie is then followed by another Super Over (though other methods of separating the teams may also be used), and so forth until a winner is decided. 2019 saw England notably win the ICC World Cup in a dramatic Super Over against New Zealand, with the Super Over adding an additional 20 minutes to the time already spent playing the two sets of 50 overs.
The Longest Cricket Match Ever Played
To most cricket fans Test matches are synonymous with being played over five days. However, there was a point in cricket's history where such contests had no time limit, in the same way boxing matches of bygone days continued until there was a knockout. The game would only finish when the team batting second were bowled out or surpassed their opponent's score to win. These matches were referred to as 'timeless Tests', with around 99 timeless matches played from 1877 up to 1939 when the rules would eventually be changed.
1939 saw the longest match in cricket history, a clash between South Africa and England which started on the 3rd of March, eventually ending on the 14th of March. However, two of these days were assigned as being rest days (rest days were common during timeless Tests), and another day was abandoned due to rain. Eventually, despite the marathon slog, the match ended in a draw.
England were 654/5, needing just 42 more runs to win as they chased a score of 696 at Durban, but in the end the two sides agreed to a draw and ended the match prematurely. Why decide on a draw after all the effort of playing for a week and a half? Well, the English tourists, captained by Wally Hammond, had to make sure they could get back to Cape Town in time for their boat home to England at a time when international travel was far slower and more complex!
England's mammoth fourth innings score of 654 is by some distance (more than 200 runs) the highest score for a side batting last. Great achievement though it was, perhaps the most important thing it resulted in was a change to Test regulations. Following this, the 99th timeless Test, the laws were changed and after World War 2 all Tests were five-day affairs.
So Why Are Some Matches Longer Than Others?
Like many sports, cricket has adapted and evolved based upon the demands of the public. And as part of this evolution, a sport beginning from lengthy Test matches that were contested without any sort of time limit has now introduced new formats such as T20, T10, and hundred-ball matches.
There may well be even more new formats coming to light eventually, but in the end it all boils down to whether cricket fans are entertained by the formats currently in place. All in all, cricket's lengthy Test matches will stick around for as long there are people around to support them. Whilst some love the "wham, bam, thank you mam" of white ball cricket, many still love the slowly unfolding drama that only Tests can provide. T20 is often thrilling but watching a game of five days all hinge on the last overs of the clash provides drama and excitement all of its own.