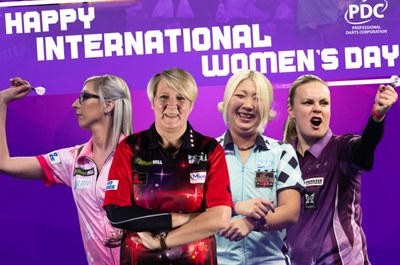 We are in a golden era for women's sports, with more interest and more exposure being given across a whole range of sports than ever before. Whilst some sports have long had equal, or at least substantial, prize money and media coverage for women, others have definitely lagged a long way behind.
In the former category, we would have sports like tennis, swimming and athletics. Critics may suggest that just about everything else would come under the latter category, and there is little doubt that darts has not historically been a sport in which women have prospered.
In fact, darts has long been considered a game for working class men, closely linked to pubs, working men's clubs and other similar venues.
That is certainly changing at a fairly rapid pace right now and there are a number of superb female players leading the charge. Here we take a look at the greatest women darts players ever, as well as the leading events and what rules there are, if any, about men and women competing directly against each other.
Best Women Darts Players Ever
In no particular order, here are some of the greatest women ever to do the business at the oche.
Fallon Sherrock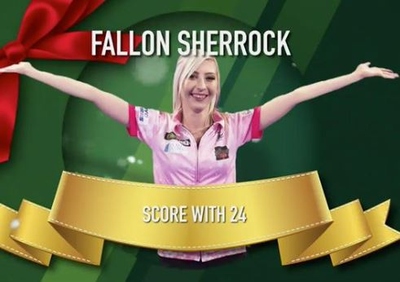 We have to start with Fallon Sherrock, who is very much the woman of the moment when it comes to darts. In 2019, the Milton Keynes ace made history by becoming the first woman ever to win a match at the PDC World Darts Championships. She didn't stop there though and after beating Ted Evetts in the first round she caused a shock of seismic proportions by putting world number 11 Mensur Suljovic to the sword in round two. World number 22 Chris Dobey was next up in the third round, and despite leading twice, he proved a hurdle too far for Sherrock.
None the less, she received fulsome praise from female tennis pioneer Billie Jean King, who Tweeted that Sherrock's "talent and grace under pressure will take her far". Her feats that year at Alexandra Palace also earned her the nickname (which is essential for any darts player serious about a pro career): "Queen of the Palace".
She has won numerous tournaments in the women's game and was runner-up in the 2015 Women's BDO World Championship when aged just 21. She will continue to play against women but her future may well lie on the men's full tour. She missed out on a full tour card for 2020 but qualified for the UK Open and also played in the Premier League as a challenger. A tournament win is not beyond her and she is a true role model for any women wanting to play darts.
Trina Gulliver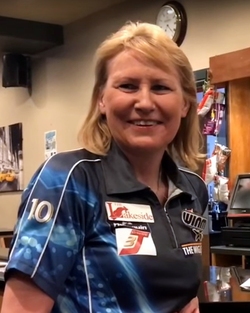 Trina Gulliver is the Golden Girl of darts (which is her nickname) and in the eyes of just about anyone who knows their darts, she is the greatest women to have ever played.
The 10-time world champion was born in Leamington Spa in 1969 and has won just about every prize the game has to offer.
Alongside those 10 world championships, garnered between 2001 and 2016, she also has six World Masters titles.
The BDO Women's World Championship was first played in 2001, and incredibly the Golden Girl didn't lose a single match at the tournament until 2008.
She holds the top three highest three-dart averages in the event and was made an MBE in 2013. In 2008 her autobiography was published, Golden Girl: The Autobiography of the Greatest Ever Ladies' Darts Player.
No prizes for modesty, top marks for accuracy.
Lisa Ashton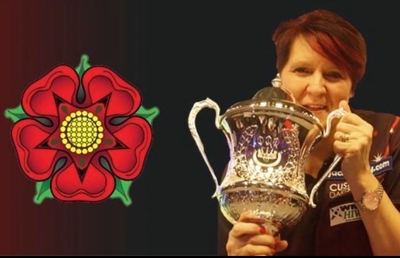 Bolton's "Lancashire Rose" won the BDO World Championship in 2014, 2015, 2017 and 2018, as well as the World Masters in 2011, 2018 and 2019.
Her 2015 world crown came against Fallon Sherrock and she has played in the men's PDC World Championship twice, losing in the first round in 2019 and 2021.
At the start of 2020, Ashton made history by becoming the first woman to gain a full PDC tour card through Q School.
She said, "To come through a field that had 500 men, I couldn't be any happier," and she built on that in March 2021 by becoming the first woman since 2005 to win a match at the UK Open.
In that game, against Aaron Beeney, she averaged a shade over 100, a record for a woman in a televised match.
Mikuru Suzuki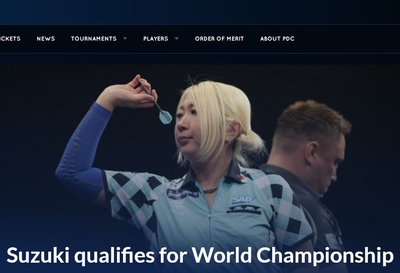 Japan's Mikuru Suzuki, who walks on to the immensely annoying "song" Baby Shark, is otherwise a perfectly acceptable human being and an incredible player too, having beaten Ashton in the final of the worlds in 2020 to defend the title she claimed a year before.
She has also taken to the stage at the PDC World Championships, losing to James Richardson in a tight first round match.
Suzuki is considerably younger than Ashton or Gulliver, having been born in 1982, and incredibly only took up the sport in her late 20s.
She failed to win a PDC tour card in 2020 Q School but has indicated she will be back.
Alongside Sherrock, she may be the future of women's darts and it will be fascinating to see if she can claim a tour card in the years ahead.
Deta Hedman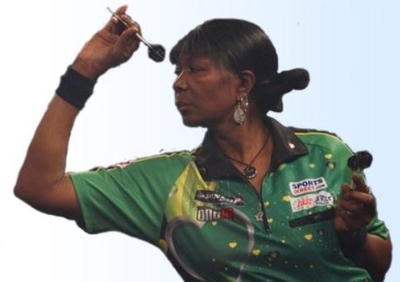 Deta Hedman was born in Kingston, Jamaica, in 1959, and was in many ways a pioneer in the women's game.
The "Dark Destroyer" has never managed to land a World Championship title, thrice being runner-up, but has two World Masters trophies on her mantelpiece (we imagine she has a mantlepiece; we've never been invited over).
She earned a spot at the 2021 PDC World Championship by pipping Sherrock on the Order of Merit standings but lost 3-1 in the first round to the Scot Andy Boulton.
That she was even able to make it to the oche in the biggest tournament in the world, men's or women's, was quite an achievement at the age of 61 and she is a serious role model for many of the female players.
Anastasia Dobromyslova
Anastasia Dobromyslova was born in Tver, Russia in 1984, so if Hedman is anything to go by, she has another 30 years to go in the sport.
The three-time BDO World Championship now calls Ellesmere Port home but represents Russia in both darts and the soft-tipped variation of the sport, at which she also excels.
As well as her world titles in 2008, 2012 and 2013, she was also runner-up (to Ashton) in 2018.
Married to fellow darts player Tony Martin, son Joseph could be one to watch out for… in around 20 years time.
Biggest Events In Women's Darts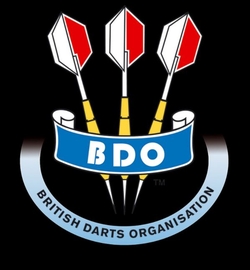 As you may have intuited from the information above, by far the biggest event in the women's game is the BDO World Championship. Although it only began in 2001, it became undoubtedly the top prize for women to aim at. The BDO organised the men's and women's tournaments to run concurrently and this really helped raise the profile of the women's game, drawing bigger crowds and more media attention.
From 2014 to 2019 inclusive, it offered a prize pool of almost £30,000, with the winner taking home £12,000. Sadly the BDO collapsed in 2020 but we should see a new championship, organised by the World Darts Federation, take its place. They will also launch the WDF World Masters, replacing the second biggest tournament in women's darts, the World Masters.
The Women's World Masters was first played in 1982, with relatively small prize money of £2,500 for the winner. That had increased to £10,000 in 2007 and in 2019 it stood at £10,500. Sadly there was no championship held in 2020 but the event will be back in 2021.
Can Women Play Against Men At Darts?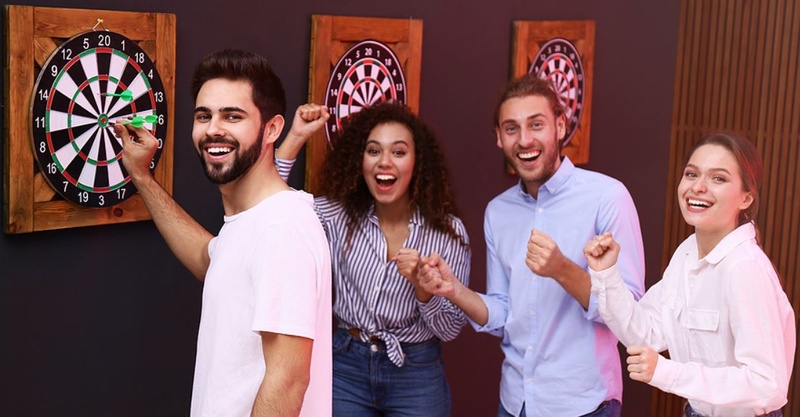 Over the years there have been occasional matches between men and women, either as one-offs or for exhibition purposes, but in general, women have not played in major "men's" tournaments. That said, in 2018 the PDC took a huge step by reserving two places in its flagship event for female players.
Through two qualifying contests, one covering players from the UK and one featuring players from the "Rest of the World", two players could secure their place on the biggest stage of all. Lisa Ashton and Anastasia Dobromyslova were the players to prevail and they took part in the 2019 World Championship at Alexandra Palace. As well as the huge boost this gave the women's game, the two players were assured at least £7,500 in prize money even if they each lost in the first round.
As we looked at earlier, the prize for the winner of the biggest tournaments in the women's game was not much more than that, so it really is a huge opportunity for female darts players. In 2020 Fallon Sherrock landed a massive £25,000 payday as a third round loser. To put that into perspective, the entire prize pool for the ill-fated women's BDO World Championship in 2020, which was hit by poor ticket sales, was just £26,500.
In 2019 Barry Hearn, the PDC Chairman, said "The great thing about darts is that it's gender-free, it's gender-neutral. It's a level playing field, if you're a good enough player it doesn't matter if you're a woman or a man". This statement and the moves taken by the PDC have really encouraged women to try and mix it with the men at the very highest level and so the answer is a clear and resounding yes, women can play against men at darts. And they do, more and more often – and sometimes they beat them. But how often does that happen and are women really good enough?
Are Women Good Enough to Beat Men at Darts?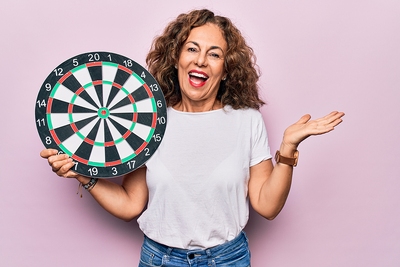 Of all the sports where men and women going head to head is possible, darts clearly has a lot going for it. In more physical sports like rugby, boxing and basketball, to name just three of the most striking examples, it is virtually impossible for men and women to compete on a level playing field.
However, even fans of "arras" must admit that darts is not the most physical or athletic sport out there. Critics would argue that it is not even a sport at all… but that is a debate for another day. The key point is that there is no major impediment to women competing against men and no reason why one day a woman should not be among the very best players in the world.
The other interesting thing about darts is that whilst it is a head-to-head contest, with elements of gamesmanship and psychology, in its purest form, it pits one player against another. Whilst it is ultimately check-outs that count, by comparing the three-dart averages of men and women we can get a pretty good idea of where the best women stand compared to their male counterparts. We can, of course, also consider check-out percentages, though we will focus on the average scores here. It is also worth noting that at the elite level men and women throw from the same distance (just over 7ft 9in), so this is a completely fair comparison too.
For the sake of simplicity, and because it is fairly representative looking at the bigger picture, let us compare the three-dart average of the finalists in the BDO Women's World Championships, the men's equivalent and also the PDC World Championship (men), over the five most recent finals.
In the women's game, the finals of 2016-20 inclusive saw the finalists average between 72.93 and 90.12 with a combined average of 81.27. The men in the BDO finals for the same years ranged between 84.99 and 95.19 and had an overall average of 91.44. In the PDC, the most recent finals are 2017-2021 inclusive and the lowest average of any finalist in that time was Gary Anderson's 94.25 in a losing cause in the 2021 final. The highest average was an impressive 107.79 from Michael van Gerwen when beating Anderson in 2017. The overall average was 102.01.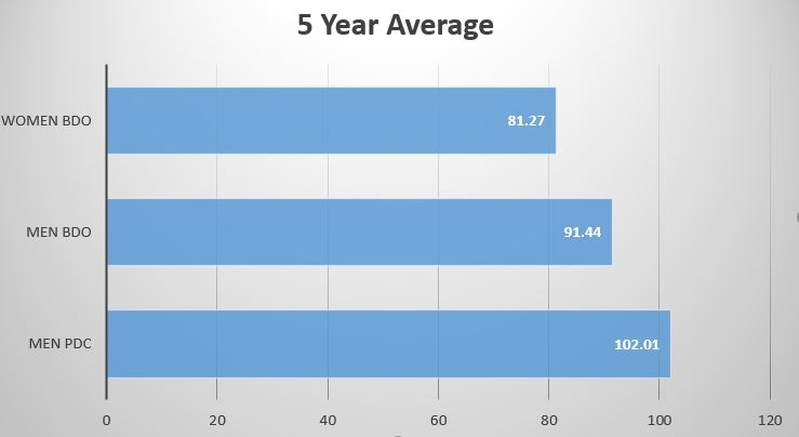 Clearly, the best women in the game are some way behind the greats of the PDC, and whilst 20 points or so might not seem like a big deal, in darts terms that is a chasm. However, it is not a chasm that cannot be bridged. As we said earlier, Lisa Ashton averaged over 100 at the UK Open playing against a man and that sort of scoring would see her compete against any player, at any time.
The fact is that far fewer women than men play darts and so it is to be expected that, drawing from a far wider pool of players, the best men are better than the best women, at least most of the time. As more women take up the sport though and more women players realise they genuinely can compete against the men, the gap will shrink.
Women's results in the PDC World Championship, in qualifying school and in other tournaments have not been especially impressive. However, players such as Fallon Sherrock are young, capable of improving, will inspire more young female players and, crucially, have already shown that women can beat men. Just when a woman will win an open tournament remains to be seen but it will surely happen one day.