Professional sport is ultimately about winning. Those at the top of their respective sports win more than others because they work out a way to gain an edge. Finding that edge is more difficult in darts than it is in other individual sports such as tennis, boxing or snooker. That's because, in those sports, players can actively make it tougher for their opponents. Tennis players can make their opponents run, boxers can knock their opponents out, snooker players can snooker their opponents. In darts, if you hit a 180 it doesn't reduce the chances of your opponent doing likewise. At least, that's true in theory.
In practice, darts is all about pressure and players can indirectly affect their opponents by ramping that pressure up. They can also do this by utilising the so called dark arts of darts. Experienced players will use all the tricks at their disposal to unsettle their opponents and although there is a general acknowledgement of what is acceptable, players do overstep the line all the time. Some will call that cheating but there is a clear difference between that sort of cheating and match fixing.
Sadly though, match fixing is something that the darting authorities have had to deal with a couple of times over the years as well.
Match Fixing in Darts
As we'll see a little later, darts players have any number of ways of putting their opponents under pressure. It can be an unforgiving environment at all competitive levels but it is a sport with a reputation for fairness. Even with the riches available in the professional game, examples of match fixing are rare. They have happened though, including a couple of very regrettable incidents when the sport was picking itself up from the blow of the coronavirus pandemic.
Wessel Nijman and Kyle McKinstry – 2020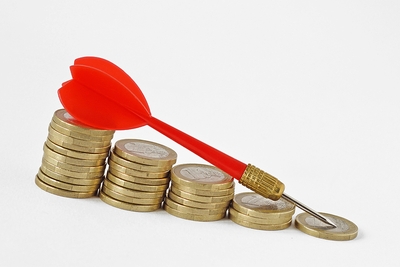 The global growth of darts owes as much to the experience of a night at the arrows as to the sport itself. Even TV broadcasts make a big deal of the atmosphere inside the venues at PDC and BDO tournaments. Darts was, therefore, expected to suffer more than most sports from lockdown. However, darts' administrators are forward thinking and quickly started setting up darts tournaments played remotely from players' homes.
Sports fans starved of any live action to watch, tuned in in large numbers to watch tournaments such as the Remote Darts League, the Modus Icons of Darts League and the PDC Home Tour. The opportunity to play in these events was most warmly welcomed by up and coming players still looking for their big break at the top level of darts. Players like Wessel Nijman and Kyle McKinstry.
It was therefore particularly galling when news broke that both Nijman and McKinstry had been suspended by the Darts Regulation Authority having been flagged by the International Betting Integrity Association for suspicious betting. It wasn't long before both players admitted deliberately throwing matches (excuse the pun) and were handed lengthy bans from all levels of the professional sport.
Nijman, whilst accepting full responsibility for his actions, said he was put under pressure by people looking to profit from his actions. Both contrived to lose a match in the Modus A Night at the Darts tournament to David Evans (who is not implicated in the scandal) and fixed the result of a match against one another having been approached by as yet unnamed malicious parties.
Similar approaches have been made to sportspeople in other sports so it is worrying that neither player felt there was a clear process to follow. Both have said they will work with the authorities and the Professional Darts Players Association to help other players from falling foul of similar approaches. They also both hope to resurrect their careers and reputations after their bans but it will take more than time to rebuild the bridges they burned by taking advantage of the opportunity Modus Darts afforded them. It also raises (perhaps unfair) questions about the fairness of these online tournaments, which have provided such great entertainment to darts fans in a difficult time.
Earlier Match Fixing Incidents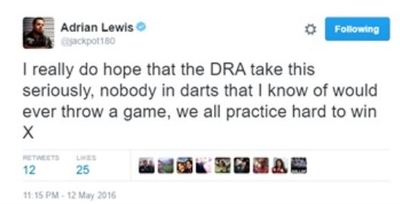 Match fixing is an issue in all professional sports. The bookmakers and sporting authorities have long been sharing information to help root it out. Thankfully, darts has a very good reputation in this regard with very few incidents of match fixing before Nijman and McKinstry's indiscretions. It is not a perfect sport though and there were a couple of earlier examples including in the biggest tournament of all, the PDC World Darts Championship.
In 2017, concerns were raised about the betting on a World Championship preliminary match between Kevin Simm and Gilbert Ulang. An investigation was opened shortly after and Ulang was interviewed before being found guilty of deliberately losing the match. The Philippines darts player was suspended from darts for seven years and ordered to pay costs of £2,500. The length of that ban reflected the importance that the Darts Regulation Authority placed on deliberately cheating at the top level of the sport and was used as a warning to other players.
In 2016, a Twitter exchange between Peter Wright's wife and manager, Joanne, appeared to suggest that Gary Anderson would not try his best against Adrian Lewis in the PDC Premier League in order to ensure Lewis made it through to the next stage of the tournament.
In a series of subsequently deleted tweets, Lewis reacted with incredulity that such allegations could be made. Joanne Wright also denied the allegations, saying that the direct messages were taken out of context and made sarcastically to an individual who had been abusive to Peter Wright. No action was taken by the darting authorities and there is no allegation of improper behaviour relating to match fixing. All the same, it was interesting to see just how vociferously Lewis defended the marks on his character.
Anderson was also involved in an earlier incident in which suspicious betting patterns were reported by bookmakers. Despite the odds reflecting a tight match in the first round of the 2006 BDO World Darts Championship, large amounts were bet on Anderson who went on to win the match 3-1. Coral took the unusual approach of saying they were paying out winning bets "through gritted teeth" as they had suspicions but no proof of wrongdoing. Indeed, no charges were ever brought against either player following a BDO-led investigation.
When Gamesmanship Crosses the Line

Anybody who has played darts at a pub league level or higher knows that competitive darts can be nerve-wracking. It is often said that darts is a mental battle between a player and the board but add the pressure of playing on a big stage and in front of fans and you see why huge numbers of talented county level players have failed to make the step up to the professional ranks.
Overcoming nerves, pressure and expectation whilst maintaining technique is enough of a challenge before you add gamesmanship into the mix. Darts players are very competitive and when there is serious prize money up for grabs it is little surprise that there are all sorts of fun and games employed as players try to put their opponents off.
The most common tricks include trying to throw an opponent off their rhythm by throwing slowly or sauntering slowly up to the board to retrieve thrown darts, and overexuberant celebrations to try and wind an opponent up. This is all part and parcel of darts but players often step over the line (sometimes literally). The Darts Regulation Authority thankfully rarely has to deal with match fixing claims but they are always busy sorting out some less serious rules infraction. Below we've had a look at some players who are known for bending those rules.
Adrian Lewis Learns From the Best
As a two-time world champion, Adrian Lewis has scaled the heights of darts. He had to overcome a lot of bumps in the road to get there, including digging deep to beat some grizzled veterans who would pull out all the tricks of the trade on the oche. One infamous example of this came in the 2006 PDC World Darts Championship when Lewis faced Peter Manley.
Manley had a long reputation for being a tricky opponent and with tempers fraying, he quite clearly muttered something just as Lewis was about to throw in a key leg. This prompted Lewis to leave the stage to the audible anger of some of the fans inside the Circus Tavern. After the match, Lewis claimed that Phil Taylor had told him to leave the stage should any of his opponents pull dirty tricks but it was Manley who had the last laugh. He won the match and said afterwards, "maybe Adrian wanted to blame someone else because he didn't play as well".
The tables were turned 12 years later when Lewis faced Jose Justicia in a PDC Pro Tour event. After a wonderful setup shot from Justicia, the Spaniard turned round indignantly as if to suggest that Lewis had rushed to the oche to try and intimidate him. Justicia was obviously put off because he missed three darts to check out from 24. Lewis then won the leg, told Justicia to stop "pissing me off" and appeared to push his opponent. Further expletives came Justicia's way before the two were separated and Lewis was eventually given a three month suspended sentence and a £3,000 fine.
The Jose Justicia incident was not the only time that Lewis' behaviour has been called into question on the oche. He got into a confrontation with James Wade during a Premier League match when Wade claimed he was deliberately walking over a loose floorboard to put him off. He has wound opponents up by trying to hit blind 180s and he squared up to Josh Payne after hitting the winning dart. It appears Lewis has very much learned from that Manley incident.
Gerwyn Price Takes on All Comers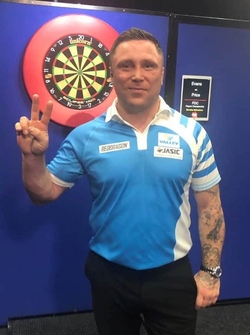 When Gerwyn Price first joined the ranks of the PDC he was almost seen as a novelty. Few of his fellow professionals believed that a former rugby player could become a serious contender at the top of darts. The Welshman quickly made sure that even if his contemporaries didn't respect him, they certainly couldn't ignore him.
Price is one of darts' most exuberant celebrators. He's taken the Michael van Gerwen fist pump and turned it all the way up to 11, quite possibly to 12. His roars after a 180 or important checkout have rubbed even very experienced players up the wrong way. Price's most famous falling out came with two-time world champion, Gary Anderson.
Price had already been subject to some negative headlines and comment for his behaviour in the quarter final of the Grand Slam of Darts before screaming in the face of Anderson multiple times throughout their final. At one stage, Anderson even pushed Price out of his face as the Welshman celebrated a good turn on the oche before collecting his darts.
The DRA fined Price £21,500 for his behaviour in Wolverhampton. That, combined with the pantomime villain reputation he had developed with darts crowds, led Price to make a slight change. He remains one of the most combative darts players around but no longer screams directly into his opponents' faces, which is nice.
Wright and Van Gerwen – A Running Feud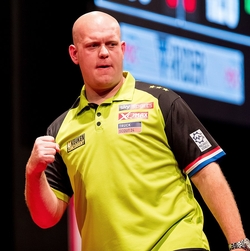 There is nothing quite like a long running feud between two top sportspeople that plays out time and time again. For some years, Michael van Gerwen's biggest rival in the sport was Phil Taylor as the Dutchman gradually usurped The Power as the world's best darts player. The two had some excellent battles and although they may have chirped at each other, there was a genuine respect which has been lacking at times between Mighty Mike and Peter Wright.
Wright is a world champion and one of the finest darts players of his generation but he is always going to be best remembered for his colourful outfits, mohawk hair cut and his entrance to the stage, rather than his considerable achievements on the oche.
Being darts' great showman is a role that Wright revels in, even during matches. On a couple of occasions when playing van Gerwen he has stopped when one dart away from a big checkout to walk up to the crowd and milk the applause much to the annoyance of the Dutchman. Van Gerwen has said at times that what Wright does on stage is "out of order", "nothing to do with darts" and that "he's not a professional". Wright, for his part, has told van Gerwen to stop being a baby and that he "doesn't give a monkeys".
Wright and van Gerwen have had fallings out with many other players during their careers but there is always a special atmosphere whenever they play. Fortunately, they have met on the biggest stages of all including in the 2020 PDC World Darts Championship final when Wright finally got his hands on the Sid Waddell Trophy.
Simon Whitlock – A Career Winding Up Opponents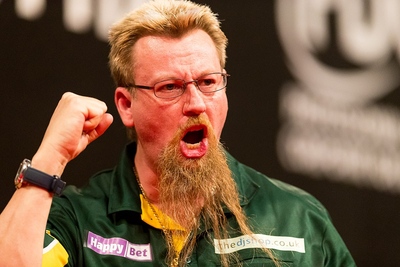 Simon Whitlock was relatively unknown to all but hardened darts fans when he qualified for a place in the 2010 PDC World Darts Championship. The Australian wasted no time introducing himself. He went on a tear through the draw only being stopped by Phil Taylor in the final. That performance earned him the nickname 'The Beard to Be Feared' but it wasn't long before his opponents began fearing matches against Whitlock for a very different reason.
Whitlock is as well versed as anybody in darts' dark arts. If he's struggling against a quick player, he'll slow the match down. If he feels an opponent is encroaching on his space, he'll gently push them out of it. If his opponent is easily wound up, he'll revert to a bit of sledging to raise their blood pressure and weaken their concentration. In short, there isn't a trick that 'The Wizard' doesn't have up his sleeve. Not a typical Aussie at all we hear you say.
The real fun comes when Whitlock takes on a player with a tendency to get worked up. Some examples include the 2013 Worlds where Whitlock got under the skin of James Wade leading 'The Machine' to launch into an expletive laden rant backstage. That wasn't the first time those two have locked horns and Whitlock has had also had multiple run-ins with Gerwyn Price, who has called some of the Australian's antics "pathetic".
Daryl Gurney is another player who has lost his temper with Whitlock a couple of times but even the competitive Northern Irishman was taken aback when players and fans complained about the points Whitlock used during the 2019 World Matchplay. Whitlock roughed up the ends of his darts to mitigate against bounce outs but the result was the boards he played on in Blackpool were damaged very quickly. The jury is out as to whether it was a genuine mistake from Whitlock or yet another weapon in his gamesmanship arsenal. One thing is for sure, darts is not a game for the faint hearted.