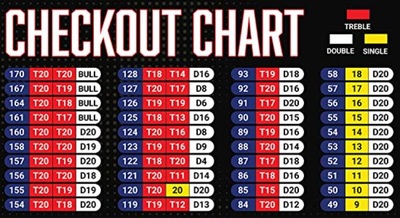 When it comes to betting on darts, the most popular markets are who will win a game, who will triumph in a tournament outright, and perhaps correct score betting.
However, having a punt on one of the many checkout-related markets is increasingly popular and we've got the full lowdown on the best bets right here.
It's a key part of the game which offers up a surprising number of betting variables and is an area many darts bettors will gravitate towards over some of the more obvious options.
What Is A Checkout?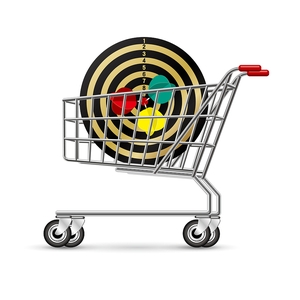 This might seem like an obvious question if you are a darts fan but for those who are relatively new to the game we will start at the beginning.
Almost all professional darts competitions entail players reducing their total from 501 to zero; with players allowed to start with any score (though some events require "double in" too) but having to finish with either a double or a bullseye.
The "checkout" is the total points the winning player scores on their final visit. So the smallest checkout possible is two, if a player hits a double 1, whilst the largest is a three-dart checkout of 170 (made by hitting two treble 20s and a bullseye).
The checkout is in many ways the only bit of darts that really matters, like scoring a goal in football. It is the culmination of hard work beforehand and the most crucial and exciting bit of a leg. As such it is a key focus for betting, with a number of markets centring on it.
Main Darts Checkout Bets
As ever, bookies try to outdo each other by creating more and more options and unique markets. Note that not all sites will offer all of them, especially for smaller matches. None the less, here are the darts checkout markets you can usually expect to see offered.
Highest checkout (score and player)
Highest checkout, most 180s, match treble
170 checkout
First/last leg winning checkout
First checkout over…
Many of the markets within this sphere of betting may be called slightly different things at different betting sites but it should usually be easily apparent what you are betting on. We have combined some options in the list above but will now explain in a little more detail what it entails.
Highest Checkout
Betting on the highest checkout is a bet that comes in a number of different guises. First of all, it can relate to a named match, or an entire tournament. In the latter instance it will be listed among the outrights.
As well as that distinction, this market can refer either to which player will achieve the highest checkout, or what the highest checkout will be. In the latter scenario the site will usually provide a line or various lines, with the option to go either over or under that total. Alternatively they will provide various score bands for the highest checkout, such as 130-135.
Another option within this sphere concerns the timeframe involved. In this scenario we are talking about bets on a single match, not the whole tournament. In this case, all of the bets detailed above may be offered within a defined timeframe, as opposed to the whole match. So an example might be which player will score the highest checkout in the first five legs, or what will be the highest checkout in the first four legs.
As if you didn't already have enough options, there is one last division within this market. When it comes to highest checkout bets relating to a specific match, they may refer either to the contest in general (either player) or to just a single, named competitor.
Highest checkout, most 180s, match treble
One checkout bet that is more specific and doesn't have any variations is the highest checkout, most 180s, match treble. This does what it says on the tin and is a single, combined bet on a player to win the match, as well as having the highest checkout and the most 180s. In the event of a tie for either highest checkout or most 180s, most bookies will settle the bet as a losing one but some may void it or apply a variation of dead heat rules. Note that some betting sites also offer this as a double, based on who wins the match and has the highest checkout, with the same rules regarding a tie applying.
170 Checkout
A 170 checkout is the highest possible finish and ends the game in real style. This can only be achieved with one combination of darts: T20, T20, bullseye. Once again, there are various bets that this covers, including:
Will a specific player score a 170 at any point in a tournament or a specific match?
Will a tournament have a 170 (by any player)?
Will a defined match see a 170 checkout (by either player)?
First/Last Leg Winning Checkout
Betting on what the checkout will be in a given leg is yet another possible checkout bet. The most commonly placed bets are on the first and last leg, the latter essentially being the same as markets listed as "Winning Leg". That said, some of the best darts bookies will alter this live in-play, offering it for every single leg of the contest.
Once again there are options: so this bet may offer bands of scores or the opportunity to bet over or under a specific value. In the latter instance it will usually include half points to remove the option of a tie, so you may see Over/Under 40.5 for example.
First Checkout Over…
This market relates only to an individual player within an individual match but the thing that will change is the score. Most bookies offer "First Checkout Over 100" (so 101 or more) or "100 or more", but others offer a range of options, both higher and lower. You are simply placing a wager on which player will be the first to score a checkout of whichever value.
In the event that neither player manages to achieve such a checkout, for example of 100 or above, bets are typically settled as a void and your stake is returned.
Rules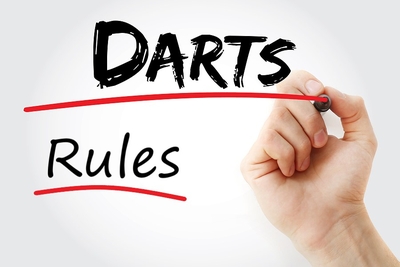 Where relevant we have tried to include rules information relevant to each specific market. However, in more general terms there are rules which will usually apply to all of these markets, or certainly most of them. The main one (applicable to match bets rather than tournament outrights) is that if the game isn't finished bets will be void. Similarly, if one player drops out and is replaced by an alternative competitor, bets will also be voided.
The only other key things to be aware of are the various markets where a tie is possible. For example if you are placing a wager on which player will score the highest checkout of the match and both achieve a 170, some sites may use dead heat rules, whilst others will void it and yet others will settle it as a losing bet.
Such scenarios are relatively uncommon but this is worth being aware of and as ever, if you are unclear why a bet has settled the way it has, the bookmaker's customer service team should be able to clarify things.