Formula 1 races take place on a range of circuits in many countries all over the world. These circuits come in a range of shapes, sizes and styles, from the ultra-modern £800m Yas Marina track in Abu Dhabi (opened in 2009) to the slightly crumbling but historic Silverstone in England, which dates back to 1947.
Street circuits can be quite divisive and are not to everyone's taste but many fans love them. We'll explain exactly what street circuits are and which races are held on such layouts.
We'll also take a look at any betting angles you should consider and whether such races are more or less predictable than those held on traditional circuits.
Which F1 Grand Prix Are On Street Circuits?
Races come and go from the Formula 1 calendar as the governing body tries to grow the sport's support and, of course, their revenue streams. Like just about all global sporting events, the 2020 season was far from normal and it is not believed that 2021 will be back to business as usual. So, whilst the following races may not be permanent fixtures on the F1 calendar and may not feature in either 2020 or 2021 (or both), they remain the major street circuit races of recent times.
Monaco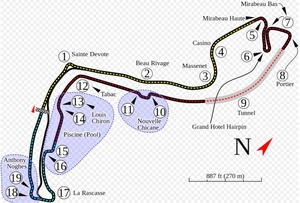 Technically known as the Circuit de Monaco, Monaco is probably the most famous street circuit of them all. It really is an iconic race, with the backdrop of superyachts in the harbour and all the associated glamour of Monte Carlo.
In terms of the circuit itself, whilst it has evolved over the years in order to try and get the best blend of safety and excitement, it remains a real test. There are lots of slow, tight corners and almost the entire circuit is very narrow. Many consider it to be the best track out there and certainly one of the most demanding for drivers.
The first race was held in Monaco in 1929 and Ayrton Senna remains the most successful driver in the history of the Grand Prix. His six wins on this twisting street circuit tell you all you need to know about the craft and skill needed at Monaco.
Melbourne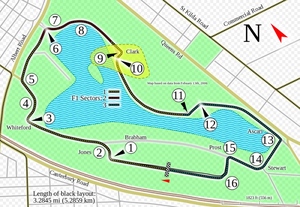 Melbourne is the traditional host for the first Grand Prix of the season in the modern era, having first hosted an F1 race in 1996. Capable of accommodating 80,000 fans, the Albert Park Circuit and the Australian Grand Prix always provide a brilliant start to the season.
Michael Schumacher won four times in Melbourne, a record, with the course something of a German stronghold given the three wins for Sebastian Vettel and two for Nico Rosberg. It is not a track at which Lewis Hamilton has excelled, although he did win here in 2015 and back in 2008.
The circuit is picturesque, with drivers roaring around what are normally public roads around Albert Park Lake. It is relatively easy for drivers but with few overtaking opportunities, anyone starting down the grid needs all their skill, composure and patience – and no doubt a slice of luck – to triumph.
Singapore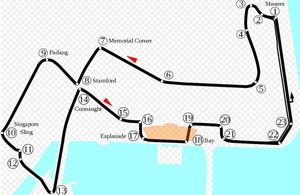 Modern-day Singapore has a slightly confusing racing history, including holding the 1962 Malaysian Grand Prix (pre-independence). However, racing in the city-state in the modern era began in 2008, a year after work on the Marina Bay Street Circuit began. The harbour-side setting allows for obvious parallels with Monaco and Valencia but drivers were initially critical of the design.
As well as driving around the eponymous bay, the circuit takes in the main, historical centre of Singapore and also the more residential Kallang district. The main issue drivers have with Singapore though is that it is too bumpy, whilst some were also unhappy with the kerbs. Testing turns made things even harder whilst all of these issues were exacerbated by the high humidity that is the norm, with the temperature in the cockpit said to surpass 60 degrees Celsius!
There have been many changes made over the years to improve things but Singapore, which is also a night race (F1's first) as well as being a street race, remains a divisive and testing circuit. The safety car has featured every year (as of 2020) and often on multiple occasions per race, so this is certainly one of the most unpredictable races around. That said, and seemingly contradicting that concept, the best drivers tend to prevail here, with Sebastian Vettel winning five Singapore Grands Prix and Lewis Hamilton four.
Montreal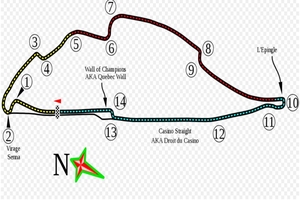 The Circuit Gilles Villeneuve has regularly played host to the Canadian Grand Prix and is located on the Île Notre-Dame (it used to be called the Île Notre-Dame Circuit), an island in the St Lawrence River, just east of the main city centre. The layout was completed in 1978, hosting its first Canadian Grand Prix that year.
Gilles Villeneuve, the father of 1997 world champion Jacques, won the 1978 race and following his death the circuit was named in his honour.
Since then the history of the race has been one of dominance by the greats, with Schumacher winning seven times here and Hamilton claiming his seventh victory here in 2019.
The 2020 Canadian Grand Prix was another to fall foul of the pandemic so there was no winner that year.
Baku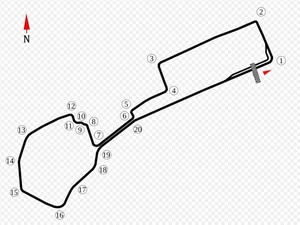 Baku City Circuit is one of F1's newer destinations and is situated in Baku, the capital of Azerbaijan. It held its first race, as the European Grand Prix, in 2016.
The Azerbaijan race was then held in each of the following three years before the 2020 race was among those cancelled. At the time of writing, we are yet to have a repeat winner in Baku, which may or may not suggest it is an unpredictable circuit.
At a whisker over 6km, it is the second-longest used in recent seasons (Spa is the longest) and is one of a number of modern circuits designed by renowned engineer Hermann Tilke.
The anti-clockwise layout is largely popular and combines incredibly fast straights with far more testing technical sections.
Hanoi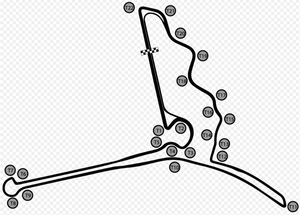 There are some street circuits that have formerly held Grands Prix that we do not detail here as they are not currently used.
In contrast, we are including the Hanoi Street Circuit which, at the time of writing, has never hosted a race.
Hanoi's debut was postponed in 2020 but it will hopefully be all systems go for 2021.
Another Tilke design, it boasts 23 turns and includes some sections that were built specifically for the race (but will also be open to the public in future).
There is a straight of almost a mile but the nature of the track remains to be seen, although the new sections have drawn on Monaco and other classic tracks for inspiration, so with Tilke's pedigree, we should expect great things.
Other Street Circuits
The circuits listed above are in current use, have been used in very recent seasons, or, in the case of Hanoi will finally get their day in the spotlight soon enough. However, several others have been used over the years, with the Valencia Street Circuit (another Tilke design) being one with which F1 fans will certainly be familiar.
From 2008 to 2012 inclusive this hosted the European Grand Prix, but with an ongoing deal struck for a Spanish Grand Prix in Barcelona this was discontinued. Other street circuits no longer used in Formula 1 are:
Adelaide Street Circuit – hosted 11 races between 1985 and 1995
Caesars Palace Grand Prix – the Vegas venue held Grands Prix in 1981 and 1982
Circuito de Monsanto – the only race was the 1959 Portuguese Grand Prix
Circuito da Boavista – another to host the Portuguese Grand Prix, this time in 1958 and 1960
Fair Park – also known as the Dallas Grand Prix Circuit, this US venue held one race (1984)
Detroit Street Circuit – held seven Grands Prix in the 1980s
Long Beach Street Circuit – continuing the US theme, Long Beach was the venue for eight contests in the 1970s and 1980s
Montjuïc Circuit – this mountainous layout was home to the Spanish Grand Prix in alternating years from 1969 to 1975 inclusive
Pedralbes Circuit – another Catalonian host of the Spanish race (1951 and 1954)
Phoenix Street Circuit – held the United States Grand Prix three times (1989 to 1991)
Are Street Circuits More Predictable?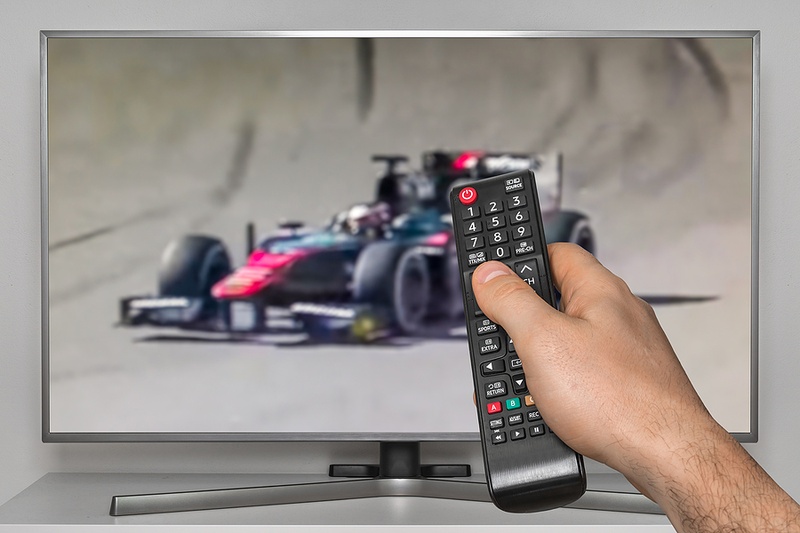 It is difficult and probably unfair to make too many generalisations about street circuits as they do vary a lot. That said, it is generally safe to assume the following about street circuits:
Street circuits tend to be tighter, with fewer opportunities to overtake
Street circuits tend to be slower
They are generally much bumpier, especially in breaking zones
They are less forgiving of errors due to lack of run-off zones
There are so many variables in Formula 1 that making generalisations is difficult, especially given many of the street circuits are relatively new so we only have a small sample size to consider. On the one hand, the narrower track often means overtaking is difficult. This can lead to races with little action and mean that pole is hugely important in determining the outcome.
On the other hand, tight, testing corners that are not as smooth as at a standard race track can lead to hugely eventful Grands Prix. That can especially be the case if aggressive drivers try to force the matter to create an opening where perhaps there is none.
Whilst the Singapore race has invariably been won by the best driver, the high incidence of the safety car should mean it is a Grand Prix where luck can play a big part. It is also a race that tends to be popular with fans, if not drivers, simply because anything can happen. On the other hand, much as drivers and fans love Monaco for the glamour, scenery and history, many feel the track is just too tight and the race often descends into a procession.