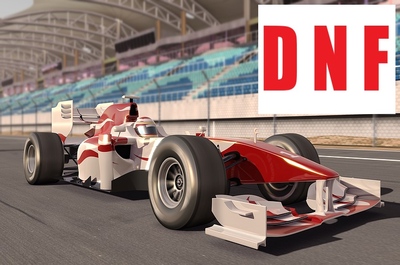 For any sports personnel involved in a Formula 1 race, DNF is a result they always want to avoid. The term stands for Did Not Finish and, much like the name suggests, it is used to denote when an individual fails to complete a race.
As well as Formula 1, it can be seen in running races, cycling, some snow sports and most other motorsports, basically any type of activity in which a finish line needs crossing.
For this article though we will specifically be looking at Formula 1 and how DNF works within the sport. As well as looking at possible causes of failed finishes, we will also look at how DNF works in relation to rankings and scoring.
Unlike in some other sports, it is still possible to gain points despite not finishing the full race, albeit only in extremely rare cases.
What Stops A Driver From Finishing?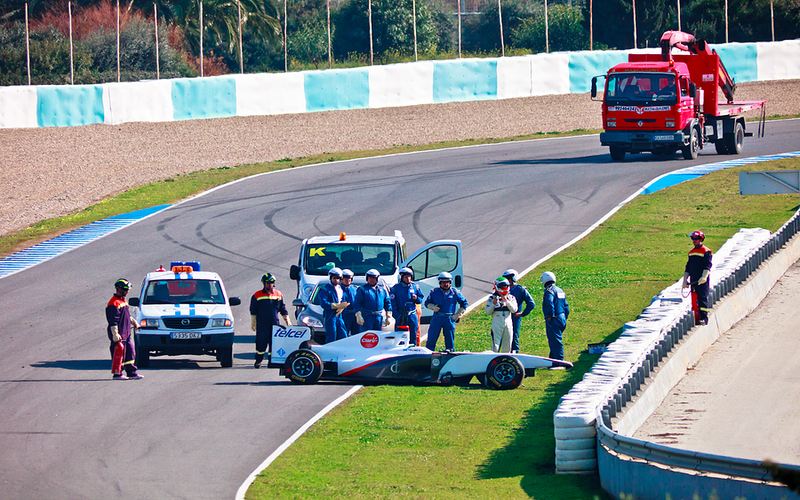 The most common reason a driver is unable to finish a race is that they have sustained damage to their car. This can easily occur due to a collision with another vehicle, or part of the circuit (e.g. the outer wall) given the fragility of F1 cars. Other times, it is simply a matter of bad luck as drivers can succumb to all kinds of mechanical or electrical problems through no fault of their own. It is possible to fix some of these problems in the pit lane but actually making your way there can prove problematic when you have a broken car.
Accidents or internal problems cover the vast bulk of retirements although you will occasionally find the odd exception. One example is Christijan Albers who decided to dismiss the lollipop instructions and cut his pit-stop short in the 2007 French Grand Prix. What he failed to realise in his eagerness to return to the track was that the fuel hose was still in his car. As he left his spot, the hose was ripped from the unit and ended up flapping behind him. On a related point, there have also been cases of drivers running out of fuel just before they make it to the end of the race. Maybe they should have taken the fuelling hose with them!
There was also an instance in 2008 of a driver, Nelson Piquet Jr, intentionally (yes, intentionally) crashing his car in order to trigger the deployment of the safety car. Just a few laps before the crash, his teammate Fernando Alonso, who had started in 15th place, had been the first driver to make a routine pit stop. Three laps after returning to the track, Piquet Jr drove into the circuit wall so that the subsequently deployed safety car would bunch all the drivers together. This acted massively in Alonso's favour and the Spaniard went on to win the race as all other drivers still needed to pit.
An Important Caveat
In a lot of sports, failure to complete a race will result in a DNF, no matter if 1% or 99% of the race was completed. In Formula 1 however, a driver is only officially deemed to be a DNFer if they failed to complete 90% of the course. If they make it further than this, even if their car stopped working, they are technically classed as finishing. The 2015 Japanese Grand Prix is a fairly rare example in which all 20 cars were deemed to have completed the contest, despite Felipe Nasr suffering mechanical problems four laps from the end.
Are Slow Drivers Considered Non-Finishers?
When the leading driver in a Grand Prix reaches the chequered flag, drivers only have what remains of that lap to move up the order.
If there is a driver who is trailing by three laps, on an account of their slow/damaged car, they will not have a chance to complete those extra three laps.
Formula 1 does not allow stragglers to complete the full set of laps at their own pace. Instead, they will finish at near enough the same time as everyone else and have +3 laps as their official finishing time.
Although these drivers technically have not finished the race, they are not considered DNF either.
How Do The Rankings Deal With DNF?
Instead of seeing DNF on the official race results, you will instead see 'Ret.' in cases where a driver failed to complete at least 90% of the race. This is simply an abbreviation of retired and indicates that the driver was forced to pull out before reaching the chequered flag. DNFs will be listed in the order they bowed out of the race. This is not based on time, rather on how many laps had been completed at the point they could no longer continue.
Crashing a little later than the rest will therefore mean you do end up higher up on the results but this is purely administrative. Drivers completing less than 90% of the race are not awarded a position so really it is no better to crash out at lap 40 than it is at lap 10. In both cases, a driver will still be classed as retired and unable to collect any points for their efforts even if few others managed to finish the race.
Classified Status Required To Gain Points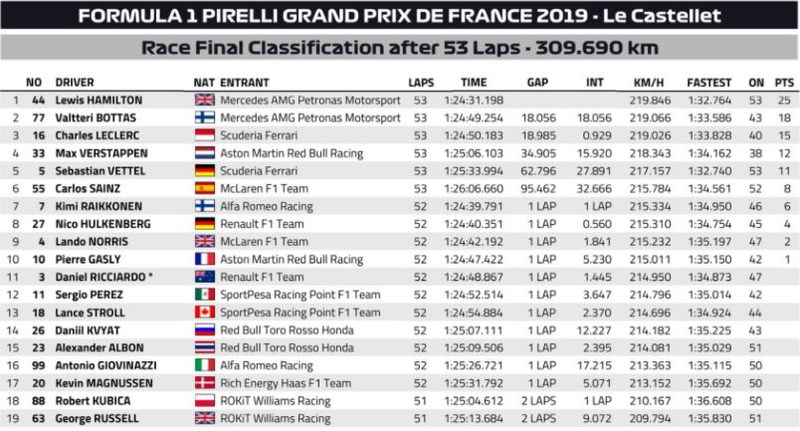 Drivers who fail to finish a race will only stand the chance of gaining some points if they are what is known as 'classified'. Any driver, providing they are not later disqualified, will be classified providing they complete at least 90% of the race. So, in a 60-lap race, they will need to make it to lap 54. By being classified, a driver will be awarded a finishing position even if they did not actually finish the entire race.
There are a few instances of this happening, a slippery 1996 Monaco Grand Prix being one great example. Even though at this time only the top six drivers earned points, as only three drivers actually made it to the finishing line, this meant three drivers that technically failed to finish also recorded points.
Heinz-Harald Frenzten, Mika Salo and Mika Hakkinen were all forced to drop out late on. Frenzten claimed fourth place though on an account of completing four more laps than the Finnish duo. Eddie Irvine was classed as non-points scoring finisher too but Villeneuve, below him in the standings, failed to meet the 90% threshold and so was deemed retired rather than to have finished in eighth place.
This is not even the most incredible example of non-finishers collecting points. A truly incredibly 1982 Monaco Grand Prix saw two drivers on the podium who did not even go the full distance. Didier Pironi and Andrea de Cesaris both ran out of fuel but because they were at least a lap ahead of all other cars on the track, they still ended up with a podium finish.