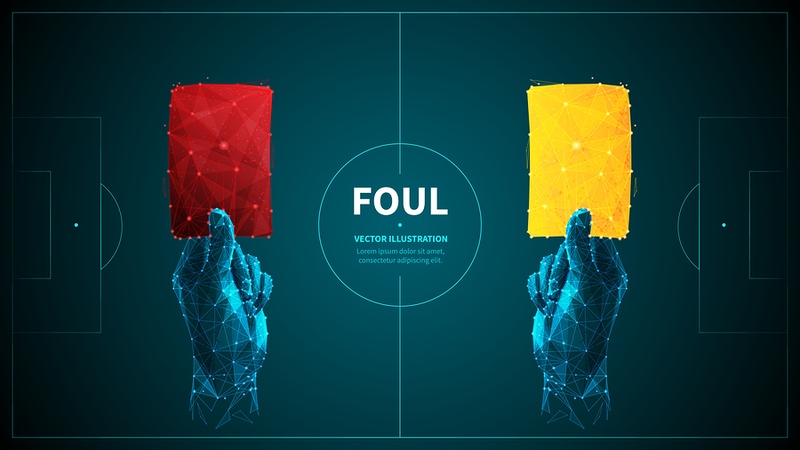 Football isn't called the beautiful game for nothing. At its best it is a sport capable of taking ones breath away, but it is also an incredibly physical sport in which players' competitiveness can see them crossing the line and then things can get ugly.
The best bookmakers know that punters want options for their betting and so they provide markets based on when players overstep the mark and are shown cards by the referee.
The number of available betting markets relating to bookings and cards will depend on the bookmaker and the significance of the match in question, but there is usually at least one way of securing a net win from a match in which the referee is frequently in and out of his top pocket. Some of these markets can be a little confusing though, so we've explained them for you below.
Total Cards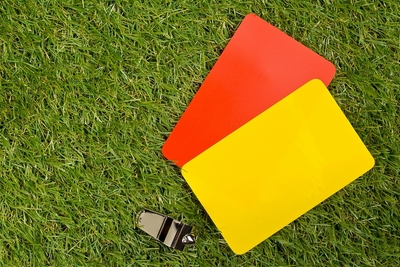 The simplest way to bet on cards shown or not shown in a football match is with the Total Cards market. This market operates in the same way as an Over/Under Goals market except that the bookmakers will set one line before the match.
You'll generally see that line operate at Over/Under 4.5 cards but that number will be higher for certain matches such as local derbies or teams with strong rivalries. The odds for both selections also obviously change from match to match and some bookies even offer the market as an in-play option.
Unlike some of the more technical markets described below, the Total Cards market treats yellow and red cards the same. It is simply a totting up of the total number of cards shown in a match, no matter the colour.
Bookings Points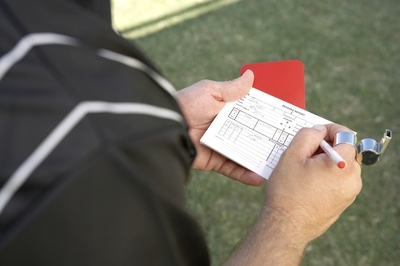 Booking Points is a more complex market which used to be offered only by spread betting firms but is now more widely available. It operates by assigning a points total to yellow and red cards before the match and adding those points together. Whilst spread betting companies will set a spread which their players can either buy or sell, online sportsbooks will usually offer their Bookings Points market as an over/under choice.
Most bookmakers operate on a system of 10 points per yellow card and 25 points per red card. Players who are sent off having been shown two yellow cards will accrue 35 points which is the maximum an individual player can amass.
It is worth noting that the total points applies only to 90 minutes plus injury time and not to extra time. Also, for the purposes of the Bookings Points market, only cards shown to players on the pitch will count. Any cards shown to substitutes and coaching staff will not accrue points.
Team Cards
Sometimes punters want to bet on the number of cards shown to a particular team. You can do this via the Team Cards market which offers an over/under choice on a line set by the bookmaker before the match (usually over/under 1.5 cards) and is settled with both yellow and red cards counting as one card.
There are certain situations in which this market offers greater opportunities to secure a net win. For example, if an underdog has a reputation for trying to stop better teams with so-called tactical fouls, or when a particularly reckless player is drafted into a team at the last minute.
Team Card Handicap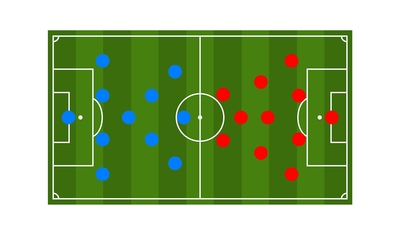 Another route to a potential net win from the propensity of an individual team to pick up cards is with the Team Card Handicap market. In this market, the bookies will set a handicap line for the two teams (which is usually very low) and then adjust the odds accordingly.
In order to earn a payout, you need to correctly predict which team will be shown the most cards during a match (90 minutes plus injury time) taking the handicap line into account.
First Card Received
The First Card Received market is another chance to gain a net win from the differences between the two teams in a given match. In this market you are betting on whether a player from the home team or the away team will be shown the first card in the match. The third option in the market is on there being no card shown at all.
Time Of First Card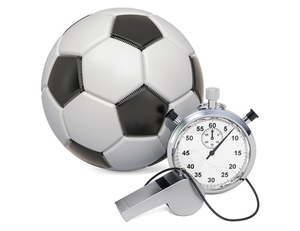 Time-specific markets are increasingly popular with punters and the best bookmakers don't miss a trick in that regard when it comes to their cards betting.
The Time Of First Card market operates in the same way as the same market for the first goal in a given game, and adds a lot of extra excitement to a match.
The bookies will set a line of a certain time in the match and offer a binary choice as to whether the first card will be shown before this time or after it. All you have to do is pick one of the options and hope it turns out to be correct.
Shown A Card?
Goalscorer markets are among the most popular with those who bet on football but they're not the only way of benefiting from the actions of individual players. If you believe that a certain player is going to pick up a card in a certain match then the Shown A Card? market is for you.
To get a winning bet from this market you simply have to correctly predict if a player will be shown a yellow or red card during a match. It operates in the same way as the Anytime Goalscorer market in that the player doesn't need to be shown the first card in a match and bets on substitutes only stand if they enter the field of play.
There is also a First Player To Be Shown A Card market which ends as soon as the first card is shown.
Player To Be Sent Off
The Player To Be Sent Off market operates in exactly the same way as Shown A Card? except that it refers only to red cards. This is a good market to use for hot headed players or those who are likely to commit a high number of fouls during a match due to a one on one battle with an opponent.