In a quest to stand out from the competition, bookmakers are continually on the lookout for new markets they can offer their customers. One relatively new addition is betting on the number of tackles.
Given that many punters will not have bet on tackles before, we wanted to give you a comprehensive guide as to how it works and if it is worth dipping into.
What Is A Tackle?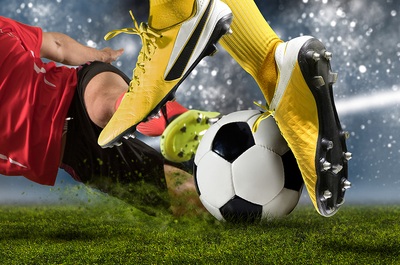 Before focussing on how tackling betting works, it is important to cover what a tackle is defined as in this context. For the bookmakers that offer tackling betting, they are not judging every challenge themselves using their own definition. Instead, what you are very likely to find is that a bookmaker simply refers to the stats provided by Opta, an independent sports analytics company. In recent years they have become something of the gospel for football-related stats due to their accuracy and the sheer range of data they collect.
Following Opta's definition, a tackle is a situation in which "a player connects with the ball in a ground challenge where they successfully take the ball away from the player in possession". There are a couple of key takeaways from this, firstly that tackles can only occur on the ground. A defender beating the striker in the air from a corner would not count as a tackle. Secondly, the attacking player must be in possession of the ball. If they are a split second away from collecting a pass, but the defender swoops in and prods the ball away, this would be an interception rather than a tackle.
In order to be tackled, a player must "clearly be in possession" too so if they have not really got it under any control – or appear not to have – Opta will not count it. The outcome of the tackle, as in where the ball goes afterwards, is not relevant for the purpose of counting successful tackles. So, even if a defender makes a tackle but the ball goes immediately to an opposition player, the defender still gets credit for the challenge.
How Many Tackles Are There In A Match?
It may come as a surprise but most players put in very few successful challenges per game, if any at all. Just one or two is a very common figure so tackling represents such a small part of a player's overall game. Figures can vary depending on the league or competition but generally they stay around the same level.
In the 2021/22 Premier League season, the average number of tackles a team made was 620, with Leeds at the top of the pile and champions Man City at the bottom. This works out as an average of 16.3 per match and just 1.35 per player (per 90 minutes).
There are some players though who specialise in putting their foot in so there are always examples of players being comfortably above this average figure. According to published stats, Wilfred Ndidi topped the list in 2021/22 averaging 3.2 tackles per 90 minutes, followed by Christian Norgaard at 3.1, John McGinn at 3.0 and then Yves Bissouma and Tyrick Mitchell at 2.9.
We recommend considering the number of tackles per 90 minutes, more so than just overall tackles, as this way it still recognises top tacklers that have missed a chunk of a season through injury/suspension/rotation. Similarly, it avoids elevating certain players who simply play every minute or every match.
What Influences Tackling Stats?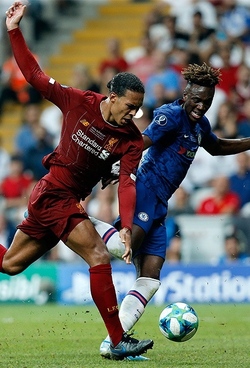 You might think that the players classed as the best defenders would put in the most number of tackles but this is very often not the case. Sticking with the 2021/22 Premier League season, centre back Virgil Van Dijk, who played 34 matches, only made 16 tackles according to the official Premier League website. Similarly, Ruben Dias, who is also considered to be one of the best defenders in the league only made 26 tackles in 29 appearances. So, in both cases, the pair were averaging less than one tackle per match despite their reputation for being brick walls.
As for why some highly regarded defenders are rarely putting a foot in, it boils down to a number of factors. Some of these include their team's playing style, tactical instructions from the coaches, time spent in possession and indeed the reputation of the defender. In the 2021/22 season, Man City boasted the highest possession stats (Liverpool were in second place) and it is impossible to make a successful tackle when you have control of the ball for the majority of the match (based on the above definition). Additionally, Man City and Liverpool will often press their opponents relentlessly when they do concede the ball. Under pressure, teams often play a poor pass or simply hoof the ball upfield, meaning possession is exchanged without the opposition having to actually tackle anyone.
In a team that dominates the play, being the deepest man back also means being in a position to tackle less because opponents rarely reach that far up the pitch. Even when an opposition forward is able to run at the heart of the defence, they will be far less tempted to take on a formidable defender, opting to pass or shoot from distance instead. A striker might fancy their chances of taking on some newly promoted centre back but if they are up against Virgil Van Dijk, for example, the idea seems far less appealing.
One final point to consider is more tackling takes place in midfield than it does at either end of the pitch. For this reason, players that top the charts for tackles per season tend to be central midfielders or fullbacks who like to push up a fair amount. If you look at the tackling stats for the 2021/22 Premier League campaign, there was only one centre-back (Mohamed Salisu) in the top 30 and even then, the Southampton man spent several matches playing at left-back.
Tackles Betting
At the time of writing, betting on tackles is yet to become a standard footballing market offered across all major bookmakers. Instead, it is only offered by a handful of names and even then you will typically only find it available for relativity big matches. When available, usually how it works is that a range of players will be listed and you will need to bet if they will make a certain number of tackles. The number specified in the bet might be a .5 figure, so over 1.5 tackles, or it could be 1+ which means one or more.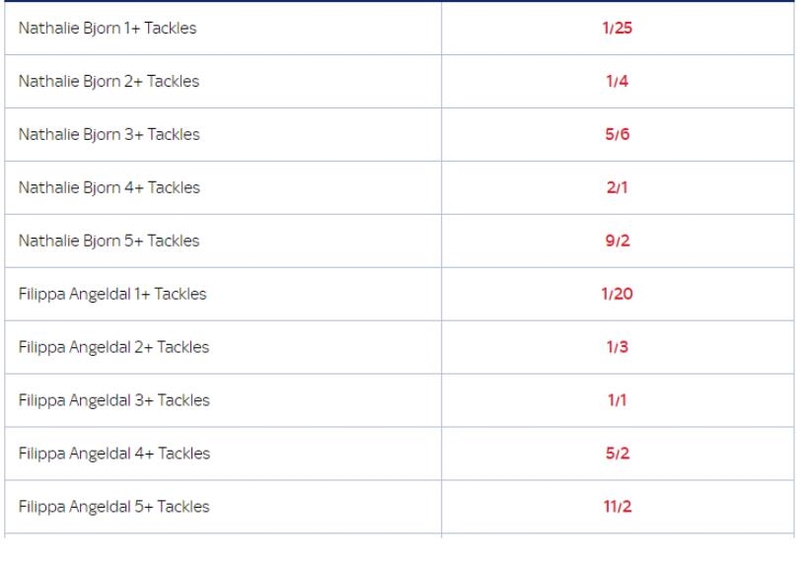 The example above is not a full list of available players but it shows how you can bet on a couple of named individuals to make a specified number of tackles. You will often get very little return for 1+ (or over 0.5 tackles) and even 2+ tends to be skinny unless you are selecting a player with low tackling stats. Typically, betting on a player to make under x tackles will not be an available option, only x or above.
Additionally, any tackling betting will usually relate to a player's individual tally. It is very rare to see betting available for a team's overall total although it may be possible to request this as the stats should be tracked. In either case, bear in mind that tackling stats relate to the match in 90 minutes unless stated otherwise. Should the contest go to extra-time, any tackles made will not be counted for the purposes of your bet.
Is Tackles Betting Worth It?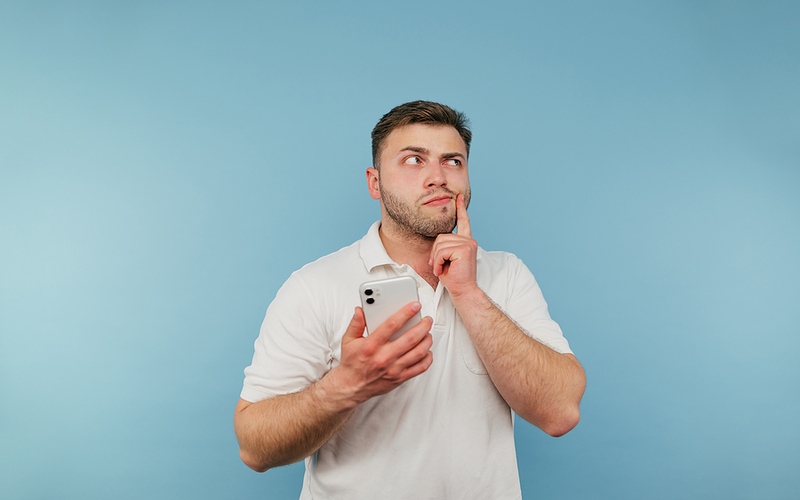 Seeing some of the skinny odds included above, you may be asking yourself if betting on tackling could ever be worth your while.
To answer this question, let us look at the odds provided by one popular bookmaker for a game between Manchester City and Southampton back in March 2021. The stats relate to the entire Premier League season so stats pre-fixture would have been slightly different.
| Player | Over 2 tackles (3+) odds | Tackles per 90 minutes |
| --- | --- | --- |
| Rodri | 11/8 | 2.72 |
| Fernandinho | 11/10 | 2.35 |
| Oleksandr Zinchenko | 2/1 | 1.28 |
| Ilkay Gundogan | 7/1 | 1.11 |
| Kye Walker-Peters | 8/13 | 2.82 |
| Ryan Bertrand | 1/1 | 2.46 |
| James Ward-Prowse | 1/1 | 2.21 |
| Jannik Vestergaard | 2/1 | 2.13 |
| Jan Bednarek | 9/4 | 1.40 |
Judging by the player data, Cancelo made for a tempting option as he was averaging over three tackles per game and had odds greater than evens. Rodri was also not a bad shout either given his fair price. For Southampton, nobody seemingly provides as good value for money at first glance but you had to factor in that they will spend a lot of this game, far more than normal, without the ball. It would not be an unreasonable assumption therefore that they would put in more tackles than they ordinarily would.
When bearing this in mind, Ryan Bertrand at evens and Jannik Vestergaard at his 2/1 price tag looked to be worth a punt. You could have justified a flutter on Walker-Peters and Ward-Prowse too.
As for what actually happened in the match when it comes to tackles, take a look at the table below.
| Player | Number of Tackles | Return from £5 bet (inc. stake) |
| --- | --- | --- |
| Rodri | Didn't play | £5 (void bed) |
| Fernandinho | 1 | £0 |
| Oleksandr Zinchenko | 3 | £15 |
| Ilkay Gundogan | 2 | £0 |
| Kyle Walker-Peters | Didn't play | £5 (void bed) |
| Ryan Bertrand | 3 | £10 |
| James Ward-Prowse | 1 | £0 |
| Jannik Vestergaard | 3 | £15 |
| Jan Bednarek | 6 | £16.25 |
A few winners, a few losers and a few void bets due to no involvement. On the basis of this game, and several others we have examined, tackling betting is a market that is definitely worth dipping into now and again. It is difficult to get right every time but if you are happy to do a little research you can identify which are good value bets and which are not. If you have the time, we recommend also looking at the dribbling stats of the player(s) the defender/midfielder is likely to be up against.
The reason makeshift right-back Jan Bednarek was able to make six challenges in this game was that Phil Foden was playing left wing with Jose Cancelo supporting him. In terms of dribbles per 90 minutes, Foden finished the season as the second highest in the City squad (3.94) with Cancelo following in third (3.41) and neither had a particularly high success rate. Primarily facing two players that liked to run at defenders all game, Bednarek had far more opportunities to tackle than he normally would.
Extra Considerations When Betting On Tackling
As well as tackling stats and opposition dribbling stats there are some more factors worth taking into account before placing a bet.
Firstly, it is not the best idea to back a player that is regularly subbed off. Should their manager often withdraw them after 60 minutes, this is a lot of potential tackling time they are missing out on and it is likely the odds will not fully account for this.
Similarly, you do not want to select a player that will start on the bench for the same reason. Another key point is to look at where a player is playing when the line-ups are released.
If a centre-back has been moved over to fullback or pushed into midfield, it is likely they will get more opportunities to tackle.
Conclusion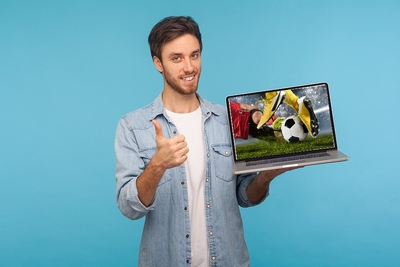 For some time now when wanting to bet on individual players, we have been limited to focussing on their attacking output, in other words, goals or assists.
The option to bet on a yellow/red card is available, but in terms of positive contributions, it is all about putting the ball, or helping to put the ball, in the back of the net.
Therefore, we welcome that punters now have an opportunity to bet on another part of the game (albeit limited to a few bookies at the moment), as it is an element of the game many of us fans rather enjoy.
Opportunities may not be plentiful at this point, with many bookies yet to add it to their repertoire but we suspect it should pick up over time.
As for whether the market is incredible value or a punter's trap, the answer lies somewhere in between.
Betting on tackles can definitely be a decent bet, especially if you are happy to do a little research beforehand, but it is not something we would look to utilise all the time.