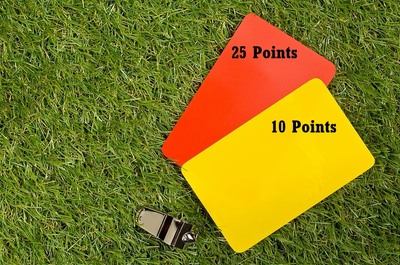 Football betting is full of a huge selection of markets, many extremely self-explanatory but others not quite as straightforward.
Booking points is one that falls into the latter category as it is not immediately obvious how it works.
No doubt you will understand how yellow and red cards work, and you might have even had the odd wager on a player being carded, but although booking points is in the same category, it is not quite the same thing.
Fortunately for you, after this short guide you will know everything there is to know about booking points.
It is unlikely to be a market you dip into on an especially frequent basis but it can offer real appeal for certain football matches.
See Also: Betting on Booking Points and Red/Yellow Cards in Football
Booking Points – How Is It Calculated?
You do not need to be particularly good with numbers to keep track of booking points. How it works is very simple in that every yellow card issued is worth 10 points and every red card is worth 25 points. So, if there are three yellow cards in one game and one red, the total would be: 10 + 10 + 10 + 25 = 55. There are only a few extra rules you need to be aware of. Cards shown in extra-time, as in 30 minutes of extra time, not injury time, will not count towards the total. This is standard policy for most football bets unless stated otherwise.
Points will only count if shown to a player currently active on the pitch. A member of the coaching staff being shown a card is not tracked, nor would it be for a substitute who has already left the pitch or who is yet to be brought on. Lastly, should a player receive two yellow cards, and subsequently be shown a red the second yellow points are not counted. Instead, a player will receive 10 points for their first caution then 25 points for the next, giving them a total of 35, rather than 45 (or indeed 20).
How Can I Bet On Booking Points?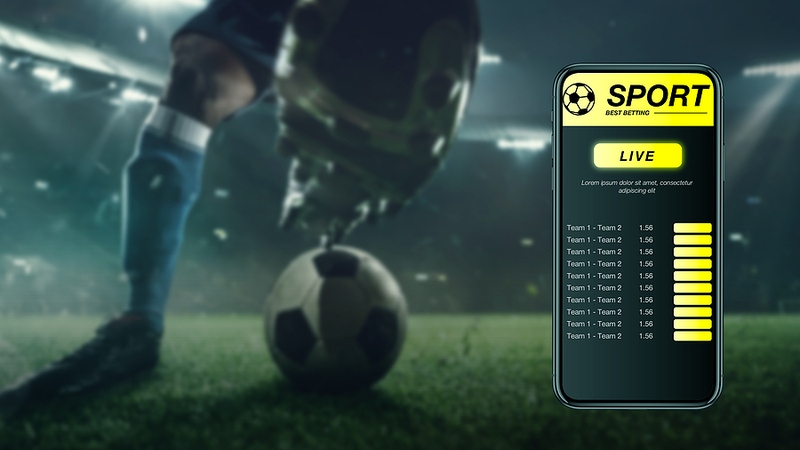 Rather than trying to guess the exact number of booking points in a match, you will usually have the opportunity to bet within a certain range, or bet over/under a specific number of points.
A few examples are provided below, starting with the most common format of having three ranges available with the points total including cards from both teams.
| Total Booking Points | Odds |
| --- | --- |
| Under 15 booking points | 11/8 |
| 15 to 35 booking points | 5/4 |
| 40+ booking points | 7/2 |
Betting over a certain amount is popular too, however.
Betting under is sometimes possible at some bookies but you are less likely to see it.
Note that each cut off point is inclusive so 20+ booking points is a winner if there are exactly 20 points.
| Total Over Booking Points | Odds |
| --- | --- |
| 20+ booking points | 4/7 |
| 30+ booking points | 13/8 |
| 40+ booking points | 7/2 |
| 50+ booking points | 7/1 |
| 60+ booking points | 16/1 |
| 70+ booking points | 33/1 |
The two above examples combine the total card points based on both teams but you can focus on just one of the two teams if you would rather.
Just select either the home or away outfit and try to predict how many points they will match or surpass.
| Over Booking Points (Away Team) | Odds |
| --- | --- |
| 10+ England booking points | 6/5 |
| 20+ England booking points | 6/1 |
| 30+ England booking points | 25/1 |
| 40+ England booking points | 100/1 |
| 50+ England booking points | 200/1 |
Finally, some bookmakers will give you the option of choosing the team you think will end the match with the most points.
The margin of 'victory', if you can call it that, does not matter, only that there is an outright winner.
If there is not, then you will only be a winner if you punted for a tie.
| Team With Most Booking Points | Odds |
| --- | --- |
| San Marino most booking points | 2/5 |
| Tied booking points | 11/4 |
| England most booking points | 8/1 |
What Is An Average Number Of Booking Points?
To someone completely unfamiliar with this market, it can be tricky to know when a bet looks like good value for money. So, before you weigh up a possible punt, it is good to know how many booking points are seen in an average match. By keeping this figure in mind, you have a better general sense of what is a realistic outcome between two teams.
The 2020/21 Premier League season saw 1069 yellow cards, 15 second yellow cards and 33 straight red cards. A quick calculation tells us that this works out at an average of 31.3 points per game. For the same year in La Liga, the average was much higher at 46.8, as it was with Serie A at 45.6. Given that the English Championship average was just 31.4, it seems that English refs are more lenient than their continental counterparts.
What Factors Should I Consider For A Booking Points Bet?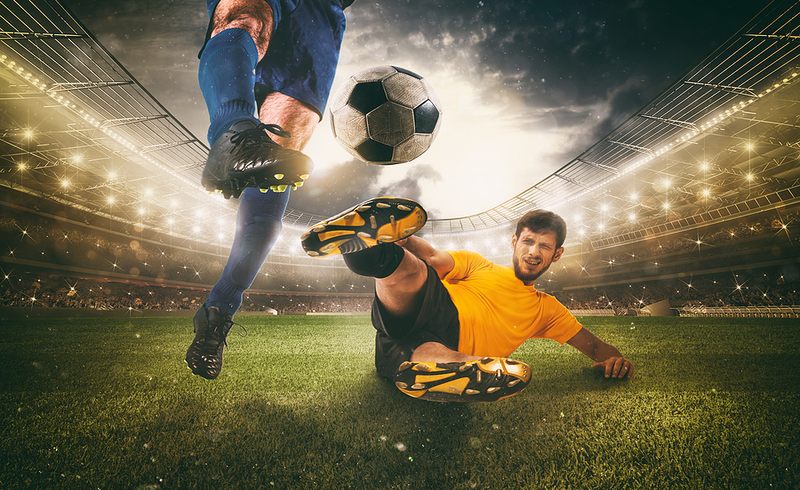 For those still interested in the booking points market, we would say it is one that serves some bettors well. Generally, those that fare best are the ones who do their research as this is the best way of spotting good value in the market. There are normally a few things you will want to consider before betting, not just the league averages noted above as this is a little too general. One key thing to consider, and something you can easily find online, are referee statistics. Some referees are much happier to brandish a card (or three) than others, meaning you can find large discrepancies within the same league.
Even taking the rather more laissez-faire Premier League referees from the 2020/21 season, the average number of yellow cards brandished per game was 2.88 but at the top of the scale you had Paul Tierney on 3.9 and at the bottom you had the card-shy Lee Mason on just 1.82. Mason avoided giving a red card across the 11 matches he looked after too yet in just two games more, Graham Scott dished out four. His average of 0.33 red cards per game was only narrowly more than Mike Dean who gave eight players an early bath across 25 appearances.
There are also big differences between teams within the same league, often with a decent correlation to their performance. Why? Because you are more likely to pick up a card when defending and the worst teams in the league do the most defending. If you were awarded one point for a yellow, three points for a double yellow and five points for a red then in the 20/21 Premier League season, the three highest scorers all got relegated. The worse team in the league, Sheffield United, ended the season having collected more than nearly double the number of cards of Fair Play leaders Liverpool.
If you have the time, you will probably want to check confirmed team line-ups too. Often teams that frequently pick up cards do so because they have one or a small number of players that are absolute card magnets. In Serie A (20/21) Pasquale Schiattarella collected 14 yellow cards in 29 appearances for Benevento. The next highest on his team had eight so Benevento was comfortably their biggest yellow card threat. Whether he played or not would therefore have an impact on the potential value of various booking points markets.
Lastly, you will want to consider the context of the match. A match in which neither team has anything much to play for at the end of the season is less likely to see tempers flare than a mid-season derby match. The north London derby, for instance, tends to be a good one for cards as there is no love lost between the two sides. If we look across their last eight meetings, the average booking points in this period is a massive 64.8. This is way above normal for both teams who often seem to lose their cool in the raucous derby atmosphere.
Of course, the bookies will be aware of these statistics and will build them into the odds they offer. But with a bit of research, you might occasionally get the edge over some bookies, especially in more obscure games about which they have less information.