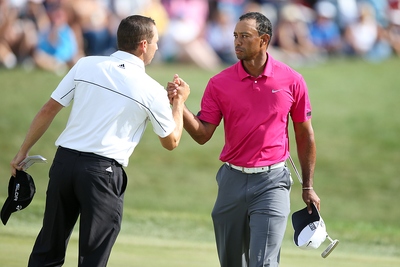 Most golf punters stick to backing a player to win a tournament, either each way or on the nose. However, as with all sports, bookies have added many other markets over the years and one alternative option is a match bet. This may be listed simply as "Match Betting", as "72 Hole Match Betting", or perhaps as "Tournament Match Betting". Whatever the bookies call it, here's what you need to know.
Match betting is a situation in which the field is effectively reduced to just two named players. Rather than picking who will shoot the lowest score out of the full 150 or more players, you are simply saying who you think will finish highest up the leaderboard out of the two. Given this is a straight head-to-head match bet between just two golfers the chances of winning are clearly much greater – although of course the odds reflect this.
Head to head bets are usually offered at the start of the tournament and quite simply, whichever player finishes higher up the leaderboard come Sunday afternoon, wins. The players listed in a match bet pair may be grouped together, or they may not, but usually the bookie picks two players of roughly even ability and often popular golfers who attract betting interest.
Because it is effectively a two-horse race the odds for both players do not usually stray too far from evens, although of course they can if the bookies decide to create a mismatch. This means that 72 hole match betting is a good option if you like a golf bet with a much higher chance of success than trying to unpick the puzzle of who will win a tournament.
It also means that golf match bets are, like 2-ball and 3-ball bets, good to combine into accas. Most good golf betting sites facilitate this and if you manage to correctly call three or four that you have combined into an acca, your total odds can soon add up and deliver big wins even from reasonably modest stakes.
Key Rules for 72 Hole Match Bets

As with any betting market, there are a few points and rules you should be aware of when it comes to having a punt on a 72 hole match bet. The first thing to be aware of is that with most bookies, if the two players tie bets will be deemed void, meaning you get your stake back. If a site should offer a tie as a separate bet this will not be the case of course, and if the players both end the tournament on the same score a bet on either player would have been a loser. Either way, as far as we are aware this is not a market where any major bookie uses dead heat rules.
This issue brings us to another point though, because although we have talked about the "score", this is actually a bet on a player's finishing position. So that means that in the relatively unlikely event of both players finishing in a play-off it would be the golfer that ultimately wins the tournament that is deemed the winner of the bet.
That said, some bookmakers do not have the clearest rules for such a scenario, perhaps because it is so unlikely, and so if their rules do not cover such a situation they may settle their wager based on a tie.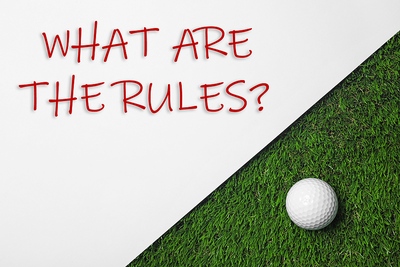 A more likely scenario is that both players miss the cut and in golfing terms they are both ranked equally. A missed cut is a missed cut but when it comes to this bet, most sites do not consider this a tie per se, but instead settle the market based on whichever player had the better score after two rounds. Of course if they both had the same 36-hole total the market will be settled as a tie, meaning either a void bet or a loss for stakes on both golfers depending on the rules.
There are various other rule quirks which vary from betting site to betting site but in truth these are not something you would need to worry about 99% of the time. They concern tournament curtailments, player disqualification, injuries and withdrawals, and other infrequently occurring events. If you do have a golf match bet affected in one of these ways, check the rules with your chose bookmaker, or contact their support team.
Similar and Related Bets
There are a number of similar bets that may also be of interest and these include the following:
18, 36 or 54 Holes – essentially a match bet may be offered for any number of rounds within the tournament. If it is just 18 holes this is typically a two-ball or "Mythical 2-Ball" bet but you may see it listed with the match bets. 36-hole bets may cover the first two rounds or the last two rounds but essentially a bookie may offer a head-to-head between any two players for any defined number of holes as they see fit.
Handicap Match Bets – these are less common in tournament match bets than 18-hole 2- and 3-ball markets but even so, some bookies do offer them. They work the same way as a standard bet but with a handicap applied.
72 Hole Group Betting – this bet is similar in that it consider the entire tournament but rather than two players going head to head, it looks at multiple players. These may be a small group of named golfers but this market also covers betting options such as "Top European", "Top Spaniard" and so on.
A match bet is a great way to support a player you think is in fine form or simply to add extra spice with a golfer you favour. Alternatively you may think that a given course really will or won't suit a particular player, or that conditions will be more suited to one golfer than another. However you decide which golfer to back, a 72-hole match bet is a superb additional market to consider when making your golf bets.