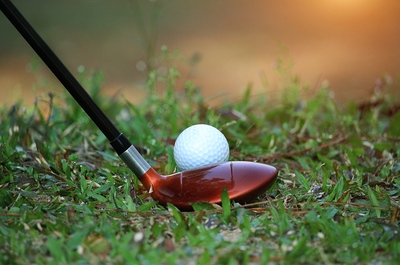 All sports can be confusing to the uninitiated but golf certainly has more complexities and subtleties than most.
If you think you understand golf after watching a few "normal" tournaments, you may be rather confused when events such as the Ryder Cup or the World Golf Championships (WGC) Match Play turn up.
That is because the vast majority of professional tournaments and events are contested using the stroke play format of the game.
In contrast, the two huge contests named above, and one or two others of note, use match play.
In this article, we will explain how both work very briefly, before showing how these distinct mechanics translate into differences in scoring, tactics, gameplay, handicaps and utilisation.
What Is Stroke Play?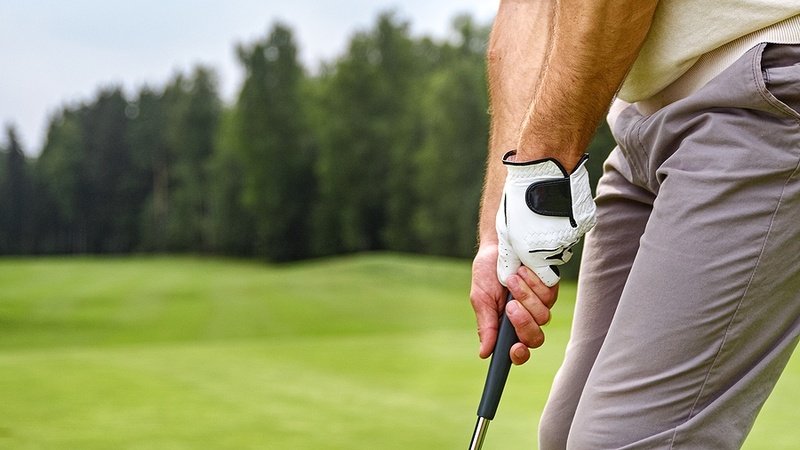 Stroke play is the most common form of golf, certainly in the pro ranks, and around 90% of tournaments (confession: we haven't actually "done the math") are played this way.
Chances are, therefore, that if you know a little about golf, it is this format that you envisage when you think of the sport.
Professional tournaments are almost always played over four rounds, usually from Thursday to Sunday inclusive.
The winner is, quite simply, the person who completes those four rounds in the fewest shots.
Sometimes called medal play, often at club level, the principle is the same whether we are talking about a quick nine holes with a pal, an 18-hole county-level tournament, or the US Masters at Augusta National, played over the standard 72 holes.
What Is Match Play?
In match play shots are not compared over rounds or whatever the entire duration of an event is, but instead over each individual hole.
Whichever player, or pair (as match play is often used in team events, which often features doubles) scores the lowest total on each hole wins the hole.
If they get the same score, the hole is said to have been halved and neither player/team benefits.
A player that wins a hole when the scores are level is then said to be "one up".
If the same player wins the next hole they go two up, whilst if their opponent wins it goes back to all square.
Any holes that are halved whilst the score is one up mean the score remains unaltered.
Should the score be all square after all 18 holes (or occasionally 36) have been played then the match is either halved or the golfers play a sudden-death play-off to decide the victor.
Key Differences Between Match Play And Stroke Play Golf
Aside from the obvious differences that are apparent from the information above and the nature of the two ways of contesting golf, there are a number of somewhat subtler differences between stroke play and match play.
Match Play Much More Tactical
In match play, there is far greater scope for tactics, for want of a better word, in a range of guises. This is largely because in match play you are typically competing against just one other player. Stroke play events can develop into similar head-to-heads, most commonly on the final afternoon of a tournament if two players are out in front and happen to be playing in the same group. But in general, when it comes to stroke play golfers are competing against the course, or at least many other players.
Because match play is always a battle between two players or pairs, there is more scope for gamesmanship, course management takes on greater import and the tactical and psychological aspects of the game also take on much more significance.
Gamesmanship And Tactics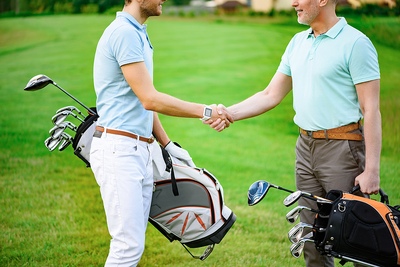 The boundaries between gamesmanship and tactics, and gamesmanship and outright cheating may be blurred for many. Wherever you draw your lines though, in match play, golfers have far greater scope to use abilities beyond their ball-striking and putting.
Call them tactics, ploys or anything else but in match play golf, players can decide when to concede or not concede putts. In stroke play, all putts must be holed but due to the personal nature of the competition in match play, golfers can tell their opponent to pick their ball up by conceding short putts that they consider will not be missed.
One classic trick associated with match play but which is probably of limited value is to concede a lot of putts early on. The theory is that such putts have less importance early on so by conceding them you can prevent your opponent from getting a feel for the greens or gathering confidence in their ability to hole out. Then, later in the round, when the pressure is cranked up, you can force your opponent to hole out, hoping they might still be a little "cold" and will therefore miss.
Another classic match play tactic is to control who has the honour in order to apply pressure. Golfers may deliberately take a shorter club from the tee to make sure they get to play their approach shot second. This means that they can then play their ball in and, if they are able to put it close, apply a lot of pressure on their opponent. An alternative approach, of course, is to try and outhit your opponent and then they must play first, allowing you to know what you need to do with your shot. If they stick their second into the water or a tricky bunker then you can play for the heart of the green, whilst even if they play a fine shot, at least you then know what you need to do.
There are a host of similar and related ploys that can be used in match play that just do not exist in stroke play. Another separate area concerns just how aggressive you can be in match play, and that is what we shall look at next.
Stroke Play Rewards Consistency, Match Play Rewards Aggression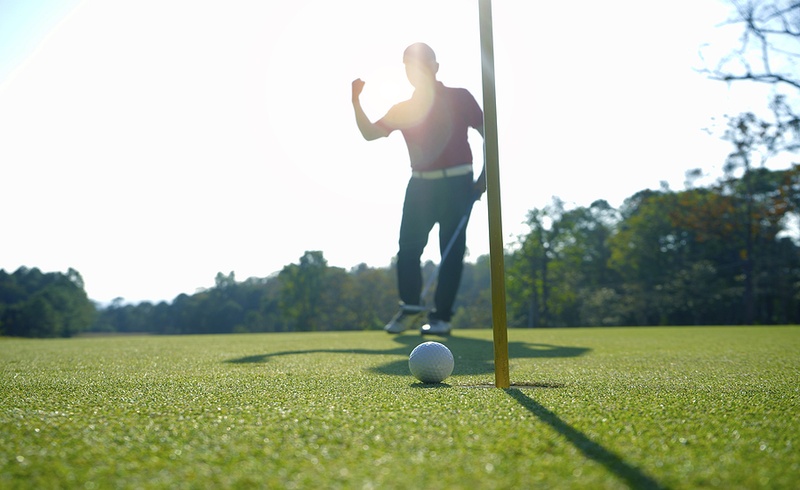 The nature of the scoring in stroke play means that every shot matters. Find the water from the tee on the first hole and make a double bogey and those two shots lost to par could be the difference between winning the tournament and finishing fifth on the final Sunday, 71 holes later. In contrast, that same poor drive and double bogey in match play can be forgotten about on the very next hole.
Because every shot is included in the final reckoning, stroke play tends to favour more consistent players. Shooting birdie, birdie, bogey, double bogey, eagle, quadruple bogey, birdie is likely to produce very different results in the two formats. In stroke play you are two over par and possibly off the pace, whilst in match play you may well find yourself two holes up.
In match play, golfers can afford to be far more aggressive, be it going for a tough downhill putt, trying to carry a bunker from the tee or taking on the water with an approach shot. It is not so much that stroke play does not reward aggression, but more that the penalties when things go wrong are greater. A mistake in stroke play can never cost a player more than a hole, whereas in stroke play it can lead to two, three or even more shots being lost.
This very much links in with the tactical element of match play because knowing when to attack to try and apply pressure on your opponent can be crucial. That said, aggressive players can go all-out attack if they want, knowing that the worst-case scenario is simply a lost hole. Looking at things from this perspective there is an argument that the course management aspect of stroke play is actually the more nuanced.
In match play, a golfer will know what they have to do on each hole. If your opponent is in for birdie four then you do not need to consider what might happen if your birdie attempt slides six feet by – you simply go for it. Equally, if your rival is on the green with a short birdie putt and you have a very tough approach there is limited value in simply playing the averages and going for the heart of the green.
In contrast, when it comes to stroke play, golfers must try to see the bigger picture. Unless the tournament is reaching its absolute conclusion, there are times when players might have to accept losing a shot on the field or their most obvious rival on the leaderboard, knowing that it is better to play safe and lose one shot than be too bold and risk losing three.
Because the golfer must play the course, not their opponent, knowing the right time to take on extra risk can be far harder in stroke play. In match play, a golfer's hand is often forced but in stroke play it is very much their own decision, so whilst match play is more tactical, stroke play is not without its nuances.
Length Of Matches And Size Of Field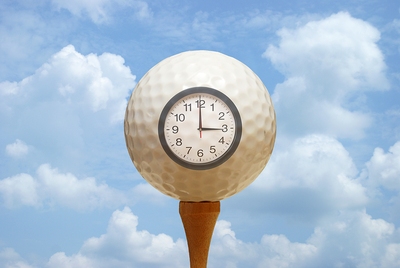 One major difference between the two formats is that stroke play events, certainly at the pro level, are almost always four-day affairs played over 72 holes. Because all players are effectively competing against par, not one another, larger fields are the norm in stroke play. The majority of "normal" stroke play events feature between 120 and 150 players, whilst match play golf tends to see smaller fields.
This is largely because match play events see players go directly up against other golfers in a knockout format, with rounds in the sense that we have rounds at a tennis tournament or a cup in football. Sometimes match play golf does use a round-robin format for the early stages but traditionally it would see a straight knockout format. In general, this takes longer to complete so fields are smaller, with the most prestigious current match play tournament, the WGC Match Play having a field of just 64 (though this also uses a round-robin group phase with 16 groups of four).
Each individual (knockout stage or group phase) round of a match play tournament is normally held over 18 holes. Sometimes tournaments have been held over 36 holes, especially in the later stages, but 18 is more common. Overall though, due to the number of knockout phases involved, golfers who make it all the way to the final of a match play event may well have to play 90 holes, 108, or possibly even more.
Another slight difference is that players only tend to complete more than 18 holes in a given day in stroke play if bad weather has forced a delay. In contrast, playing 36 holes in a day, be it two separate matches or one longer one, is far more common in match play golf.
Another difference relating to match duration is that match play events, by their nature, do not have a cut in the same way as stroke play events. In stroke play around half the field may be eliminated after two rounds so that the weekend sees only those players who are deemed to have a realistic chance of winning. In match play there is no cut but, as said, players are removed from the field due to losing individual games or, in the case of round-robin events, not finishing high enough up in their mini-group.
The last obvious difference in terms of the length of games and format is that in match play it is not necessary to play all the scheduled holes. As in snooker, where a final might be best of 19 frames, match play golf is effectively "best of 18 holes". In snooker, things are slightly different as it is essentially the first to 10 frames, whereas due to halved (tied/drawn) holes, in golf the target is less fixed.
The key point, however, is that it is possible for a player to win before all 18 holes have been played and, in such a scenario, the golfers do not continue but the match simply ends once one player has an insurmountable lead. Let us imagine, for example, an unlikely match where the first 15 holes are halved. On the 16th tee, the match is "all square", in match play parlance. If the same player wins the 16th and 17th hole they are two holes up with only one left to play.
Rather than the losing player being given the chance to save a little face and the crowd getting to see another hole of golf, the other golfer simply wins the match "2 & 1". This means they are two holes up, with one to play. The biggest possible winning margin, very rarely seen, is 10 & 8, with the narrowest possible "1 up", where the players came to the last hole all square before one or other won the 18th.
Play-Offs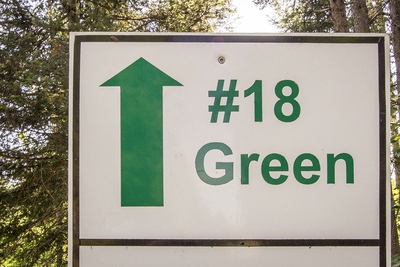 Having said that 1 up is the smallest possible winning margin, we should point out that play-offs are something that is used in both stroke play and match play.
In stroke play, the format is usually sudden death but some events still have play-offs of four holes or even 18.
However, in match play, any play-off is always sudden death.
So, should the players reach the 18th hole all square and then halve the last, they play on until one wins the hole.
The only exception to this is in team events where each team may be awarded half a point or in round-robin stages where the same system may be used.
Team Events Use Match Play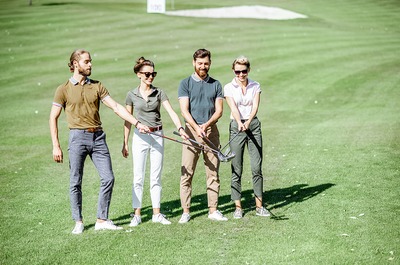 Team events such as the Ryder Cup, the Walker Cup and the Solheim Cup are a brilliant part of golf where players who normally compete fiercely as individuals for huge sums of cash, come together for nothing more than pride.
Whilst some pairs events, such as the World Cup, may use variations on stroke play, events such as the Ryder Cup always use match play.
This usually involves a mix of singles and doubles matches and also different formats, most commonly foursomes and fourballs.
Handicaps
The last major difference, albeit one that only applies to us amateur hackers, concerns the way the handicap is used. In stroke play, things are simple but in match play, where both players may have a handicap, things can be slightly more complex. The two handicaps are used with the better player (according to handicaps) giving the higher-handicapped golfer shots according to the difference.
Depending on the rules this may either be the whole difference or a fraction; so in the first case, if you have a handicap of 16 and your friend plays off 10, you would receive six shots. Sadly you do not get to choose when you get to deploy these, but instead they will be used on the six hardest holes according to the course's Stroke index (SI).
Biggest Match Play Events

Many fans love match play golf but for a number of reasons, the authorities are less keen. It is generally thought that there are not more match play events because they are less favourable from a TV and broadcasting perspective. In match play it is harder to control the finishing time of an event and, in addition, there is a danger that the biggest names might not thrive.
Over four days of golf where every shot counts the cream will usually rise to the top. However, in match play, it is far from uncommon that a supposedly lesser player can raise their game for 18 holes whilst the big-name star who attracts the fans just has an off day. Leaving aside the reasons for the limited number of match play tournaments, the following are the ones to watch out for if you love the tension and competitive elements of this format of the game.
Ryder Cup – team event held every two years between male pros from the USA and Europe.
Walker Cup – the amateur equivalent of the Ryder Cup.
Solheim Cup – keeping things very simple again, this is the female version of the Ryder Cup.
Presidents Cup – this much younger tournament is akin to the Ryder Cup but with a non-European Rest Of The World side taking on the might of the States
WGC Match Play – one of the prestigious WGC events and the only one that uses Match Play.
World Match Play Championship – now defunct, this brilliant event was won seven times by Ernie Els, and five each by Seve Ballesteros and Gary Player. Held at Wentworth for more than 50 years it was last held in 2015, with the WGC effectively taking over.
PGA Championship – the PGA Championship, one of the game's esteemed four majors, was actually a match play tournament for much of its history, from 1919 to 1958.