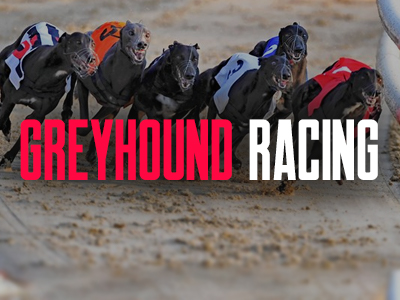 Greyhound racing no longer attracts the crowds it once did but it is still alive and kicking.
Dog racing is a sport that is very closely tied to betting as the vast majority of people that watch the action end up having a punt on it. If gambling were not an option, most would not attend as they have no affiliation with any of the dogs, and races would provide little thrill without a possible financial prize. As it is though, a trip to the dogs is a brilliant, highly affordable choice for a great night or day out.
There are no plans to ban greyhound racing gambling so finding a bookmaker to take your bets, whether online or at the course, is never a problem. It may be a sport a long way from its heyday but many bookmakers, in particular British ones, are still committed to covering it. International names often do not bother though, as greyhound racing is not a sport with a global presence, although it does also take place in nations including Ireland, New Zealand and the US.
How to Bet on Greyhound Racing
Greyhound racing may not take place in many countries but this does not mean there is a shortage of races to bet on. The United Kingdom, Ireland and Australia are the main sources of the action and they all have multiple greyhound tracks with busy schedules. Part of the reason that stadiums can host so much action is that greyhound racing is a relatively undemanding sport. Because dogs are usually only covering a short distance, the recovery time between races is fast. Due to this, it is not at all unusual to see a greyhound compete twice a week. They are also far cheaper to own and train than horses, so there are plenty of animals in the sport.
In addition, you also very rarely see more than six (or eight at the most) dogs in any given race and this cap does help with the frequency of contests. The other point to note about betting on greyhound racing is the mixed timings. Races can happen on any day, from relatively early in the morning to late in the evening. On the day of writing this article, the first race began at 08:12 and the last at 21:50 (local time).
If you are planning on watching the action live, accuracy is needed as races often begin promptly at very specific times. Rather than being given rounded times, greyhound races can be scheduled for any minute during the hour.
When seeing that there is so much greyhound racing out there, it can be tricky deciding which races to bet on. Some bettors prefer just to focus on a venue or two, preferably ones they know something about. From then on it is just a case of doing your research. Unless you are a business insider or huge fan, you are unlikely to have any real prior knowledge of the dogs involved. Stats are available online though, showing past performances and other basic information. Alternatively, you can often find free tips online written by experts (or self-proclaimed experts!).
Main Bets on Greyhound Racing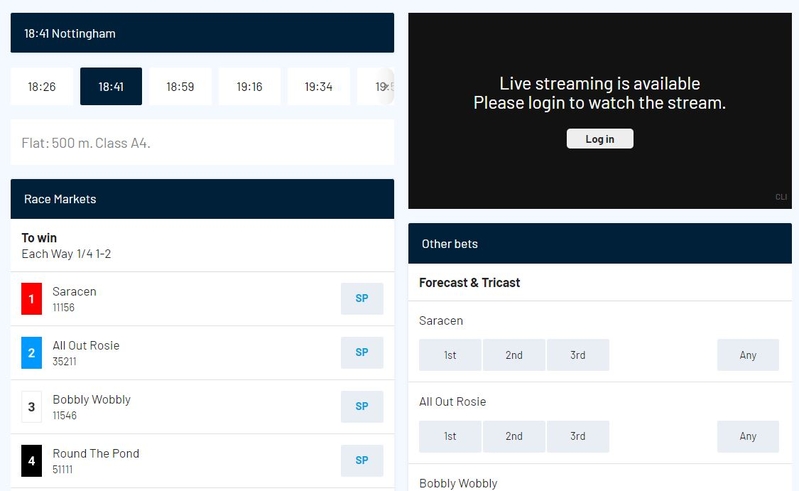 With some sports, the number of available markets varies massively depending on the stature of the event. With greyhound racing though, the offering at each bookmaker is far more consistent.
The markets that one betting site provides for one race is what they will likely provide for most other contests.
The list below covers all the main options but be aware not all brands give this much attention to greyhound racing. For those that don't, they may provide little more than just the win or each way market.
Win or Each Way – A very simple and incredibly popular bet on which dog you think will win the race. If you select the each way option, half your bet will go on the dog to win and the other half will go on them to place (top two finish as standard for a six-dog contest). If placing, the payout is usually one quarter of the win odds.
Top 2/Top 3 Finish – A bet on a greyhound to finish in either the top two places or the top three.
Betting without X – Here you can bet on who you think will win the race after excluding the named runner from the final result.
Favourite – With this bet you will end up backing whoever begins the race as favourite at their official starting price.
Place Insurance – Pick which greyhound you think will win the race but get your money back if they finish within a place insurance position. Punters can choose second place insurance (covering a runner-up finish) or a third-place insurance (covering second and third).
Odds vs Evens – A bet on if the winning trap number will be an even one or an odd one.
Inside vs Outside – A bet on if the race winner will begin the contest from an inside trap (1,2,3) or an outside trap (4,5,6).
To Finish Second – This market requires you to predict the dog that will finish second in a race, no better or worse. You may also be able to find odds for finishing third.
Trap Market – Very similar to the standard 'win' market but you are choosing the winning trap rather than specifically naming the dog. For most races this is the same bet but it means your wager will stand if a dog drops out and is replaced by a reserve runner.
Forecast/Tricast – These trickier bets involve picking the top two (forecast) or top three (tricast) dogs in a race. You can either pick the exact finishing order or for a lower payout select 'any' order.
Most of the markets above work using fixed odds, meaning you know in advance what you will stand to win based on your stake. One exception is when backing the favourite at the SP (starting price), as the SP will be unknown until after the race.
Also, for forecasts and tricasts, the expected returns may show as n/a (but not always as fixed-odds forecasts are possible). If this is the case though, it is because the bookmaker will use the Computer Straight Forecast, or similar, to calculate returns. This is a computer calculation that uses the starting price of all greyhounds, the number of runners involved, and the odds of the dogs to fill the places, to create a payout value, or dividend.
Other Types of Bet
Greyhound racing may be a straightforward sport but that does not mean there is a limited range of other bets.
Tote Betting
Although Tote betting largely focusses on horse racing, you can still find it available at many greyhound tracks. Some races also feature on the official Tote website, although only very few. The Tote works as a pooled betting system, where you are effectively competing against other punters rather than a bookmaker. All bets on a race for each market are added together with all winning punters paid out from this pot equally, but in relation to the size of their stake. The Tote take their cut and the remaining pool is divided out among the fans who backed the right dog.
When picking a relatively unpopular selection, Tote returns can outweigh those at traditional bookmakers. Returns may however be less if there is a lot of money going on the dog you backed. It will all be a mystery though until the payouts are revealed following the end of the race. As well as win/place bets, with the Tote you can place bets such as forecasts and tricasts.
Ante-post/Future Racing
Most greyhound racing is just part of day-to-day events with a small prize pot that does not form part of a more major event. The sport does have several prestigious trophies though and bookmakers will take bets on the winner of these much earlier than they would for an ordinary contest. Sometimes odds can appear a couple of weeks before and even earlier in the case of the English Greyhound Derby, the biggest contest on the British calendar.
If you are betting before the course betting market has opened, this is known as an ante-post bet. Usually, it involves betting on the outcome of a race or event more than a day in the future. By betting earlier you can unlock better odds, but should your chosen greyhound not compete, this is a losing bet under standard ante-post rules.
Trap Challenges
Another way to bet on the greyhounds is to have a flutter on a trap challenge. This is a popular method of betting as it can keep you entertained through most, if not all of a single greyhound meeting. How it works is that you will pick the trap number you think will register the highest number of wins during a particular meeting. Some betting sites may also combine two meetings together e.g. Newcastle and Swindon.
Such bets involve looking through the entire card and trying to identify which trap you think has the best selection of runners. If your select trap is responsible for more winners than any other, then you have yourself a winning bet. A less common alternative to trap challenge betting is winning distance punting. Again, this will take into account the result of every single race on a particular track for that day. Rather than looking at traps though, it will combine the winning distance of each race together. You will then just need to pick from one of the options e.g. over 27 lengths or under 22 lengths.
Important Rules for Greyhound Racing Betting
Despite greyhound racing being a straightforward sport with simple and easy to understand betting markets, bookmakers need to cover for every eventuality.
This is why they have some important rules when it comes to the sport.
Best Odds Guaranteed – Some bookmakers have a 'best odds guaranteed' for greyhound racing. If so, this means that if you place a successful 'to win' bet at fixed odds, and the official starting price is higher, you will be paid at the starting price.
Non-runner – If a greyhound does not compete in a race (and it was not an ante-post bet) bets placed specifically on them will be refunded.
Withdrawals – Many markets e.g. top three betting, betting without, will be void if there are fewer than six runners. 'To win' bets will stand but payouts will be reduced based on the industry-standard Rule 4 calculations.
Settlements – Bets are settled upon the announcement of the official result at the track. Later disqualifications do not impact bet settlements.
Dead Heat – If there is a tie in a race, or between a certain bet e.g. a trap challenge, dead heat rules will apply. Again, these are an industry standard and mean that only a portion of your bet will be classed as a winner.
Greyhound Racing Betting Guides
Although no longer the powerhouse betting sport that it once was, greyhound racing is still loved by millions of punters and it has a traditional atmosphere that few other sports can lay claim to. It is also a good option for accumulators and other multiples because so many races run each day, so there is always plenty of choice when building a bet.
Here you can learn about the history of greyhound racing as well as improve your performance when betting on it, whether you fancy something of a lucky dip by betting on the trap, or you prefer to do a bit of research and bet on the dog itself.