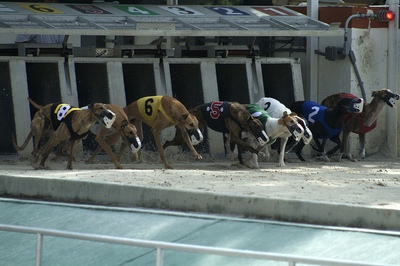 As with all sports, when it comes to betting on greyhound racing bookmakers like to offer customers a choice. It keeps their book looking lively and interesting and their customers happy.
In terms of simply backing a dog to win a given race then, they have come up with a few different ways to do this. You have the option to bet on a specific greyhound or you can opt to play the numbers game and select a trap number instead.
One bet can be researched and placed from and educated position, the other is much more of a coin toss.
Trap Betting: Trap Not Dog
The concept of trap betting is perhaps a little out of date now, or at least it is more relevant to betting in a high street shop than online. If on your betting slip you simply write trap 1, you are betting on that trap number winning the race and not a specific greyhound.
However, if you want to bet on a specific greyhound you must clearly indicate the greyhound's name on your betting slip. For example, "Trap 1 Springwood Aine". If you just wrote "Trap 1", then in the event of any change to trap order (almost unheard of) or if a substitute dog ran instead of your pick, your bet would still stand on whatever dog was in Trap 1.
Of course, when it comes to betting online you are not physically writing a betting slip. Typically you just click a box that always relates to a named, specific dog. However, some betting sites offer betting on a given trap number, whilst some may name the dog but also show a box to tick that will say "no reserves".
If you back a specific dog, as is usual, and also tick the box "no reserves" if it is available, then your position is clear. If that specific greyhound is a non-runner, your bet is void and therefore your stake is refunded.
However, if your online betting slip relates to a trap number as opposed to named runner, or you do not tick the "no reserves" box if it is listed, things are slightly different. In this instance, should a reserve greyhound come in for your original selection the bet will stand on whatever greyhound runs from that trap whether you like their chances of winning or not.
Benefits of Naming a Greyhound on your Betting Slip
If you are betting online this isn't likely to be an issue as almost all sites only give you the option of backing a specific dog. However, if you visit a site that does allow you to back a trap or offers a "no reserves" option, generally, you should always name your greyhound and trap number and tick no reserves.
If you have gone through the form of the race then you have chosen a specific greyhound for good reason – or at least a reason even if it's not a good one! That is the dog you want to back so make sure you don't inadvertently end up backing a stand-in.
There is however one exception that springs to mind. If you have made a note of the weather or track condition, you may feel that the track will show a bias to the inside or the outer. Therefore, it is possible you may feel that whatever greyhound runs from that location has an increased chance of winning. On this occasion you might want to bet on the trap number irrespective of what dog runs in that trap.
One last thing to note is that just as the issue of trap betting is unlikely to be an issue online, it is also not a problem if you are betting just before the race at the track itself.
When at the track and placing bets on the tote, naming greyhounds is not necessary. The reason for this is that once all greyhounds have been weighed and kennelled it is no longer possible for a reserve to come in. Any changes after weigh-in will result in the trap becoming vacant and your stake refunded.