There are around 60 racecourses in the UK and the vast majority – around 90% – are turf-only. However, not all UK horse racing takes place on grass; Chelmsford City, one of the newest courses around, and Wolverhampton only host action on their synthetic, all-weather surfaces. In addition to those two, Kempton, Newcastle, Lingfield and Southwell have both grass and all-weather tracks.
So, what is all-weather racing all about, what are the biggest races held on synthetic surfaces and what does the future hold for this more modern style of racing?
What is All-Weather Racing?
In the United Kingdom all-weather racing refers to action that takes place on a non-turf racecourse. For a short period of time this included both Flat and National Hunt racing but the latter was stopped due to the high rate of equine injuries. Due to increasingly extreme weather and advances in the surface technology, a return to all-weather jumps racing was discussed by the powers that be, but nothing came of it and the subject is not currently under serious consideration.
So in short, all-weather horse racing takes place at Newcastle, Kempton, Wolverhampton, Lingfield, Southwell and Chelmsford. It is held year-round and applies to flat racing only, with contests held on a number of different artificial surfaces.
What Different Surfaces are Used?
"All-weather" and "artificial" are catch-all terms that encompass a number of different surfaces on which such racing takes place. In the UK the following three are currently used:
Polytrack – Chelmsford, Kempton and Linfield
Tapeta – Wolverhampton and Newcastle
Fibresand – Southwell
All of these are brand names, produced by specific companies, rather than generic names for a type of surface such as turf or dirt.
Polytrack is widely considered to be the best and is made by a UK company, Martin Collins Enterprises. This surface is widely used around the world, including at courses such as Dundalk (Ireland), Chantilly (France) and Arlington Park (USA). It is very safe, has limited kickback and generally replicates traditional "good" ground very well whilst offering fast conditions too. Made from a wax-coated mix of silica and recycled fibres including rubber and carpets, it is very popular with trainers, owners and jockeys.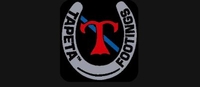 Tapeta is a similar surface and is made by a US firm, Michael Dickinson, Inc., founded by the eponymous Yorkshire-born former jockey and trainer. As a trainer he is famous for saddling the first five horses home in the 1983 Cheltenham Gold Cup, but he retired to focus on his new business venture, Tapeta Footings, which was set up in 2005. Tapeta is also made up of a mix of sand, rubber and other fibres, is usually laid on asphalt and rides very similarly to Polytrack. Tapeta can be found in the UK, as well as at Meydan in the UAE and at a number of US tracks.

Fibresand is a little more distinct than the other two, although as the name might indicate, once again a sand base is used. Made by the UK firm Mansfield Sand Company this is slower and deeper, and as well as sand it is made with polypropene, a type of plastic. One of the main criticisms of this surface is that it produces a lot of kickback.
How Does the Going Work?
In traditional turf races there are many gradients of going, indicating how soft and wet, or dry and hard, conditions are. These range from hard, which is rarely if ever used, right through to heavy, indicating tough, boggy conditions that will sap the stamina.
All-weather is much less changeable and the traditional UK conditions are described as fast, standard, and slow, with intermediate levels of standard to fast, and standard to slow. More often than not "standard" will feature in the description and most meetings will see little variation between the conditions the horses face.
Pros and Cons of All-Weather Racing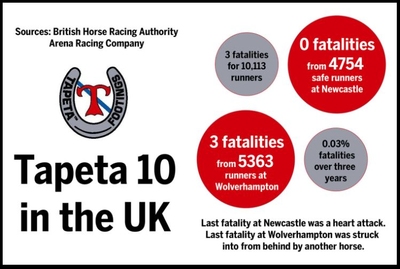 The biggest and most obvious advantage of an all-weather surface is that (as the name suggests in a slightly exaggerated way) they are far less prone to disruption due to the elements. They are not immune to Mother Nature's whims but cancellations, abandonments and postponements are far less likely than with other surfaces.
All-weather has exceptional drainage and handles the rain and cold really well. This is great for all parties from fans to jockeys and owners to trainers, as nobody wants to have a day planned only to see the racing called off. For the courses themselves there is a big financial advantage too as they do not need to cancel meetings and can schedule fixtures even in the coldest and wettest months reasonably safe in the knowledge that the surface will be usable.
For connections the limited variance in going is also a plus as they are far less likely to withdraw their horses at late notice because of some unforeseen rain or an unexpected drying out of the track. As well as these matters of convenience and monetary considerations, all-weather tracks have also been proven to be the safest surface for horses to race on. That is true in general terms, but also because synthetic tracks mean horses do not have to race on the extreme conditions we sometimes see on turf, with courses that are very dry or very wet tending to be the most dangerous.
All that said, as good as modern all-weather surfaces are they can never fully recreate the feel of grass. Traditionalists also prefer turf from a visual point of view, whilst the biggest problem, for now at least, is that manufacturers have been unable to produce a synthetic surface that is suitable (and truly safe) for National Hunt racing.
The terrible weather that seems to have become more common in recent years meant that introducing hurdles races on the all-weather surfaces was considered for a while but that plan was shelved. In terms of Flat racing though, aside from safety, it would seem that tradition and a resistance to change are the main factors working against all-weather tracks becoming more common in the UK.
Biggest All-Weather Races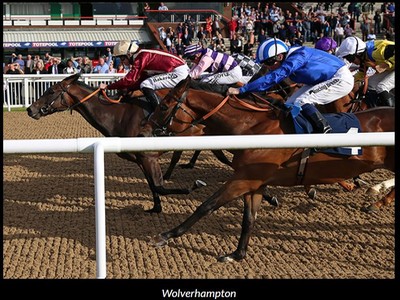 None of racing's showpiece events are held on all-weather tracks. Of course all the flagship NH races, such as those at the Cheltenham Festival or the Grand National Meeting, are automatically ruled out. In terms of the Flat, all five Classics, Royal Ascot, Glorious Goodwood, the Ebor and, in fact, all of the sport's Group 1 and Group 2 races, are held on turf courses.
However, that is not to say there are not some big races to look out for in terms of all-weather action. There are a few Group 3 races held on all-weather courses, including Lingfield's Winter Derby and Kempton's September Stakes. There are many Listed level races held on the various all-weather courses in the UK too but Lingfield is undoubtedly the centre of this type of horse racing within these shores.
Arena Racing Company, owner of a number of courses, including four of the six all-weather ones, launched the All-Weather Championships in 2013. This was an attempt to make this type of action more prestigious, credible and lucrative; and it is fair to say that to a large extent it has worked. A series of feeder events throughout the season lead to All-Weather Championships Finals Day at Lingfield.
This day of racing is worth £1m, making it the most lucrative day of racing on all-weather anywhere in Europe and one of the richest in the UK full stop. The six key races and categories on Finals Day are:
3 Year Old Championships
Sprint Championship
Mile Championship
Middle Distance Championships
Marathon Championships
Fillies & Mares Championships
History of All-Weather Racing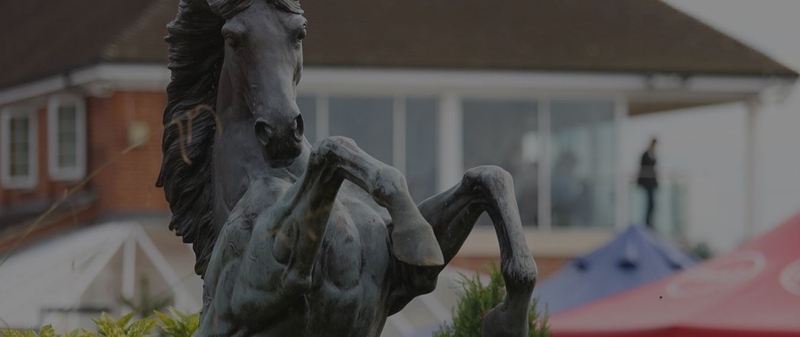 All-weather racing dates back longer than many racing fans might realise. The first ever races were held on a surface called Tartan in 1966, at Tropical Park in the USA. Prior to that they had been trialled with harness racing from about 1963. They never really gained any traction, mainly because they were too unforgiving on the horses, causing them soreness and stiffness at best and significant injuries at worst. There was the odd course here and there that experimented with various types of artificial racing surface but manufacturers were simply unable to create something that sufficiently pleased owners and trainers.
It was not until the 1980s that it reached England though, with serious discussions about introducing all-weather tracks taking place after the particularly severe winter of 1984-85. After various proposals and much deliberation, Lingfield Park opened the first ever all-weather track on 16th November 1989. This was located inside the turf course and was an Equitrack surface, that being replaced with Polytrack in 2001.
Southwell opened the first ever Fibresand racecourse shortly after, this surface already used in training at major stables around the UK training bases. Wolverhampton followed in 1993, initially as a Fibresand track, though they changed to Polytrack in 2004 and then to Tapeta in 2014!
Kempton joined the all-weather party in 2006, with Great Leighs, as it was then, opening in 2008 but lasting less than 12 months before falling into administration. It returned as Chelmsford City in 2015, whilst Newcastle made the bold move to add a Tapeta track in 2016.
In truth the biggest moment for this type of racing was the aforementioned 2013 creation of the All-Weather Championships and Finals Day. Many punters still look down, at least a little, on such racing, but since then it really has grown in prestige and popularity.
Is AW the Future of the Sport?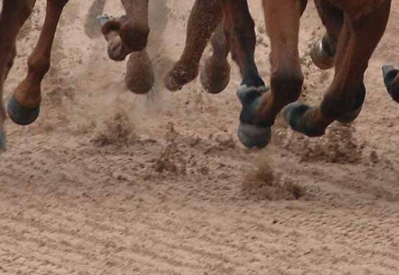 Some like to claim that all-weather racing is the future of the sport but in truth it is hard to see too much expansion happening anytime soon. The growing importance of money in all sports means tradition often has to take a back seat. That is something that may be exacerbated if racing's association with (and funding by) betting companies becomes more heavily regulated. But ultimately any move towards more racing on synthetic surfaces is going to be very slow.
Racing is a sport steeped in history and tradition that goes back hundreds of years and overturning that will take time. Even if sentiment within the sport and among fans could be changed we would still need to see huge improvements in the surfaces themselves in order for NH racing to take place on all-weather tracks.
They certainly have their advantages and whilst we may see one or two more courses add all-weather tracks alongside their turf circuits, and we may possibly see some hybrid surfaces being developed, it would be a stretch to suggest the future of racing will revolve around all-weather courses.