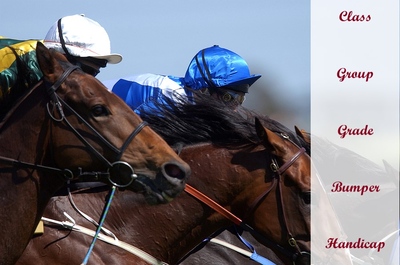 For anyone new to the sport, horse racing can seem a little confusing with all its abbreviations and unfamiliar terminology.
Part of the somewhat steep learning curve is knowing that every single race has a classification. These classifications allow more knowledgeable punters to quickly identify both the quality and the type of a scheduled race. Though it can be quite confusing at first, fear not because after reading through this guide, you will be able to understand what the various classifications in horse racing mean.
We will look at both the grading and race types for flat and National Hunt racing.
For those of you unaware, National Hunt racing covers hurdle and steeplechase events (jumps racing) as well as a small number of National Hunt Flat races. While flat racing, as the name suggests, includes only those races that do not have any obstacles for the horses to clear. Although the pair do have many similarities with regards to their structure, they do operate in a slightly different fashion when it comes to the classifications of the races.
Flat Racing Classifications
To begin, it is worth being aware that every single flat race belongs to a certain class. At the very bottom of the scale, you have the seldom-seen Class 7 races, and at the top you have those that fall into Class 1. The situation is not quite as straightforward as this though because Class 1 is divided into four-sub classes. At the very top, you have Group 1, which are the very best races in the country for the highest-rated runners (official ratings of 115 or more). Group 1 races include all the Classics of flat racing and a good number of the most prestigious races around with over 30 Group 1 races in the UK at present. Group 1 races also have the largest minimum amounts of prize money.
Group 1 races are predictably followed by Group 2 races and there are almost 50 of those in the UK at the moment. The still highly-regarded Group 3 races are next up and there are more than 70 of those in the UK. Just underneath this you have what is known as Listed races, so not quite Group standard but still higher than any Class 2 affair.
Although certain penalties/allowances can apply in Group races, these are never run as handicap events so horses typically run at the same weight. Because they are reserved for more elite horses, Group races are focused on seeing the best horse win, rather than trying to create a well-balanced spectacle. Listed races were previously allowed to run as handicaps but this changed in 2018 as the British Horseracing Authority ruled that no handicap race could have Listed or Group status.
The class of the race is always listed prominently on any racecard so you cannot miss it. Here are a couple of races at Newmarket to give you an example:
For the 2:55 race, this is a Class 4 handicap (Cl4) reserved for horses that are three years old and that have an official rating no higher than 85. The 3:30 race is a higher-ability Class 2 contest in which horses with a rating up to 100 are eligible. The plus symbol by '3yo' means that any horse aged three years or older can take part in the contest.
In these two instances, they are just a pair of straightforward handicaps but for some races, you may see extra terms included in the title such as 'maiden handicap' or 'fillies stakes'. In the list at the bottom of this guide, you will find all such terms covered. Before then though, we will cast our attention to National Hunt racing.
National Hunt Classification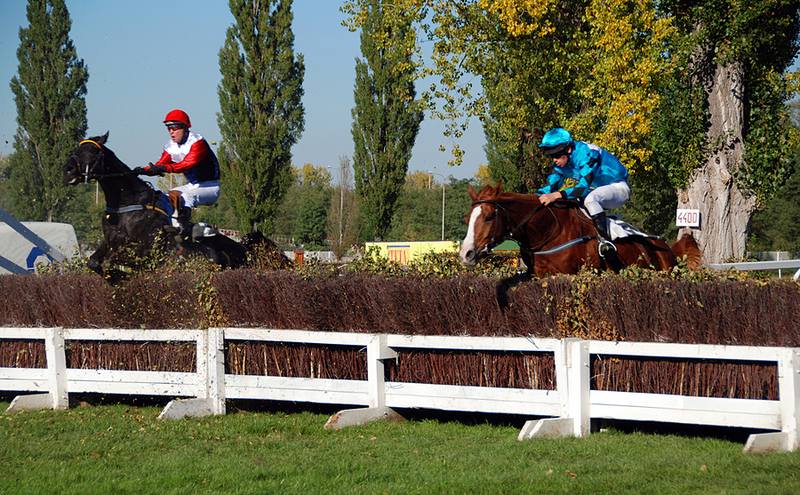 The somewhat confusing aspect about National Hunt racing is that although it does mainly refer to jumps racing, National Hunt Flat racing also exists. These races are designed for horses that are being prepared for life in jumps racing, typically those that have matured late, although there is a maximum age limit of seven years old. National Hunt Flat races are also restricted to horses that have never taken part in any other race before (excluding other bumpers – as they are also known – and point-to-point races).
The races are known as 'bumpers' because in the past the combination of inexperienced horses and jockeys (only conditional and amateur riders were initially able to take part in these races) meant there was a lot of bumping into each other. Although the quality is better now, NH Flat events usually carry a low classification with the exception of the Champion Bumper at the Cheltenham Festival which boasts Grade 1 status.
The heart of National Hunt racing though is of course hurdle and steeplechase events, the latter of which you will often see referred to simply as chases. For these, you will find races that follow a near-identical classification as with flat racing. At the very top, you have Class 1 races which are divided into Grades rather than Groups. Grade 1 is the cream of the crop followed by Group 2 and Group 3. Following just behind you have Listed quality races that are still considered to be within Class 1. As with flat racing, the remaining classes (Class 2 to Class 6) have no additional sub-groups to them (though there are various race types within the group, as detailed below).
For National Hunt handicap races, much like with flat contests, the class of the race will dictate what quality of horse can compete. Take a look at the two examples below from Bangor-On-Dee.
In this 2:10 handicap chase, for instance, horses with an official rating no higher than 130 can take part. With the 2:40 race being Class 4 rather than Class 3, this means the upper official rating limit is 115 instead. Note that you will find National Hunt ratings are generally much higher than flat ratings so you cannot make like-for-like comparisons.
Horse Racing Glossary
Here is a list of words and terms that relate to classifications of races. Should you ever give a puzzled look at a racecard, not knowing what something means, the list below is likely to provide the answer. It covers various race types and a few other terms you are likely to encounter.
Amateur – Non-qualified jockeys who take part in races, just as a side hobby in most cases. For flat racing, you will only ever find amateur races among the lower-class events (3 to 6). Amateur jockeys feature far more prominently during jump racing though as they are permitted to take part alongside professionals in many cases. In the past, they have won some of the biggest races around like the Grand National and Cheltenham Gold Cup.
Apprentice – These races feature jockeys that are not yet fully qualified or are yet to win a certain number of races. There are apprentice-only races plus some races in which apprentices can take part against seasoned pros. In the latter cases, the apprentices would usually carry a weight allowance of between three pounds and 10 pounds due to their relative inexperience.
Beginners' Chase – The National Hunt equivalent of a maiden race. Only horses that have never won a steeplechase before can take part in these.
Condition Stakes – Rather than allocating weight based on the handicap, conditions stakes allocate weight based on certain race rules. It could be that younger horses receive a five-pound allowance (as judged by the weight-for-age scale) or a horse that has won previously this season runs with an extra seven pounds. They effectively ensure that a certain gender/age concedes weight and possibly horses that have been more successful in the past too.
Conditional Jockeys – The same as apprentice jockeys, only it applies to jumps racing rather than flat.
Claiming Stakes – The weight that a horse must carry in these races is determined by the price placed on them. The higher the price, the more weight they will run with. This price determines how much the horse can be purchased for after the race, so there is an incentive not to make good horses run with too low a weight.
Classified Stakes – Eligibility is determined by the official handicap but it does not directly impact the weight a horse must carry. A race may state horses have a rating of between 0-70 and all eligible horses will run at the same weight should they tick this box.
Fillies' Stakes – A filly is a female horse aged under four years old. Male horses, or older female horses (mares), are not permitted to run in these races.
Graduation Chase – Only available to horses that have no more than two chase wins.
Handicap – A race in which runners are allocated weights based on their official rating. In restricted handicaps, other rules can apply that can determine the weight of the horse such as a previous win at a certain level.
Hunters' Chase – Horses that compete in this race must have taken part in a certified hunt. The jockey must also be an amateur that holds a valid hunters' certification. Once a horse has run in this type of race, they cannot run in any other type of race for the rest of the season.
Introductory Hurdle – Restricted to juveniles that have not run in more than one hurdle race.
Juvenile Hurdle – Restricted to horses aged three-year-old.
Maiden – These feature horses at the very start or early on in their racing careers. The big requirement for a maiden race is that they can only feature horses that have never won before. Upon winning a maiden, a horse will be given a handicap mark, allowing them to take part in handicap races. This also occurs following three unsuccessful maiden attempts. When a horse wins for the first time, you may see this referred to as "breaking their maiden". In doing so they will no longer be eligible for any more (flat) maiden events.
Maiden Auction – A race restricted to a two or three year old maiden that has been sold or bought during a public auction at specified sales (privately sold horses will not qualify). Usually, it features horses not sold for a lot of money and there may be restrictions on the maximum sale price of the horses that can feature. Horses who were sold at a price greater than the stated amount may be able to compete but with a weight penalty.
Median Auction – A rare one this but similar to that of a maiden auction. The big difference though is that it is not the price of the individual horse that matters but the median price of all offspring produced by the sire.
Mares – Female horses aged four year old and above.
Novice (Flat) – Open to horses that are yet to win, or have just one or two previous wins. Previous winners sometimes have to carry extra weight.
Novice (Jumps) – A novice hurdle race is open to any horse that had not won a hurdlers race prior to the end of the previous season. If they win during the same season, they can continue to take part in novice races until the season closes. A novice (or novices') chase works in the same way, just applying to wins in steeplechases instead of hurdles.
Nursery – A handicap race that is exclusively for two year olds. This is flat racing only as three years of age is the minimum age for jumps racing.
Official Rating – Most horses, unless very new to professional rating, will carry an 'official rating', often abbreviated as OR. This is a rating is determined by the British Horse Racing Authority and is used as an indicator of quality. For handicaps, one point in the rankings is equivalent to one pound in weight so a horse with an OR of 130 would run three pounds heavier than a horse with an OR of 127.
Point-to-Point Racing – Amateur steeplechase races that often serve as a warm-up for horses looking to enter National Hunt contests. Generally, such racing does not take place on professional racecourses although there are a couple of exceptions such as Bangor-On-Dee.
Selling Hurdle/Chase – The winners of these races are sold in a public auction after the race. Usually, they are quite low-class races as no trainer wants to sell off one of their most prized assets.