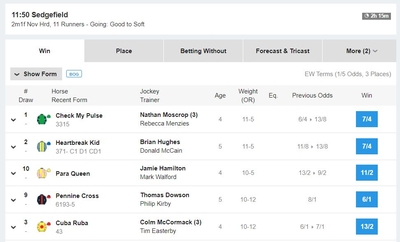 Picking up a racecard is a tradition for many racing fans as they enjoy a day at the races. Online versions of racecards are also one of the first places that punters turn to glean some valuable information ahead of placing a bet.
With so much information in one place, racecards can be a little overwhelming for those who don't know what they're looking at. So, we've put together a comprehensive guide of what you'll see on a racecard and how to understand all the information they contain.
Some betting sites might display race cards slightly differently, and not everything mentioned below will always be on there, but all racecards have a similar structure and by being comprehensive we can ensure you will know what everything means when it does pop up.
See also: How to Study Horse Racing Form
Race Details

Before delving into the information about the horses contesting a race, it is necessary to understand the details of the race itself.
There is a huge diversity of races taking place even at one day's racing at a single track, let alone across the course of a season. Understanding what sort of race you are betting on is absolutely vital, so let's have a look at the race information you'll find on a racecard.
(We don't cover betting offers and live streams below even though you can see them on the image above. These are specific to the bookie in question and not relevant to studying a race card.)
Race Name and Time
This is as basic as it gets but you can't back a horse if you don't know what race they are running in. Every race has its own name, which almost always includes the race sponsor (exceptions include races at Royal Ascot which are unsponsored by tradition). The biggest races, such as the Gold Cup, Grand National or 2,000 Guineas are referred to both with and without their sponsors but most races, especially during midweek fixtures, have names that mean little to racing fans and so are often just referred to by their start time.
Whichever racecard you read, the name and time of the race are found right at the top. This information is presented right next to the name of the course so that, should punters be browsing racecards online, they'll know exactly what race they are looking at as quickly as possible.
Distance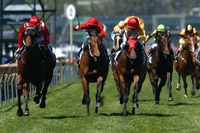 The distance of a race is another vital piece of information displayed prominently right at the top of a card. Again, it is crucial for punters to know the length of a race before getting involved in the betting as the variations between races can be huge. It is worth noting that distances can be expressed either in miles, furlongs and yards or simply in furlongs, whilst international racecards will tend to display distances in kilometres and meters.
On the flat, races go from 5 furlong sprints right up to a stamina sapping 2½ miles. National Hunt races include National Hunt Flat races, which can be as short as 1½ miles, hurdle races which take place between 2 and 3½ miles, and steeplechases which are a minimum of 2 miles and a maximum of 4½ miles.
Class of Race
The class of a race is found next to the race name on a racecard. The top level races on the Flat are Class 1 which are divided into Grade 1, Grade 2, Grade 3 and Listed races. In National Hunt racing it's similar but the names are Group 1, Group 2, Group 3 and Listed. From there come the other classes of races, from Class 2 down to Class 7. Horses qualify to run in different classes based on their handicap rating. Racecards will also display if a race is part of a series either as a qualifier for a future race or a general series such as Plus 10 races or Great British Bonus (GBB) races.
Race Conditions
As touched upon above, horses will qualify for different classes of race subject to their official handicap rating which is set based on previous performances. Handicap ratings are just one of a number of possible qualification terms for a race. Races can be open only to a certain age group, to a certain sex or to horses who have yet to win a certain race type (novice or maiden races for example).
Moreover, horses often have to carry varying amounts of weight for a race subject to their age, sex, etc. If this is the case it will displayed in the race conditions section of the racecard towards the top. The applicable qualification terms for any race are found next to the class on a racecard.
Prize Money
Racecards include both the total prize money on offer for a race and the winner's share. Some will also display the breakdown by each place. Although this may seem like information that is of most use to connections of the horses taking part, prize money can provide something of a shorthand to racing fans as to the calibre of a race.
As a general rule of thumb, lower grade racing carries smaller prizes but big field handicaps can sometimes be more valuable than Group or Grade 1 races. The prize money for a race is found on the top right of a racecard alongside other key race information.
Number of Runners
Just below the prize money available for a race you'll find the number of runners competing with the maximum number permitted displayed in parentheses. In printed racecards available at racecourses the number of runners may be incorrect as horses are liable to be withdrawn. Conversely, online racecards available before the final declarations may display a higher number of runners than the maximum number.
Going
The going of a racecourse is a description of the current state of the turf. The general rule is that firmer ground is faster ground whilst heavier conditions will be more taxing so demand extra levels of stamina. Horses each have their favoured ground conditions based upon their strengths and weaknesses and their running style.
The full list of going conditions found on racecards for turf races with applicable abbreviations is as follows:
Firm – fm
Good to Firm – g/f
Good – gd
Good to Soft – g/s
Soft – sft
Heavy – hvy
In Ireland, good to soft ground is described as Yielding and the above going descriptions don't apply to all-weather tracks, instead they vary from Fast, Standard and Slow.
Number of Fences/Hurdles
This piece of information is only found on National Hunt racecards as there are no obstacles for horses to jump on the Flat. The number of fences in steeplechases or hurdles in hurdle races is displayed below the official going.
Typically, the longer the race, the higher the number of fences or hurdles, although this is by no means a hard and fast rule.
Stalls
In Flat racing the position of the stalls from which the horses begin their race can have a big impact on how the race pans out subject to the conditions of the track. This information is therefore found on the racecard, in the same place you'll find the number of hurdles/fences for a jumps racecard.
Each Way Terms
The final piece of race information included at the top of racecards are the applicable each way terms. There are general rules about the number of places that bookmakers will pay out at subject to the type of race and the number of runners but these can vary so it is always worth paying attention to this information. It is sometimes located at the top of the list of runners instead, as in our example image in the section below.
Horse Details
We've seen that the top of a racecard is devoted to information about the race. The rest of the racecard is devoted to information about the horses. The level of detail that punters wish to dig down into is up to them but all the information on a racecard is potentially very useful in helping you uncover some betting value.
Saddle Cloth Number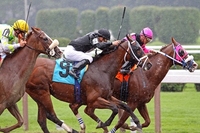 Every horse in a race is given a number as a means of identification. Numbers are given out at random and are therefore separate to the rating of horses by their official rating or the weight they have to carry.
The only real purpose of this from a punter's perspective is to help you identify the horses, though some may choose to eschew form and instead bet on a "lucky" number.
Horse Name
Next to the jockey silks you'll find the name of the horse. The rules permit 18 characters to be used for horse names, which is why many horses include multiple words without any spaces.
Horse Age
The age of a horse is another vital piece of information for punters. This is listed towards the centre of the racecard. At the early stage of a horse's career they will often race only against horses of the same age but when they step up into open company ages matter more. Those who bet following previous trends are particularly keen to take the age of the horses into account.
Jockey Silks
Whilst the saddle cloth number is the official means of identification, most commentators and racing fans will pick out horses in the pack by the colours worn by the jockey.
The colours worn by the jockey denote the owner, or owners, of the horse. If there are multiple horses in the race with the same owner, the jockeys will wear different colour hats to differentiate one from another.
Weight and Official Rating
It is absolutely vital to make a note of how much weight a horse is carrying and this information is found to the right of the age of a horse on racecards. There are any number of reasons why horses will carry a different amount of weight compared to their competitors in a race, including their age, sex, previous wins, and their official rating, which is written immediately below a horse's weight when applicable.
Draw
The draw is only applicable to flat races where the horses begin contests from the starting stalls. Different tracks have very different draw biases and oftentimes even the best horse in a race will be unable to overcome the challenge of a poor draw.
Draw bias is usually caused by differences in drainage in different parts of the track and the way the starting position determines a horse's course around turns.
Jockey Name
Jockey bookings can have a serious impact on a horse's chances of winning a race for a couple of different reasons. Punters will tend to lend more support to horses who are paired with a big name or in-form jockey but will also look out for apprentice jockeys who get to claim weight which can often be crucial to a race's outcome.
Trainer Name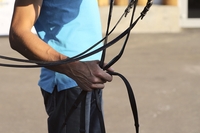 The trainer (or co-trainers) of a horse is displayed immediately below the jockey on a racecard. The trainers from the most powerful yards will often get extra support in the betting, particularly in races where a certain trainer has a strong record.
Numbers are often included next to a trainer's name. Where you see a 1 or 2, that indicates the horse is having their first or second run for that trainer. The RTF % is an indicator of the percentage of a trainer's horses who ran to form in the last 16 days.
Pedigree
Thoroughbred racehorses can all have their lineage traced back to three stallions who came to England from the Middle East around the turn of the 18th century. Over time, lines of progeny have differed considerably so racing fans can tell a lot about a horse by the sire, dam and damsire (the father of the mother) listed on a racecard.
Form
The form is arguably the most important piece of information about a horse on the racecard. Reading form is a skill but even at its most basic level it is possible to tell a fair amount about a horse based on recent results. Racecards include the date of recent runs, information about the course, going, distance and type of race, the weight carried, finishing position, the winner of the race and the odds the horse was sent off at.
Racecards also include several abbreviations regarding form to give punters more key information. These are as follows:
C (Course) – Listed by horses who have previously won at the track of the race
D (Distance) – Listed by horses who have previously won at the race distance
CD (Course and Distance) – Listed by horses who have previously won over the race distance at the race course
BF (Beaten Favourite) – Listed by horses who were sent off as the favourite last time out but failed to win
Please note: We go into form in more detail in this article.
Days Since Last Run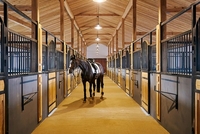 Racecards include the number of days since a horse last ran just underneath the name of the horse. This can be especially helpful for horses who are making a return after a long break or for whom connections are trying to capitalise on a hot streak.
Some horses run better than others after a break so past performances following a spell out are worth considering.
Equipment
Horses can sometimes be transformed by the simple application of a bit of headgear. Any such equipment is listed on the racecard with a 1 or 2 sometimes listed if it's the first or second time it is being worn. Here is the list of the following abbreviations:
H – Hood
B – Blinkers
P – Cheekpieces
T – Tongue-tie
V – Visor
E – Eye Hood
Ht – Hood and Tongue-tie
E/C – Eyecover
E/S – Eyeshield
Comment
Some racecards feature a comment on the recent performances and chances of a horse winning the race. These are sometimes from individual judges and sometimes from companies who judge form, either way the aim is to provide punters with an extra layer of insight into the race.
Odds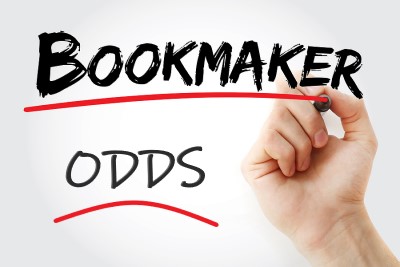 Odds may feature in one of two places on a card, depending on how close to the race we are.
Ahead of the race, and in printed racecards at tracks, a betting forecast will typically feature right at the bottom. These are not live, real odds, but rather a prediction of what the prices will be. These can be useful as a very general guide but the Starting Price (SP) will often be markedly different.
On the day of the race, online racecards will update with live odds. These are shown on the far right of the card, which may be ordered according to odds with the favourite at the top. Often you will also be able to trace the odds movement here too, with previous odds giving an indication of how the market rates the horse.