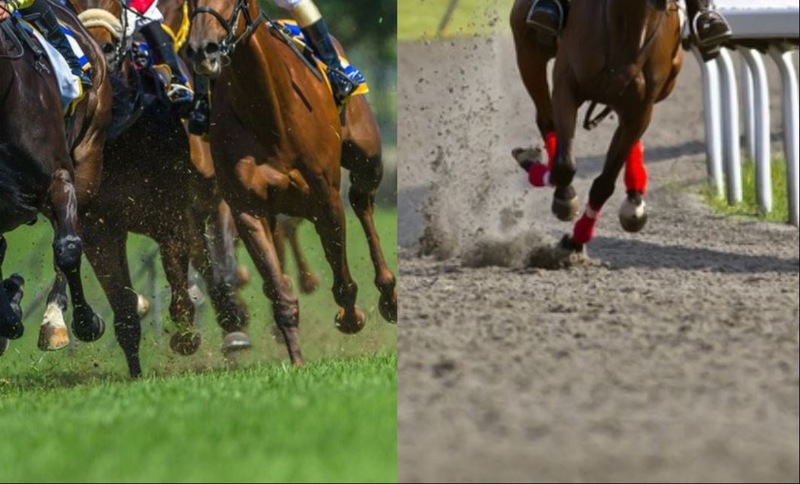 If you are new to horse racing you may think that all contests take place on grass, or turf as it is usually called. However, delve deeper and you will soon see horses being raced on a range of other surfaces too, both in the UK and Ireland, and even more so in other parts of the world.
So what different surfaces are used for racecourses and what, if any, difference does it make?
Different Track Surfaces
The large majority of UK and Irish horse races are held on turf and all of the sport's biggest contests take place on the lush green grass that is common in the rain-soaked British Isles. However, there are 60 racecourses in the United Kingdom and other surfaces are used too. Broadly speaking there are three types of surface used worldwide:
Grass/Turf
Dirt
Synthetic
Each has its own specific characteristics, and there can be variation within the three broad areas listed above too. Let's take a closer look, starting with the most common surface, good, old-fashioned grass.
Horse Racing on Turf
All of the UK's biggest and best races both in Flat racing and National Hunt, take place on the green, green grass of home. The biggest NH meetings at Cheltenham and Aintree, plus Flat's showpiece occasions including all five Classics, Royal Ascot and Glorious Goodwood are all turf affairs. Most people in the UK will automatically picture a grass surface when they think of racing and indeed of the 60 courses here (which is an approximate figure, the exact number varies with some courses folding and reopening from time to time), only two do not boast a turf course.
One of the most obvious things to point out is that all National Hunt races take place on turf. This is because it is the softest and most forgiving track surface for jumping. All-weather tracks (as synthetic surfaces are called) were briefly used for jumps racing in the 1980s but it soon became apparent that they were too dangerous, with lots of equine injuries and deaths. Whilst a return to all-weather jumps has been discussed, for now NH remains a purely turf operation.
Part of the reason it was mooted was because of probably the biggest problem with racing on turf: the weather. Most people agree we are experiencing more extremes of weather and lots of meetings have been affected by snow, ice, high winds, floods or waterlogging. Turf is by far the most variable surface used for horse racing and even if the weather is not so bad that a meeting is called off, it can still have a huge impact on a given race day.
Whilst other surfaces are consistent and largely unchanged, the same turf course can ride very differently according to the weather. Whilst watering and drainage systems offer course stewards a degree of control, Mother Nature is far more powerful. The softness of a track is called "the going" and is determined by how much moisture there is in the ground. Obviously rain is the biggest factor that affects this, with sun and wind also important and having the opposite – drying – effect.
The going ranges (in the UK) from firm to heavy, as below:
Firm – very dry and fast and not really suitable for NH races
Good to Firm – slightly softer but still firm and fast
Good – broadly speaking the desired surface, fair to all horses
Good to Soft – slightly softer than ideal with more moisture
Soft – more typical for jumps racing this surface cuts up, is much slower and brings stamina into play
Heavy – typical NH going when there has been a lot of rain this really favours horses with stamina and race times will be slow
Technically there is "hard" as well, although racing rarely, if ever, takes place on such a surface these days due to its potentially damaging impact on the horses.
From a betting perspective, the changeable going is another factor that punters must consider when weighing up their bets. Some horses prosper in the mud, whereas others prefer a dry, fast surface, so this is another element of the form to study and also means bettors should think about the weather forecast as well as existing conditions.
From the point of view of owners and trainers, variable going on turf surfaces is often an unwanted consideration. They know what is needed for their animal to have the best chance and it is not uncommon to see a horse withdrawn from a race if a change in the weather produces a surface/going that doesn't suit. A late withdrawal can be a minor headache for punters but for connections who have invested time and money in preparing a horse for a certain race and getting them to the track it is obviously much more of an irritation.
For many associated with UK horse racing, the changeability of turf is part of the history of the sport. Indeed, in many ways it has defined how racing operates in the UK and Ireland, with the Flat and NH seasons being defined by the weather. The drier spring and summer months (in theory at least!) provide conditions better suited for faster races without obstacles, whilst the wetter months of autumn, winter and early spring provide ground that is softer and ideal for jumps action.
All-Weather Racing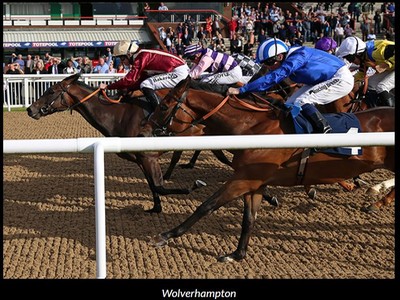 So-called all-weather racing is held at Chelmsford, Wolverhampton, Southwell, Lingfield, Newcastle and Kempton, with all but the first two of those also boasting turf tracks as well. We say so-called because we've been to racing at Wolverhampton that was called off due to frozen conditions! However, whilst all-weather might not be immune to disruption from nature and extreme conditions, it is far more reliable and unchanging than racing on turf.
Whilst many punters view all-weather racing as somehow a lesser entity, it does offer some obvious advantages. Far fewer meetings are lost to the weather as these artificially produced surfaces drain very well and are far more resistant to cold temperatures. There is far less variance in the going too and by and large they are very safe for horses, with low injury rates compared to other surface types.
The going is either Fast, Standard or Slow, once again the level of moisture being the biggest influencer with the faster going being drier. Moreover, as well as there being few gradations, there is less between them too, meaning that the going at an all-weather course never varies all that much. This makes races a little more predictable but perhaps counterintuitively that can actually favour the bookies rather than the punters.

The key thing to note is that there are a number of different types of synthetic/all-weather surfaces, even though we have grouped them together. Wolverhampton and Newcastle use Tapeta, Chelmsford, Kempton and Lingfield use Polytrack, and Southwell uses Fibresand.
All are brand names but Fibresand is a little different to the other two and is much slower. As the name suggests it is sand-based and because of this there is a lot of kickback (horses churning up the sand into the horses behind them). This uses a deeper covering, hence the softer, slower nature, but depending on how preceding races have been run different parts of the track can become quicker over the course of a meeting.
Most people within racing believe Polytrack to be the best artificial surface and this is reflected in its widespread use around the globe. Big courses in the US, France, Ireland and other countries use this surface which combines silica and recycled man-made fibres and is wax-coated. Made by Martin Collins Enterprises under a Royal Warrant, Polytrack is fast, safe and very consistent.
Whilst Fibresand and Polytrack are made by UK companies, Tapeta is made in the US and is very similar to Polytrack. It produces going akin to "Good", is very safe and minimises kickback. Using a mixture of sand, rubber and other synthetic fibres, Tapeta is very resistant to heavy rain and has been tweaked and improved many times (Tapeta version 11 was released in 2020).
Assessing a horse's form from one type of surface to another isn't always easy, especially between Fibres and the other two. They each have their subtle differences as well but by and large Tapeta form is a decent indicator of how a horse will fair on Polytrack.
From the point of view of course owners, it is the way in which they reduce abandonments that is by far the major positive factor. This is also great for punters and bookies, whilst for connections their safety and predictability is much-loved.
Dirt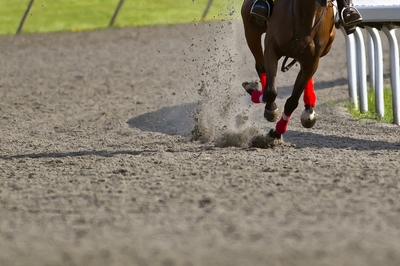 Safety is a concern for many when it comes to dirt racing. Dirt is a very fast and unforgiving surface that is popular in the US and other countries where the focus is more on shorter sprint contests. There are no dirt tracks in the UK at the time of writing so we won't go into too much detail but as well as being best suited to sprints, dirt is favoured mainly in dry climates.
This is due to the difficulty in maintaining grass but also because when wet, dirt can become muddy and produce "sloppy" going, as it is known, which is much slower. The composition of the surface varies in different parts of the world, with higher sand content tending to produce a slightly slower surface. Dirt racing rules the roost in North and South America but is also common in the UAE and Japan.
We do not envisage dirt racing coming to the UK, in part because it is not traditional but mainly due to the risk of equine injury. Various US courses, in particular Santa Anita, have witnessed a high number of fatalities and long-term stats certainly show that dirt is more dangerous than either turf or artificial racing surfaces.
Racing on a Beach?
To end it is worth noting that Laytown, in Ireland, is unique in British and Irish racing as being the only course run on sand – on a beach no less! It hosts minor racing once a year and dates back to the mid-19th century. We can't really say this is a genuine racing surface, though for fans of the sport it is certainly a spectacle worth witnessing.