Horse racing is full of different words and terminology, much of which might make little sense to those unfamiliar with the sport. 'Pulled up' is one of these terms that you will see mentioned so it is a useful one to be aware of. Here we will explain the meaning of the term and look at both why it happens and how it impacts any bets.
Pulled Up: A Definition
For the unaware, you may think that 'pulled up' refers to when a horse makes up ground, as in "the outsider pulled up alongside the leading pack". This is not the case, however, as in racing circles, pulled up is a term reserved for when a jockey intentionally stops racing and effectively withdraws a horse from a race mid-way through.
The idea of 'pulling up' is used across other sports, often in sports that involve running. In these, you may read that a player or athlete has 'pulled up' due to injury and this results in them coming to a halt, or near halt. The same really applies in horse racing although here it is typically the jockeys making the call rather than the horse pulling up independently.
As for what it actually entails, a jockey will basically just slow down the horse, often by pulling the reins up. They may then choose to dismount but often they will stay in the saddle and slowly head to the next available exit. If it is a hurdles/steeplechase race, they will go around, rather than over, any obstacles until they are able to exit the course. In all cases though, whether it be flat or jumps, it is obvious that the jockey is no longer taking part in the race as within a matter of seconds they will wind up so far behind.
How Is 'Pulled Up' Recorded?
On any race result, if a horse has pulled up you will see the abbreviation 'PU' to indicate this. If more than one horse withdraws, there is no standardised way of sorting them, so it is not always the case that the first to bow out will be listed at the very bottom.
It is entirely irrelevant in any case as all pulled up horses are just classed as non-finishers, left without a numbered finishing position. Subsequently, they are not eligible for any prize money.
Why Pull Up?
If a horse is already involved in a race, you may think there is no point throwing in the towel no matter how unlikely a win is. After all, in a jumps race, it is possible several horses might fall or unseat their jockey. This would be an extremely short-sighted approach though that ignores the welfare of the horse and could even put the jockey at risk.
Although very occasionally a jockey may misread the situation, they usually only pull up a hose when something is not right with the animal. It could be that it is experiencing difficulty breathing, appears to have an injury, is jumping extremely poorly or appears unduly fatigued. Sometimes a horse will try and soldier on despite suffering from an issue but others will slow down themselves even without any instruction from the jockey.
For a horse to be pulled up, there does not always even need to be a problem as it could simply be that a runner is nowhere near quick enough on the day in question. Should this happen in a jumps race, there is little incentive to carry on racing as continuing to tackle the fences/hurdles does carry a significant risk. The last thing any owner, trainer or jockey wants is a horse tumbling over a fence and potentially picking up an injury in a race it was going to lose badly anyway.
Is Pulling Up Cause For Concern?
When checking the form guide, as most people often do before placing any bets, what should you make of a horse than was pulled up last time out? Ideally, if you have the time, it is best to judge each case on its individual merits. If it was quite a big name you are likely to find that the trainer or owner has addressed the issue in the press and their comments can prove useful, despite often being optimistic.
You may also want to consider how long ago the pulled up race was. A longer period of time allows for more complete recovery, assuming something was wrong, although too long of a gap suggests there was something seriously amiss. In many cases horses can take a couple of starts to return to their old selves following a long break and some may never quite reach their former standards.
Sometimes a reason will be provided for why a horse was pulled up on the race result, should the cause for the poor performance be known. The below screenshot includes a couple of examples below from the 2019 Aintree Hurdle and 2018 Queen Mother Champion Chase respectively.
An explanation will not always be provided in the results but as they are not rare, it can be worth checking. It is then a matter of interpreting the information and making a judgment call based on what is available. For this we have taken an example from a handful of horses which were pulled up in the Glenfarclas Chase at Cheltenham.
Here we would not assume that anything was too wrong with Devils Bride. He was a huge outsider for the contest and likely found the pace just too hot to handle, causing him to eventually tire. Ultragold was much more of a serious contender though so his withdrawal seven fences shy of the line is slightly less excusable. As for Auvergnat, the unsuitable ground gives him a fair excuse so there would seemingly be no need to worry if his next race featured a quicker surface.
So, although pulling up can be off-putting, often it should not be. This is particularly true if a horse was pulled up after moving up in class or they had reduced or increased the distance they ran (compared to something they are more used to), or even if they raced on different going to that which they preferred. Still, most problems that result in being pulled up end up sorting themselves without any lasting damage. Indeed, in the case of Faugheen, screenshotted earlier, in his next start, which came following the summer break, he won by over seven lengths.
Auvergnat did not fare so well on his next outing though mind you, and was pulled up for a second time despite the going being much more to his liking in the Irish Grand National. For this, no explanation was given for his exit at the halfway mark.
Jump versus Flat Racing
You are much more likely to find horses being pulled up in jump races than in flat races. Partly this is because jump races tend to be longer in distance, so there is much more opportunity for a horse to tire, overheat, or pick up an injury. Another reason is that jockeys will not want to carry on jumping on an injured or slowing horse as it puts the pair at risk. With no such obstacles in a flat race, jockeys can simply ease the horse off and gently canter to the line if it is not too far away.
This does mean rather than seeing a series of PUs in flat races, you are more likely to find that horses simply lose by big distances. In the 2021 Cesarewitch Handicap, the final two horses lost by 119 lengths which works out to around 300 metres. In both cases, the jockeys recognised they had absolutely no chance in the 32-horse affair so there was no point in straining their horses.
Pulled Up and Betting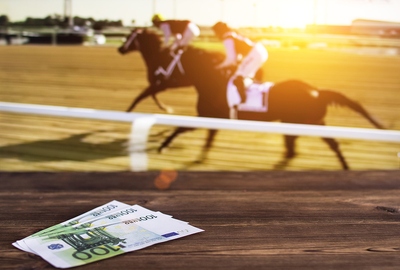 Any horse that is pulled up in a race will be considered withdrawn and not be awarded a position. This means that any bets on them to win, or to finish in a placed position, will all be settled as losers. Being pulled up is never valid grounds for making your bet void either so do not think you might be able to get your stake returned.
Even in cases where you have backed a horse to finish in the top three, and it is pulled up when there are only three horses left, this would not a successful bet. In order to be officially awarded with a numerical finishing position, e.g. 3rd, a horse much complete a race. Should it fail to do this, it will just be classed as a non-finisher like all the rest. When and how it decided to drop out of the race is entirely irrelevant.
In many ways, a horse being pulled up is the worst thing that can happen for your bet. We say this because it is a form of elimination that does not come with an insurance policy. There are some bookmakers that will give customers their money back should their horse fall over a fence/hurdle. This includes if they are brought down or if the jockey is unseated following a jump. If not offered via a promotion, it is possible to place a bet at slightly reduced odds that includes this 'fall insurance'.
Bookmakers do not however tend to offer any sort of pulled up insurance so there is never any potential reprieve should your backed horse bow out in this way.
Pulling Up In Big Races
We mentioned before that horses are more likely to be pulled up in jump races and there is no better example of this than the Grand National. There is often more talk about the horses that fall but these are regularly outnumbered by those that have been pulled up.
| Grand National Year | Number of Pulled Up Horses |
| --- | --- |
| 2022 | 11 |
| 2021 | 15 |
| 2019 | 14 |
| 2018 | 13 |
| 2017 | 13 |
As you can see, a very significant portion of the 40-horse field ends up being pulled up in this marathon contest. Typically, it is contenders from further down the betting but this is not always the case. The 7/1 favourite in 2019, Total Recall, was pulled from the race after the 26th fence and in 2021, the 11/2 favourite Cloth Cap suffered the same fate only slighter later on.
High Profile Pull Ups
Even the very best and most well-prepared horses are not immune to being pulled on the very odd occasion. In the 2011 Punchestown Gold Cup, 10/11 favourite Kauto Star was withdrawn prior to the finish as the then four-time King George VI Champion was never travelling according to Ruby Walsh. Given that this had been preceded by two hefty defeats to Long Run, it seemed to be the beginning of the end for the legendary gelding but he won both the Betfair Chase and another King George the following season.
Sprinter Sacre's 10-race unbeaten run finally came to an end at Kempton when racing as the 2/9 favourite in the 2013 Desert Orchid Chase. It is arguably the most shocking instance of a horse being pulled up in modern history, given how supremely talented Nicky Henderson's horse was. The race itself started well enough too with the 188-rated horse tracking the leading pair but he, curiously, began losing ground and was pulled after the seventh fence. A vet assessment revealed that the seven year old horse had had an irregular heartbeat, something that kept Sprinter Sacre out of action for over a year.
Finally, there is Istabraq. His mid-race withdrawal from the 2002 Champion Hurdle was something very few people expected given his record. Coming into the race his staggering hurdles performance read 28 starts, 23 wins and three second place finishes. The only two races in which he missed out on a top-two finish were ones in which he fell late on, so there were so few horses that could actually beat him. There was no tumble at Cheltenham though, only a rapid deterioration early on that saw Charlie Sawn on the saddle pull up the 2/1 favourite. The cause, it turned out, was lameness in the rear and the 10 year old never raced again.