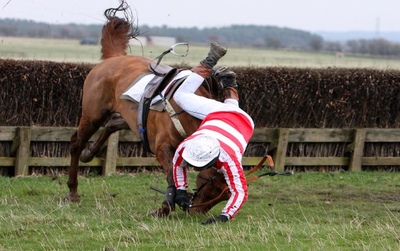 Anyone who has ever consulted a race card will be aware that a horse's form figures can contain not only numbers but also a series of letters. Establishing what the numbers stand for doesn't take too much guesswork, as unsurprisingly these digits represent the runners' finishing positions in their most recent outings. As one might expect, 1 signifies a win, 2 a second-placed finish, and so on down to 0 which represents a placing outside of the first nine spots.
But what of the letters? A common sight on race cards online and at racetracks up and down the country, these letters are particularly prevalent in the jumping game. Be it a run-of-the-mill hurdle, or a major chase such as the Grand National, racegoers assessing the form of the contenders can expect to see a scattering of F's, U's, P's and more in amongst the numeric digits.
In general, these letters refer to those occasions when the horse didn't manage to finish the race at all. Always an unwanted occurrence for owners, trainers, jockeys, and punters alike, there are a variety of ways in which a horse may come unstuck during a race.
Types of Non-Completion
Here we'll run through each of these non-completion letters and explain exactly what they mean, including some that are seen less often than others.
F – Fell
Starting with the simplest of all, the letter F denotes those occasions when a horse falls during a race.
Part of the thrill of jumps racing – be it over hurdles or fences – is the additional challenge represented by the obstacles in place.
Successfully jumping these barriers is an essential requirement if a horse is to enter the winner's enclosure – or even make it to the finish line.
Most of the time, most of the horses do manage to make it from one side of an obstacle to the other, but sometimes they don't.
Whether that's through jockey error, a horse taking off on the wrong stride, or simply fatigue, mistakes can and do happen.
Horses can often get away with a small error, but more serious blunders will see horse and jockey come crashing to the turf, resulting in a fall.
U – Unseated Rider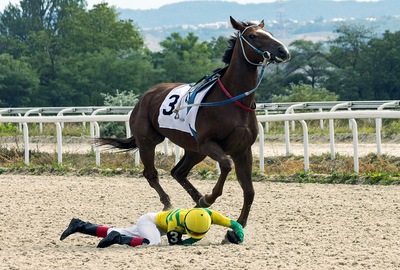 Whilst in the instance of a fall, both horse and jockey hit the deck, sometimes it is only the unfortunate rider who becomes closely acquainted with the turf.
Whenever this happens, it is referred to as an unseated rider.
An unseat will most commonly occur due to a horse making a minor mistake at an obstacle – not so severe that the runner can't maintain its balance, but creating enough of a disturbance to send the rider falling from the saddle.
Although far less common, unseats also happen during flat races, or on a flat section of track in a jumps race.
Possible causes in these instances are usually related to the horse acting in an unusual manner, for example when unexpectedly jumping a shadow, colliding with the rail, or suddenly veering off course and catching the jockey off guard.
B or BD – Brought Down
Sometimes runners are simply in the wrong place at the wrong time and see their participation in a race ended not through any fault of their own, but rather due to the mistake of a rival.
Horses running immediately behind a runner who falls at a hurdle or fence may manage to jump the obstacle themselves, but will often have very little time to avoid the prone horse in front of them.
Collisions inevitably result and, should the second horse also fall to the turf, they are said to have been brought down.
R- Refused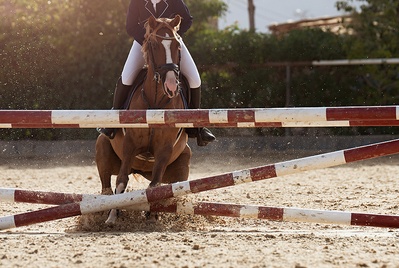 Next, we come to those instances when a horse doesn't give itself the chance to fall, unseat, or be brought down, but simply refuses to jump the obstacle at all.
As much as the jockeys are tasked with encouraging their mount throughout the race, horses do still have minds of their own.
If a one-tonne beast decides that it would rather not attempt to jump a hurdle or fence, there is very little that an eight to 10 stone human can do to persuade them otherwise.
Whenever this occurs, the horse is said to have refused.
Also labelled as R, or sometimes RR on the race card is a different type of refusal which represents one of the most frustrating ways in which to lose your bet, that is a refusal to race.
For whatever reason, whether they got out of the wrong side of the bed, or simply aren't in the mood, some horses will remain standing stock still on the starting line when the race begins – looking on as the rest of the field sets sail for the finish line.
P or PU – Pulled-Up
Whilst the jockey has very little control in the event of a horse falling, unseating, being brought down, or refusing an obstacle, there are instances when the rider may make a conscious decision to end the participation of their mount in a race.
If during the heat of a contest, it becomes clear that a horse is becoming too fatigued to continue, or is badly out of rhythm due to a sequence of jumping errors, the jockey may opt to simply bring their mount to a halt.
This process of effectively withdrawing the horse from the race is known as pulling up the horse.
O – Ran Out
Be it on the flat or over jumps, in a five-furlong sprint or a four-mile marathon, all runners must follow the correct course if they are to be deemed a finisher. The phrase ran out refers to those occasions when a horse fails to take the required course. Often as much the fault of the jockey as the horse, examples can include running around an obstacle rather than jumping it, or taking the wrong finishing straight or bend at tracks with overlapping layouts.
S – Slipped Up
Whilst many of the previous incidents are due to an error on the part of either the horse or the jockey, if a horse slips up during a race, it is almost always down to simple bad luck. Should a horse slip and fall, the most common culprit is an unsafe patch of ground which has, either not been detected by the ground staff, or emerged very quickly, for example rain falling on dry grass and firm ground creating a slick surface.
What Counts for Faller Insurance?
As we can see, the appearance of a letter in a horse's form figures always signifies a negative event – in addition to the non-completion categories, we also have D representing disqualified, and V signifying a void race.
Whenever a runner fails to complete a race, it is bad news for the trainer, owner and jockey – who clearly won't be receiving any prize money – but also the punter, as a bet on a horse who fails to complete will usually be settled as a loser. Usually, but not always.
If betting on a race in a standard market under general betting rules, any fall, unseat, slip up, refusal and so on will indeed result in your stake being lost. However, many firms will occasionally offer what is known as "faller insurance" either as a one-off promotion or as a regular separate market. Such markets may require you to take slightly lower odds but the bet comes with the insurance that, should your selection fall, you will receive your stake back, either as cash or in the form of a free bet.
It is important to note though that not all non-completions are covered by faller insurance. In most instances, this offer will include runners who either fall, unseat, or are brought down, but not those who fall into any of the other non-completion categories. If in any doubt always check the terms and conditions at your bookmaker of choice.
The most likely reason for the distinction, which is in place at the majority of betting firms, is to deter any potential skulduggery. No rider is ever likely to fall, unseat, or be brought down deliberately given the risk of injury, but it is conceivable that a dubious jockey may pull up their mount, take the wrong course, or run around an obstacle for no other reason than that they deem that their mount is unlikely to win. Not including these in faller insurance removes that temptation.