As one of the most popular sports in the world, with a global audience estimated to be around one billion people, tennis is a sport that attracts a lot of betting activity.
Online betting sites have done a good job at accommodating the large demand for tennis betting too, with most now providing odds for thousands upon thousands of tennis matches each year.
Covering all major competitions and often most, if not all, minor professional events too, rarely will you be unable to find odds for an upcoming contest. In addition to excellent coverage, online gambling sites have enhanced the tennis betting experience in many ways.
As well as adding additional markets and in-play betting, many have also added extras such as in-game stats and live streaming.
So no matter whether you want to bet on the action happening tomorrow, today or right this instant, there is very rarely a problem when it comes to tennis betting.
How to Bet on Tennis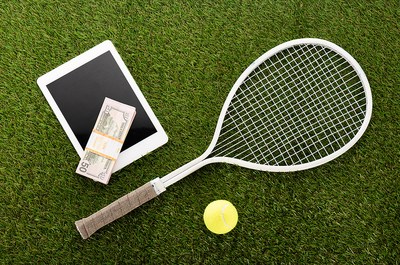 For those not all that familiar with tennis, it may surprise you just how much action takes place during the year.
Far from just the four Grand Slams that receive the bulk of the media attention, you have so many other tournaments taking place across the globe.
Rather unsurprisingly, with the very low-profile matches, these usually provide little in the way of different markets outside of 'match winner'.
For your bigger contests though, you could be looking at over 50 different betting options, or even 100+.
Main Bets on Tennis
As mentioned above, for the games that attract the most attention, many bookmakers will produce odds for a huge array of tennis markets.
Although we will not cover all the markets you might find, we will list those that punters commonly opt for when betting on major tennis action.
These are very standard options so expect to find the majority of them offered by any decent online betting site.
Match Betting – This is your main bet when it comes to tennis and is simply which player (or which duo, if betting on doubles) will win the match.
Total Games – The number of games that the entire match will feature. Usually involves betting over/under a specified amount.
Total Sets – A bet on how many sets there will be in the entire match.
Set Betting – Here you will bet on the set score, for example 2-1 and in favour of which player.
Set Handicap – The aim is to pick the match winner after the handicap set score (plus or minus 0.5, 1.5 or 2.5) has been applied.
To Win a Set – Pick the individual player or pair you think will win at least one set in the match.
Set # Winner – Pick the individual player or pair you think will win a specific set, for example set 2.
Set # Games Over/Under – A bet on whether there will be over/under the stated number of games in a particular set.
Set # Correct Score – With this, you must call the exact final score of the set, for example 7-5 to Alcaraz.
Win from Behind – A player to win the match having been trailing by at least one set.
What you will find with a lot of the specific set betting is that you can bet on the sets that are guaranteed (usually sets 1 and 2 but sometimes set 3 in a best-of-five contest). A bookmaker will not usually bother offering pre-match odds on a set that may not occur as it would be a waste of time. You can, however, expect to see odds for later sets appear within live betting as soon as they know the match will go on longer.
Player Betting
A lot of the main tennis bets are focused on the score, either for the whole match or a set.
It is all very results focussed but on the bigger games, you are likely to find a range of player betting possibilities.
These are ideal if you are wanting to stake money on particular elements of a player's game on which you think they will do well/poorly.
We have included some popular examples below.
Total Aces Over/Under – How many aces a player will record during the match.
Total Double Faults Over/Under – How many double faults a player will record during the match.
Most Aces/Double Faults – Which player, out of the two, will record either the most aces or double faults.
First Player to Break Serve – Who will be the first player to register the first break of serve.
Total Breaks – How many breaks of serve a specified player will claim during the match.
First Service Game Points – How many points a player will claim during their first service game (or the scoreline of the first game).
Other Types of Bet
Placing single tennis bets on pre-event markets is a common option chosen by many gamblers. It is far from the only way that you can stake your money on the sport though.
Whether you want longer-term bets, ways of increasing your payout or bets that are settled extremely quickly, they are all possible with tennis.
Outrights
Outright bets are frequently available within tennis and they enable you to bet on a tournament as a whole, rather than specific matches within it.
For the Big Grand Slam events, you can bet on the winner of these many months in advance. Just be mindful that you will not receive a refund should your chosen player not end up taking part for whatever reason.
For most other events, you will need to wait to shortly before it begins for outright markets to appear. You may find that along with 'tournament winner', which is the main market, there are a variety of other outright options to choose from.
Examples include 'name the finalists', 'stage of elimination', 'to reach the final' and 'win without dropping a set'. Some bookmakers only include these extra options for the Grand Slams but some will include them for other events too.
In-play betting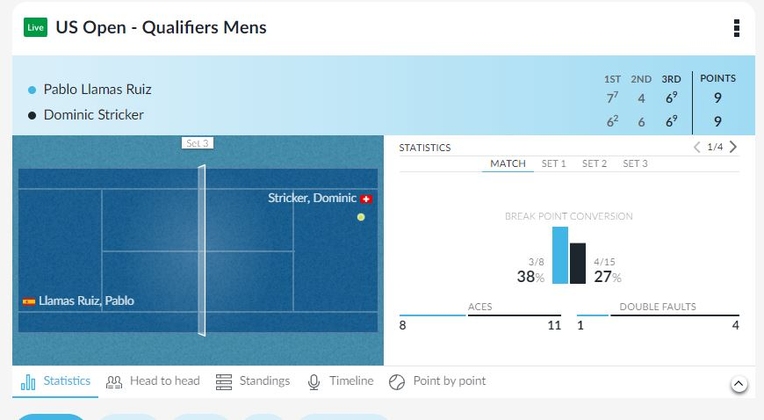 Tennis is one of the sports you will find most commonly available when heading to the in-play section of any betting website. You will be able to watch some matches live on the betting platform as they will include a live stream. If live streaming is not available, sites do generally include some live match stats to give you some idea of how the action is unfolding.
One thing you will notice about in-play tennis betting is the different available markets. You will find extras options relating to the upcoming game such as 'set 2 game 6 winner' or even winners of the specific points such as 'set 2 – game 6 – point 5 winner'. Because you can bet on the winner of the next, or current game, or even the next point, tennis is great for 'fast' bets.
By this, we mean bets that will be settled in a matter of minutes, if not seconds. As well as game/point-specific bets, you will still have access to standard options such as match winner and set winner.
Bet builders

Bet builders are something you can frequently find for football matches but they are slowly making their way into tennis betting now too.
With a bet builder, you can combine several markets from the same game to form an accumulator bet.
To find markets you can combine, you just need to navigate to the 'bet builder' or 'build-a-bet' tab, where offered. Here you can make 2+ selections for your fully customised, one-match bet.
Accas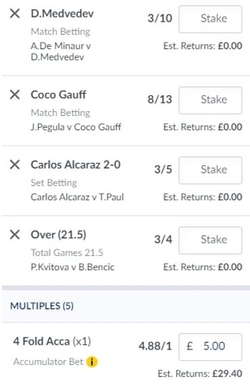 Although bet builders within tennis are not yet commonplace, placing accumulator bets on the sport very much is.
Virtually every online betting site will allow you to place a bet on different matches and combine them into one bet.
You do not even have to pick the same market across each match, the only rule is that you cannot have more than one selection from the same match.
Accas are a great way to create a bet with a handsome potential payout while keeping the risk low.
If you want, you can also combine your tennis bets with other sports too.
Some bookmakers will also run promotions giving you boosted payouts on accumulators and this will often apply to tennis bets, sometimes exclusively so.
Odds Boosts

Tennis is one sport for which bookmakers will regularly offer enhanced prices across a selection of hand-picked markets.
Through these odds boosts, customers can unlock better odds than normally would have been offered.
Although the increase does not tend to be too big, bookies do not usually have huge margins on tennis to begin with.
Important Rules for Tennis Betting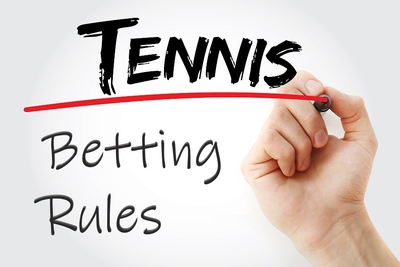 Most tennis bets will conclude without any complications and you will know exactly what is going on.
Very occasionally though there can be some unusual circumstances which may or may not impact your bet.
Rules on tennis bets do vary, as it is down to the terms and conditions of the bookmaker, but many take a fairly consistent approach about what action they take based on the situations below.
Change of venue/surface – Should a tennis match change venue or surface or move from indoor to outdoor (or vice versa) bets will stand as normal.
Retirement – In the event a player is forced to retire, bookmakers vary on their approach. Some will void all bets that have not already been settled providing it is within the first set. Some, more generous ones on the other hand, will treat the non-retired player as the winner, while refunding other bets.
Tie-Breaks – For betting purposes, tie-breaks count as one game rather than 12 games plus a tie break.
Interruptions – Bets will stand for matches that have been halted due to the weather/light conditions, or any other reason. They will only be deemed void if the match is not completed before the end of the tournament.
Maximum payouts – The maximum amount a bookmaker will pay from a tennis bet varies by the competition. Grand Slams have the highest with this amount typically reducing for WTA and ATP events. You only need to check these if you are placing some extremely ambitious/high stake bets.
Tennis Betting Guides
For anyone who bets a lot, tennis has to be on their list of sports to cover. There is seemingly a game being played somewhere in the world at every hour of the day or night, with much of it live streamed too. Plus, with it being a popular sport there are generally more features and offers available for it.
In terms of betting on tennis, there are so many bet types that any punter can find something to suit their style, and once a game goes in play the cycle of point, game, and set betting creates hundreds of betting options per hour. You can't just steam in there and expect to be hitting aces though, you need to hone your skills and tactically defeat your opponent, and these articles will teach you how.