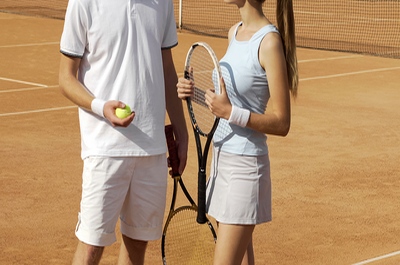 Discussions about equality in sport are more prominent these days than ever before and whilst notions of equality encompass a wide range of areas, in terms of gender, tennis has been at the forefront for some time.
Tennis is one of the few sports in which men and women receive equal pay, at least for major events, and also in which they enjoy broadly equal exposure. The women's and men's Grand Slams and several other tournaments take place alongside each other and this has helped stars such as Serena Williams and Steffi Graf become household names in a way that, for example, golfing greats such as Annika Sorenstam and Karrie Webb are not.
However, whilst in many ways tennis offers equality, it is not perfect. But more to the point in terms of this feature, being equal does not have to mean being the same. Here we look at the difference between the men's and women's games, looking at both the obvious and the less apparent, whilst we'll also look at the issue of how and if men and women can compete against each other.
Can Women Play Men At Tennis?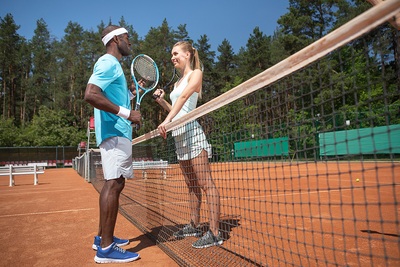 One issue that increasingly comes up in different sports these days is whether or not men and women can compete openly against each other. By their very nature, many (some would say all) sports are physical and this often means that men are at an advantage. In general, men are stronger and bigger than women and whilst not all sports require either of these attributes, many do. Even in disciplines where size and strength are not key they almost always help, and to paraphrase a boxing truism, a good big athlete will always beat a good small one.
By that we mean that, all things being equal, being bigger and stronger is far more often a help than a hindrance. Therefore, even in sports where physicality isn't paramount, men will tend to have an advantage. On the other hand, where strength, power and size are crucial, the biggest, strongest, fastest men will always be bigger, stronger and faster than their female counterparts.
To briefly slide a bit further off-piste (we're already a little way there), there are some sports in which we are beginning to see women compete and even win against men. These are often endurance sports, such as ultrarunning, but also in horseracing. So it is certainly not impossible for men and women to go head to head but there are some sports in which we are more likely to see it happen than others.
So, getting back to the heart of the matter, what about tennis? Well, some sports are, as said, simply too size-dependent to be suitable for men and women to compete against one another. Think sumo wrestling, basketball, rugby, boxing, American football and most track and field events. Then essentially we have a sliding scale of sports, with disciplines like football and tennis a step down the ladder, perhaps golf beneath that, and then sports such as snooker, darts and chess where physique has no bearing on the outcome (as another slight aside, it could be argued that being very tall would help in both snooker and darts but the advantage is too limited when compared to the skill element of them both).
Tennis Increasingly About Power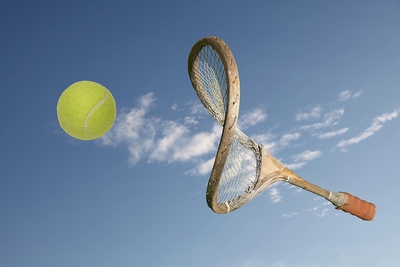 What we are really saying here is that tennis is ultimately a sport that is probably a little too dependent on physical attributes for men and women to compete fairly against each other. As with many sports, such as rugby to give just one example, over the past 20 years or so more and more emphasis has been put on size, strength and power, especially in the men's game, at the expense of skill.
This means that even smaller men struggle to compete at the very top level and, in tennis terms, that classification often means anyone under about 6ft 3. For reference, it was reported that the height of the top 10 men in the world rankings was 6ft 3, some three inches taller than the height of the players ranked 50-100.
If "shorter" men are struggling, clearly women are going to struggle too and whilst there are obviously lots of women over 6ft tall, there are far fewer women than men of that size and even then they will generally be less mobile and weaker.
So, ultimately, to answer the question of whether or not men and women can play tennis against each other, directly, the answer is no. As such, the concept of "mixed singles" is unlikely to ever get off the ground in any major way. We'll come to mixed doubles shortly, but first, let's consider whether men and women have ever gone head to head.
Have Women Ever Played Against Men?
Men and women have never met in an official, professional singles competition in a tournament-proper. The men's and women's tours are distinct entities and indeed only very infrequently have professional men and women played each other in public. There have been a small number of so-called "battle of the sexes" exhibition games over the years taking place between men and women, including one doubles game (two men versus two women). Such matches date back to the 19th century but here we will look at some of the most famous.
Bobby Riggs v Billie Jean King – 1973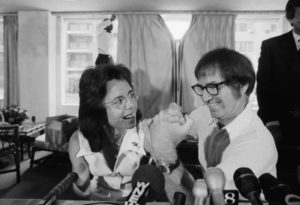 Within tennis, some use the phrase battles of the sexes to refer specifically to this match, played at the Houston Astrodome in September. Riggs, a former world number one with six slams to his name, was 55 at the time and had beaten the female world number one Margaret Court, then aged 30, four months earlier.
Riggs had initially wanted to take on King but she declined, only accepting after Riggs upped his taunts against the women's game and promoters increased their financial offering. King was 29 years old and had spent several years vying with Court for the number one crown, five times ending the season at the top.
She ultimately beat her male opponent easily, winning 6-4, 6-3, 6-3, though she was a break down in the first set. She adapted her game based on Riggs' victory over Court and her defensive, baseline play and greater energy proved too much for the older player. She restored some female pride and also took home the winner takes all prize of $100,000, a huge sum in 1973.
Jimmy Connors v Martina Navratilova – 1992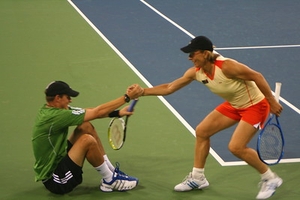 Dubbed the Battle of Champions this was a far more even match in terms of age, with Connors five years Navratilova's senior at the age of 40.
This match paid both players $650,000 with a further $500,000 for the winner, funded by pay-per-view and proving what an appetite for such matches exists.
Connors won 7-5, 6-2 and achieved this victory despite modified rules that removed his second serve and afforded Navratilova a larger court to hit into.
He claimed in his book, The Outsider, that he had wagered $1m that he would lose no more than eight games so all in all this was a very profitable few hours for the American.
Karsten Braasch v Venus And Serena Williams – 1998
The Williams sisters were not yet at their peak in 1998 but they had stated that they would beat any man from outside the world's top 200. German player Karsten Braasch, 13 years Venus's senior, had never made it past the third round of a major and, ranked 203rd, was keen to challenge the sisters.
He played both sisters separately in a one-set challenge during the year's Australian Open. He beat Serena 6-1 before putting Venus to the sword 6-2. Braasch subsequently said, with regards the sisters' ability to beat a man, "500 and above, no chance", though Serena and Venus had other ideas, revising their claim to being able to beat anyone outside the top 350.
Ultimately all of these matches back up our point that men simply have too much of a physical advantage when it comes to tennis. Whilst King won her match, she was playing a man in relatively poor shape and, at 55, well past his best. Braasch cited men's mobility as a key factor, whilst also stating that they were able to impart far more spin than women. The power of the serve is also a huge factor, with the fastest serve ever recorded by a woman (just under 137mph by Georgina García Pérez) well below what would be needed to make the top 40 for men.
What About Mixed Doubles?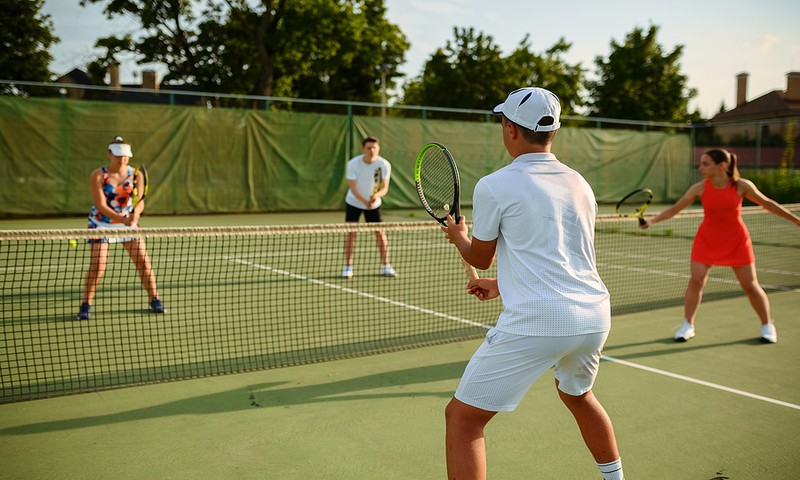 Whilst men and women competing in mixed singles is not something we are ever likely to see, at least not without major rule modifications, mixed doubles is of course already a big part of tennis. Mixed doubles sees teams of one man and one woman competing against each other, with no rules used to favour women and both players free to hit the ball wherever they choose.
It was first played at the end of the 19th century, appearing at Wimbledon in 1913. It is now a feature of all the Grand Slams and after an absence of more than 100 years was played at the Olympics in 2012. Because the men's and women's tours are distinct, often featuring entirely separate tournaments, it is not played all that often but is popular with fans and players due to its unique nature and fascinating tactics.
However, whilst in one sense mixed doubles does feature men going head to head with women, the fact that both sides are equal means it cannot really be viewed as a true battle of the sexes.
Do The Men's And Women's Games Differ In Rules, Format, Prize Money And Prestige?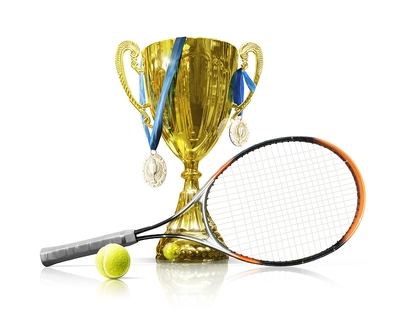 There are some obvious differences between the men's and women's games and there is certainly a clear divide between the two. From the point of view of rules, the most obvious difference is that women, the odd exhibition match aside, never compete over five sets. Women's matches are always best of three, whilst men play best of five at the Grand Slams.
Some use this discrepancy to argue that the equal pay the sexes receive at all four of the Grand Slams is not fair. They state that women should not get paid the same because their matches are often far shorter. Indeed, whilst the longest ever men's match stretches to over 11 hours, the longest women's match was 'just' six hours and 31 minutes. Both of those are outliers, far longer than the second-longest contests. However, it is not that uncommon for men's matches at the four majors to go into three or even four hours. To put that into perspective, the eighth longest women's match ever was four and a half hours.
There are many sides to the argument about equal pay and match length and also arguments about whether men should drop to best of three or women should play best of five. Such debate is beyond the scope of this piece but let us return to the issue of equal pay. Whilst we have praised tennis for its approach in this area, there are many who believe equal pay is more a myth than a reality.
Whilst the four Grand Slams reward the sexes equally, generally speaking in other tournaments men earn more. In 2015 Serena Williams and Novak Djokovic both won three of the four majors and both had winning percentages around the 94% mark. Despite that, the Serb won almost twice as much prize money (£14.5m versus £7.3m). The fact that such a discrepancy exists despite Serena doing so well in the equal-paying Slams is telling. So, whilst tennis might talk about equal pay, the reality is often very different. And that's before we even get to off-court earnings, where once again men often make significantly more.
ATP And WTA: Might Two Become One?
The Spice Girls were not singing about pro tennis tours but might two become one and might the ATP (Association of Tennis Professionals and men's governing body) merge with the WTA (Women's Tennis Association)? Such a move has been talked about for a long time but the two tours have remained distinct.
Billie Jean King created the WTA in 1973 after she was unable to persuade men to form a joint tour. Almost 50 years on from that, a merging of the tours seems more likely than ever, although the New York Times said it was "a complex and ego-imperiling task that is far from fruition". The paper added that it would "create more leverage for unified deals with sponsors, broadcasters and data companies" which would help bring true equal pay closer to reality. It would also help the fans by simplifying and streamlining the calendar and broadcasting deals (no more paying out for subscriptions to multiple channels).
There will always be those that oppose the idea on a range of grounds but in April 2020 Roger Federer tweeted "Am I the only one thinking that now is the time for men's and women's tennis to be united and come together as one?". And when Roger talks, or even tweets, tennis listens. A number of other players have backed up the Swiss ace, including huge names like Rafa Nadal, Stan Wawrinka, Simona Halep and Petra Kvitova.
There is certainly a lot of work to be done for King's dream to become a reality and it remains some way off. However, there is no doubt that the world, with sport a reflection of that, is changing, and whilst we do not expect to see mixed singles any time soon, a mixed tour could well be very much on the cards.