When it comes to betting on tennis, by far the two most popular markets are the tournament outrights and simple wagers on who will win a given match within an event. However, there are many more options for betting on tennis and one of those is set betting.
There are actually various markets that relate to sets but "Set Betting" is probably the most popular and typically refers to predicting the correct score in sets. So as well as naming the player you think will win, you are also saying exactly what the score (in sets) will be. Set betting is a great option when there is a strong favourite at very short odds but is also good in general as a wager for those who like the chance to land a healthy win for a smaller stake.
In a bet on who will triumph in a given match, typical odds will vary between both players being priced around evens in a close match to one being very short odds-on, say 1/10, and the other being a massive outsider at 10/1 or more if the game is viewed as a mismatch. Example odds for set betting can be seen below, based on a relatively even game and one with a strong, though not overwhelming, favourite.
| Score | Player A | Player B |
| --- | --- | --- |
| To Win (any score) | 8/11 | Evens |
| 2-0 | 7/4 | 12/5 |
| 2-1 | 10/3 | 15/4 |
| Score | Player A | Player B |
| --- | --- | --- |
| To Win (any score) | 1/4 | 3/1 |
| 2-0 | 8/11 | 11/2 |
| 2-1 | 3/1 | 15/2 |
Set betting is especially useful where there is a very strong favourite, as said. Few average punters like staking huge amounts on a 1/4 shot, unless perhaps it is part of an acca. However, backing them to win in straight sets, 2-0 in the example above, based on a best of three contest, improves those odds to a more palatable 8/11. If you think the underdog has what it takes to nick a set then 2-1 to the favourite is a tasty 3/1.
In a best of five clash there are more different set scores possible, so consequently the odds are longer. Once again, backing a favourite for a straight sets (3-0) win is a popular way to up the odds, whilst when two well-matched players meet, opting for 3-2 typically delivers sizeable odds.
Set Betting Key Rules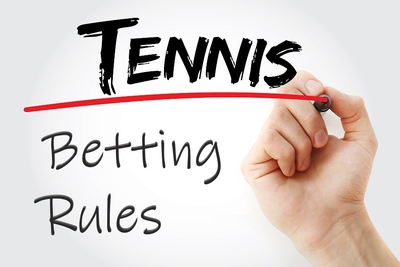 As with many markets, the rules are relatively simple when it comes to set betting. You simply predict what score the game will be, to which player, and if you call it right, you win. However, there are still one or two things to be aware of, although precise rules in certain circumstances will vary from one bookie to another.
Occasionally a player may withdraw or be disqualified before or during a game, or even less commonly the number of sets being played may be altered. Typically speaking, if a game does not reach a natural conclusion for whatever reason (injury or disqualification being the most likely causes), set bets will be deemed void and you will get your stake back.
The only time this may not happen is if your bet has effectively already lost before the match ends. As an example, let's say you back a player to win 2-0 and they lose the first set. If the other player retires your player will technically win the match but as 2-0 had effectively already lost, the bet will not be voided but deemed a loser.
If one player is granted a walkover due to injury or other withdrawal before a match starts, that may be recorded in the official results as 2-0 (or 3-0 in a best of five game). However, any set bets on this match will not be settled on this score but will instead be voided.
Other Set-Based Markets

There are many other set-related markets when it comes to betting on tennis and here are some of the most popular. For the biggest games at the Grand Slams you may find even more, with just about every eventuality and possibility catered for.
Total sets – how many sets will be played in total in the match? Obviously in a best of three the options are just two or three, with three, four or five the options in a five-setter. This is a good option when you aren't sure who will win but predict a close game with a final set needed.
Set 1 winner – a simple bet on who will win the first set of the match. Odds are also usually offered for set two, three and so on.
Set handicap – in a best of three the handicaps are set at plus or minus 1.5 sets giving a number of options that effectively cover one or more set betting correct scores.
Games in first/second/third set – a wager on exactly how many games will be played in a specific set
As said, this is just a small selection of the tennis bets you can make on a set. Others include whether a set will go to a tie-break, if a player will win a set at all, which set will see the most games or aces, who will serve the most aces in a specific set, what the score in a set will be after two, four or six games and even who will win each set in the whole game – for example Player A to win the first set, Player A to win the second set, Player B to win the third set, Player B to win the fourth set, Player A to win the fifth set, as a prediction for a best of five contest.
Once again, there are various rules relating to these bets covering relatively unusual circumstances such as injury or disqualification. They are usually based on common sense and broadly the same at all betting sites but if in doubt just check with the customer support department of the bookie with whom you placed the bet.