138Bet is an online bookmaker that was founded in 2006 and is currently based on the Isle of Man. Regulated by the United Kingdom Gambling Commission, 138Bet offer a number of betting markets to players in the UK, Europe and around the world; and while they may not be the biggest name in the betting arena, they are known for offering some of the best in-play odds around. As a fairly new and very welcome addition to the site, 138Bet are now offering coverage of almost all UK and Irish Horse Racing.
Perhaps the market most heavily covered at 138Bet is Football – which is fairly unsurprising given the UK focus of the company – however, other betting markets are rife, so there are a lot of good options for players to choose from.
In this post, we're going to look at 138Bet in detail, including taking a closer look at the bet markets they offer, alongside the usability of the site and the mobile betting experience. So let's get to it.
Sports Betting at 138Bet
138Bet have a long history of offering sporting events to punters, as well as some of the best prices, odds, and bet-types around; but remember, none of that matters if there are hardly any markets to actually wager on. Thankfully, despite their relatively young age, 138Bet are clearly a punter focused site which is made all the more apparent by the decent prices they offer across the board, combined with the huge range of betting markets offered.
The bookie offers some of the most competitive prices around and their markets are priced up well, clearly operating to very tight margins in order to keep players happy; and while you may think this would mean less markets would be available, in actual fact you can find everything from Football, Tennis, Watersports, Chess… almost anything you can think of.
You'll also find best odds guaranteed available on most markets, ensuring you're never short changed by a selection starting with a higher price than the one you got when you placed your bet.
It's not difficult then to see why 138Bet have become such a popular bookie with punters all over the world.
138Bet offer a generous range of in-play markets for punters to enjoy, and you'll find markets for virtually any event you could imagine, that could facilitate live betting in the first place, of course. Everything from the English Premier League to Brazilian Women's Football is offered live thanks to 138Bet's live streaming. Live streaming – as the name suggests – is where you can watch a number of selected events on the site in real time. While not all markets are available to watch live, Horse Racing, Greyhounds, Tennis matches and many non-English football matches are among those that are.
This not only allows you to watch the action without having to find some questionable offshore streaming site online, but you can also bet at the same time as the bet coupons and your bet slip appear alongside the live-stream. Great for multi-tasking.
Unusual Markets
Unfortunately, despite promising results elsewhere, 138Bet is a bit of a let down when it comes to unusual markets, and you won't find anything particularly novel to take advantage of. Just your run of the mill politics and TV specials here.
How Good are the Odds?
138Bet were one of the first of the smaller online bookies to offer best odds guaranteed, and this ensures that no matter what the price was when you placed your bet, if your selection starts at higher odds, you'll be guaranteed to have your bets settled at the higher price.
The Football odds at 138Bet are particularly generous, and it's very rare you'll find odds that are much better elsewhere. If you're unsure though, check an odds comparison site for an up to date and impartial overview of the prices across all markets.
Something that's well worth checking out is the 'Daily Specials' tab, which often has enhanced odds anywhere from 20% to 200%! There are also bonuses paid on ACCA's, with bets of 5 selections or more (on certain markets) offering a percentage on top of your winnings.
For full details head to the 138Bet website where you can find a breakdown of all the current price-boost promotions they have running.
In Play Betting
138Bet offer a decent range of live betting events which are available to players on both the desktop and mobile versions of the site, so all punters can enjoy the thrills of betting on the move or at home.
Markets covered include Football (which accounts for around 80% of their turnover), Tennis, Motorsports, Basketball, Baseball, and more.
To access the in-play games, simply click 'in play' from the main navigation menu, and you will be able to browse the available events and get betting.
The Website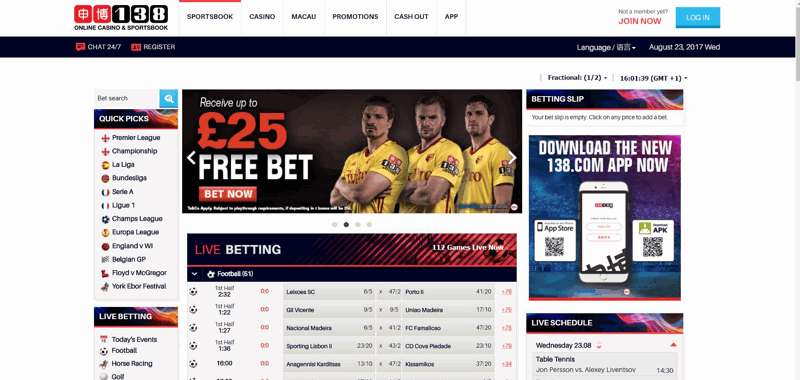 138Bet is a very busy website, some players might even call it cluttered, and it's likely that the bookie loses out due to the sites less than professional appearance.
However, believe it or not this is a deliberate move from 138Bet. They have successfully tried to combine some of the wackiness of the Asian gambling culture, with a fun and tongue in cheek feel, to create something different and more unique.
In fact, the more you explore the site the more you notice the Asian theme coming into play. The site is adorned with red – a lucky colour for the Chinese of course – blended with rich imagery and Oriental inspired graphics, resulting in what can only be described as a marmite effect: You will either love it or you will hate it.
When it comes to usability the site loads fairly quickly, nothing to write home about though; and the lay out is pretty bog standard, with a main navigation menu and sidebar allowing you to move around the website and browse the betting markets.
Accessible to both desktop and mobile customers, the 138Bet website definitely has room to improve, but it's not half bad, and the betting functions themselves are near flawless so it's unlikely you'll run into any serious issues. Let's just hope you are a fan of the design.
Mobile Betting
138Bet are certainly not the most up to date when it comes to their mobile betting, and they currently don't offer their players any form of downloadable app. This means you will need to access the mobile website in order to place new bets or check the progress of your open bets. This is undoubtedly a bit of a pain for some punters, but the mobile site is well designed making it accessible and reliable.
Using the latest HTML5 technology, 138Bet make sure that no player is left behind when it comes to using the mobile site. You don't need any special software, plugins, or programs installed; just open up your mobile internet browser and head to the site as normal. Once there you will automatically be re-directed to the mobile version. It doesn't matter whether you use a tablet or phone, the interface will adapt automatically, ensuring you enjoy a seamless, hassle-free betting experience.
Note: Some players report that their device takes them to the regular desktop website instead of the mobile optimised site. If this is the case, check your mobile browser's options or settings and you may find a 'Request Mobile Site' option. This will usually re-load the site with the correct mobile-ready version displayed.
Best Features
Vast Array of Football Markets
138Bet offer one of the biggest selection of football markets we've ever seen by a 'baby bookie' (one that's been opened fairly recently) and they cover major leagues from the English Premier League and Championship, to Spanish competitions and Brazilian matches.
Plus, unlike other sportsbooks, the less common matches and fixtures aren't found to just contain a singular outright betting option; you'll find loads of choice and – in some cases – just as much of a selection as you would find on the regular site.
Generous Welcome Bonuses
While we've avoided talking about bonuses and promotions specifically in this review, it's worth pointing out that the new customer offer at 138Bet is really quite a generous one, and can reward you as much as £50 in free bets.
This is subject to change at any time of course, so the bonus information mentioned may be out-dated. Be sure to check the bookie's site yourself to see the latest offers and promotions.
Not Afraid to Banter with Customers
OK, so this probably isn't top of most punters lists, but let's be honest, some bookies stink of corporate business and are almost too professional for their own good. It can end up feeling like you're in a business setting rather than an enjoyable one.
This can completely sap the fun out of the betting experience for some players and does the company no favours. Don't believe us? Just look at Paddy Powers' approach to their social media presence. While they have come under fire in the past for swearing, and making remarks in bad taste, many of their witty jokes and roasts have gone viral bringing in thousands of new punters and driving their business.
138Bet don't have a social media presence to match Paddy Power, but tongue in cheek jokes and on-the-line updates can regularly be found on their website, and it's all in good faith. Granted, a small percentage of players may be offended by their zero f***s approach, but it's so refreshing to see a bookie with character.
Payments & Limits
138Bet implement varied payout caps and maximum bet limits to their punters, and the majority of markets have caps of £10,000 per bet, which means that any single bet cannot exceed that amount. Some markets – such as Football and Horse Racing – do offer higher bet limits, especially the better publicised markets; although as we always say, if you're in doubt on specific limits it's always best to check and ensure you are getting the most up to date advice possible.
Payment methods are varied, and you can choose from a number of ways to fund and withdraw from your account. All of the major debit cards are accepted, including, of cour se, Visa, and Mastercard; and there's also a number of EWallets and prepaid cards accepted by the bookie.
Deposits are credited instantly to your account (with the exception of bank transfers, which can sometimes take a few days to confirm), and withdrawals are usually processed within 8 hours, although time frames at weekends and on bank holidays can be longer, sometimes by as much as 48 hours.
History & About
138Bet is one of the newest online bookmakers (although technically they've been around for over a decade; more on that in just a moment), and their sharp rise to fame has attracted the attention of both investors and punters; with the bookie now enjoying a healthy share of the online betting market, despite having been running less than a year.
Initially a successful betting chain in Asia, 138Bet is the UK and European arm of the site, and the owner and operator of 138Bet, Festuge Ltd, employ an aggressive marketing campaign to publicise the company.
They themselves state:
"Already a market leader in online gaming in Asia, we have brought together over a decade's worth of experience in online gaming to offer a unique Asian experience to our European customers."
In fact, 138Bet were one of the first minor bookmakers to offer best price guarantees across all UK and Irish racing, and this essentially forced all other small to medium bookies to do the same in order to compete.
Holding licenses in both the United Kingdom and the Isle of Man, 138Bet can offer their services legally to players in over 70 countries; and their reputation is impressive, with very few complaints to be found online, and many positive reviews citing the fast payouts and helpful customer support team as being two of the stand out features of the bookie.
Indeed, the customer support is something 138Bet have worked hard to streamline, and their live chat, email, and telephone services are available to all punters 24/7 and 365 days a year. They offer all support options in both English and Mandarin, serving both of their target markets well.
The bookie is a little too young really to begin making predictions, but if they keep going the way they have been going so far, 138Bet could soon be a force to be reckoned with.