One of the only bookmakers whose founder is actively involved with the running and promotion of the company, BetVictor was created by the iconic Victor Chandler; a recognizable face to most punters, thanks to the company's advertising campaigns across many of the largest sporting events on TV.
It is said that Mr. Chandler even takes an active role in helping the customer support team answer players questions and queries, and it's perhaps this hands-on approach that has helped to make BetVictor the popular, well respected company that it is today.
Indeed, BetVictor is one of the most popular betting websites in the world, and while it focuses largely on the UK market, its overseas operations are impressive to say the least. Players from around the world can be found enjoying many of the sites features, which include: a casino, mobile betting Apps, and a variety of sports-betting features, incorporating: live-streaming, in-play betting, and more.
In this post, we're going to look at the features that BetVictor offers as well as reviewing some of the core elements of the website; so, let's get started.
Sports Betting at BetVictor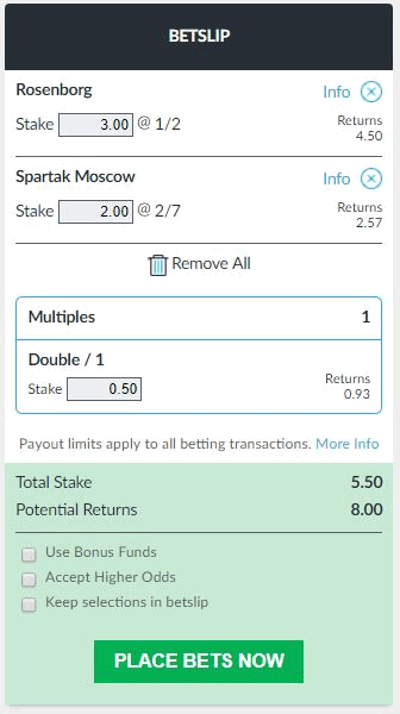 BetVictor offer some of the most comprehensive betting markets we've come across, and whether it's a cheeky accumulator on the football, or a carefully-selected number of multiples on the horses, you'll find virtually every market imaginable here.
What's really nifty, is that all markets are available through a simple, hassle-free interface from the home screen, which helps you to navigate through the selections easily. There are a few major markets at the site which are big enough to warrant their own tab, and these are: Football, Horses, Dogs, and Tennis.
Don't be fooled into think that this is all that's on offer, however, as simply selecting the 'All Sports' menu opens up over 100 markets to bet on, each one offering hundreds, even thousands of events.
Aside from the major markets already mentioned, BetVictor also offer a wide range of options on popular American sports, including: American Football, Baseball, American Football (soccer) leagues, and Ice Hockey; and many of these foreign markets offer rarer bet-types as well, including line-betting, and Asian Handicap betting.
Aside from the regular betting options you would expect to find, you will also see a number of more unusual bet markets which we are going to cover below.
Unusual Markets
While some wouldn't go as far as calling it an unusual market per se, 'Political betting' is a sizable part of the BetVictor betting range, and in here you'll find a number of betting types to choose between, with one of the most popular currently being "What year will Donald Trump cease to be President of the United States of America."
Humorously, BetVictor allow you to place wagers on the years 2028 and 2030, which is odd, because both would exceed the maximum term of 8 years that any President can legally serve. Perhaps BetVictor have offered this as a 'joke' bet; or maybe there really are players who believe that President Trump will change the law (or try at least), to enable him to serve longer than anyone else before him.
Regardless, it's refreshing to see, as it shows that BetVictor either have a very good sense of humour, or are simply going far and beyond the offerings of most rival bookies.
Other Political bets you can find include "Most Seats at the next General Election" for the UK Houses of Parliament, as well as some TV and specials bets.
How Good Are The Odds?
Odds are obviously one of the most important aspects of any bookmaker's website, as without decent prices, players will simply go elsewhere. This is even more important these days as odds comparison sites become more commonplace, and for this reason, many bookies are doing all they can to offer the best odds possible without compromising too heavily on profits.
BetVictor are well known for offering favourable odds, and it's rare to find markets beaten at other bookies. One of the best markets for prices is horse racing, carrying best odds guaranteed according to BetVictor; something we've also seen work very successfully at Coral.
Plus, each day, BetVictor run price boosts, promotions, and bonuses; which can often see prices increase significantly.
In Play Betting

BetVictor offer a tremendous range of in-play betting markets, so you will always be able to find a suitable event, and bet-type, to wager your cash on.
To access the in-play markets, simply click 'in-play' from the main navigational menu on the homepage, or any subsequent pages, and you will be taken to what looks like a spreadsheet. Here, you can categorise the results and narrow it down to get to the events you want.
The BetVictor Website
BetVictor's website is fast, reliable, and extremely well-made; and the attention to detail throughout is extremely impressive. You'll find the site loads quickly on all types of device, and whether you fancy placing a casual sports bet before an evening of football, or you want to beef up the action and play fast-paced, action-packed in-play betting; you will enjoy an extremely fast betting experience at all times.
One of the few things we don't like, is the way in which your funds are transferred between various parts of the site. For instance, if you like to play in both the online casino and the sportsbook, while your overall account balance remains the same, if you want to use the same funds in both areas you first have to transfer the funds from one wallet to the other.
This is commonplace at online gambling sites, but the way in which BetVictor structure their 'transfer' feature is a little confusing to say the least, and we feel the layout could be simplified.
While this is annoying, it's worth noting that if you stick to the sports book, you won't experience this problem, as your wallet/account funds stay the same regardless.
Mobile Betting
BetVictor allow you to bet on all your favourite sporting events using their mobile app from almost anywhere. All you need is a working 3G/4G or WIFI connection and you will able to use the app right away. If you already have an account with BetVictor you can log-in using your regular details. If you're a new customer you can sign up easily on the mobile app – the process takes just a few minutes to complete – and once you're finished you can start placing bets right away.
There are 1000's of markets available to choose from on the mobile app, in fact, you'll have access to all the markets you would enjoy on the regular website. Whether you're looking to place a football acca or want to do an NBA treble, the mobile app allows you to access all betting markets and bet types and lets you place the specific bets that you want to.
There is also a live-streaming function of the app, allowing you to watch all UK and Irish horse races live from your mobile phone or tablet. The racing streams come from ATR and RUK, and you only have to bet £1 in order to qualify for the live streaming options.
The in-play feature enables you to place bets on sporting events or fixtures that have already started – ideal if you're watching the game live from the pub and fancy predicating a correct score or the next event within a sporting match. Placing bets is easy, and there is a mere 5-second live delay before the bet is successfully placed.
To Download the App
Downloading the BetVictor app is easy, and can be done in two different ways. If you're using an Apple device, simply head to the PlayStore, and search for the app. You can then download it free, and installation takes just a couple of seconds.
Android players will need to head to the BetVictor website first and then download the APK file, as Google no longer allow real-money gambling Apps to be advertised in the PlayStore.
If you're using another device and can't download the app, just head to the BetVictor website from your mobile device, and you'll find yourself automatically re-directed to a mobile-friendly version of the site.
Alternatively, there is a QR code on their desktop website which you can scan from your mobile smartphone or tablet. This will take you straight to the mobile site, where you can log in with your account details and immediately begin placing bets.
Best Features
Great Prices
As one of the biggest bookies on the planet, BetVictor can certainly afford to offer significantly better odds than some competitor sites, and this is a BIG plus for both regular punters, and those staking larger amounts of money on singular bets.
If you head to one of the odds-comparison tools online, you will see the prices offered by BetVictor are usually among the best (this also ensures you'll always get the best prices out there).
Results Checker
Something we've not seen before is BetVictor's 'results checker'; it is one of the most unique features we've come across. This one page breakdown offers a comprehensive list of all results from all markets, plus, you can categorise these results and narrow them down to specific sports events and markets. Yet another example of how BetVictor are attempting to make the betting experience as user friendly as possible.
Live Chat
Virtually every casino and sportsbook on the planet now offers a live chat function, and while many of these give you at least a semi-satisfactory user experience, BetVictor is by far one of the best we've come across; and unlike most sites, specialist live chat agents are available for different sections of the site.
For example, if you open up live chat and state that you want to talk about responsible gambling, you will be transferred to the relevant department who will help you with that; so you will always speak to the best trained and most experienced customer support agent available. Not something we see at every bookie.
Payments & Limits
BetVictor offer some of the most generous payout limits in the industry, and you'll see in their terms and conditions that the maximum win, per customer, is a whopping £500,000. This is more than enough to satisfy the needs of most players, although it is worth noting that some sports have lower-caps, with markets outside of horse racing and football often having a maximum payout of £100,000.
In terms of betting limits, there are no specified limits on the amount a punter can wager on a specific bet, but all bets – regardless of the stake – are subject to the maximum winnings cap. So, for example, a player placing a £1 bet, is subject to the same payouts as a player staking £100,000.
BetVictor are also very generous when it comes to the payout methods available to use at the site (for both deposits and withdrawals), and you are able to choose from a huge range of payment methods, including: Bank Wire Transfer, ECO Card, Maestro, MasterCard, PayPal, Visa Debit, Visa, Instant Banking, and others.
Withdrawals are generally processed in around 6-12 hours, although at peak times it can take a little longer, especially over the weekend.
History & About
BetVictor was initially founded in 2000 by Victor Chandler, who has remained a key part of the day-to-day running of the company. He is a man who is well respected by employees and players alike, thanks to his continuing involvement with the company at all levels. It is said that Mr. Chandler still helps out in the office when he visits, taking care of customer support and training employees personally.
Taking this into account, it's not hard to see why they've become one of the biggest, and most respected betting brands in the UK.
In fact, you may well recognise Victor Chandler from his TV commercials. You can see him on many of BetVictor's adverts, often aired during Premiership Football matches, and while some may call this self-glorifying 'showoffery', it's quite nice to see the real face of a company. Too often, the corporate side of bookmakers and online casinos remains shrouded in secrecy, with player-facing characters who have significant hold within the company a rare site indeed. If you want to see him in action, then here he is:
Fully licensed by the United Kingdom Gambling Commission, BetVictor remains one of the leading gambling brands in the country, and their pioneering in-play and mobile technology ensures that customers always enjoy the slickest mobile gaming experience possible.