Paddy Power are one of the big dogs in British gambling, offering their customers sports betting, an online casino, poker functions, and even virtual gaming. Whether it's via one of their many high street betting shops or on their website, thousands of players take advantage of the betting opportunities at Paddy Power every hour.
Paddy Power are an Irish brand with a famously outlandish social media presence which has caused controversy at times as the company have been accused of sexism or insensitivity.
That said, the demographic the company target typically don't have an issue with their approach, and indeed, many cite this rebellious relationship to public relations as one of the main reasons the bookie has seen such success around the globe. We all love a bad boy.
Paddy Power allow players in the UK to enjoy a varied and diverse online gambling experience, probably one of the best in world, and in this post we review some of the betting opportunities, the markets on offer and the website and mobile features. We will also assess the quality of functions such as in-play betting, live streaming and the cash-out features.
Sports Betting at Paddy Power
Paddy Power offer a large selection of markets for punters to enjoy, and depending on which country you call home, you can expect to find between 40 and 45 markets on offer.
As you would probably expect, Football is the dominant sport at the bookmaker, and many of the bookies' promotions and bonuses are geared towards this; leaving some other players feeling left out as it's rare for Paddy Power to run promotions on other events, aside from notably large tournaments.
Paddy Power also have a prominent Horse Racing page, and you'll find every single UK and Irish race available to bet on thanks to the many partnerships Paddy Power have with race courses and TV production companies throughout the UK.
Of course, no bookie would be complete without some of the outsider sports, and Paddy Power cater to this market with a selection of rarer markets for you to enjoy including Rowing, Weightlifting, Martial Arts, and wait for it…
Fishing.
Yep, you read that correctly, with Paddy Power you can bet on Fishing. Now we have absolutely no clue how that works, but it certainly shows their more imaginative side!
Unusual Markets
Staying with sports for the moment, the unusual markets available are actually fairly common these days; things like Surfing, Water Polo, and so forth. Let's be honest, we're not going to beat fishing here, are we?
And then, of course, we come to what Paddy Power are really famous for; their novelty bets.
Paddy Power are known to offer some outrageous and hilarious bets; from predicting the date Alien life will be confirmed by the US Secretary of State, to betting on what colour the next lottery bonus ball will be, Paddy Power has it all. Nothing is too far-fetched for them, and they have even been known to accept individual request-a-bets from people. A good example is someone who wanted to bet they could lose a certain amount of weight in a certain amount of time.
By approaching bets like this with tongue firmly in cheek, Paddy Power show their punters just how much fun they are willing to have, and it's no surprise to see so many players joining specifically to take advantage of the wide range of comedy markets available.
How Good are the Odds?
Paddy Power offer some of the most competitive odds around, and all of them come with a best price guarantee; so you can take a price safe in the knowledge that, if your selection wins, you have the advantage of settling at the starting price even if it's better than the price you took.
Now, while this best price guarantee isn't applicable to all sports, it is offered on the vast majority of the bookies markets; and their ante post bets are also notable, as they're often some of the best value odds in the industry.
You can always get an up to date breakdown of the odds by visiting the Paddy Power website, and if you're not sure whether or not the prices offered are the best, you can always use a free online comparison tool to ensure you are getting top prices.
In Play Betting
While Paddy Power are a superb bookmaker in general, the in-play section is hampered by the fact that the bookie implements very strict and even draconian betting limits, particularly on players who have won in the past.
Now while you may think this would only apply to players who regularly win thousands of pounds, some players have reported that their in-play access has been partially or fully restricted for wins of as little as a few hundred pounds.
Putting this aside, the actual events offered are decent and many, including: Football, Tennis, Basketball, and a handful of other sports. Live streaming is available too for some of the matches, although this is heavily dependent on both the market in question and your eligibility to watch – a minimum bet of £1 is required to watch most events.
The Website
Paddy Power is a predominantly English speaking site with over 90% of their users believed to be natives, but that doesn't stop them offering the site and support functions in German and Spanish as well. A simple language selection drop down at the top of the page allows for easy changing between languages.
The look and feel of the site itself is a rich combination of whites and greens – the traditional Irish look, of course – and while the site isn't quite on par with some of the NetEnt-type casinos when it comes to the design, it is extremely reliable and fast, and it's pretty easy to work your way around too once you are familiar with the sections.
One of the main gripes we have with the site is the fact that it's pretty cluttered. There is a lot going on, especially on the navigation bar and the header space above. It's obvious Paddy Power are trying to make it easier to access different parts of the site, but it can actually end up causing more problems than it solves; it can be more difficult to find the page you want as you don't know where to look first.
The sign-up process is simple, thankfully, and a minute or two is all it takes to create your account and get started. You'll be prompted to set deposit limits when you join, and it's worth taking a minute to consider using them; they're a great way to prevent betting more than you can afford to lose. The website also offers a number of other responsible gambling tools found under 'My Account'.
Mobile Betting
Mobile betting – and in particular in-play markets – have a fairly poor reputation in terms of reliability, but Paddy Power are one of the few bookies actively changing that, with a state of the art mobile app which is available to players on Android and iPhone /iPad.
Their app is both reliable and intuitive, and whether you bet from a phone while on the train or from your tablet in bed, you'll enjoy a hassle-free betting experience thanks to the speeds the app offers. Add to that the 1000+ markets available at any one time and it's a pretty sweet deal.
In order to download the app on iPads, iPhones, or iPod Touch devices, simply open up the Play Store, search 'Paddy Power' and download the app – that's it. There is also the ability to set up a fingerprint login known as Touch ID, so you don't need to remember yet another username and password combo.
Android players need to download the app directly from the Paddy Power website due to Google no longer allowing real money gambling apps on the Play Store, and the link to do this can be found on the 'Mobile' tab of the site.
One of the features we like most about the app is that transferring your balance between various parts of the site is simplified, with Poker, Casino, and Sports, being the main sections offered. While you still have to manually transfer funds between one section to another, the app makes this process less arduous than it can be thanks to a one click transfer process.
Best Features
Top Live Streaming Options
While most online betting sites offer live streaming and in-play betting to some extent, Paddy Power takes things a step further, giving you one of the most varied selections around. You'll find many live streams you simply wouldn't find at most other bookies – including every horse race and greyhound race in the UK and Ireland – and all the live streams are fast and rarely lag, thanks to the state of the art technology used on the website. They certainly haven't scrimped here.
Strong Emphasis on Responsible Gambling
By law, all UK licensed betting firms have to offer punters the ability to set deposit limits, bet-limits, self-exclusion and time out facilities, but once again Paddy Power go a step further. They've developed a special technology that can identify potentially problematic gambling patterns in users, and if these are detected the company will often reach out to the punter to offer advice, ask if they need help, and remind them of the responsible gambling measures available at the site.
Although some may view this as intrusive, Paddy Power have repeatedly assured punters that the software is very accurate and won't affect problem free gamblers, and it's reassuring to see a bookie that is genuinely passionate about its players safety.
Cash-Out on most Markets
While some bookies offer only a limited cash-out service, this is not so for Paddy Power who offer a tremendous selection of cash-out events which spread across almost all of their markets.
Put simply, virtually every in-play game (of which there are 1,000's each day) offers you the ability to cash-out, although as usual cash-out options are suspended when notable actions take place within events. This would include, for example, a goal being scored in a football match.
High Street Betting
Paddy Power are a well-known online bookie, but what many don't realise is that they operate a number of high street stores throughout the UK as well. In fact, this is where they started out back in 1988.
These stores use the eye catching green branding that's become so iconic, and if you visit or drive past a store, you'll see that the shop board and paint used on the building is the same rich green, tying in with the look and feel of their website.
Unfortunately, the high street side of the bookies operation hasn't been quite as successful as their online presence recently, and a number of their shops have either been closed or sold off, with one of their flagship branches in Brighton, East Sussex, one of the more notable branches to cease operations. It's now an independent bookie which enjoys steady streams of customers thanks to its prominent location just down from Churchill Square, a famous shopping centre. Maybe they should have kept hold of that one.
Furthermore, unlike other big-name bookies who boast high street stores as part of their empire, Paddy Power haven't really taken advantage of offline to online betting integration. For example, Coral developed the Connect Card which allows punters to use one balance in store and online – and Paddy Powers failure to do something similar has resulted in their losing customers, as they fail to keep up with the technology used by other firms.
Still, despite the negatives, the remaining high street branches see plenty of regular punters walking through their doors, and the odds, customer services, and facilities are generally heralded as better than average.
Payments & Limits
Paddy Power implement a maximum bet of £500,000 across the majority of their markets, although it's worth pointing out that this limit may not be available to all players. Those who pose significantly more financial risk to the company may find their bet limits lowered to as much as a few pounds, but your specific account limits all depend on your account history.
As a general rule of thumb, there are no set maximum payouts, although Paddy Power do outline some payout caps in their terms and conditions which apply to different markets and jurisdictions. For full details, make sure you check out the Paddy Power terms and conditions where you'll find the most up to date information.
If you're ever concerned about the limits on your account, just hop on to live chat or send an email to support who'll be able to offer account specific information right away.
In terms of the payment methods, depositing and withdrawing into your account is easy thanks to an abundance of options available. Some of the more popular include: Bank Wire Transfer, EcoPayz, Laser, Maestro, MasterCard, Neteller, and of course, a number of Visa services, including Visa Debit.
Withdrawal requests are processed in good time, usually within a few hours, and EWallet punters have the additional benefit of seeing their funds hit their accounts just minutes after their request has been processed.
History & About
Paddy Power are an extremely well known and vocal gambling company hailing from Dublin, Ireland. First founded in 1988 with the merger of three independent Irish bookmakers, the company has become one of the biggest names in online gambling both in the UK and around the world. They became a public company in 2000, and in 2006 merged with Betfair.
Paddy Power – or Paddy Power Plc as it's officially known – is actually split into two parts. The first is called 'Paddy Power Isle of Man Limited', and the second 'Power Leisure Bookmakers Limited'. This multiple personality is due to complex licensing laws (and likely tax purposes let's face it), and any players who are not residents of the United Kingdom or the Isle of Man have their financial transactions processed by the latter of the two. Players who do live in the UK, or Ireland, have their payments processed by Paddy Power Isle of Man Limited.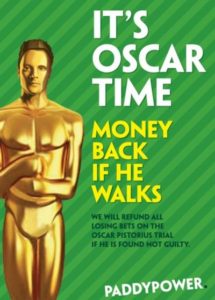 The company offer a number of gambling products online, including a sportsbook, a casino, poker facilities, bingo, and virtual racing/sports. Their rise to fame has been quick, albeit often controversial; Paddy Power are notoriously risqué in their marketing techniques, and some believe they cross the line with accusations of sexism and what they call 'banter' going too far, according to some. They racked up a record 5,525 complaints for their 'It's Oscar Time' campaign, which offered odds on the Pistorius murder trial and I quote "money back if he walks". Quite.
Regardless of your personal thoughts on the company though, it cannot be disputed that they've done incredibly well for themselves, and as one of the top five bookmakers in the UK they keep excellent company.
Regular promotions both in the sports book and the casino keep players coming back, and fast withdrawals, great game ranges/betting markets, and friendly support staff make the bookie an extremely popular choice – and it's not hard to see why they command so much respect within the online gambling world.