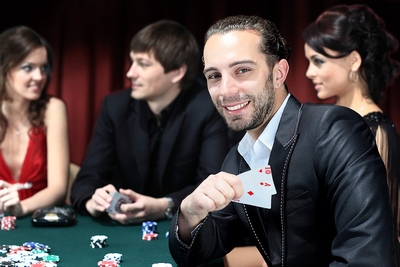 Blackjack is most typically played by an individual against the dealer. You might sit at a table with many players, whether in a bricks and mortar casino, at an online live casino, or at a CGI casino that uses a random number generator (RNG) to simulate the game. None the less, the aim of the game is always the same: to beat the dealer in as many single hands as possible and thus increase your bankroll.
Blackjack tournaments can be played online or offline, at live casinos or at RNG casinos, but the fundamental difference is that your key opponents are the other players. On one level the game is played in the same way. Blackjack is blackjack and you still have to beat the dealer to increase your bankroll. However, as in some poker tournaments, the chips are only indicative rather than representing real cash, and it is simply the player with the most chips at the end of the game that wins.
In this feature, we will explain more how these blackjack tournaments work. We'll look at the best strategy to maximise your chances of winning and what skill (if any) is involved. We'll also be looking at probably the most famous tournament of them all, the World Series of Blackjack.
How Do Blackjack Tournaments Work?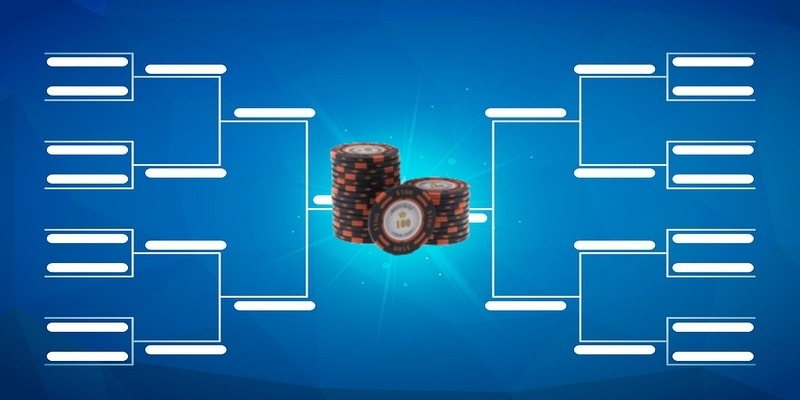 A blackjack tournament may consist of just one table of players but normally multiple tables are involved. Players pay a fixed fee to enter the tournament and this is the most you can lose, although many online casinos offer free tournaments or allow you to pay your entry using comp points, loyalty points or similar.
Every player is given the same number of chips of equal value, and you then play blackjack as you would normally. However, in a tournament, the goal is not to build your balance per se but simply to have more chips than anyone else at the table when it ends. The tournament, or individual round, usually lasts for a set number of hands, which is often 30 but sometimes more, sometimes less. Very rarely will it be defined by time.
If it is a single-table tournament the player with the most chips wins, but usually in bigger events the winner simply moves to the next round where they play against the winners of other tables. Sometimes the top two chip holders will progress depending on the exact format of the event. This process is then repeated until the final table is reached where players slug it out for one last time to determine who is the overall victor.
Tournament blackjack can, therefore, be seen a little like a mix of Texas Hold 'em and blackjack, and in the same way everyone getting to the final table is usually "in the money". Finishing last at the final table may see you simply get your entrance fee back or make a modest net win but the overall winner will often take home a prize many times the value of their original stake, with some really big prizes on offer at the most prestigious tournaments.
Blackjack Tournament Formats
Hopefully we have now explained what a blackjack tournament is but just to summarise things, the differences between a tournament and "normal" blackjack are as follows.
In a tournament:
You have to beat the dealer but you win by ending with more chips than the other players
Play is over a set number of hands
The chips have only a nominal value rather than a direct cash value, and your aim is to have the most chips at the table
Losses are capped at the entrance fee but you may win large sums, especially in multi-table events
That said, blackjack tournaments come in a range of formats and structures and we will briefly look at the main ones now.
Standard Format
The most common type of event is the one we have essentially described already. This is sometimes called elimination blackjack or an elimination tournament. Players losing all their chips may be allowed re-buy in the first round. In addition, some tournaments will allow more than one player to advance from each table, with the two players with the most chips sometimes advancing.
Within this format, we would also include Sit 'n' Go blackjack, which is simply a single-table tournament which gets underway as soon as there are six players ready to take part. At a busy site, you won't have to wait too long for a table to be ready and if you play well you can win pretty quickly.
Within the standard format of tournaments, you will see events of very different sizes. Single-table Sit 'n' Gos are the smallest, quickest options. In contrast, some of the biggest tournaments, often classed as Major Tournaments, will see hundreds or even thousands of players taking part and, just like with big poker tournaments, may have satellite events that offer qualification to the main event. Such BJ events will be played over a whole day or even a weekend.
Real Money Tournaments
Some tournaments metaphorically up the ante by using real money, which is to say that the chips have real cash value. Everyone buys in with the same number of chips but this format changes the strategy and makes players less likely to bet their whole stack at any one time.
Accumulators
Accumulation tournaments do not see players eliminated from tables, nor do they see progression to a final table. Instead they are single-round, multi-table events, where everyone at the tournament competes against everyone else.
The winner is still the player with the most chips after a designated number of hands but you are competing against the entire field, not just the players at your table. A leaderboard will show you how your current stack compares against the rest of the players.
Elimination
Eliminators use the same format as standard tournament blackjack but players are removed from the tables at set intervals during the total number of hands prescribed. So in a standard 30-hand event, the player with the fewest chips after hands eight, 16 and 25 may be removed.
Strategy For Tournament Blackjack
There is certainly a degree of skill involved when it comes to winning blackjack tournaments. One of the true greats of blackjack, Stanford Wong (you may have heard of the term "Wonging" in relation to card counting), has written an entire book on this subject, descriptively titled Casino Tournament Strategy. Given the existence of such a fine tome, it would be foolish of us to try and go into too much detail and anyone serious about playing tournament blackjack should certainly check it out.
That said, for those merely wanting a starting point and some simple tips and strategies, here goes:
Patience – betting larger amounts should only be done towards the end of the round or tournament if it is needed. There is every chance that your rivals will lose all/most of their chips before then so do not rush in.
Note the maximum bet – whilst patience is normally key, if a very low maximum stake is in force (relative to the total number of chips) then earlier aggression may be needed.
Rules – in relation to the above, make sure you fully understand all the rules as tournaments often subtly differ from one another. The key things to be aware of are how many hands are played, what the staking limits are, how many players advance and when chip counts are made for elimination. Make sure you also fully understand the gameplay rules (for example surrender, when you can double and so on).
Monitor those chips – you need to keep a close eye on what is going on around you and how the other players are managing their chips. You need to rapidly calculate their stack size if they win or lose and alter your strategy accordingly and this is all the more relevant later in the tournament.
Stake – altering your stake is one of the few things in your control and knowing how and when to change it is key to success. In general, if you are winning, bet the same as your opponents, if you are losing bet differently. This is because outcomes for most players at the table are the same (if the dealer gets a natural, you all probably lose, if they bust, everyone usually wins). Also, in general, when you are leading you should be staking smaller amounts too and playing defensively to protect that lead.
Gameplay – playing basic strategy is almost always going to be the right call but knowing when to deviate from this is also key.
The World Series Of Blackjack
The World Series of Blackjack was the biggest tournament of them all and was the child of US TV station GSN. It was an annual televised blackjack tournament with obvious parallels to the World Series of Poker but was much younger than that famous event, having been created in 2004. The majority of entrants were invited, with skilful celebrities taking part in the later editions but some seats also available through satellite qualifiers.
There have been tweaks to the exact rules, number of players, rounds and format over the years but essentially this was a BJ tournament with preliminary rounds leading to a final table. The first series, or season if you want to go all American, offered $100,000 to the ultimate winner and was played over 30 hands. By the fourth series, the cash on offer reached a very tidy $500,000 from a total pool of $1m, with just 25 hands played per round.
World Series of Blackjack Winners
Anyone with any knowledge of blackjack legends will recognise a name or two from the table below.
| Year | Winner | Runner-up | 1st Prize |
| --- | --- | --- | --- |
| 2004 | Mike Aponte | Dave Stann | $100,000 |
| 2005 | Ken Einiger | Kami Lis | $250,000 |
| 2006 | Jeff Bernstein | Tony Duong | $500,000 |
| 2007 | Alice Walker | Marlin Horseman | $500,000 |
Sadly this event was relatively short-lived and there is no indication it will return. Blackjack, even of this nature, lacks the tension, drama and surprise of poker and so is not well suited to the TV format. There remain several big tournaments around the world but these are operated on an ad hoc basis.
The Ultimate Blackjack Tour (UBT) was a very similar idea to the World Series and ran from 2006 but only lasted for a couple of series. Again we saw some big names from the world of gambling taking part and some notable players from both events are detailed below.
WSOB And Ultimate Blackjack Tour: Notable Players
As detailed in the table above, the first-ever World Series was won by Mike Aponte, otherwise known as "MIT Mike". Aponte was a member of the famous MIT blackjack team that took casinos worldwide for tens, or even hundreds of millions of dollars. Micky Rosa, another key part of the MIT team also played and made the final table.
Stanford Wong proved his credentials as a tournament blackjack player some years after writing the book on strategy we mentioned earlier. Wong played in the first two WSOB series and won a semi-final in 2005. James Grosjean, author of various gambling books was the youngest person to be inducted into blackjack's Hall of Fame and appeared in the WSOB and the UBT. Brian Zembic is another famous name to have appeared in the former event. Whilst a fine gambler, Zembic is perhaps most famous for having a breast implant operation to win a bet of $100,000!
David Matthews won the third series of the WSOB and also competed in the UBT, winning that in its inaugural year. One of the biggest names involved with that latter event was Phil Hellmuth, the poker ace who holds more World Series of Poker bracelets than anyone else, a staggering 15. Hellmuth won the select "All-Stars Tournament" of UBT in the second series.