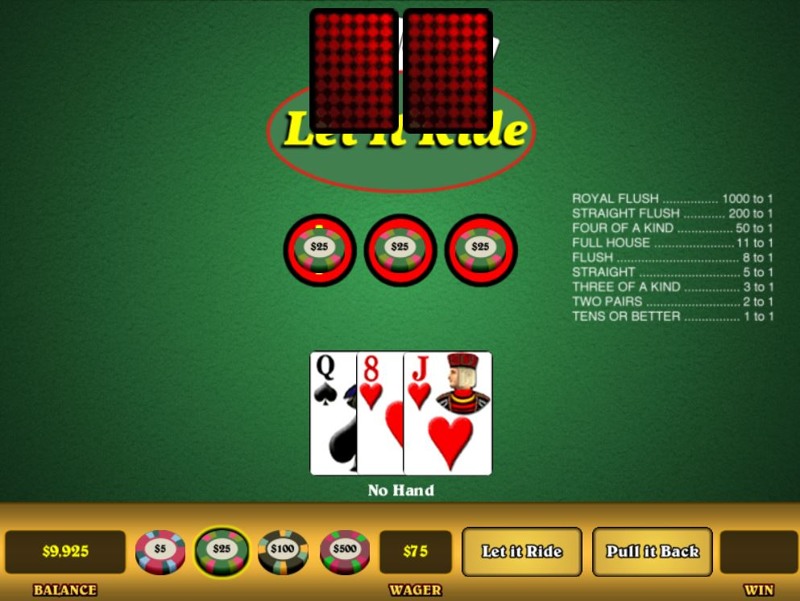 Let It Ride Poker can go by many different names – such as Let Them Ride and Poker Pursuit, for example – depending on just where you are playing. Regardless of the name, they all play to the same rules, so once you have mastered one variant you will know how to play all of the others too.
The game is a poker type casino card game, and it will see you initially being dealt three cards, followed by two more. After the third and fourth cards are dealt you have the option of adjusting your bet. The game then pays out based on the value of the poker hand you have made, multiplied against your active bets.
There are two main ways the game is played depending on what casino you are playing at, the first is to place three wagers of equal amounts such as three £5 bets. After each betting round you have the option of 'letting the bets ride' (hence the name), or removing one of them. If you choose to remove on both rounds then your final bet in this example would be £5.
Conversely, other games start with you placing a single bet and then having the option to raise that bet at each betting round – this is the format used in this article. The end result is the same, but it's something you should be aware of in case what we describe differs from what you're used to.
How to Play
To set the game of Let It Ride in motion you simply need to decide what stake level you wish to play at and then click 'Deal'. Three face up cards will be presented to you on the game screen.
You are now faced with your first betting decision – whether you want to call or raise your initial wager. If you choose to raise, your bet will be increased by an amount equal to your initial bet, and a fourth card will be dealt. If you call, a fourth card is dealt but no additional wager is placed.
Once this fourth card has been dealt face up you then face a second call or raise decision, after which the final card is dealt. Your hand will then be compared to the games paytable, and you will be paid out at the corresponding rate. The actual payouts may vary from casino to casino, but will usually be something like this:
Pair of Tens or Better – 1 to 1
Two Pair – 2 to 1
Three of a Kind – 3 to 1
Straight – 5 to 1
Flush – 8 to 1
Full House – 11 to 1
Four of a Kind – 50 to 1
Straight Flush – 200 to 1
Royal Flush – 1000 to 1
Many online and local casinos will also offer a side bet that's tied to a progressive jackpot. If you are offered this bet and choose to take it, your payout will be as follows (assuming a £1 bet):
Three of a Kind – £5
Straight – £25
Flush – £50
Full House – £200
Four of a Kind – £400
Straight Flush – £3,000 or 10% of progressive jackpot
Royal Flush – £30,000 or 100% of progressive jackpot
Hints and Tips
You need to play this casino card game with a very strict strategy in place, as it is easy to get carried away when there is a slight possibility that you could make a high paying hand.
Base your betting decisions solely on what you can see on the screen, and if you have been dealt a winning hand then that is always the correct time to increase your wagers accordingly.
With regards to the amount you stake on each game, make sure you will get at least 50 to 100 games per session by dividing your allocated bankroll by 50 or 100, then use the result as you base game unit stake.