In this section you'll find reviews which focus on sports betting. Some of these will be dedicated sportsbooks who don't offer other products, whilst others will also offer other gaming products such as a casino or poker room.
Sports Betting Guides
Understanding How Sports Betting Works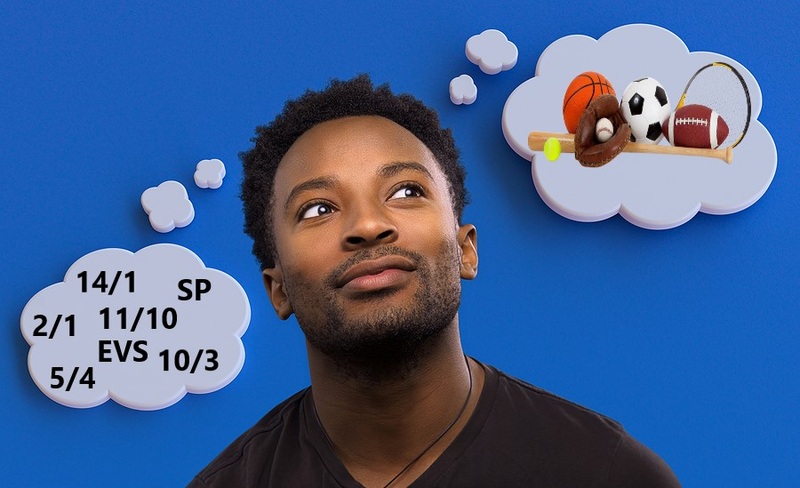 The most important thing to understand if you want to have a bet on a sport or similar event is the concept of odds. If you make a bet with a friend, you might, for example, bet a fiver on whose team will win a game. Whoever wins gets the other person's £5, so it's simple. With a bookmaker though, things are usually a little more complex.
For any outcome you choose to bet on, bookies list odds, and these describe what you stand to win if your prediction is correct and your bet wins. The wager described above between friends is struck at evens, also known as even money, 1/1 (said as "one to one") or in decimal prices 2.00. This means that for every £1 bet you stand to win £1 (in addition to getting your stake back), hence 1/1. Put another way, odds of 2.00 describe your returns from a stake of one unit. So if you bet £1, you will get £2 back including your £1 stake.
Understanding the odds is crucial to betting as it allows you to understand the risk-to-reward ratio of a bet. You might think Man City will beat Everton but just how sure are you? Would you risk £10 to win £10? If the odds were evens and you think City will win more than 50% of the time, this would be a good bet, offering betting value. You might be very confident that City will win but would you still risk that £10 if the reward was just £5?
That would equate to odds of 1/2, which would be spoken as "one to two" or "two to one, on". In decimal form this would be odds of 1.50. But what if the price on City was even shorter? Would you back them at odds of 1.20? At odds this short, written in fractional odds as 1/5, a £10 bet would return just £12 including your initial stake. You are risking £10 for the chance to win just £2.
Fractional v Decimal Odds – and Implied Probability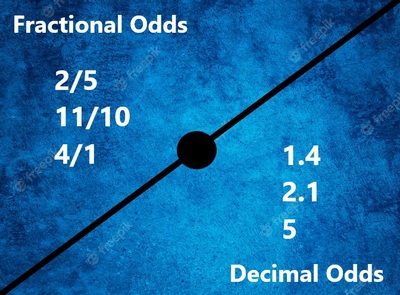 Fractional odds are the traditional way that prices are written in the UK. So 2/1, 6/1, 12/1 or 25/1 and so on, or looking at "odds-on" prices, which are odds shorter (or less rewarding) than evens, we might have 1/2, 1/5 or 2/7. In the simplest terms possible, the number on the right is the punter's stake and the number on the left is the winnings, over and above the stake, that such a bet would yield. As such, £1 at 6/1 returns a total of £7, whilst £1 at 1/5 sees you collect just £1.20 from the bookmaker.
Betting exchanges use decimal odds however and many younger punters are more familiar with these. You can choose what format you want the odds to be displayed in either under settings, the account area of a site or sometimes just as a tab on the homepage. Most UK bookmakers offer the option of fractional, decimal and sometimes US odds formats. More and more people favour decimal odds because it can be easier to compare and understand prices.
With fractional odds, it is always clear that 4/1 is bigger than 3/1, which in turn is bigger than 2/1. However, when it comes to 2/9, 1/4, 3/10 and 4/11, things are less clear – at least for most punters. As mentioned, decimal odds illustrate what your returns will be if you had bet £1 (or $1 or anything else). That includes your stake, such that a winner at 2.00 pays £2 for a £1 stake and the same bet at 11.00 pays £11 – it being equivalent to 10/1. The table below shows a comparison of fractional and decimal odds, as well as implied probability.
| Fractional Odds | Decimal Odds | Implied Probability |
| --- | --- | --- |
| 1/5 | 1.20 | 83.3% |
| 1/3 | 1.33 | 75% |
| 4/7 | 1.57 | 63.6% |
| 10/11 | 1.91 | 52.4% |
| 6/4 | 2.50 | 40% |
| 3/1 | 4.00 | 25% |
| 13/2 | 7.50 | 13.3% |
| 14/1 | 15.00 | 6.7% |
Implied Probability and Value
As well as understanding the simplistic aspect of what you are risking and what your potential payout is, a knowledge of implied probability is crucial if you want to take your betting more seriously. Most recreational punters, gambling for fun, may be content to ignore implied probability, disregard the concept of value and simply back the horse, team or whatever the selection may be, that they think will win.
However, professional gamblers, semi-pros and even recreational punters who wish to expend a little more effort in order to try and beat the bookies in the long term will obsess over these ideas. To keep things simple, we can say that implied probability is the odds of a selection converted into probability. In other words, based on the bookies' odds, what chance does a selection have of winning?
The key thing to note is that the bookmakers' odds are not "fair", in that they do not directly reflect the chances of each selection winning. The bookies factor in a profit margin for themselves to pay wages, other costs, taxes, and often shareholders. As such, if you bet on every selection in a race, you are going to lose a small amount of money, in the same way that betting on every number in roulette would yield a small loss.
The bookies price up their markets with the intention of the odds for every outcome being slightly lower than they "should" be. As such, if a bookie thinks a horse has a 40% chance of winning a race, the odds will not be, as per the table above, 6/4 (or 2.50). Instead they will be slightly lower, perhaps 7/5 (2.40), 11/8 (2.38) or even lower. Most of the time, most, and often all, of the selections are, from the bettor's perspective, bad value. By this we mean the odds are worse than they should be based on their chance of winning.
The Hunt for Value
What professional gamblers are able to do regularly is identify value bets. Let us look at a horse that has a 40% chance of winning as above. Generally, as said, this will be priced at, say, 11/8. If you can find odds above 6/4, perhaps 8/5 or 13/8 or even 7/4 or higher, this is a value bet.
If you can find such wagers on a regular basis, you will have a better chance of beating the bookmakers.
Doing this, finding value, is the hard part though. It means you are able to assess the sport and market better than the bookie. Given they have experience, time, resources and possibly even a degree of inside information in their favour, this is beyond the ability of most punters.
What's more, you are not really playing on a level playing field, because their profit margin gives them a head start, meaning they can afford to be slightly out with their odds and yet still have the upper hand.
What Can I Bet On?
Under the wide umbrella of sports betting you will see that the best online betting sites offer dozens of different sports. Basically, any mainstream sport you can think of, plus lots of highly niche ones, are available. That means you can bet on football, rugby, cricket, tennis and golf, as well as US sports such as basketball and American football, but also less obvious options such as winter sports, handball, hockey, volleyball, surfing, MMA, bowls and more.
The most popular sports offer the biggest range of events, in terms of games, matches and tournaments, whilst also offering the widest selection of markets for those. Sports which have fewer fans will generally see only their bigger events covered and in general there will be fewer different betting options. So, whilst bookmakers offer betting on second division Czech football – with several different markets – when it comes to netball, for example, they might only cover the World Cup, and then only offer outright betting and match odds.
But betting is certainly not limited to sporting events, even if it remains classed as "sports betting". Politics fans can bet on general elections, party leadership battles and more, from all around the world. If reality TV is your thing then once again, you can bet on shows from all around the world, including all the main UK options. Those interested in film, TV and music can bet on an array of events, from Eurovision to the Christmas number one and the Mercury Prize, as well as the Oscars, the BAFTAS and the Soap Awards. You can also place wagers on the weather, current affairs and more.
Placing a Bet

Now that you understand the concept of odds and value, and have an idea of what you can actually place wagers on, how do you go about making a bet?
Whether placing your bet on the main desktop site, mobile site, or via an app, this is easy. Bookies want you to bet so they invest a lot of time and expertise in making the process quick, simple and highly intuitive.
First, you need to make your way to the right sport, event and market. You will see various tabs and headings around the page depending on the site, though most bookmakers have a list of sports down the left-hand sidebar. You can start here, or be more specific and, where available, use a search box to type in the name of the team or player you want to back, or the event you want to access.
Once you have the right sport or event, a similar process will enable you to easily navigate to the right market. Here the available selection will be shown, along with the odds for each. You might, for example, see something like the below:

From here, clicking the selection you want to back will add this to your betting slip.
This is typically found in the top right of the screen or pops up once a bet is added, though this varies between sites.
Add your stake to the slip, making sure you have sufficient funds in your account – if not you will be prompted to make a deposit to cover the bet.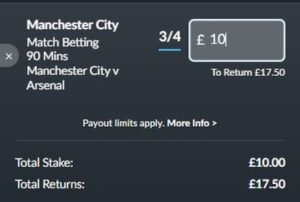 Before clicking "Place Bet", or similar, check that the match, market, selection and stake are all correct.
The slip will usually show you how much you stand to win once you have entered your stake, and will update immediately if you change the amount too, so it's a useful tool.
When you are sure you are happy just click to make your bet, noting there may be a secondary confirmation needed, and that's that.
Now you just need Lady Luck to be smiling on you.
Singles, Doubles, Accas, Multiples and Each Way Betting
What we have described above is how to place a single bet, this being the simplest type of wager there is. One stake covers one prediction and if it wins, so do you. However, there are many more types of bets you can place.
A double is the simplest form of acca and involves two unrelated selections. You place one single stake and need both predictions to be right in order to win. A simple double might be one horse to win the first race at a meeting and another to land the feature of the day. Acca is short for accumulator and this name comes from the way the winnings accumulate from one leg, or selection to the next.
Accas are very popular because a small stake can lead to big wins. For example, a £10 double on two horses at 2/1 costs just £10 but returns £90. A treble is the next accumulator along, involving three selections and three horses at 2/1 pays a very tidy £270. Accas can include as many selections as you dare add, up to the bookmaker's maximum, which is usually at least 12. Above a treble such accas are named according to how many selections they include, so a fourfold, fivefold and so on.
Another slightly more complex type of bet is a multiple, which includes at least three (some would say two) selections but then uses these to create more than one bet. A straight acca will always have one stake but multiples, such as a Lucky 15 or Yankee have several, each covering its own bet within the broader wager. A Lucky 15, for example, takes four selections and covers all possible doubles and trebles, plus the fourfold of them all, and each single as well.
Placing all of these bets is, as with a single, straightforward enough. Just add the required selection to your betting slip and the bookie will then list all of the possible bets you can make. This will include singles, doubles and so on, as well as the various more complex multiples that are possible, and the all-encompassing acca as well. Each will have its own stake box on the slip so add your stake here, noting that multiples require multiple bets, such that a £2, 63-bet Lucky 63 will cost £126 in total.
One final option is each way wagering. An each way bet is two bets in one, with stakes of equal size going on your selection to win, and separately to finish in the places. Such bets can be made on a range of sports and markets and can be accas, but the most common each way bet is a single on a horse to win a race.
For example, a £5 each way bet on Blue Bird to win the 3.10 at Pontefract would cost £10. £5 is a bet on it to win, with £5 "to place". The place terms vary according to the sport/race/market but in horse racing a fifth of the odds for a top-three finish is not uncommon. Let us imagine Blue Bird is priced at odds of 10/1. If it finishes outside the top three you lose both bets. If it finishes second or third you lose your £5 stake on it to win but the place portion pays out at a fifth of 10/1; so you would have a £5 winner at 2/1 and thus get back £15 in total. If the horse wins, both wagers are successful and you get that same £15 plus a further £55 thanks to the £5 at 10/1.
Fixed Odds, Exchanges, Totepool and Spread Betting
When we talk about betting we are generally concerned with what is technically known as fixed-odds betting. These are the standard bets we have talked about above that most punters are familiar with and are placed with a "normal" bookie or betting site. Aside from a small number of bet types where the odds might only be determined once a race starts (horse- and dog-racing wagers made at the Starting Price), punters know what price they are getting and what they stand to win when they make the bet. However, this is not the only style of wagering that is possible in the UK.
Betting Exchanges
Betting exchanges can be viewed as peer-to-peer betting and rather than making your bet with a bookie, you are making it with another punter, with the betting site the middleman who makes the bet possible.
The exchange holds the funds of both sides of the wager and charges a small commission to whoever wins. With this commission generally no higher than 5%, exchanges can often deliver better odds than bookies, who have a much higher margin on some markets and selections.
Betting exchanges allow punters to "lay" bets, effectively acting as the bookmaker. In fact, not only do they allow it, their entire model depends on it.
For one customer to be able to back our hypothetical horse, Blue Bird (see above) at 10/1, there must be another prepared to bet that it won't win. The user laying Blue Bird risks £10 to win just £1, in the same way a bookmaker would.
Totepool and Parimutuel
Tote betting, also known as pools betting, or parimutuel, is a different type of system whereby the odds are not known when a bet is made. Such wagering is often facilitated by state entities, as Tote was for many years in the UK, as it offers very little risk to the "bookie".
All stakes go into the "pool" and the operator then deducts a set amount to cover any taxes due, their operating costs and a profit margin. What is left is the prize pool and this is split between punters who backed the winning selection in accordance with how much they bet on it and how much in total was placed on it.
Winnings are declared as a dividend based on a £1 bet and what this dividend is only becomes apparent after the race has ended.
Odds for pool bets are generally a little lower than with fixed odds bookmakers or exchanges but in certain circumstances, they can pay out far more. They can also generate big lottery-style payouts through specialist and hugely popular bets such as Tote's Scoop6, where punters are required to get six winners.
Spread Betting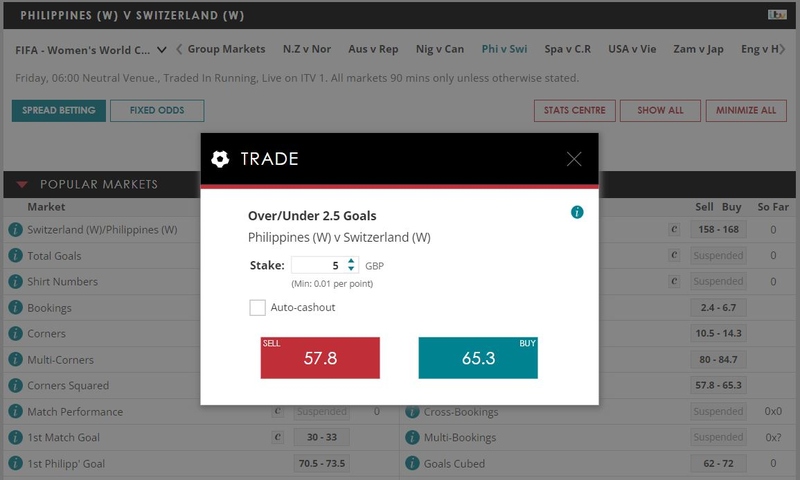 Spread betting is probably the least common form of wagering and the simplest way to understand it is in terms of higher or lower.
For a game of football the site might offer a total goals spread of 2.5-2.7. If you think the clash will witness at least three goals you "buy" at 2.7 – in other words, you predict more than 2.7 goals. Alternatively, if you fancy a dour affair, you "sell" at 2.5, meaning you go lower.
The key thing about spread betting is that you can win and lose many times your stake and winning or losing is not a binary result with two fixed outcomes.
If you bet £10 on over 2.5 goals with a fixed odds bookie you might either lose £10 or win £9 and it doesn't matter if there are 0 goals or nine – those outcomes remain the same. In contrast, if you buy goals at 2.7 for £10, you will lose £27 (2.7 x £10) if the fixture ends 0-0. If it was 1-1, so two goals in total, you would lose just £7. Equally, if the game was 2-1 you would win but only 0.3 x £10 (so £3). However, if the game was a thriller that was 4-4, each goal over three would be worth an extra £10, so 4-4 would yield £53.
Features to Watch Out For at a Betting Site
Obviously all betting sites offer punters the ability to make bets, but increasingly they do much more besides, with a range of extra features that make things more interesting and more fun. In addition, there are new ways of betting to give punters even more options and more control.
In-Play Betting
In-play betting, often referred to as live betting, has been around for a number of years now. Year by year, a higher percentage of bets are made in this way, in part due to the explosion in mobile betting. In-play betting means placing wagers once a game, match or race has already been. It gives you the chance to assess how a contest is shaping up before you get involved, make multiple bets throughout a clash, or change the shape of your position after the event has begun.
Cash Out
Cash out can normally be used before or during an event and gives punters the chance to close a bet early and take an early win, or cut their losses, before the match or race has run its full course. It gives you more control over your wagers and can be useful if you feel a bet is turning against you. The best betting sites also offer partial cash out, so you could cash out some of the bet but still maintain an interest in the event by leaving some of it live.
Live Streaming
Live streaming gives you the chance to watch coverage of events through the bookmaker's site and is often free. Depending on the bookie you may have to have had a bet on the particular contest, have wagered within a certain time frame or possibly just have a funded account. It is great for smaller events that may not be televised elsewhere and is very good for horse racing fans. You can watch live streams of sports on your desktop, tablet or mobile, so you can keep up to speed with all of the action whenever and wherever you are.
Bet Builders
Bet builders go by various names and can come in slightly different forms but they allow you to place complex wagers that would not be possible on a standard site. Request-based offerings allow you to place unusual specials on markets not covered as standards.
The more popular builder tools mean you can place same-game accas that would not normally be possible (because accumulator selections must be unrelated). For example, on a game between Real Madrid and Barcelona you might bet on Barcelona to win, both teams to score, over 3.5 goals and the central midfielder to get booked. Builders allow very specific bets across just about all stats and markets in a game and can deliver huge odds if you get things right.
Can I Get a Welcome Bonus?

Yes!
One of the best things about joining a new betting site is that you can almost always claim a welcome bonus or some other form of betting offer.
You should be wagering for fun, as a hobby rather than a means to generate funds, but it would be foolish to suggest that winning and getting one over on the bookies is not a huge part of things.
By using the many bonuses and promos that are available, you give yourself a better chance of doing this. As such, we highly recommend you check out the many bookmakers we work with and all the offers that they have.
As well as bagging some bonuses, you also give yourself access to the widest range of sports and markets, and the best odds too.
Responsible Gambling
As said above, gambling should be fun and enhance the enjoyment of sport, even if it leaves your wallet a little lighter. It should be seen as a pastime that you pay to enjoy, in the same way as going to the cinema or a football match. But with the added bonus that you could sometimes win.
It should make watching sport more exciting, rather than ruin your fun because you are too concerned about your bets.
Responsible gambling is a catch-all term used to describe betting that is affordable, non-compulsive and does not damage the punter in any way, either psychologically, financially or in terms of the time they expend.
Bookmakers now offer punters a wide range of tools to make this easier for their users to achieve. These can typically be found in the account area of the site. The most valuable of these are:
Deposit limits – we advise setting a monthly, and possibly daily and weekly, deposit limit, as soon as you register and before you start betting. These can be increased with a 24-hour delay but that gives you time to think and make sure you really want to deposit more. We believe this is the best way to keep your wagering affordable.
Time limit/session reminder – you can set a reminder so a pop-up appears if you have been on site for a certain period. This encourages you to take a breather.
Time out – if you feel you are struggling to keep your gambling responsible, or beginning to lose more than you want, or simply feel it is no fun, a time out is a good option. This will stop you from accessing your account for a period of time decided by you, ranging from a week or less to six months.
Self-exclusion – self-exclusion is essentially a longer time out and may last for up to five years, whilst you can also opt to close your account entirely.
As well as the above tools, GAMSTOP can also be very valuable for punters who know they have a problem. This allows you to exclude from all UK-licensed betting sites in one simple step. Alternatively, gambling support services such as the National Gambling Helpline or GamCare can help.