With the Rugby World Cup a spectacle that attracts nearly one billion viewers, it is fair to say that rugby is a sport with a healthy amount of interest.
Some of this interest may be fleeting or casual or but there is a very sizeable core following. Thanks to this, rugby finds itself well-catered for by online betting platforms both during and outside of major tournaments.
The stats do back this up as well. In the UK, rugby is the sixth most popular sport to bet on according to a 2023 YouGov report. Additionally, Rugby tends to attract a higher proportion of big-spending customers, ranking joint third in this area, only trailing to cricket and tennis.
Of course, rugby does not enjoy such popularity in many other nations, but this situation in the UK is not entirely unique.
How to Bet on Rugby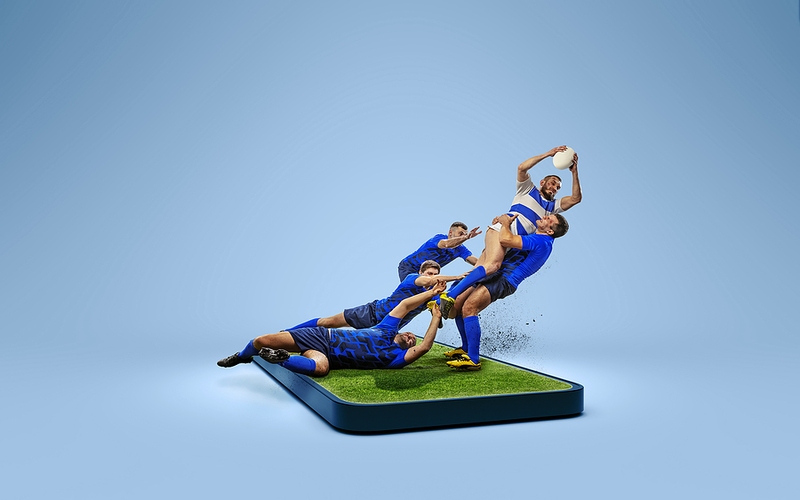 For those of you more unfamiliar with rugby, the first thing to point out is that this is not a sport with a gigantic fixture list. Yes, it may be a sport played in many countries across the globe but its physically demanding nature means teams simply cannot play too regularly.
In the English top flight for instance, each team plays just 20 regular season matches while in the Pacific's top league, the number is even lower at just 14.
What this means is that you cannot just head to a betting site and expect lots of fixtures to be available. Instead, you need to keep your eye on the rugby calendar to see when upcoming matches are scheduled.
The other thing to mention is the rugby union/league divide. Typically betting sites will split up the two. This approach does make sense as both forms have their own teams, rules and competitions. It does mean though that you should know the difference between the two before you start placing your bets.
Main Bets on Rugby
Most money gambled on rugby is on rugby union, with this being the more popular form of the game. Due to having much more public interest, bookmakers naturally focus on union over league, and this can mean having more available markets and odds being made available earlier.
This is not to say that betting sites will provide a long list of markets for all rugby union matches though. As is the case with many other sports, the stature of the contest shapes how many odds a bookmaker will supply for it. The below list includes some of the most popular options you would expect for a relatively big game. For a more low-key affair though, a site may only supply customers with a handful of these markets.
Match Betting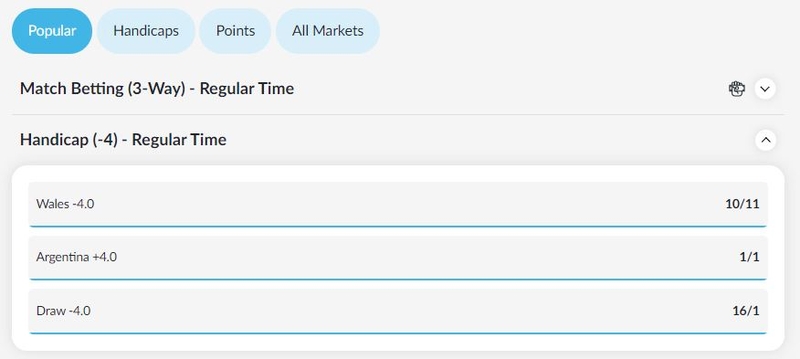 Match Betting 3-way – This is your bog standard bet on which team will win the match. Draws are a possibility in rugby but given how infrequently they occur, it's an outcome that tends to be available at very large odds.
Match Betting 2-way – This is betting on the match result again but without the option of a draw. Instead, you can only bet on either one or the other team to win. What this means is that in the unlikely event of a draw, rather than losing money, you will get your stake back.
Handicap – A bet on which team will be the 'winner' after the stated handicap points value has been applied to a team's score. Handicap betting can come either as 3-way or 2-way. As above, 3-way means you can bet on a handicap draw while with 2-way, any tied bets are refunded.
Total Points – Simply a bet on how many points there will be in the match. This is often presented as choosing over/under a specified amount. It can, however, be in the form of bands, for example 20-29, 30-39.
Race to Points – Which team will be the first to reach (either meet or exceed) the specified number of points.
Winning Margin – Select which team will win and by what margin. Rather than guessing the exact margin, options are usually presented in bands, for example 1-5 points, and different band sizes exist.
Half-time/Full-time – Pick the correct combination of which team will be winning at half-time and which will be winning at full-time. You must get both parts correct for this bet to come in.
Highest Scoring Half – Simply a bet on which half will see the most points scored. You can also bet on a draw if you think both halves will have the same number.
Total Tries – A bet on how many tries both teams will register during the match, usually over/under a stated amount.
Card Betting – A bet on whether or not there will be a yellow or red card in the game. This can be treated as one joint market or a betting site can have a separate one for yellow cards and another for red.
First-Half Betting – Pre-game you can usually bet on a few regular markets that just relate to the first half of the match. This includes options such as result, handicap and total points.
Player Betting
All the above markets focus on the entire match itself, so the contribution (or lack of) of both teams.
You can bet on rugby in other ways though, for example, a bet on just one team or even a named player.
Admittedly there is not a huge list of regularly available player/team options but there is still a decent selection to go at.
First Tryscorer – Pick the player you think will score the first try in the match.
Anytime Tryscorer – Pick a player that you believe will score a try at any point in the match.
Multi Tryscorer – A bet on a player to score 2+ or 3+ tries (depending on the selected market).
Both Players to Score a Try – Select a combination of two players you think will both register a try in the game.
Team Points – A bet on how many points the specified team will score in the match, often in an over/under format bet.
Team Tries – As above but looking at tries of one team rather than points.
Other Types of Bet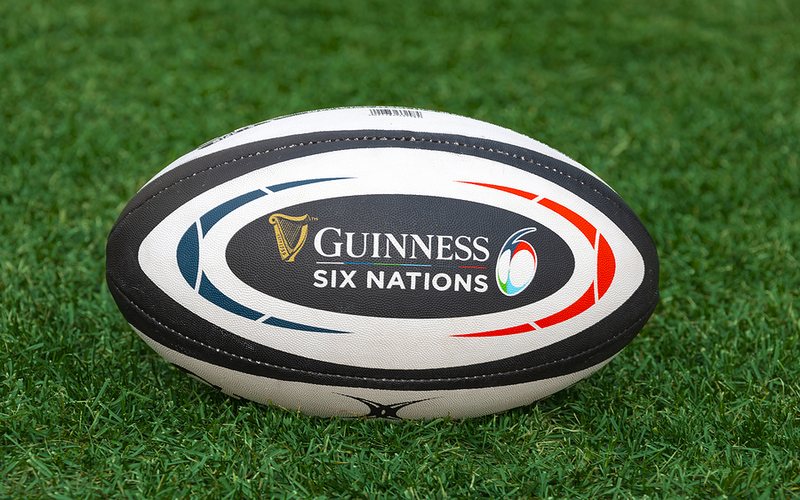 Given that all the markets mentioned only cover the more popular options, rather than being a full list, there is often excellent choice when it comes to betting on rugby. How about if you want something different rather than placing a pre-match single though?
With rugby, online betting sites give you plenty of different ways to get your bets on.
Outrights
First up is outrights, a bet type that relates to a whole competition rather than just a specific game. If you want to back the outcome of an ongoing or upcoming league or cup, outrights is where you will find this. Sometimes with rugby, the only option within outright betting is to bet on the winner of the competition. Some of the bigger sites will, however, add additional options for the most prestigious competitions like the Rugby World Cup.
Additional options include markets such as: to reach the semi-final, top tryscorer, top points scorer, to win pool (group), stage of elimination, and to finish bottom of pool (group).
In-Play Betting
Rather than putting your rugby bets on before a match begins, you can put them on during the game instead. This is thanks to in-play betting, something that consistently features major rugby matches and often smaller ones too. As well as the regularly changing odds, within in-play betting you will find updated markets too, allowing you to bet on the outcome of the second half, or the next 10 minutes, for example.
Bet Builders
Bet builders are becoming increasingly commonplace and at some betting sites they have spread to rugby. What they enable customers to do, where offered, is combine several markets from within one game, to form one multi-leg bet. Through this, you could for instance bet on the New Zealand versus Scotland game and have Will Jordan as anytime tryscorer, under 56.5 points and the All Blacks to lead at half-time. In the past, you could only place these as separate, single bets, but this is now becoming more easily available.
Accas
For punters in search of ambitious, long-odds bets on rugby, an acca can be the perfect way to do this. Rather than having to shove money on an unfancied underdog, you can instead combine multiple 'safer' selections together. By adding multiple rugby selections (all from different matches) to your bet slip, you will have the option to merge them to make an accumulator bet. Such bets only require one stake, but the downside is that just one losing selection will ruin the entire wager.
Important Rules for Rugby Betting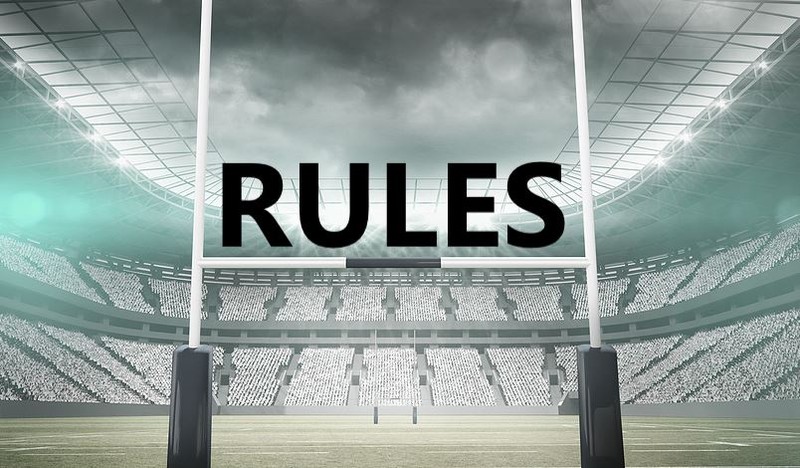 Rules on rugby can vary by betting site but there is a good deal of consistency among them.
Below are a selection of the most common rules that may occasionally impact a bet you have made.
Note that some sites have a separate page for rugby union rules and rugby league rules.
Extra Time – Any action that occurs during extra time (not injury time) does not count for the purposes of bets unless stated otherwise.
Change of Venue – A change of venue may or may not automatically lead to your bet being marked as void.
Postponements – Postponements can also lead to an immediate cancellation but other sites keep bets active providing the game takes place within 48 hours of the original time.
Tryscorer Bets – First tryscorer bets will be refunded if your selected player does not play or enters the field of play after the first try. Last and anytime tryscorer bets will only be refunded if a player takes no part in the game.
Two-way Markets – As two-way markets remove the option for a draw, in the event of a draw, bets will be marked void and refunded.
Maximum payouts – Max payouts for rugby can depend on the market or the match being bet on. Other bookmakers though just have a fixed limit that applies to all bets on either rugby union or league. Typically £250,000 is the highest you will see while smaller names may have a limit of £50,000 or less.
Rugby Betting Guides
If you want to bet on rugby but don't know your Union from your League, then this page is for you. It covers all aspects of betting on rugby as well as articles on the sport itself.
A lot of the betting options with rugby are similar to football, and although it is less popular and therefore has fewer markets available, there is also more potential to find juicy odds for those who know the sport well. It is particularly open to handicap betting since the scores can be so high, and that is just one of the topics covered in the articles below.
The question of which is better has been fiercely debated for decades, but in this article we are more interested in how betting on one might differ from betting on the other. It is the same sport it's true, but the different rules and statistical trends between the two codes require different thinking from the bettor.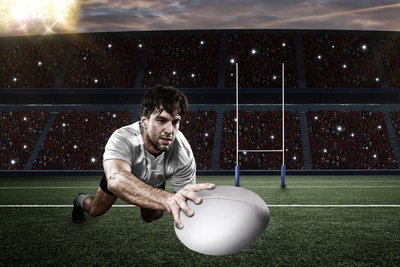 If you want something a little more interesting than a match winner bet you could always go for one of the try scorer options. There are quite a few of them these days and they tend to follow the same rules as goalscorer bets in football. Get the full picture here.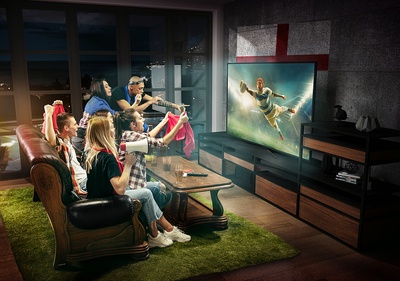 One of the most common rugby bets and one of the most useful, match betting and handicap betting are both from the same family of bet types, but where the odds for one don't do much for you, the odds for the other can make an otherwise pointless bet worth placing.