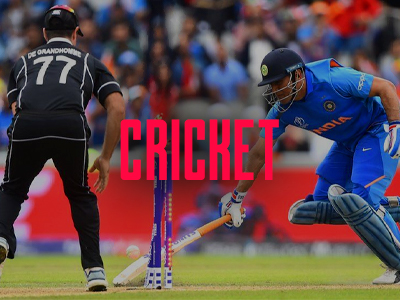 Cricket is a not a sport with a big following in every country but there are places where it enjoys huge levels of popularity.
Indeed, thanks to its support on the Indian sub-continent, it is possibly the second-most popular sport in the world (behind football).
Thanks to its legions of fans in India, Pakistan and Bangladesh, cricket has become one of the most watched sports on the planet and subsequently, betting sites take it very seriously.
This means providing odds for many fixtures, globally, and giving customers a range of markets to select from.
Anything less and betting sites would risk losing customers to rival brands.
How to Bet on Cricket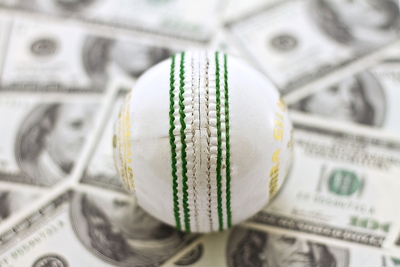 Cricket today comes in various formats whether it is your traditional Test match cricket, one-day international (ODI) action, the hugely popular T20 format, or even the extremely fast-paced creation of the 100-ball competition in England, The Hundred.
No matter what the chosen format though, finding odds on the action should be an extremely easy task. Bookmakers provide odds for the whole breadth of the sport, ensuring they cover all forms and all major competitions from county cricket or an international clash.
While coverage is good, typically featuring any notable action from both the men's and women's game, the number of available markets will vary.
As with most sports, largely the number correlates with how popular the event is. Extremely well-followed matches may have over 50 betting options, while smaller events might have fewer than 20, for example.
The range will also depend on what bookmaker you use, so it is important to shop around if you are really into your cricket betting.
Main Bets on Cricket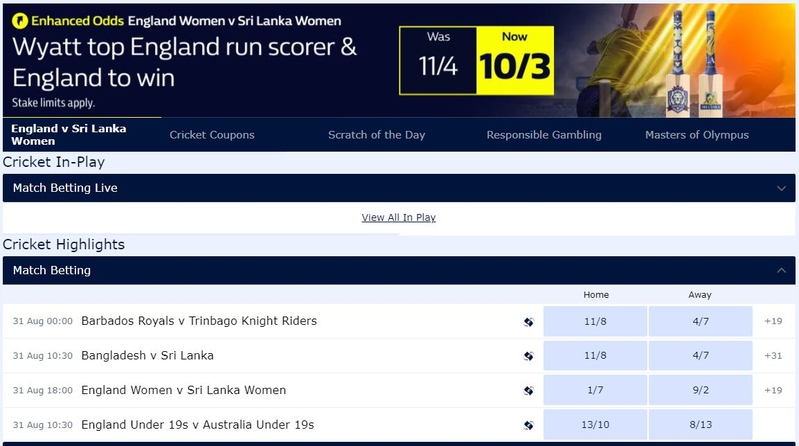 When it comes to deciding on a market, you will find that there are two major types of bets within cricket.
You can either select from match betting, these being selections that relate to the entire match totals.
Alternatively, you can focus on individual player betting which ignores the bigger picture and looks at the performance of a specified individual.
Team Betting
Match Betting/To Win Match – Predict which team you think will win the match.
Highest Opening Partnership – A bet on which team will record the most runs through their two opening batters. You can usually also bet on there being a tie at long odds.
Match Hero/Player of the Match – Which player will officially be named the player of the match by the competition organiser. This award can come under various different titles but they are all designed to highlight the top performer.
1st Wicket Method – How will the bowling and fielding team secure their first wicket.
Total Match Runs – How many runs will there be in the entire match, the combined total of both teams. Usually, this involves betting over/under a specified amount, although brackets may also be offered.
Score After X Overs – How many runs will a named team score within the first five, 10 or maybe 20 overs?
Boundaries – A bet on whether there will be over/under a specified amount of fours, sixes or boundaries (both fours and sixes).
Match Handicap – Pick which team you will think will win the match once a wicket and run handicap is applied e.g. +5.5 wkts / +29.5 runs. This can be used to balance the odds between two mismatched teams.
Player Betting
Player to Score most 6s – Predict which player will record the most sixes either in the entire match, or just from their team.
Player to Score most 4s – Exactly the same as before but you will be looking at 4s rather than 6s.
Batter Match Runs – Chose a batter and bet on whether they will achieve over/under a certain number of runs.
Batter Milestones – With this market, you will be betting on if a batter will achieve a certain milestone e.g. 30+ runs or 50+ runs. There is often a range of milestones, giving you both short and long odds to choose from.
Batter to Score a 50/100 – Similar to the market above but here you can choose yes or no, when deciding if a player will reach a 50 or a 100.
Batter Total Match Fours – Choose if a batter will end up with over/under a stated number of 4s. You can often find the same bet with 6s rather than 4s.
Bowler Milestones – You will pick a specific bowler and predict what milestone they will reach during the game e.g. 2+ wickets or 4+ wickets.
Bowler Total Match Wickets – How many wickets will a bowler get in a match, choosing over/under a specified total.
Top Match Batter (Top Runscorer) – Which batter scored the most runs during the match.
Top Match Bowler (Top Wickettaker) – Which bowler took the most wickets during the match.
Team Top Batter – Which player will score the most runs for their team.
Team Top Bowler – Which bowler will be the highest wicket-taker from their team.
Other Types of Bet
As you can see from the list above, there are lots of betting possibilities when it comes to cricket. These are only some of the main options too, rather than a complete list, so you will find additional options available, even on things such as 'to win the toss', though this is a market where it is impossible to obtain value, so one we recommend avoiding.
You can also expand your betting experience even more by trying out some of the other types of bets. Rather than pre-match singles, you can bet on live action and/or combine multiple betting selections.
In-play Betting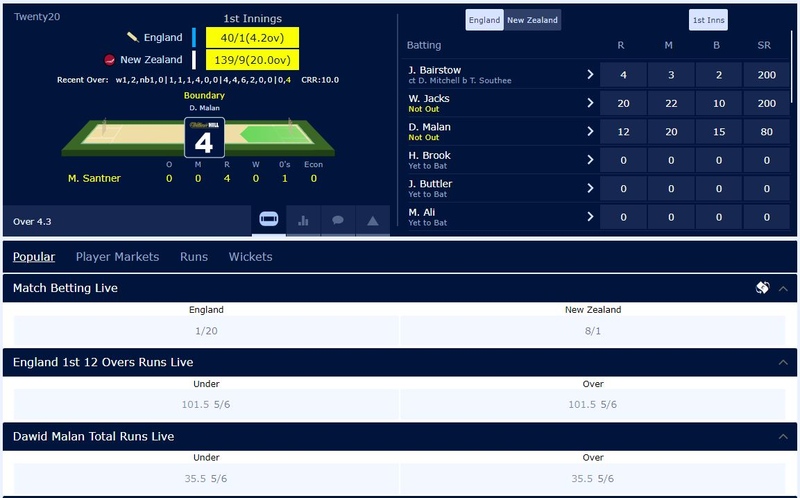 As well as betting on cricket before the action begins, you can also have a punt on the action live, thanks to the creation of in-play betting.
One thing you will notice when betting live, is that markets are always updating and reacting to what is in play.
You can often, for example, place a bet on the method of the next wicket, next batsmen to fall, number of runs from the next over and so on.
Due to this, it does not matter what time you tune in, you can still make your predictions for what will happen next.
Outrights

A lot of cricket involves action from a league or tournament. Rather than betting on individual matches within the competition, bookmakers also enable you to bet on the event as whole. The most common market to find within outright betting is 'to win outright', this simply being the team that will win the tournament/league. Other popular options include 'to reach the final', 'name the finalists' and 'to finish bottom'; as well as outrights on who will be the leading runscorer, or take the most wickets, either for their specific team, or across the whole event.
You can also find some outright markets for a series that is not part of a league or tournament. Take the Ashes for example, here you will always be able to bet on the team you think will win the five-Test series. The other main outright market within big series is to bet on the exact score, for example, England 3 – 2 Australia. For major cricket events, such as this, or the T20 World Cup, outright betting becomes available months before the event starts, even if it may only include one or two markets.
Accumulators
Although not specific to cricket, it is worth mentioning accumulators in case you are not familiar with what they are.
An accumulator, or acca, for short, is a single bet that contains multiple legs (selections). You may for example put a bet on India, England, Australia and New Zealand to win their respective matches at the World Cup.
You can mix and match your markets and events though, as long as they aren't directly related to each other.
So, for example in India's fixture, you could bet on them to score over 205.5 runs instead. You can even add options from other sports as accas do not have to be sport-specific. The most important part of an acca though is that all selections must be correct, otherwise you do not have a winning bet.
Important Rules for Cricket Betting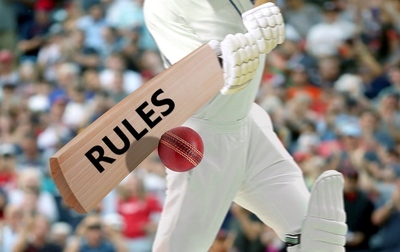 Cricket is a sport that does face its fair share of disruption, usually from the weather, and this can create confusion for bettors.
To help save you from potential uncertainty, we have included some of the most important rules surrounding cricket betting.
Just be aware that each betting site does have its own policies, so rules can vary.
Generally speaking though, most will follow the rules outlined below.
Postponements – If there a postponement of a match, bets will be voided unless it is rescheduled within 48 hours (exact time limit can vary).
Innings – In a two-innings matches, player bets generally relate to the first innings only unless specified otherwise.
Top Bowler/Batter – In these markets, a minimum number of overs must be delivered for bets to stand: 50 (Test matches, Country Championships), 25 (50 over match), 20 (40 over match), 15 overs (20 over match), 50 balls (Hundred ball match). This is unless the game reaches a natural conclusion earlier than this.
Player Betting – A bet on a specific player will be made void if they do not take part in the game.
Retirements – A batter forced to retire from an innings is not considered as a wicket for the purpose of settling bets.
Draws – If there is a tie between two teams but a tie was not offered as a betting option then all bets will be void. If there is a tie between players however, for a particular market e.g. player to score most runs, then dead heat rules will apply.
Limited Overs – If a match is cut short due to light, weather or anything else, then matches will be settled according to the official competition rules, whether DLS or similar is used. If there is insufficient play to determine a winner then all bets will be made void.
Change of Venue – If a scheduled match is moved to a different venue, bets made prior to the change may be voided. Some bookmakers will allow them to stand however, providing the home teams remains as the home team.
Cricket Betting Guide
There are a lot of aspects that can trip you up when betting on cricket. A player who shines in one format, for example, might not be so effective in another, so you really have to know your onions if you want your cricket bets to come in.
Upsets and big odds are more common here than in other sports and it pays to know as much about the weather and the pitch as it does about the players and in which continent they tend to perform at their strongest. There is a lot of information below that will increase your knowledge, and therefore your chances of betting on cricket successfully.