If you think 4-4-2 = minus 2 and you think a Christmas tree is something that has tinsel on, well, you're sort of correct. However, if you don't have the foggiest idea what these things mean in football terms, and more specifically, with regards to football formations, we are here to explain all.
Whether you are a football newbie or even someone just looking to check something more complex about football formations, this article will cover it all. We will explain how some of the most popular formations of the present era operate and we'll also examine some team shapes you rarely, if ever see these days. We will also explain the interplay between formations and tactics.
But before all that, for the total beginners out there, let's start right at the very beginning.
What is a Football Formation?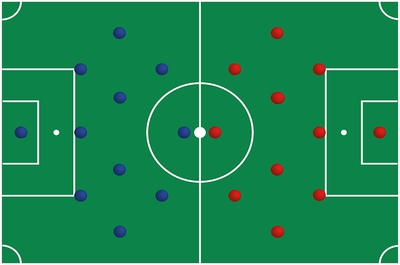 Football is played between teams of 11 and the only mandatory position is the goalkeeper. The keeper is the only player who can use their hands and they can only do this inside the penalty area. Whilst goalkeepers traditionally operate largely from within the area, or box, they are not restricted to this and increasingly in the modern game they play higher up the pitch, almost acting as a defender or sweeper.
However, the other 10 players are free to move around all areas of the pitch (as is the goalkeeper in fairness) and have no role that is pre-determined in the rules. We get some idea of their role through their position and you can check out our separate article on football positions for more info about those. In that feature, we explain how, as well as the goalkeeper, there are three general positions: defence, midfield and attack.
Formations broadly describe how the 10 outfield players will operate and roughly what areas of the pitch they will mostly play in. In a sense, a formation tells us how many of each category of player a team will deploy. As such, a 4-4-2 – spoken as "four, four, two" – means a team will use four defenders, four midfielders and two attackers. The goalkeeper is never mentioned in a formation as they are a given, and so numbers within all formations will total 10.
Unlike in netball and certain other sports, positions and roles are not fixed. In the same way the goalkeeper can leave their area and even score a goal, players that are technically defenders within a 4-4-2 can go anywhere they like and attack the opposition area, whilst strikers will often be called back to act as defenders from corners and other set pieces. In many ways, therefore, formations, even rigid ones, are actually very flexible and should just be seen as guides to the shape a team will take on the pitch.
Most Popular Formations
Formations tend to go in and out of fashion, and sometimes they come back in again. They have evolved a great deal over the years though, with different team structures more or less popular in various eras. There are also differences between the most common formations in different footballing nations, and even within the various divisions within the same country.
What follows focuses on the current era and largely on the Premier League, although these formations are also popular in many major European leagues.
4-4-2
We have already mentioned the 4-4-2 and this formation was so popular, especially in English football, that it was even used for the name of a popular football magazine. It was very much the dominant formation in this country, and indeed the UK and much of Scandinavia during the 1980s and 1990s. It dropped out of fashion in the new millennium, though some English sides play 4-4-2 still, especially in the lower divisions.
The 4-4-2 has three fairly distinct banks of players, with little interchanging of roles. There are two wide defenders and two central ones, with a similar set-up in midfield, and then two strikers, who largely play as a pair. Whilst there is ostensibly little rotation within the structure, the wide midfielders will be tasked with defending, whilst the wide defenders will also be asked to get forward and support the wingers.
The two central midfielders may both work as box-to-box players, or one may be more defensive with the other more attack-minded. 4-4-2 is a good option for a side that wants to play on the counter, with Manchester United's great sides of the 1990s a good example of this. It can be used in this way, or, without the added threat of the break as a more defensive formation – "parking the bus" by deploying two banks of four in a system that can be hard to break down.
The main weakness of the 4-4-2, and the reason it fell out of fashion, is that it can cede control of midfield. Over time, managers began to deploy three players in central midfield, and these three could overrun the 4-4-2's midfield duo. In addition, it is a physically demanding formation, as all wide players, plus the central midfielders, and typically at least one of the forwards, are required to cover large areas of the pitch.
Variations on 4-4-2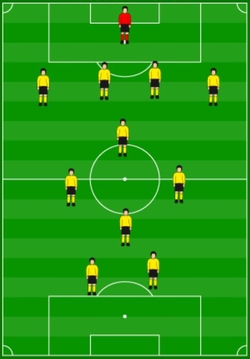 With all formations there are small tweaks that can be made, either to make it more effective in general, or for use against a particular opponent, tactic or opposing formation.
In addition, the 4-4-2 has simply evolved over time and whilst we may still refer to a team playing a 4-4-2, their take on that might be very different from another's version of the same formation.
Some variations on the traditional 4-4-2 arguably take it to another formation entirely and with players' roles within a team shape being flexible, and the formations themselves being malleable, it is not always easy to say what formation a side is deploying.
That said, common variations on the standard 4-4-2 include:
Split strikers – rather than the two strikers playing directly alongside each other as a partnership, one plays deeper than the other. One could call this a 4-4-1-1, although others would say it is "4-4-2 with split strikers" or with a "deep striker". This gives a little more manpower in midfield and also allows the second striker to find space in between the opposition midfield and defence.
Diamond – with a 4-4-2 diamond it is the central midfielders who split, one playing more as a defensive player, the other in a more advanced role. Typically the two wide midfielders play more narrowly, with this system risking a lack of width.
4-5-1 – a 4-5-1 can be seen as a twist on a 4-4-2 but rather than the strikers being split, the second attacker will play deeper still, largely in midfield. In this formation one or more of the midfielders will be tasked with supporting the lone striker.
4-2-3-1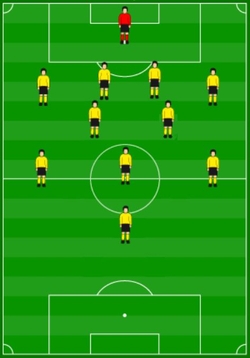 This formation is probably the most popular in top-level English football right now. Indeed, the official Premier League website noted that during 2022/23 "Of the 39 managers who took charge of at least one Premier League match, an incredible 31 used that system at some stage of the campaign." In comparison to 2021/22, there was an increase of more than 60% in the use of this formation, with 3-5-2 the formation that mostly "lost out".
Interestingly, the Premier League noted that the only two clubs who regularly used a back three were Spurs and Chelsea. They finished a disappointing eighth and 12th respectively so they were certainly no advert for the formation. However, the flexibility and blend of attack and defence made 4-2-3-1 the dominant formation, although Fulham were the only side to use it in every single game during 2022/23.
The four at the back operate in the same way as they do in a 4-4-2, more or less, but the two in front of those are primarily defensive midfielders, though one may serve more as a box-to-box player. This pair can provide cover, especially when one or more of the defenders join the attack. With three attacking midfielders and two defensive ones, it has some of the strengths of a 4-4-2 diamond, but with the added advantage of greater width.
The potential to easily have four, and sometimes five players in forward areas makes it suitable for play on the counter. However, there is also fluidity and balance, with the formation also offering six defensive players just as readily. It is easy to see why this formation has become more popular and it seems likely to stick around for a good while yet.
4-1-4-1 Variation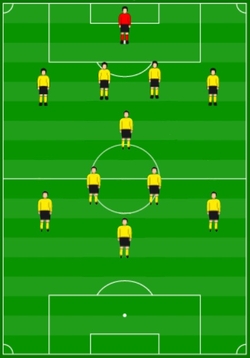 The main variation to this formation is the 4-1-4-1, which is loved by former Leeds United boss Marcelo Bielsa and has been tried by Pep Guardiola when teams are defending in numbers.
Guardiola mostly used this tweak at Bayern, when his side were largely dominant.
Ahead of the 2013/14 season it was rumoured that the German giants would switch from 4-2-3-1 to the more attacking formation with just one defensive midfielder.
This proved to be the case, and whilst other teams have used the formation from time to time, Bayern provide a great example of how the system works.
Sometimes known as a "single pivot", it allows teams to commit more players going forward, though still has the flexibility to switch into a 4-2-3-1 or even 4-3-3 very easily.
4-3-3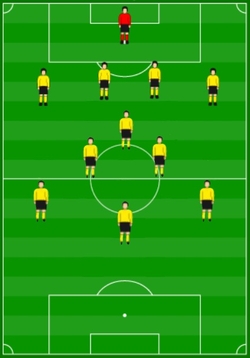 4-3-3 was out of fashion for many years but in some recent campaigns has been the most popular option within the Premier League. It has its roots in the Total Football of the Dutch, but great Ajax and Barcelona sides of the last 30 years have also used it, whilst Liverpool's best seasons under Jurgen Klopp have come playing 4-3-3 too.
4-3-3 was deployed 222 times during the 2022/23 campaign, a 20% increase on the previous season and only behind 4-2-3-1 in terms of popularity. Both Eddie Howe and Mikel Arteta, at Newcastle and Arsenal respectively, opted for 4-3-3 in every league game. In many ways it is very similar to both 4-2-3-1 and also the variation on that detailed above, 4-1-4-1. Once again we see the fairly standard back four, with one fully defensive midfielder sitting in front of them.
Beyond that sole holding player, but part of the same midfield three, we have two players who tend to be all-round players. One may be more of the "controller", setting the tempo and moving the ball quickly whilst controlling possession, with one slightly more advanced and creative.
The front three consist of two wide attackers who will aim to get into the box when the ball is on the other side of the pitch, but also stay wide to cross the ball or cut inside to get a shot away. The system can often be used with inverted wingers, though not always, whilst the main striker can either be a true number nine or a more flexible player who can rotate with the other forwards.
The 4-3-3 perhaps provides the most control in midfield of any formation and with midfield viewed as so important in the current era, it is easy to understand why the system is so popular. Different teams use the formation in slightly different ways, with Liverpool's title-winning side in 2019/20 tending to operate with three workhorses in midfield and relying on the front three for their creativity.
That side, like any playing 4-3-3, relies on the full backs to time their attacks well, helping create overloads in the wide areas and allowing as many as seven players to join the attack. Of course, this strength is also a potential weakness, with a side playing this way open in transition due to potentially being caught with both full backs up the pitch.
The main variations of this system we have already mentioned, chiefly 4-2-3-1 and 4-1-4-1. However, sticking with Klopp's Liverpool, they sometimes moved to a 4-4-2 diamond, with central striker Roberto Firmino dropping to join the midfield three. The wide forwards could then move slightly more central, with one of the original three in midfield dropping back into the base of the diamond in front of the back four.
3-5-2 and 3-4-2-1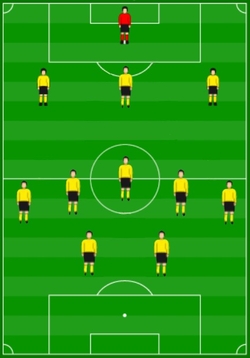 These two formations use three centre backs, making them fundamentally different from the others listed above. Here there are three centre backs, flanked by two wing backs, a position that in simple terms lies between a traditional full back and a winger. There are subtle differences between these two formations further forward but they can really be seen as a variation of each other.
3-5-2 has probably been around as a concept for longer, with the more detailed 3-4-2-1 essentially a variation that uses the more modern idea of formations having four "lines" rather than just three. 3-5-2 was perhaps most famously played by Argentina's Maradona-inspired World Cup winners in 1986, although Antonio Conte has been linked with this system more recently, especially during his spell at Juventus.
Whilst these formations have their own strengths, chiefly their high midfield numbers, the surprise/novelty factor, often managers will use them simply when their squad is shaped a certain way. The defenders are key in this regard, with three specialist centre backs needed, as well as very energetic players to play on the flanks, who possess sufficient ability at both ends of the pitch.
Using three centre backs fell out of fashion in the Premier League in 2022/23, with 3-5-2 used just 23 times, down a shade under 60% on the 12 months prior. 3-4-2-1 was deployed 64 times, down 5.9%. What's more, as noted above, the chief advocates of using three centre backs, Chelsea and Spurs, did poorly, so it may be some time before the system regains its popularity.
That said, Sheffield United continue to play 3-5-2, as they did in their last Premier League stint. Whilst it is tempting to try and draw conclusions and suggest the league has changed, in reality it may simply depend on the ideas of the managers in jobs at any given time. And whilst these reflect wider trends and notions about tactics, with a sample of just 20 managers at any one time, we cannot be too certain about the generalisations we might make.
There are suggestions that Nottingham Forest will use 3-4-3 in a lot of their games in 2023/24, if not all of them, and this would increase the back-three stats. What's more, should one or two teams opt to play with three at the back, this can increase the overall usage of this system as opponents often choose to match up against them with a similar formation.
Variations with Three Centre Backs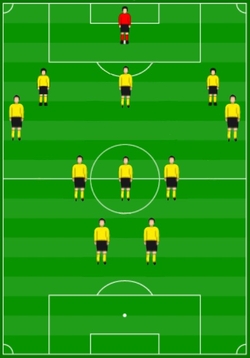 We have already mentioned two options but the other most obvious variation is 5-3-2, which simply sees the wing backs drop in alongside their central defensive colleagues.
We discuss the difference between formations in and out of possession below, but teams may opt to play 3-5-2 when they have the ball, but 5-3-2 when they don't.
When they lose possession, the wing backs act more as traditional full backs, with the defensive power and flexibility of 3-5-2 being one of its strengths.
3-4-3 is an alternative variation where the most attacking midfielder from a 3-5-2 just plays a little higher up the pitch, almost as a false nine.
Likewise, 5-4-1 is an ultra-defensive formation that sees one of the strikers ditched to use a flat back five and a standard four-man midfield.
Formations In Possession Versus Out of Possession
Teams have long played in slightly different shapes depending on whether they are in possession or not. This is not a new idea, though it is perhaps talked about more in the modern era. When a side has the ball, they are generally looking to attack, although Spain's great side of 2008 to 2012 showed that possession can also be a form of defence. Equally, when their opponent has the ball, a team is defending, even if a press or counter-press can lead to an attack.
These different actions can be carried out with contrasting formations and the switch from 3-5-2 to 5-3-2 is perhaps the simplest example of this. When in possession, the wing backs will operate higher up the pitch but on losing the ball they will drop back into a flat back five. In a similar way, a 4-1-4-1 out of possession may morph into a 2-3-2-3, with full backs joining the defensive midfielder and wide midfielders playing higher up the pitch either side of the striker. These changes can be mapped and clearly shown by looking at the average positions of players, or by plotting their position over a defined number of moments both with and without the ball.
Over the course of 2023 there was an increasing use of inverted full backs. The traditional movement of this defender when their side has the ball is forward, maintaining their width. However, Guardiola often asked one of his full backs to move into central midfield when first Bayern, and then City had the ball. This tactic is believed to have been developed by Pep's mentor, Johan Cruyff, but has certainly become more popular due to the younger man.
Arteta did it at Arsenal, whilst Klopp used Trent Alexander-Arnold in this way at Liverpool, and this may mean a team switching from 4-3-3 without the ball to 3-4-3 with it. There are other ways for this tactic to alter a system and other formations that change with and without the ball. In many ways, all of this further illustrates a point we made initially – that formations are flexible. For this reason, some tacticians prefer to use the word "shape", rather than formation, this hinting at a more dynamic system.
Formations of the Past
As we have noted, formations come and go as tactics and ideas evolve. Very strange as it may sound, in the earliest years of football, passing the ball was almost seen as cheating, with the game seen as a dribbling sport. So, whilst 4-4-2 might now be seen as a little outdated, there are many older formations which would make most modern fans go "WTF?!".
One of the earliest popular formations was a 1-1-8! Yes, eight attackers, with one defender and one in midfield. But this was during the mid-1800s, when the original offside rule massively restricted forward passing of the ball and, as said, the game was predominantly one of dribbling. 2-1-7 was a similar variant, though presumably adopted only when sides wanted to park the bus… or carriage.
Related to these were very similar systems such as 2-2-6 and 1-2-7, though as the 20th century approached many sides began playing a pyramid formation, or 2-3-5. This formation created some of the numbering conventions that last to this day, with the following typical:
2 defenders – left back 3, right back 2
3 midfielders (halves) – left-half 6, centre half 5, right half 4
5 attackers – left wing 11, inside left 10, centre forward 9, inside right 8, right wing 7
From here, Arenal's magisterial sides of the 1930s helped popularise the W-M formation under their brilliant boss Herbert Chapman. This was essentially a 3-2-2-3, the defence being the "M" and attack being the "W". This system was widespread right into the 1950s.
Since then teams have played a 3-2-5, 2-3-2-3 and, a formation at least vaguely familiar to modern football tacticians, the 4-2-4. Brazil's great Pele-inspired sides are most linked with this formation, though it became seen as too attacking over time, in part due to England's success of the same era in 1966 with their so-called "wingless wonders".
This saw England play a much narrower system, without wingers. Manager Sir Alf Ramsey sometimes deployed what was essentially a 4-3-3 and at other times more of a 4-1-3-2, both of which would not seem out of place 60 years on. The latter probably best describes the system used in the final, with Bobby Charlton supporting Roger Hunt and Geoff Hurst, and Nobby Stiles as the holding midfielder.
Do Formations Affect or Relate to Tactics?
We have sometimes used the words "formation" and "tactics" (as well as "system") almost as synonyms. However, here we are looking at how the formation, or shape, relates to what a team might be trying to achieve. For example, if a side is looking to defend a lead, might they alter their formation? Conversely, if they are losing a cup tie with time running out, might a switch in formation be used to try and chase the game? Or can one formation be used to counteract another, or to try and bridge a gulf in class between two clubs?
The answer to all these questions is, unsurprisingly, yes. Whilst few modern managers would play a 4-2-4 formation, it is clearly more attacking than 5-3-2, or even 5-4-1. Similarly, anyone who has watched much football will have seen a game where a centre back is used as an emergency striker for the last few minutes of a game where a goal is desperately needed.
In this way, a standard 4-4-2, for example, becomes 3-4-3. The only thing that has really changed is that there is one fewer defender and one more striker. Alternatively, it is not uncommon for a team to sacrifice a striker when they are in front, and either switch to three at the back or add an additional holding player into midfield.
Formations, in other words, have a direct impact on the way a team is looking to play and tell us a lot about what the manager hopes to achieve. They are, though, highly flexible and some managers may change their side's shape and even full formation several times during a game. These changes often give us an insight into what the coach is thinking and where they think the clash is being won and lost.