Handicap betting is popular in many sports, particularly football (soccer), but also rugby, American football, basketball and really anything in which two teams or individuals compete against one another. It is a mechanism used by
bookmakers to even out the odds between a favourite and an underdog in which one side is given an advantage and the other a disadvantage in terms of points / goals.
Handicap betting is an interesting option for punters to consider in a range of situations. Here we will explain what it is and how it works, as well as taking a closer look at Asian handicaps, quarter point or split point options, as well as some similar bet types.
With the array of numbers and options, especially quarter points and handicaps with two figures this whole area can seem very confusing to the uninitiated. However, as with many aspects of betting, once you understand a few basics, it is actually not all that complex at all.
In fact, once understood, they are a great way to bet on a team who you think are extremely unlikely to lose, or to get nice odds on an underdog to avoid a hammering. In short, handicap betting gives a greater degree of flexibility when choosing your bets.
How Does a Handicap Bet Work?
The underlying principle behind a handicap bet is that one side gets a hypothetical head start, or alternatively a hypothetical disadvantage. Let us consider a football match between Manchester City and Fulham. Whilst a full range of handicaps will typically exist, including some which give Man City an advantage, perhaps the most common, or popular, might be to back Fulham +2.
Fulham +2 means that you are backing Fulham to win with a two-goal head start. This means that if they win, draw, or lose by just a single goal, your bet will be a winner. If Man City win 2-0 (or by any two-goal score), the game is a draw (as far as the bet is concerned) and so your bet on Fulham loses. Equally, should City win by three or more goals, even with the handicap in place they win the game and once again your bet on Fulham +2 loses.
On any given fixture, especially big clashes from the top leagues and cups, you will see a very wide range of handicaps available. The favourite might have handicap options with just a one or two-goal advantage (so Man City +1 and Man City +2) but the underdog will have handicaps up to +4, +5 or sometimes even more if the game is a major mismatch (such as England versus San Marino).
You can also back a team with a negative handicap, so you might back the outsider -1 or -2 or you might make a bet on the favourite with a handicap of negative three, four or more. You can also opt to back the draw and for this option it will be clearly stated which side the handicap, be it negative or positive, applies to. If, for example, you think that Man City will win by exactly two goals, you could back Man City -2, draw.
How Handicaps Effect the Odds
Of course, when you give one side or player a handicap, be that in golf, a game of snooker between friends, or with regards to a football bet, it affects their chances of winning. With a bet, this in turn impacts the odds and the table below gives you an idea of how the prices might change with various handicaps.
Prices are taken from an FA Cup clash in 2023 between an in-form Man United and a struggling Everton, taking place at Old Trafford.
| Bet | Man United | Draw | Everton |
| --- | --- | --- | --- |
| Match Odds (no handicap) | 3/10 | 17/5 | 17/2 |
| Utd +1 | 1/40 | 10/1 | 18/1 |
| Utd +2 | 1/150 | 20/1 | 28/1 |
| Utd -1 | 10/11 | 13/5 | 21/10 |
| Utd -2 | 13/5 | 3/1 | 4/6 |
| Utd -3 | 6/1 | 5/1 | 2/9 |
| Utd -4 | 14/1 | 9/1 | 1/25 |
| Utd -5 | 22/1 | 16/1 | 1/100 |
Note that here we have expressed all of the handicaps from a Man United perspective. It should be noted that backing the Red Devils +1 is the same as backing the Toffees -1, whilst betting on the hosts -2 is the same as backing the away side +2. Some bookies will list all possible options, even if they are essentially duplicates, whilst many will display the market as below:
| Man United -2 goals | Draw (Man Utd -2 goals) | Everton (+2 goals) |
| --- | --- | --- |
| 12/5 | 29/10 | 4/6 |
As you can see, the handicap markets have a huge impact on the odds. Handicaps have a wide range of applications and are an excellent betting tool to be aware of. For example, you might feel that Man United offer no real value at just 3/10 in the match odds, to win in 90 minutes. But on the other hand, if you fancy them to record an easy win, by two goals or more, they might well be far more appealing at 10/11 in the -1 market.
Asian Handicap Betting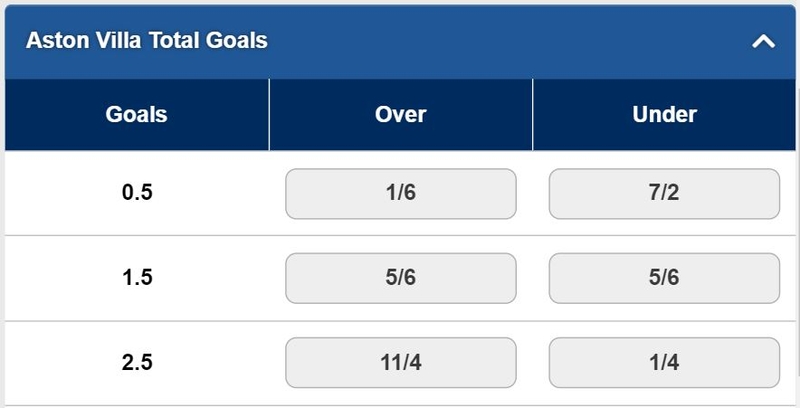 Asian handicaps tend to confuse people and they often steer clear of them because they think they don't understand them. In fact, the concept of Asian handicaps is incredibly simple and an Asian handicap is just a bet where there are only two options available. As we have seen, above, the standard handicaps offer the home win, away win and also the draw. Asian handicaps simply remove the draw from the equation.
What we think perhaps gets some newbie punters in a muddle is that whilst all half-point handicaps are Asian handicaps, not all Asian handicaps are half-point. A half-point handicap is one where a side gets an advantage (or disadvantage) that ends in .5. This might be +0.5, -1.5, +2.5 or higher but the use of half a goal automatically makes it an Asian handicap because it is impossible for such a bet to end in a draw. As such, the draw option is removed from the market and punters are left with a simple binary choice between the home win or the away win.
In our earlier handicap examples, all the options were whole-number handicaps, so one goal, two goals, three goals and so on. This means the draw is possible if, for example, a side is backed -1 and they win 3-2. Because teams cannot score half a goal, a handicap of +0.5 makes such an outcome impossible.
If you bet on a team +0.5 your bet will be a winner if the team draws or wins, whilst any on-pitch win for the other side will mean you lose your wager. Likewise, back a side with a handicap of negative 1.5 and they have to win by two clear goals or more in order for your punt to bring home the bacon. If they win 1-0, the score with the handicap is effectively 1-1.5, so they have lost. If they draw 2-2, the score becomes a 2-3.5 defeat, whilst if they lose 2-0, with the handicap they have lost by 3.5 goals to nil.
In any of those scenarios, your bet is downed but if the team you backed -1.5 win 3-0 on the pitch, or even just 2-0, your bet will pay out. No matter what, all of these half-goal handicaps will be found listed under a betting site's Asian handicaps and will offer just two choices: the home side to win or the visitors to triumph.
When perusing the Asian odds, a punter might be forgiven for being confused if they saw a handicap of +1 but the same two betting options (for either side to win). What happens if that team wins by a single goal and thus, with the handicap the match ends in a draw?
In this or any similar instance where the draw is not offered, bets on both available options (the two teams to win) are settled as a push. This may also be shown as a void but whatever it is called, the outcome is the same – you get your stake back.
Note that if your initial stake was made with a free bet, you may not get a second chance to use your free bet and may simply miss out.
Another point of possible confusion when it comes to whole-goal Asian handicaps concerns the ostensibly rather pointless handicap of zero. This might be written as, for example, Leeds United 0, or sometimes 0.0. What is the point of a non-existent handicap in a handicap market, one might very reasonably ask.
Well, the point is that because this is an Asian handicap, there are just two options, with no draw. As such, should the game end in a draw at full time, this will remain a stalemate with the "handicap" applied and the bet will be settled as a push. This wager is identical to a bet on the draw no bet (DNB) market, something we will look at more closely later.
Quarter Point and Split Handicaps
Perhaps the most confusing of all handicaps are those that use a quarter of a goal or show two handicap figures. These will always be Asian handicaps so once again you will be backing a side to win with the draw not being a possible selection. These might be shown as Leeds United +1.0, +1.5; or, alternatively, some bookies might offer odds for Leeds United +1.25.
Different bookies use a different forms of notation to show the same market but what do these numbers mean? Well, a quarter-goal handicap, or split handicap, is essentially two bets in one. Unlike other wagers of this nature, for example an each way punt, you do not require two stakes to cover this bet. So, whilst a £5 each way bet costs £10, a £5 bet on Leeds United +1.0, +1.5, sees £2.50 go on each outcome (but with one single set of odds quoted for the whole bet, for example 4/5, or 1.8 in decimal odds).
When looked at this way, such a wager is actually straightforward, assuming you have understood how an Asian handicap works. £5 on Leeds in the +1.25 (or +1.0, +1.5) market sees you wagering £2.50 on Leeds with a single goal start and the same on them with a goal and a half. If they draw or win the game, both bets win, whilst if they lose the game by two goals or more, both wagers lose.
However, should the West Yorkshire side lose by exactly one goal, say 2-1, one bet wins and one is a push. The +1 part of the bet sees the handicap result end 2-2, meaning a push and £2.50 returned to your betting account. However, the £2.50 on +1.5 gives Leeds a win by 2.5 goals to 2, resulting in a payout, including the stake, of £4.50. That means returns of £7 in total from your £5 bet.
There are many different quarter-point handicaps and if these are written as split handicaps, using two numbers, those two numbers will always be half a goal apart. The table below gives some examples and also shows what the match odds would be so you have an idea of what sort of price to expect with the various split Asian options.
| Bet | Leeds United | Draw | Rotherham |
| --- | --- | --- | --- |
| Match odds | 9/20 | 7/2 | 6/1 |
| -1.0, -1.5 (-1.25) | Evens | n/a | 5/6 (+1.25) |
| 0.0, -0.5 | 3/10 | n/a | 12/5 (+0.25) |
| -1.5, -2.0 | 8/5 | n/a | 1/2 (+1.75) |
| -2.5, -3.0 | 4/1 | n/a | 1/5 (+2.75) |
Similar Bets

We mentioned earlier that the 0.0 handicap is the same as DNB and, perhaps surprisingly, this is true. There are in fact a number of markets, not just limited to handicaps and Asian handicaps, that mimic other bets. Some, such as DNB and the zero handicap are identical, whilst others may just have certain similarities. We are more concerned with the former here.
If, for example, you want to have a bet on a game of football and fancy one side to win but want a bit of insurance, the draw no bet option is sure to appeal. Strange as it may sound, for various reasons, the odds in the 0.0 Asian handicap market may be better, even though the wager works in exactly the same way. As such, being aware that these markets are the same, and remembering to check the odds of both, may help you eke out a few more quid from your wins.
Another example of this is the +0.5 Asian, which is identical to a double chance bet on a side to win plus the draw. In either scenario, your bet wins if the team you back wins or draws and it loses if they don't. Whilst the odds in the "twin" markets will often be the same, this is not always the case, so if you are a very price-conscious punter it's best to check.
Another example of this comes when we consider a half-goal Asian handicap, for example -1.5.
If we back a side in this market, they must win by two goals in order for the bet to be a success. We can, therefore, compare the price in this market with that offered in the standard three-way handicap of -1. Again, with this second market, any win by two goals or more leads to a payout, whilst a win by a single goal, a draw, or a loss, means the bet loses.
A more obvious example of this type of thing is not a particularly common market but one that some betting sites do offer. You may, for example, see a winning margin market, with an option listed as, perhaps, "Man City to win by two or more goals". This is a simplified version of Man City -1.5 but because it is simpler, and therefore potentially aimed at less savvy punters, you may find the odds are shorter than the equivalent Asian handicap.
What Sports Are Handicap Bets Most Commonly Used For?
Thus far we have mainly talked about handicaps in relation to football and the match odds, or variations on that. Even with football there are a plethora of handicap markets to choose from, with ones covering periods of the game, such as either half, and even stats, such as corners or cards (for example betting on which side will have the most, with a handicap applied).
However, handicaps are not, by any stretch, limited to football. You will find variations of handicap betting on many major sports, including rugby, snooker, tennis, all the main US sports and certain others too. Essentially any sport that uses a score (so chiefly excluding race-based events) is very well suited to offering a handicap market, though there are certain bets available even where the sport is not predominantly score-based.
They are certainly most useful for sports like rugby, football or basketball where two teams go head-to-head. Fundamentally they can be used in two different ways: to make the odds bigger, or make them smaller. For example, if we consider rugby, the home side might be priced at 8/15, with the draw a lengthy 18/1 and the visitors the underdogs at 8/5.
Unless they are placing an acca, few recreational punters like betting on odds as short as 8/15, but if you are confident the home side will win, what can you do? There are markets such as half time/full time, or the winning margin, that are good picks to obtain better odds but in such a scenario many look to handicap betting instead.
If a side is a short odds-on price of 8/15, in rugby union you may see them available at 10/11 with a -4 handicap and their opponents at a similar price with a +4 start. The handicap is used to give both sides an approximately equal chance of success and thus odds close to evens, a price that is of more interest to the majority of bettors.
Indeed, this is the standard bet for US sports, where their version of the match odds, called the money line, is very much a secondary market. In US sports the main handicap, that typically brings the two sides to parity, or near enough, in terms of the odds, is typically known as the spread.
Alternative handicaps will also be listed by most bookies, especially in bigger sports and contests. These can be used where a punter wants even longer odds and this works in much the same way no matter what the sport. Returning to football (proper football, soccer if you really must…), below we can see a less comprehensive version of the table featured above:
| Bet | Man United | Draw | Everton |
| --- | --- | --- | --- |
| Match Odds (no handicap) | 3/10 | 17/5 | 17/2 |
| Utd -1 | 10/11 | 13/5 | 21/10 |
| Utd -2 | 13/5 | 3/1 | 4/6 |
| Utd -3 | 6/1 | 5/1 | 2/9 |
| Utd -4 | 14/1 | 9/1 | 1/25 |
| Utd -5 | 22/1 | 16/1 | 1/100 |
We can see that the Red Devils are big favourites but with a single goal disadvantage their odds increase to almost evens. However, a bold punter who fancied taking a gamble on a really big United win might opt to back them -3 and up their price to 6/1.
Of course the other option when it comes to handicaps is to reduce the odds. You might want to do this as part of an acca, to complete wagering requirements for a free bet or offer or just because you want a bet with a high chance of winning, even if the return is relatively small.
The full odds table for this same game included the following two options as well:
| Bet | Man United | Draw | Everton |
| --- | --- | --- | --- |
| Match Odds (no handicap) | 3/10 | 17/5 | 17/2 |
| Utd +1 | 1/40 | 10/1 | 18/1 |
| Utd +2 | 1/150 | 20/1 | 28/1 |
A punter is perhaps unlikely to use the +1 handicap for the favourites here because 3/10 is already a short price and 1/40 is so small as to almost not be worth bothering with at all. However, in a more even clash, with both teams priced at 17/10 in the match odds, you might decide that backing the hosts +0.5 in an Asian handicap is a perfect addition to your weekend acca.
The +0.5 means you are covered if they win or draw, and whilst the odds shrink from 17/10 to 40/85, you might be more than happy with that extra security. Another way you might choose to use the handicap to reduce odds comes when you expect an underdog to outperform the prices. Perhaps there is a huge favourite at 2/9, with their opponents out at 12/1. If 2/9 looks far too short you could opt to back the favourites with a negative handicap to increase that price.
However, if you think it is too short in the sense that you think the game will be closer than the bookies believe it will be, but you aren't convinced the underdogs can win, the handicaps offer a range of options. You might think 12/1 is tempting but prefer to cover the draw too using +0.5. Alternatively you could play it a little safer, if you perhaps think a draw is the best they can do. In this case, the +1.0 Asian handicap might appeal, meaning if they win or draw you win, whilst a one-goal defeat means a push and your stake returned. At odds of 12/5 that could be a great bet if you don't see the clash being one-sided.