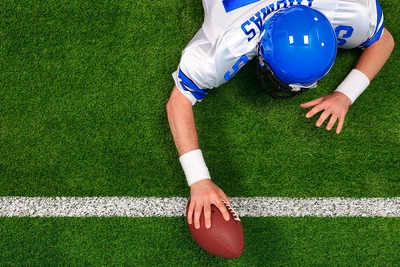 Although it has all its unique rules and terminology, American Football shares one thing in common with many other sports in that the core objective is to outscore your opponent. Register as many points as possible while restricting, or even completely preventing, your opponents from doing the same is how the game operates on a fundamental level.
It is a battle of attack versus defence but even the best defences regularly end up conceding points. Shutouts do happen in American football but they are rare, as it is so challenging to keep the opposition completely at bay for an entire match. Even the most well-organised defences in the NFL might only end up with one shutout during a full season's play, such is its difficulty.
There has not been an NFL match in which both teams registered a shutout since 1943, back when the New York Giants drew 0-0 with Detroit Lions. This is partly why some Americans have been slow to get on board with watching "soccer", a sport where nether team score in around 7%-8% of games, or one in 13. In contrast, you are likely to see some points whenever you tune into an American football game, even if it is a low-scoring affair. What would be classed as 'low scoring' though? To answer this you need to know how many points a typical match produces and that is what we will be exploring here.
Note that our focus is very much on the sport's top league, the NFL, though we will look beyond the pinnacle of the sport too.
NFL Average Points Per Game
If you are wondering how many points you can expect to see for a typical NFL match, the answer, looking at recent data, would be around 46. Given that the most common individual scoreline is 20-17 (274 instances up to the end of the 2021 season), this may seem a little high but there is more room to go above this total than there is to go below. The average for the seven-year period below works out at 46 and there have been no huge anomalies in this time.
| Season | Average Points Per Game |
| --- | --- |
| 2021 | 46 |
| 2020 | 49.6 |
| 2019 | 45.6 |
| 2018 | 46.6 |
| 2017 | 43.4 |
| 2016 | 45.6 |
| 2015 | 45.2 |
The 2020 figure does stand out a little though, as this is the highest scoring season in NFL history. Many believe the 2020 figure was down to the effects of the pandemic, with several games played without fans and a limited offseason and preseason. That average topped the record previously set by the 2013 season (46.8 points), with 2018 the next highest on 46.6. Before that we have to go way back to 1948, when an average of 46.4 points were scored per game. It is worth noting though that during the 1940s the NFL only featured 10 teams and the smaller sample could help explain why it was such an outlier.
In more general terms, over the course of the seven most recent completed seasons in the NFL we can see that the exact average (the average of the seasonal averages) is indeed 46 points. 2020 saw the highest average and deviated from that by 3.6 points, or just under 8%. At the other end of the spectrum 2017 had a low average of just 43.4 points per game. That was 2.6 points lower than our seven-year mean, or 5.6% lower.
Looking at the wider picture we can see that the vast majority of NFL seasons fall within a relatively narrow range in terms of average points per game. In 64 seasons we have seen an average points total of over 40. The majority of the campaigns where fewer points were scored came in the 1920s and 1930s, though the early 1990s were also a low-scoring era. None the less, as a very general answer, "around 40 points" is pretty accurate in terms of what the average points in an NFL game have been over the history of the sport.
Where Do Points Come From?
There are only so many different ways a team can register points in American football. To be exact there are six, but defensive conversions are so rare we have opted not to include them in the below table as most seasons have had not had even one. The NFL did not even have it as an option until 2015 but then they added it into the rulebook, bringing it in line with college football.
| Season | Touchdowns Per Game | Successful Two Point Conversions Per Game | Extra Points Made Per Game | Successful Field Goals Per Game | Safety |
| --- | --- | --- | --- | --- | --- |
| 2021 | 5.2 | 0.3 | 4.3 | 3.2 | 0.0 |
| 2020 | 5.8 | 0.2 | 4.9 | 3.2 | 0.1 |
| 2019 | 5.2 | 0.2 | 4.4 | 3.1 | 0.1 |
| 2018 | 5.4 | 0.3 | 4.5 | 3.1 | 0.0 |
| 2017 | 4.8 | 0.1 | 4.2 | 3.4 | 0.1 |
| 2016 | 5.1 | 0.2 | 4.4 | 3.3 | 0.1 |
*Figures rounded to one decimal place.
With touchdowns being worth six points, more than double the next highest point-scoring action (field goals, worth three points) this forms the largest part of most American football scorelines. If you take the 2021/22 season as a fairly representative example, 31.2 points of an average 46-point game came courtesy of touchdowns. Field goals form much of the rest, accounting for 9.6 points on average. Another 4.9 points has come from post-touchdown actions so either a successful one- or two-point conversion. The small amount left over is formed of safety points as there are always some each season (usually anywhere between 0.04 and 0.1 per game).
NFL Scores Over Time
All sports evolve over time and there are a number of ways this can happen whether it be rule changes, shifts in tactical approaches, improvements in pitches or anything else. Generally speaking, there is always an incentive for changes to result in more 'entertaining' action, something which is often synonymous with 'more points'. Low-scoring games can be entertaining, of course, but as a general rule, the best games, for the neutrals at least, are those with points being scored frequently at both ends.
This perhaps explains why the average points per game in the NFL has increased quite steadily in more modern times. Between 1970 and 1993 inclusive, 10 seasons saw an average total under 40 points per game and 20 saw fewer than 42. More recently, you would have to go all the way back to 2006 to find a season that did not surpass the 42-point mark.
There was something of an increase after 1993 but still not hitting the numbers we see today. In the 14-year period between 1994 and 2007, the average points per game stood at 41.8. In contrast, for the most recent 14-year period however, (2008 to 2021) this number increased to 45.4. So, a modern-day NFL has proven especially fruitful when it comes to attacking play. For how long this continues though it remains to be seen.
Although there is no immediate reason to think it will not last, the NFL has previously gone through one high-scoring phase. The post-war period saw plenty of high-scoring seasons, including the aforementioned 1948 campaign as well as 1965 (46.2) and 1950 (45.8). Between 1947 and 1965, the average points per game stood at 43.8, so not a long way off today's high figure.
What About Other Divisions?
Although American Football is not played too much outside of the U.S, there are lots of other leagues in the country that can be used for a comparison. College football has a huge following and there are 10 conferences featuring a total of 131 schools (at the time of writing). By looking at the scores NCAA football produces, we can see that the NFL is easily beaten when it comes to average points per game.
| Season | NCAA Average Points per Game |
| --- | --- |
| 2021 | 56.9 |
| 2019 | 57.4 |
| 2019 | 57.4 |
| 2018 | 58.8 |
| 2017 | 57.2 |
*2020 stats omitted as many teams were only able to play a fraction of games due to Covid-19 and subsequent restrictions.
Given that NBA is the top-scoring basketball league, you might have thought the same would be seen for the NFL but this is far from the case. If you are wanting point-scoring action, college football is far more likely to deliver, with games typically seeing around 12 points more than NFL encounters, effectively two touchdowns extra.
This is not something new for NCAA football either as it has typically featured teams that have strong offences, in relation to their defence. If you go back to 2004, although the average of 52.9 does not quite hit modern figures, it is still comfortably more than anything the NFL has produced.
Are More Points Scored In the Play-Offs?
Have you ever wondered if NFL matches see more points scored during the play-offs or during the regular season? The importance of the play-offs often makes matches that extra bit dramatic and entertaining but how do they fare in terms of successful attacking play? We have looked at the numbers and the data highlights that the play-offs to tend to be more free-scoring.
| Season | Regular Season | Play-Offs |
| --- | --- | --- |
| 2021 | 45.9 | 48.3 |
| 2020 | 45.6 | 47.8 |
| 2019 | 45.6 | 47.5 |
| 2018 | 46.7 | 43.4 |
| 2017 | 43.4 | 48.1 |
Despite these being among the highest pressure matches of the season, it seems that having many of the best attacking sides involved ends up producing points. This is something you may not find replicated in other sports where teams do not have dedicated attacking periods and have to find a balance between attack and defence instead. In the NFL though, as the weakest teams are not in play-off contention, those typically with the weakest offence are removed from the stats and this generally bumps up the points average.
Betting On Points Totals
If you are enjoying doing your research on NFL or NCAA average points totals, you might just decide you want to have a flutter on the action. As is common with American sports, bookies will typically allow punters to bet over or under a certain points tally, with the same odds supplied for both. Some bookies may provide additional options however, where punters can get shorter or longer odds by picking a higher or lower points threshold to go under or over.
For the main market though, you will quite probably be presented with two options at either 10/11 odds, or 5/6 if the bookie wishes to have a bigger "house edge". Looking at some matches from the 2022 season, here are the kind of points threshold you will be looking at.
| Game | Odds for Under | Total Points | Odds for Over |
| --- | --- | --- | --- |
| Bills v Rams | 10/11 | 52 | 10/11 |
| Ravens v Jets | 10/11 | 45 | 10/11 |
| Browns v Panthers | 10/11 | 41.5 | 10/11 |
| Colts v Texans | 10/11 | 44 | 10/11 |
| Eagles v Lions | 10/11 | 46.4 | 10/11 |
| Patriots v Dolphins | 10/11 | 44.5 | 10/11 |
For fixtures that have a whole number as the option, this creates the possibility that the game might end up not being over or under. Say, for example, the Bills v Rams game finishes 31 – 21, then there would be precisely 52 points, neither under nor over. This is what is known as a push and the outcome is that your stake will be refunded no matter if you backed under or over.
As with betting on any market, if you are trying your utmost to win, it is vital that you both fully understand the market and also that you undertake as much research and analysis as you can. If you are simply betting for a bit of fun, to add spice to the game, this is less crucial but if you are taking your betting more seriously you will need to do far more than simply assess how many points both teams tend to score. You should assess seasonal and long-term averages for both teams but also factors like injuries, current form, motivation, morale, the weather and any recent changes in approach.