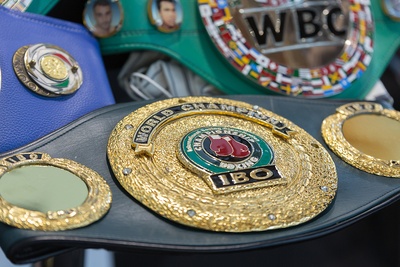 The structure of professional boxing differs from many other sports in that generally speaking there are not leagues, cups, tournaments or competitions.
Nor is the prize in a Green Jacket as per golf's Masters and neither is it a stone, as awarded to winners of cycling's Paris-Roubaix.
Instead, the recognition for going toe to toe with all-comers in an attempt to render your opponent unconscious and being the best at doing so is a belt. Oh and a title too. But how do the various belts and titles work in boxing?
Here we explain all, focussing only on professional men's boxing at a global level (as opposed to national and continental belts).
How Many Boxing Champions Of The World Are There?
In most sports, there is just one world champion – whether that be a team or an individual, but when it comes to boxing there are many. We will look at the different weight categories in due course but even at the same weight, there is rarely just a single world champion. As in darts, where there is the Professional Darts Corporation (PDC) as well as the British Darts Organisation (BDO) and both crown their own champion, noxing has a similar setup, and this is due to the existence of multiple governing bodies.
Each sanctioning organisation crowns its own champion at each weight and, at the time of writing, there are four major bodies handing out the titles and belts. Irish-American legend John L. Sullivan, known as the "Boston Strong Boy", is widely considered to be the first-ever world champion at the end of the 19th century.
However, the first of the current four governing bodies was not formed until 1921 and below you can see a table detailing that, along with the three other key bodies.
| Governing Body | Year Formed | Info |
| --- | --- | --- |
| World Boxing Association (WBA) | 1921 | Known as the National Boxing Association (NBA) until 1962, this began life as a US organisation. It is now based in Panama. |
| World Boxing Council (WBC) | 1963 | Founders were lovers and fighters as the WBC was formed on Valentine's Day in Mexico City. Still based there, many believe the WBC title to be the most prestigious in boxing. |
| International Boxing Federation (IBF) | 1976 | The IBF began life as the United States Boxing Association (USBA) and is based in New Jersey. The name was changed in 1984. |
| World Boxing Organization (WBO) | 1988 | The newest governing body is often considered to be the least important and was founded in Puerto Rico. Initially, its titles were not universally recognised but it now sits alongside the other three. |
As well as crowning their own champion and awarding them the belt, some of the four bodies complicate matters further by crowning additional champions with sub-titles. These vary from body to body and it is beyond the scope of this piece to list them all. But, as an example, at the time of writing in 2020 the WBA Heavyweight Super Champion is Anthony Joshua; but the Regular Champion is the lesser-known Syrian Mahmoud Charr. Similarly, whilst Tyson Fury is the WBC Champion, that organisation also counts Alexander Povetkin as the Interim Champion.
Some of these titles are awarded for achieving a certain number of defences whilst others are awarded by commissions or are mere honorary titles. Interim champions are generally created when a champion has been unable to defend their belt within the standard timeframe for reasons of illness or injury. At different times the various bodies have used alternative titles for such champions, including for example "Champion in Recess".
What About The Ring?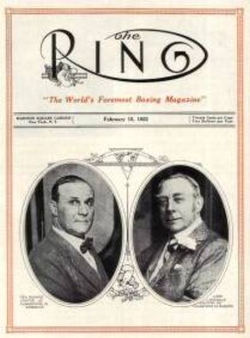 As if all that wasn't complex enough, you may have read or heard about The Ring with reference to either rankings or titles. The Ring Magazine is the self-proclaimed "Bible of Boxing" and is a highly regarded publication that was founded in 1922, publishing annual boxer ratings from 1924 onwards.
They are best known for their ratings, in particular their "Pound For Pound" crown which effectively seeks to decide who the best boxer on the planet is – if size and weight were removed from the equation. Mike Tyson, Floyd Mayweather Jr., Manny Pacquiao and Gennady Golovkin are just some of the legends to have been honoured in this way.
The Ring does create a fifth champion in each weight but in reality, these are of little importance. Their credibility has been questioned in recent years, especially since Oscar De La Hoya's Golden Boy Promotions took over ownership of The Ring. Whilst their weight and pound for pound rankings are a great talking point, in truth they are not real-world titles in our or many respected sports commentators' eyes.
Different Weights In Boxing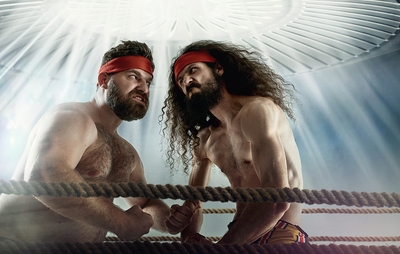 Of course, as well as the various governing bodies, there is another major division within boxing's world titles, and that is weight.
As is the case with the majority of combat sports, physical size and weight are so important in boxing that competitors are only pitted against opponents of roughly the same stature. This is done by dividing the sports into various categories which have a name and a defined weight banding.
These classes have changed at times over the years and some of the "tweener divisions" that lie between the major historic bandings have different names with different governing bodies.
None the less, the major names and weights can be seen below (where bodies use different names we have gone with the one most commonly employed).
| Class | Weight Limit |
| --- | --- |
| Heavyweight | No limit |
| Cruiserweight | 200 pounds |
| Light heavyweight | 175 pounds |
| Super middleweight | 168 pounds |
| Middleweight | 160 pounds |
| Super welterweight | 154 pounds |
| Welterweight | 147 pounds |
| Super lightweight | 140 pounds |
| Lightweight | 135 pounds |
| Super featherweight | 130 pounds |
| Featherweight | 126 pounds |
| Super bantamweight | 122 pounds |
| Bantamweight | 118 pounds |
| Super flyweight | 115 pounds |
| Flyweight | 112 pounds |
| Light flyweight | 108 pounds |
| Minimumweight | 105 pounds |
| Atomweight | 102 pounds |
Each of the governing bodies awards a belt/title for each of the weights listed, so at any one time, clearly there can be many fighters all correctly claiming to be world champions. But how does one go about becoming a world champ?
How Do You Become Number One Ranked Contender?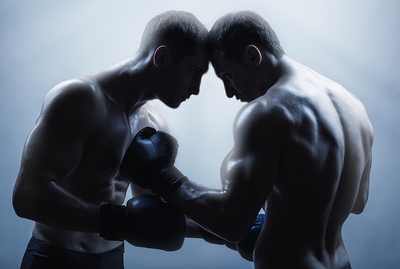 There is an awful lot of politics involved in boxing that determines who fights whom and there are many factors that must be considered. Clearly, most boxers only want to accept fights they can win. But at different levels of the sport there are different things to think about; and of course not every boxer can win all the time.
Boxers and their management teams try to ensure they can make as much money as possible and have as successful a career as possible whilst avoiding being seriously hurt. Those are probably the three main aims, though not necessarily in that order (though quite possibly the order is correct!).
In order to try and remove the political side of fight-making and give the best boxers a chance to shine, each of the four major bodies assigns a mandatory challenger. This fighter essentially becomes the number one ranked contender and the champion must fight them within a given timeframe.
They can choose to fight someone else in a voluntary defence but other fights must fit around their mandatory defences. If they do not meet the sanctioning body's mandatory challenger they vacate their belt. In this scenario, the mandatory challenger will be pitted against another fighter with the winner being awarded the (then vacant) belt and the world title.
The champion of one sanctioning body will not be included in the rankings of a rival board. This means that unification bouts – where champions from different bodies at the same weight do battle – are always voluntary. It can be difficult to schedule these amidst the various mandatory defences a champion must make and ESPN explained the motivation of the sanctioning boards thus: "Think of Scrooge McDuck doing the backstroke in his swimming pool filled with gold coins, and you'll have a pretty good idea of the governing bodies' actual agenda."
Whilst the public and often the boxers themselves want to see the big fights and unified world champions (where one boxer holds all belts), the WBA, WBC, IBF and WBO are more focussed on quantity rather than quality. Fighters such as Anthony Joshua and Tyson Fury are hugely popular and more or less ensure sold-out venues and great pay-per-view numbers.
Rather than these two British greats doing battle, the sanctioning boards are happier for them both to fight lower level opponents more regularly and keep the dollars pouring in. Human nature yearns for a single champion (at each weight) but boxing's political and financial imperatives work against that more often than not.
Eliminator Bouts
Each of the governing bodies has their own rankings at each weight. For example, you can see the latest WBO rankings here. These list the champion followed by various contenders ranked according to previous fight results, quality of performance and the quality of the opponent faced.
Any fight between two top-15 fighters is classed as a world title eliminator and eventually these will lead to a final eliminator, with the victor being deemed the mandatory challenger. In theory, this gives a boxer the chance to fight the current champion, however, as discussed earlier, that champion may instead vacate their crown.
Fighters will often vacate their belt if they are moving up (or sometimes down) in weight. In general, the heavier weight divisions offer better rewards so it is common for a champion to move up and test themselves at a heavier weight, especially if they are naturally at the top end of their current weight class. Suspensions and injuries can also force a champion to give up their belt, although the more common reason is simply that they don't want to take on the mandatory defence.
This is typically because it is a lower calibre of fight and they feel their career (and of course finances) is better served by vacating. This can especially be the case where a fighter holds multiple belts and servicing all of the required mandatories becomes too taxing, especially if there is a potentially lucrative fight to be made with a voluntary opponent.
Boxing Belts, Titles And Betting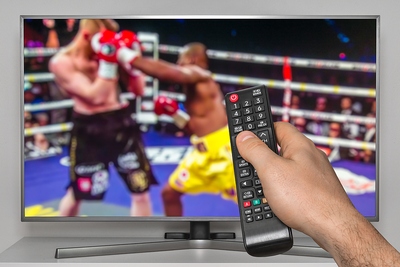 Titles and belts are not really a major feature of boxing betting, other than in the sense that world title fights will receive the most coverage from bookies and quite possibly see special promotions, enhanced odds or free bets offered.
This is mainly due to the fact that whilst other sports have leagues and cups that offer outright markets, boxing's world championship contests are essentially just individual fights like any other.
That said, you may see bookies offer boxing specials that relate to a title. These will not be mainstream markets but from time to time specials such as a named fighter to win a world title within a certain period, or defend a belt a number of times in a year may be available.
Such markets will normally have very clearly stated terms and rules but if in doubt just contact the site's customer support staff to check.