Whilst age is just a number, if you believe Joan Collins or any of the other many people associated with those words, there is no escaping the fact that we all get older. And sadly, that means our bodies and minds are no longer able to do what they once could. Some sports appear very much to be a young person's game, with the 2021 US Open tennis finalists having a combined age of 37 and the three podium positions at one of the same year's Olympic skateboarding events having a combined age of just 40.
On the other hand, some sports are more suited to, shall we say, a more experienced athlete… or at least they definitely have that reputation. Sports like bowls, snooker and indeed golf are often perceived to be something best suited to older men and women. True or not, and whether we are talking about a sport's core demographic or its finest practitioners, here we will be taking a look at what age professional golfers retire. Is it really an old person's game at the highest level and just how old can you go and still mix it with the whippersnappers?
When Do Pro Golfers Retire?
Unsurprisingly, in golf, unlike the police or fire service, there are no firm rules in relation to when a player retires. The only limit is a player's ability to compete and their desire to do so. Some players may peak in their 30s or even 20s, whilst others can go on competing right at the top of the sport into their 40s and even 50s. In general, it is probably accepted that most players peak some time between the ages of around 26 and 36 or so. Beyond about 40 years of age, some may experience a more rapid dip in their ability to perform at the top level, with very few golfers able to do so either right at the top, in the biggest tournaments, or on a consistent basis, week in, week out.
Given there is no simple answer, we will approach this question from several angles. Let's start by looking at the options for an older player who can no longer mix it with the game's elite.
Senior Tours A Sign Of Retirement?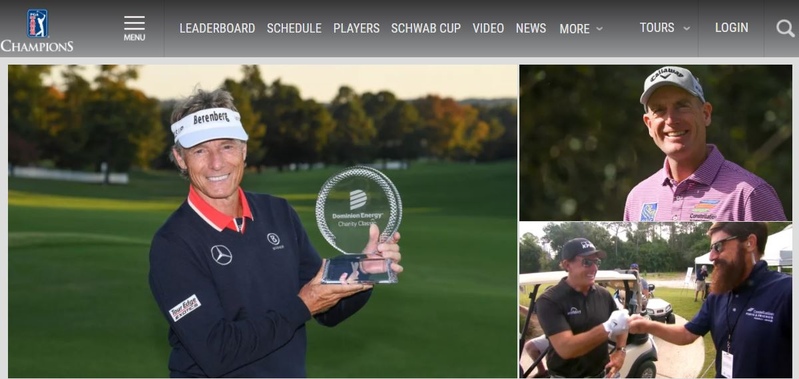 In recent times the prestige and money of senior tours have grown a great deal. The PGA Tour Champions is the most lucrative of them all and is essentially the (US) PGA Tour for players aged 50 and over. The European equivalent is currently known as the Staysure Tour and is the second most well known senior tour.
Once a player reaches the age of 50 they are eligible to play in these senior events, although there is no requirement for them to do so. Most players stay on the main tour for as long as they can, with some mixing and matching on both whilst others may solely play on the seniors if they so choose.
From this point of view, the age of 50 could be seen as the age at which pros retire. However, given players on the senior tours may still work just as hard, and considering the vast prize money on offer, it is probably unfair to say such players have retired, especially as many still play on, at least partly, on the main tour. For reference, with regards to prize money, in 2019, the top 17 players on the PGA Tour Champions money list all made in excess of $1m. That rather beats the £179.60 per week UK state pension. At the time of writing Bernhard Langer has made more than $30m on the senior tour too. At current exchange rates, you would need to live to 2,387 years of age to get that much from your state pension.
Of course, each year a new crop of players becomes eligible for the over 50 circuit and in 2020 Phil Mickelson joined the club. The San Diego man will continue to ply his trade on the main tour but showed what an impact he might have if he plays more senior events by promptly winning two of the first three events in which he took part. His career earnings are rapidly approaching an incredible nine figures ($100m) and he will no doubt reach that milestone given his combined-tour earning potential.
Oldest Player To Win A Major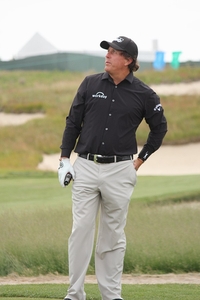 However, Phil may well be 50 but he is very much still a part of the PGA Tour and capable of mixing it with the young guns. In May 2021 he became the oldest player to win a major when he lifted the PGA Championship.
Aged 50 years, 11 months and seven days, Lefty proved that golfers absolutely do not retire at 50 as he claimed his sixth major, very much against the odds. Given advances in sports science and the way modern players have taken better care of their bodies, that record may not last too long.
That said, the previous holder of the record was Julius Boros, who was 48 when he won the same major way back in 1968, so perhaps the popular Californian will take some beating. Raymond Floyd is the 10th oldest man to lift one of the big four and he was 43, nine months and 11 days old and overall many players have won majors in their 40s. So, while most players do decline at that sort of age, their careers are certainly far from over.
There is hope for Lee Westwood yet (the former world number one will turn 50 on the 24th April 2023).
Near Miss For Legend Watson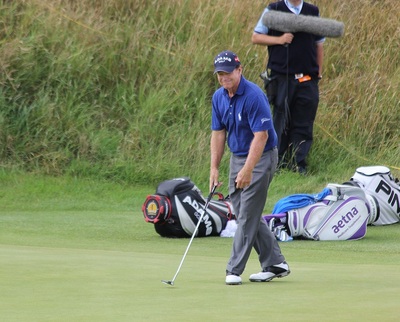 Mickelson and Langer are hugely popular, massively successful and, dare we say it, rather old – but Tom Watson trumps them on all three counts. The Kansas City native was born in 1949 and has a very impressive eight majors to his name – only five men have won more. Incredibly, back in 2009 he almost claimed a sixth Open Championship. Leading after the second and third rounds, Watson, almost 60 at the time, needed a par on the 72nd hole to re-write the history books.
He played the hole nicely enough but was a little unlucky and in the end had an eight-foot putt to win the Claret Jug, fully 26 years after his last major success as a sprightly 34 year old. It just missed and he lost out in a playoff against Steward Cink. Had Watson managed to hole the putt he may well have set a record that would never have been broken.
He is not the only old-timer to go close though and indeed Langer himself wasn't all that far away. The German, who said just months before Lefty's PGA triumph that he 100% believed a senior would win a major, finished tied eighth at the Masters in 2014 and scored four top-six major finishes between 2001 and 2005. Impressive stuff given he turned 48 in 2005 and was 56 in 2014.
Oldest Player To Play In A Major
Many of Langer's best days came at Augusta and in his later years he was aided by the fact that all former champions earn a lifetime exemption and so can, if they choose, roll up for the first major of the year until they die. Of course, being highly competitive pros, and respectful of their fellow players, few take up their invitation once they no longer believe they at least have a chance of being in the mix come Sunday, or at the very least making the cut.
Incredible Longevity Of Sam Snead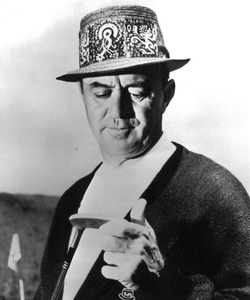 However, due to one of the many quirks and traditions that make the Masters so special, we believe the oldest player to tee it up on the first was an incredible 89 years of age. In 2002 the legendary Sam Snead, seven-time major winner, including three Masters titles, took the ceremonial role of honorary starter for the last time. He would die just a month later, his longevity as both a person and golfer illustrated by the fact that he first acted as honorary starter way back in 1984.
Whilst there is much pomp and ceremony at the Masters, in truth we cannot really class Snead's single shot from the first as a record for someone playing in a major. However, when it comes to many of the best performances by old-timers at the majors, Snead's name appears regularly. Strangely we cannot track down definitive statistics about the oldest man to ever play in one of the big four events. However, from the research we have carried out it seems highly likely that Slammin' Sammy is the man to hold that record.
Snead was born in Virginia in 1912 and, at the time of writing, is joint-first with Tiger Woods as the player with the most PGA Tour wins. Those 82 tournament victories stand as part of a staggering total of 142 wins worldwide in a professional career that began in 1934 and ended in 1987. That's 43 years of professional golf with his major debut coming in 1937 at the US Masters and his last appearance at one of the biggest tournaments in golf coming at the 1983 US Masters. He was then just shy of his 71st birthday. He withdrew from the tournament after an opening 79, believing he could not make the cut.
He did similar at the 1982 tournament and failed to make the cut in 1981 and 1980, years in which he also played the PGA Championship. His last weekend appearance at a major came at the 1979 PGA, when he finished a respectable T42… not bad at the age of 67.
Snead Bags Hat-trick Of Major Top 10s
Whilst he made the cut at 67, appeared at 70 and hit a single tee shot at the grand old age of 89, if we go back a little further we find a remarkable run of performances. Prior to the 1972 PGA Championship Snead had not enjoyed a top 10 finish at a major since the 1968 US Open when, as a sprightly 56 year old, he finished tied ninth.
However, aged 60 he rolled back the years and finished in a tie for fourth place. But for a second round 74, he may well have been able to win, his closing 69 by far the best of any of the other contenders. He wasn't done yet though and a year later again finished inside the top 10 (tied ninth) and then incredibly, in 1974, he did even better to complete a hat-trick of top 10 major finishes in his 60s. He finished tied third in 1974, just three shots back from Lee Trevino, a man 27 years his junior.
Other Great Performances In Majors By Over 50s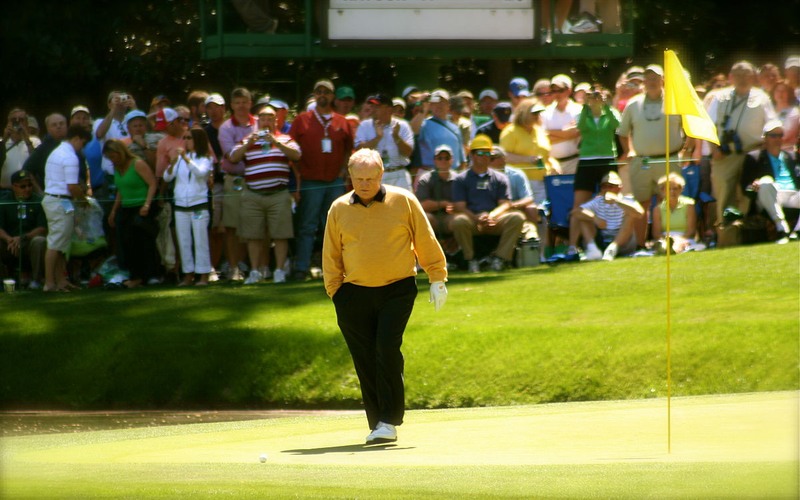 In many ways, Sam Snead is a one-off, one of the very greatest golfers to have ever lived, both in terms of his overall wins, his tally of seven majors and, perhaps most of all, his longevity. The American legend with a swing described by Jack Nicklaus as "so perfect" is, without doubt, the player who has performed at the top level for the longest time. However, he is not unique in having turned in some seriously impressive performances in majors during his sixth decade.
Here are some of the best showings at majors by golfers aged at least 50, with more information available should you want it.
2009 Open, Tom Watson – as detailed above, Watson was so close to claiming a major at the age of 59
1974 PGA Championship, Sam Snead – tied third at the age of 62? Madness!
1971 PGA Championship, Tommy Bolt – just three back from Nicklaus, Bolt finished third at the age of almost 55
1998 US Masters, Jack Nicklaus – he remains the oldest man to win the tournament but 12 years after that success the Golden Bear impressed to take a share of sixth at 58 years of age
2014 US Masters, Miguel Angel Jimenez – aged 50, the cigar-loving Spaniard recorded his best ever finish at Agusta, taking a tie for fourth.
Oldest Players To Win A Tournament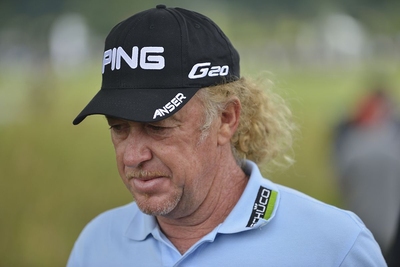 Appearing at a tournament, making the cut and even contending on the final day are all well and good but who is the oldest player to win an event on the regular tour? Well, in European terms, it is the man mentioned above, Jimenez.
Cigars and crazy warm-up routines have clearly done the man from Malaga no harm at all as he holds the record for the oldest man to win on the European Tour. In fact, he holds the top three spots. Born in 1964 he turned pro in 1982 and was something of a slow starter. He appeared in his first major in 1991 but did not manage a top 10 until 1999. However, between 2000 and 2008 he managed that feat a further six times as he matured like a fine wine in his late 30s and beyond.
In 2012 he won the Hong Kong Open to become the oldest winner on the European Tour. That same year he fractured his leg skiing but bounced back to retain his Hong Kong crown in 2013 and thus extend his record. The following year he became eligible for the Champions Tour and unsurprisingly he prospered, hoovering up events (he has won 10 on the main senior tour at the time of writing).
However, perhaps his sweetest ever victory came at the 2014 Open de Espana, his home tournament. He had tried and failed 26 times before to win his national open but it was 27th time lucky as, at the age of 50 years and 133 days he won a three-man play-off to take the glory. Jimenez has won 14 European tournaments since turning 40, 10 Tour Champions events since turning 50 and holds the record for the most European Tour starts, having surpassed Sam Torrance in 2020 and remaining in with a shout of hitting 800 career tournaments on his home tour.
Oldest Winners On PGA Tour
As we know, when Mickelson landed the 2021 PGA Championship he was older than Jimenez. He was 208 days older than the Spaniard to be precise. But was Lefty the oldest ever winner on the PGA Tour? Well, no, but he wasn't all that far off. Here are details of all the players to have tasted success at the age of 50 or above, when some would have them retired off to the senior tour.
Sam Snead, 52 years, 10 months and eight days – who else but Snead would hold this record? In 1965 he landed the Greater Greensboro Open… for the eighth time!
Art Wall, 51 years, seven months and 10 days – sounds like where the kids' paintings go but Art landed the 1975 Greater Milwaukee Open
Davis Love III, 51 years, 4 months and 10 days – US former world number two won the 2015 Wyndham Championship
James Barnes, 51 years, three months and seven days – Barnes won the 1937 Long Island Open
John Barnum, 51 years, one month, five days – winner of the Cajun Classic Open Invitational in 1962
Phil Mickelson, 50 years, 11 months and seven days – our most recent 50+ winner scooped one of the big ones, the 2021 PGA Championship
Fred Funk, 50 years, eight months, 11 days – won the 2007 Mayakoba Classic
Craig Stadler, 50 years one month and 18 days – the baby of the list, the Walrus won the B.C. Open in 2003
Any ageing yet aspiring golfers, and indeed many others out there, should be inspired by some of the players we have talked about. Maybe life really does begin at 40? Or 50? Or maybe even older…
Oldest Regular Competitor
Sam Snead, Tom Watson, Jack Nicklaus and Phil Mickelson are legends of the game and even Miguel Angel Jimenez is well known to most European golf fans. But the name of Jerry Barber is perhaps one that few people have heard of. However, Barber, born in Illinois in 1916, may well rival Snead when it comes to showing that the retirement age in golf is well past 50.
Barber is no journeyman pro either, having turned pro in 1942 he boasts seven wins on the PGA Tour, including the PGA Championship, his sole major, in 1961. However, whilst his best years were relatively limited to a period between around 1953 and 1963, coinciding with our earlier notion that golfers peak from their late 20s to late 30s, it is his longevity that really marks him out.
His last major appearance came in 1983, some 37 years after his first, and whilst he failed to make the cut in both outings, that is a seriously long career. When he landed the PGA Championship in 1961 at Olympia Fields in his home state of Illinois, he became the oldest man to win a major in the 20th century at the age of 45 (he was the second oldest overall, behind Old Tom Morris who won the 1867 Open when he was 46).
Renowned for his putting, he miraculously holed almost 40m (120ft) of putts over the last three holes of the final round to force a play-off. He was four shots behind with three to play so those putts of 20ft, 40ft and then incredibly 60ft on the last really were something extra-special. Perhaps even more amazingly, he returned the next day and won an 18-hole play-off. Not bad for an oldie.
More than his feats in majors though, "Little Jerry" (he was less than five and a half feet tall), is renowned as the oldest player to compete on the PGA Tour. At this time former winners of the PGA Championship could play in any event they chose to (on the PGA Tour) and so it came to be that in 1994, aged 77, Barber teed it up at the LA Open and then a few weeks later at the Buick Invitational.
He failed to make the cut in either event but certainly did not disgrace himself by shooting 77 and 71 in the Buick and 76 and 80 in LA. If you can beat your age we reckon you're doing OK! Sadly Barber would die a few months later, shortly after his 78th birthday but he has set a record we are unlikely to see beaten (after tournament-qualification rule changes).
Conclusion
Unsurprisingly there is no set age that golfers retire. Players will peak at different stages of their career with some experiencing their best days as early as their 20s, before they become burdened by expectation and perhaps a little fear. Others bloom late and enjoy a good number of wins in their 40s and even 50s.
The senior tours welcome golfers aged 50 and over so this is in many ways a good number to consider in this debate. However, many golfers continue to play, compete and even win well beyond this, with the likelihood of more major winners over the age of 50 seemingly quite high in the years to come.