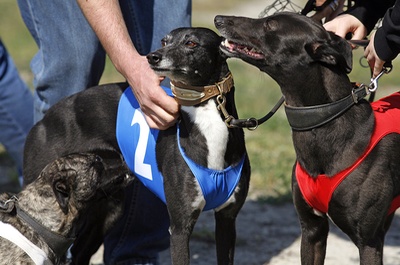 Although the sport of greyhound racing is declining in popularity, it is still something that takes place across 19 licensed venues around the United Kingdom.
This is only a fraction of the figure during its heyday, immediately after the Second World War, but it continues to live on at a reduced capacity.
For those of you who have visited a dog track before, or for those of you that simply like dogs, you may be wondering how easy it is to get involved yourself.
Can anyone simply enter their dog into a race or are there many hoops to jump through beforehand?
If you were wondering exactly that, look no further as this is the question we will be answering here.
Owner Requirements
If you want to be the owner of a competitive greyhound, this is something that takes little effort. Although the Greyhound Board of Great Britain (GBGB) recommends speaking to people in the industry beforehand, all you need to do is fill out a small amount of paperwork.
Prospective greyhound owners need to supply the GBGB with a copy of their identity and their address, plus some other personal details. This will allow them to register greyhounds with a licensed trainer.
Registering your dog with a licensed trainer is a crucial part of the process. Without doing this you will not be able to run the greyhound you own in any GBGB event. And while virtually anyone can be a greyhound owner, the requirements to be a trainer are so much more stringent. For 99.9% of you out there, you will only feasibly be able to enter a dog as the owner, rather than a trainer, unless you head to an unlicensed, independent track (discussed later on).
How to Buy a Greyhound
As a registered owner, you will of course need something to own. At this stage, you will need to find yourself a breeder. Information on recommended breeders can usually be acquired at your local track, or via your intended trainer.
The absolute minimum you should expect to pay is £300 or £400 and this is assuming the dog has had no track history whatsoever. Having shown any sort of form on the course then the price could easily rocket up to £1,500 or £2,000.
Rather than going direct to a breeder, you can also head to a greyhound auction, a place where you will no doubt find trainers and other owners. Due to this, such auctions can act as a fantastic networking opportunity for anyone new to the game.
At these auctions, it may also be possible to join a syndicate where all involved parties have part ownership over a dog. Anyone can be part of a syndicate providing you have the money to cover your share. For any auction run by AIGS (Angle Irish Greyhound Sales), the starting price will be 350 guineas (£367.50).
Trainer Requirements
If you want to be a trainer and enter a dog, this is something that takes much more time and dedication. The GBGB issues two different types of licences, a 'professional trainer' and a 'greyhound trainer' but both require lots of prior experience. This is something all applicants need to note down on the application form (plus any relevant qualifications).
Additionally, they will need to have a kennel that conforms to GBGB standards, among other things.
To gain experience, the most standard route is to begin as a kennel hand, a role that requires no prior training, just an interest in greyhounds. Having done this for at least one year (but most likely more), a kennel hand can become a head kennel hand. After a minimum of two years as a head kennel hand, it is then possible to become an assistant trainer.
You must be licensed with the GBGB for all three of these roles. Having enjoyed some years as an assistant trainer, it is only then can you claim the main gig as a trainer.
Can You Earn Money Entering Greyhounds?
The best in the business do earn money racing greyhounds but it is a risky industry and not one you should view as a stable investment. Owning a greyhound as part of a syndicate reduces the risk and is the safest way to give yourself a first taste of what things are like. Should you go for full ownership, the potential rewards are greater but so are the expenses.
If one of your dogs turns out to be a strong performer on the track, you could find it selling for more than £5,000. At the very top end, for one of the best dogs around, you could fetch as much as £25,000. There are two other ways of cashing in on the greyhound business: breeding and of course winnings. For the latter, typically races pay between £100 and £200 for connections of the winning dog, minus your entry fee.
Do not get carried away by these numbers though as there are plenty of costs involved in maintaining a greyhound. At a minimum, paying a trainer will usually cost you £50 a week per dog. You also need to remember the potentially costly veterinary bills you may face should the dog you own suffer an injury or become ill. You will also find that trainers usually take a cut from any winnings you receive from a race.
Can I Train and Race my own Greyhound Without a Licence?
Yes but there are only three tracks where this is still possible due to a series of closures over recent decades. The three left still standing are Askern in Doncaster, Thornton in Fife and Valley in Ystrad Mynach (Wales).
These are all independent (unlicensed venues) but despite the limited regulations and safeguards not being in place, racing here is fully legal. You will find each course advertises openly online rather than it being some underground sport carried out in a dark alleyway.
This independent racing is often referred to as 'flapping' and it does not fall under the remit of the GBGB. Entry rules vary but effectively anyone could phone up and ask for their dog to be entered in a particular race, subject to a trial.
There will be an entry fee to pay too but these tend to be very small, often around £5, so nothing that will stop anyone interested getting involved. The low fees and small attendances mean you cannot win much but it is by far the easiest way of giving greyhound racing a try.