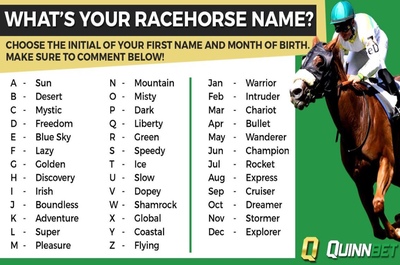 Anyone who regularly watches horse racing can attest to the fact that the four-legged creatures come with some weird and wonderful names.
The British Horseracing Authority (BHA) estimates there are around 14,000 horses in training and with all of them requiring a unique name, it does require owners to get a little creative at times.
Does this mean anything goes when it comes to naming a horse? Unsurprisingly, no. You are free to call your pet dog or goldfish whatever you like but there are many restrictions for thoroughbred horses.
As you will discover, it is not just offensive names that are barred either as the BHA has several other limitations in place.
Names Must Be Unique
If you plan on entering a horse for any point-to-point or rules race (the latter being what you would find at a 'normal' race meeting) then the first requirement is their name must be unique. It might be a little annoying if your lucky name has already been snapped up but from an administrative perspective it is simply essential.
First of all, unique names ensure there is never any confusion over which horse is being referred to. Could you possibly imagine the commentary or write-up on a race in which two horses with the same name are competing? While certainly amusing for most, people with big money riding on the race probably would not see the funny side. Unique names also allow for the horse's bloodlines and pedigrees to be easily traced. There will be no danger of the records getting mixed up if horses do not have the same name.
Fortunately, the BHA make it very easy to pick out a unique name. They have an availability checker, updated regularly, in which you can try out a name and see if it's free. If not available, they do give you some possible available suggestions you may want to choose instead.
One thing to point out here is that in many cases you cannot pick a name incredibly similar to an existing or protected name. There are around 3000 protected names in total, most of which cover horses that won higher level races. This stops people naming their horse Frankell for instance. Using 'Frankel' as part of the name is acceptable but names close to the original will never be allowed due to its protection. 'Close' applies to the spelling OR pronunciation, so the name Phranckelle would likely also be rejected, despite being listed as available on the website.
You can only choose a name of similar (or identical) pronunciation for non-protected active horse if they were foaled more than 10 years prior to the horse you are seeking to name. The 10-year rule applies because there it removes any real possibility of these two very similarly sounding horses being talked about at the same time or confusion occurring about which horse one is referring to.
Duplicate names can still occur as horse names are not registered by an international body. For British horses, the paperwork is sorted by Weatherbys, on behalf of the BHA. In America though, they use the Jockey Club. While most governing bodies use a similar set of rules, they do not check applications against globally existing names, except those that are internationally protected. You can therefore have horses of the same name but they will be distinguished by their place of birth. There is for instance Diamond (GB), Diamond (IRE) and Diamond (USA).
Name Length and Formal Restrictions
Racing commentators would not enjoy having two horses with identical names in their race, and they certainly would not approve of extra-long names either. Given the sheer pace of race commentary as horses zip around the track, short and punchy names are generally quite helpful. Horse names do not have to be extremely concise but they must be no longer than 18 characters (including spaces).
You therefore could not name a horse after Greek footballer, Lazaros Christodoulopoulos, a name that struck fear into many footballer commentators. By having this limit, it also ensures that racecard printers and racing website do not have issues showing the full name. They can leave space for 18 characters and know that nothing will go over that.
There are a string of other rules that cannot be broken under any circumstances. Most punctuation (hyphens, full-stops, commas, signs, exclamation marks, inverted commas, forward or backward slash, colon and semi-colon) is a no-go but apostrophes are okay. All figures are barred too although you can have numbers in written form.
A perhaps slightly less obvious requirement is that no name can be more than seven syllables long. The John McManus owned UnowhatImeanharry is one horse that hits this upper limit and there are a few others. You would do well to manage to fit eight syllables into a coherent 18-character name though so this rule seldom needs enforcing.
Grammatical/Spelling Errors
The BHA will not correct you if you do not check your spelling when competing the registration form. You can find several horses that have, presumably unintentionally, erroneous names. Barel of Laughs, trained by Philip Rowley is one example and Many Clouds Chase winner, Definitly Red is another. Add in the like of The Last Samuri and American superstar American Pharoah (should be Pharaoh) and you can end up with quite a list of dodgy names. Of course not all misspelled names are the result of errors but we can be fairly sure that at least some are.
Missing apostrophes are also not overly rare, a higher-profile example being Barbers Shop, a horse bred by Queen Elizabeth. Many journalists couldn't resist fixing this to Barber's Shop but that is not the registered name of the 2009 Gold Cup contender and so this "correction" was actually the exact opposite.
Subjective Rules
In addition to these firm, unambiguous requirements regarding name lengths and such, the BHA also enforces more subjective rules. Basically, this is to avoid any potentially offensive or otherwise controversial names. As standard, the BHA will reject a name if it considers it to be:
Suggestive, or has a vulgar, obscene or insulting meaning
In poor taste
Offensive to religious, political or ethnic groups
Otherwise offensive
A potential source of confusion
Sponsorship is not allowed within the name of the horse
This last requirement might be something of a newer addition as in the 1990s Liverpool duo Robbie Fowler and Steve McManaman named two horses they owned 'Some Horse' and 'Another Horse'. Surely if they had tried that today this would be ruled as potentially confusing. Imagine the headlines if Some Horse wins the Grand National and Another Horse finishes second!
While the Anfield duo got away with theirs, many applications have been turned down, certainly in more recent years, with the BHA seemingly taking a sterner stance. Efforts such as Chit Hot, Harry Azzol, Hugh G Dildeaux and Norfolk Enchants were all shot down, as was Ben Derhover, Ben Timover and Betty Swallocks. This is merely a small sample of the joke, or rude names that some owners have tried their luck with.
Generally, the BHA are very good at ensuring no offensive name ever ends up printed on a racecard but they did let one slip through the crack in 2020. Racing fans were shocked at Wolverhampton when they noticed a horse with a name of a racial slur. The BHA very quickly responded for the 'human error' that allowed this to happen and apologised for any offence caused. In this case, it is most likely the person sorting the paperwork simply was not aware that the term was indeed deeply offensive.
This was what the owners themselves argued. Emma Evans, wife of the owner-trainer David Evans, said the name came to them when their daughter mentioned a computer game called Jungle Bunny Run. She was later horrified to find out that this innocent sounding name had another, much darker meaning. It certainly seems plausible given that the filly's sire was called Bungle Inthejungle.
Two in the Pink was another that slipped through the net, as late as 2013.
This was a real rare example though as names much less controversial than this tend to get blocked now.
Extra Approval Required in Rare Cases
Finally, it is worth being aware that in some more exceptional cases owners need approval not just from the BHA but from the person featured in the horse's name. This only applies when it is a public figure, so you are free to name a horse after your good friend Tim Furlong if nobody else has heard of him.
Approval is also required from a company or other publicly known body if wanting to borrow their name. There is a very important extra stipulation here though in that the company or body must also have another meaning in common usage. You therefore couldn't agree a deal with Kellogg's to name your horse 'Rice Krispies' because it has no other meaning, it's simply a breakfast cereal. This, if nothing else, prevents a situation in which masses of horses are running under sponsored names. We are sure most would agree that having sponsored race titles is already enough.