In the world of horse racing betting, at least some degree of optimism is always required. No matter how much form study we put in, or how much we believe factors to be in our favour, we can never be completely sure, either of the accuracy of our own judgements, or how our chosen nag will perform on the day. As the old adage goes, horses are not machines, after all, and for whatever reason they simply may not be up to putting their best foot forward, leaving our cash in the bookmaker's satchels.
Win or lose, what it does seem reasonable to expect though, is that our selection will at the very least behave themselves. Anyone familiar with the sport will, however, be aware that this isn't always a given, with an occasional reluctance to enter the starting stalls, or a failure to maintain a straight line being amongst the problems which may crop up. Whilst frustrating, such issues are simply part and parcel of the game, and relatively easy to forgive. What certainly isn't part and parcel of the game and likely not so easy to forgive – at least for those on the receiving end – are those times when a horse opts to channel their inner Luis Suarez and bite a rival during a contest.
Thankfully rare – so rare that even frequent watchers of racing may never have seen it occur – horses do nevertheless occasionally display this more savage side to their nature and target a fellow competitor with their teeth. Here we take a look at a few relatively recent examples of this equine misdemeanour, examine what may cause a horse to act in this way, and discuss whether there are any rules, regulations, or punishments in place to deal with the guilty parties.
The Hall of Shame: Nibbling Nags
As mentioned, it is pretty unusual to see a report of a runner baring their teeth during a race. Unusual, but not unknown, and when it does happen it tends to be thrust into the spotlight. Let us begin by taking a look at a selection of these over-exuberant equines who have hit the headlines for all the wrong reasons.
Despite being relatively infrequent, there have nevertheless been numerous reports of biting misbehaviours over the years, including the likes of 1994 St Leger winner, Moonax – a horse so unfriendly that even his favourite creature in the world, groom Joyce Walsgrave, was forced to wear extensive padding when anywhere near him. Politely noted as "enigmatic" in the racing annals, Moonax may have had a screw loose, but he never actually bit a rival during a race… unlike this lot.
Fight Fire With Fire
Much of the reason the subject of biting in racing has reared its head recently is thanks to the antics of a horse by the name of Firenze Fire over in the USA. Lining up for the Grade 1 Forego Stakes at Saratoga on 28th August 2021, all initially appeared to be well with this multiple graded winning six year old. And indeed everything seemed to be going smoothly as the mount of Jose Ortiz joined battle with Yaupon in the closing stages… until that is, Firenze Fire took the fight for first place a little too literally.
Exactly what was going through Firenze Fire's mind at this point only he knows. Was he frustrated at being unable to edge past his rival? Did he just not like the look of Yaupon? Or was he perhaps harking back to an incident that took place at Parx Racecourse three years earlier? Again, involved in a ding-dong battle close home in that Gallant Bob Stakes event, this time it was Firenze Fire who seemed to be winning the argument. Something which his rival Whereshetoldmetogo didn't seem to appreciate.
It's hard to find another racing tale of the bitten becoming the biter, and equally hard to say whether one incident influenced the other. Was it all just coincidence, or was poor old Yaupon the victim of a misplaced revenge attack? Only Firenze Fire knows the answer.
Bertras Bitten, Rispoli Ravaged: When The Jockey Feels The Pain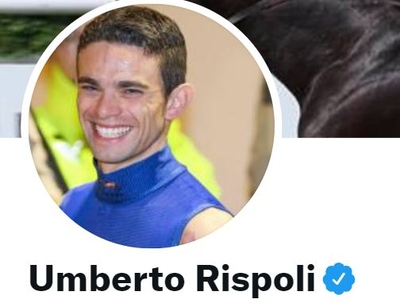 In the two examples discussed so far, it has been the horse who has been on the receiving end of the toothy indiscretions. On occasion however it is not the equine participant who receives these unwelcome attentions, but rather the unfortunate individual in the saddle.
Just ask Umberto Rispoli, the Italian jockey who felt the pinch of a horse by the name of Mister Monte back in 2018. Riding at Happy Valley, Hong Kong, aboard a horse by the name of Patriot Hero, neither Rispoli's mount nor Mister Monte were involved in the battle for first place on the run to the line. Mister Monte nevertheless took it upon himself to ensure a dramatic finish when losing his marbles and attempting to take a chunk out of Rispoli's arm. A not so Happy Valley for Rispoli, who understandably warded off the attempt with his whip. The affable rider was however later able to see the funny side, joking about his close brush with the "shark horse".
And Rispoli is not alone in having been less than popular with the mount of a rival jockey as, just one year later, a French rider by the name of Francois-Xavier Betras endured a similar experience. Hitting the front on the rail aboard a horse by the name of Lucky Lycra at Maisons-Lafitte in 2019, Bertras and his partner seemed to have fended off the attentions of the second-placed Palomba with the winning post in sight. Palomba however wasn't quite done with just yet. Unable to get past Lucky Lycra, the filly instead focussed her attentions on Bertras, getting in a couple of nibbles before settling for second spot.
Why Do Horses Bite?
The above incidents serve to illustrate the phenomenon of horses biting during a race, and there are others scattered throughout the history of horse racing. However, whilst we undoubtedly know that this unwanted action does take place – albeit rarely – what we can't say for sure is exactly why a minority of horses act in this way. And in the absence of being able to ask the horses themselves, all we can really do is theorise.
The first thing to state is that being herbivores, horses of course aren't actually trying to take a chunk out of a rival runner or rider for nutritional purposes. There are however several reasons our four-legged friends do demonstrate biting behaviour, ranging from the playful to the more aggressive.
When at pasture or in a wild herd, horses will nibble or gently bite as part of play, particularly amongst young horses. In this setting, a light nibble can be a sign of affection or used as a means of communication. Similar comments apply to those occasions when horses are seen biting when grooming one another. Whilst the playful bite can't be ruled out entirely in the biting examples discussed above, it may not be more likely that there is something else going on.
Horses have also been known to bite due to an illness or a saddle being uncomfortable or too tight, but such problems would most likely become apparent either in advance of the race or down at the start and not mere metres from the winning post. Again, it's not impossible that a saddle may shift late in a race and cause a horse to become irritated, but no such occurrence was reported in any of the examples outlined above.
Possibly the most likely explanation is that the above horses were biting in an effort to protect their territory, as an act of self-defence, in order to display their dominance, or simply to demonstrate annoyance – all practices which take place in the wild. The fact that in most of the examples the horses came very close together and even appear to bump each other in the Palomba incident, would fit the protection of territory, anger/irritation theory. And then, of course, there may be no logical reason behind it at all, perhaps certain horses are prone to biting for undetermined psychological factors and others aren't.
Whatever the reasons, and however frequently it occurs, the act of biting during a race is clearly an undesirable feature of the sport. But being an act of the horse rather than the jockey, is there anything the authorities can do to prevent it? Or are there any rules in place to punish such aggressive antics?
Biting: Rules and Regulations
Surprisingly there are no set punishments in place within the British Horseracing Authority (BHA) rulebook which deal specifically with biting. However, what is covered is interference with, or intimidation of, a rival and it seems reasonable to assume that biting would fall into either one or both of these categories – whilst obviously being a little more extreme than the usual cutting off or bumping of a rival.
In common with the less aggressive forms of interference, whether biting in a race will elicit any type of punishment will almost completely depend on whether it is deemed to have affected the result, with the key phrase lifted from the rulebook being:
"Demotion only occurs if the horse causing the interference has improved its placing as a result of that interference."
In the event of biting or any type of intimidation/interference during a race, a stewards' enquiry will likely be called, at which the officials must determine whether the sufferer would have beaten the interferer but for the interference. If it is deemed that they would have done – usually in the event of a particularly close finish – then the placings may well be altered.
In the examples discussed above, the improved placing question was largely irrelevant, as the biter finished behind the bitten in each case. There have however been instances when a winner has been demoted to second place. One such example coming at Churchill Downs in 2012 when a horse by the name of Chilled, proved to be anything but when attempting to bite his rival Zimmer close to the line. Chilled prevailed, but only by a nose, and with the stewards determining that his intimidating behaviour had been the difference between victory and defeat, he was demoted to second place – denying jockey Paul McGee a 300th career victory.
Other than the potential for an amended result though, there does not appear to be any standard procedure for dealing with biters, although a variety of measures have been taken with different offenders over the years. Future Ascot Gold Cup winner Arcadian Heights for example was such a notorious nibbler that he spent a proportion of his career racing in a muzzle. And on the other side of the globe, Marmelo's high profile attack on Avilius in the 2018 Melbourne Cup led to the Australian authorities insisting that the horse have his mental wellbeing confirmed by a vet, ahead of any future outings on Australian soil.
Possibly the runner who may have regretted his unnecessary dental misdemeanour the most though may have been the Charles Hills-trained colt, Bartholomeu Dias. Having attempted to savage Dr Richard Kimble in a big handicap at Glorious Goodwood in August 2018, drastic action was taken to curb those aggressive tendencies. Lining up for his very next start back at Goodwood, Bartholomeu Dias was a colt no more, but rather a gelding!