When it comes down to it, tennis is a very simple sport.
Essentially it involves a player on each side of a net trying to hit a ball past their opponent on the other side of the net. Points are scored when the player on the other side of the net cannot legally return the ball.
A match is broken up into games and sets, with at least six games played per set and up to five sets played per match depending on who is playing.
The points rack up and one or other player wins games, sets and, ultimately, the match, and it is the match itself with which we are concerned here as we examine match betting in tennis.
What is Match Betting?
Just as tennis is a simple game, there is also a refreshing simplicity when it comes to match betting in the sport: it is betting on which player will win a given match.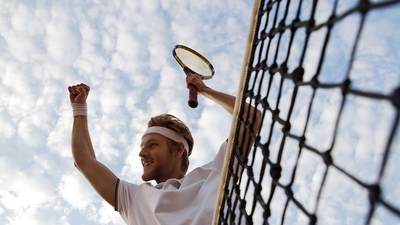 This could be expanded slightly to players in the case of doubles matches, or teams in some team competitions such as the Davis Cup or the Olympics. But the principle is the same, that is you are placing a bet on who you think will win the match. To keep things simple in this article we'll assume we are talking about singles matches in a standard professional tournament (that is, one player playing against one other player).
Note that match betting could be termed something else and it will vary from bookie to bookie. It could be displayed as "player to win", "match winner" or some variant. It is usually fairly obvious what is being referred to though. You will simply see the two players taking part in a match listed with their odds alongside them. There is obviously no draw or tie in this bet, with tennis matches always having a single winner.
This is also the most popular tennis betting market so it will always be prominently displayed at a betting site for a given match, almost always as the first one. Note this is not the same as the tournament winner, set betting, or tournament betting markets.
How Are Tennis Matches Won?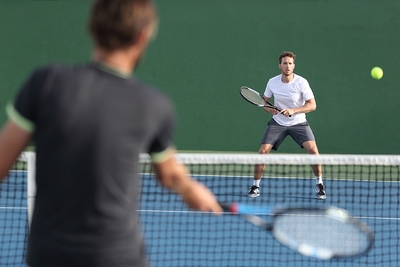 Professional tennis matches are typically played on a best of three or best of five sets basis. The winner of a given match is the first player to win two sets in a best of three game, or to win three sets in a best of five game.
The familiar call of "game, set and match" comes when one or other player wins the game that earns them the second/third set in best of our three/five set matches respectively. In order to win a set a player must win at least two games more than the opponent and at least six games overall.
However, tie-breaks were introduced in 1970 to stop sets going on forever. The precise rules of how and when they are used can vary between tournaments. In general though, in all but the final set of a game (i.e. the third set in a best of three sets game or the fifth in a best of five sets game), if the set gets to a score of 6-6 a tie-break is played to decide the winner, which is classed as an extra game.
The tie break continues until one or other player wins and that player thus wins that set 7-6. Tie breaks are also used in the final set on many tournaments to decide the winner, but there some notable exceptions including the Olympic Games and the French Open in which final sets continue beyond 6-6 until one or other player has won two more games than their opponent.
Therefore, unlike some sports, such as football, there are no draws in tennis matches. This has occasionally resulted in some rather bizarre situations such as the longest match in tennis history which took place between John Isner of the USA and Nicolas Mahut of France at the 2010 Wimbledon Championships. After winning two sets each, the final set went to something of a slog to say the least… it ended 70 games to 68 in favour of Isner. Wimbledon has since introduced tie breaks in the final sets of games, but only once the score reaches 12-12, still a marathon contest!
Tennis Match Betting Rules to Watch Out For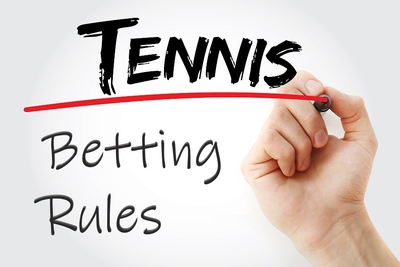 If a player is forced to retire from a match because of injury, the opponent will be deemed the match winner and bets on that player in the match betting market will, in most cases, be paid out as a winner by the bookies. But this will often depend on how much of the game has been played at the time of retirement. It is worth noting that some bookmakers will have different rules when it comes to player retirement so it's worth checking with your chosen bookie before you place your bets so you know where you stand.
It is possible, for instance, that if you bet on a player to win and he/she has to retire injured, your chosen bookie might refund your bet as long as the match hasn't been completed. Others though will only refund bets if no single point/game/set of the match has been completed.
On the flip side, if you back a player to win and the opponent is the one to retire, you don't automatically win your bet. Unless a certain number of points/games have been played, you might find that your bet has been voided and you will not be paid the winnings you might have expected. Check out our full in-depth guide to tennis retirement rules in betting elsewhere on the site.
Tennis Match Betting Odds
As mentioned there are no draws in tennis matches, so there are just two options in this market: Player 1 to win or Player 2 to win. The odds can vary wildly depending on the relative quality of the players in a given match. If two players are of very similar quality and in similar form, you might get odds of 10/11 for each player, but it is relatively rare for the odds to be so close.
A more typical example might be the favourite being priced at odds of 2/5 and the underdog being priced at 7/4, but as said the odds can vary significantly. That said, when the likes of Novak Djokovic play a qualifier in the opening round of a major you might see them priced at something like 1/16 and 14/1 respectively, although odds such as 1/100 and 33/1 on are not unheard of in a total mismatch.
In-Play Match Betting in Tennis
One final thing to note is that many bookies will allow punters to continue betting on who will win a tennis match after it has started. This in-play betting can see big fluctuations in the odds as they reflect what is going on in the match at that time (with a few seconds of delay). There is scope to use in-play match betting markets to good effect if an underdog gets a good start in a game and thus the odds of the favourite become inflated. Of course there are upsets in tennis regularly, so you need to assess each situation on its merits.
If betting on tennis in-play it should be noted that as with almost any sport, the odds can swing dramatically in an instant. Broadcast delays and the time lag when placing an in-play wager mean that you cannot always be sure you are operating on a level playing field. Making sure you have the most up to date information, and that it is correct, is crucial. There has been more than one instance of livescore sites getting the players the wrong way round in tennis, so if you are not even watching the game, extra caution should be exercised.