32Red are by no means the most famous sports book on the internet, but they have managed to utilise their stellar reputation as an online casino to promote it; so while their sports book may still be in its infancy it is certainly expanding, and their distinctive red and white logo is becoming more and more familiar to a great number of players around the world.
In this post, we are going to take a detailed look at the sports book, covering the types of markets offered, technical details like payment methods, limits and currencies, as well as highlighting some of 32Red's most defining features. So, let's get started.
Sports Betting at 32Red
32Red don't offer the largest selection of sports markets, so if you're looking for a wealth of event selections then 32Red may be a little underwhelming at first. It's still well worth checking out though, as what it does offer it offers in style.
Largely focussing on more classic bets, the sports book hosts a decent range of events offering a generous number of UK fixtures along with some internationals, although these are often limited.
Traditional British sports like Rugby Union and Tennis are the most popular on the site, and while you will find other markets on offer – such as Football, Horse Racing, Greyhound Racing, Cricket and Squash – the race/game selection is nowhere near as fast as some of their competitors, although the odds they offer gain them back a little ground – but more on that in just a moment.
Unfortunately, the selection of betting options at 32Red doesn't extend far beyond those listed above, and you will rarely find any political, TV special, or obscure markets available either.
However, 32Red do sometimes offer one off events – their last being 'Guess the gender of the next Royal baby.'
How Good are the Odds?
Thankfully, 32Red have redeemed themselves slightly when it comes to the odds they offer, and a number of odds tracking websites show 32Red are actually in the top 20% of all bookmakers in the UK when it comes to the odds offered and the prices they pay.
While the odds are subject to change at any time and are ultimately based on complex mathematical trading decisions, generally the bookie do seem to offer pretty generous prices, many of which seem long when compared with other bookmakers.
In Play Betting
32Red offer a surprisingly versatile and reliable In-Play betting option as well, and many of the events found running at the sports book can be viewed in real time thanks to the virtual event display screen that shows current highlights of the match or game, allowing you to make educated decisions on which bets to place, and which bets to avoid.
Players are also able to make use of the cash out function which allows you to cash out your bet early if all, or some of your selections are winning.
Of course, by doing so your winnings will be less than if you were you to wait it out, but it's a great option for those nail biting moments that you simply can't cope with any more. It also presents an opportunity for players to recoup money on bets that would otherwise take weeks, or even months to settle due to rearranged games, or simply putting silly bets on in the first place.
The 32Red Website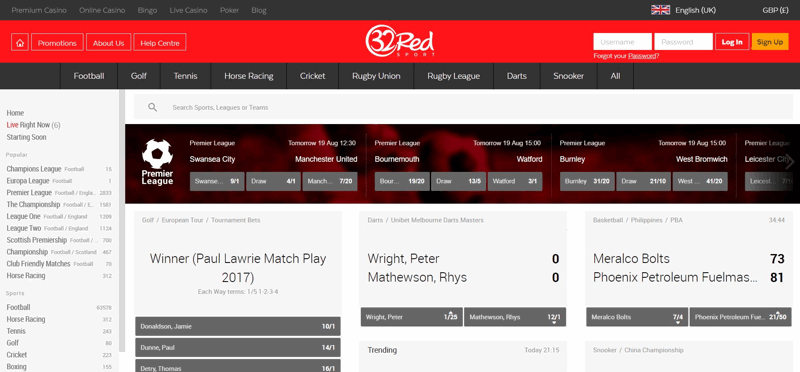 32Red is powered by Microgaming, one of the largest and most highly regarded companies in the software industry, and this partnership should give players the confidence to know that they are dealing with a sports book of quality.
Microgaming are extremely careful when it comes to who they work with, and any of their partners that show the tiniest hint of being untrustworthy are ditched fast – one of the many assurances you will enjoy as a customer of 32Red.
The site itself is extremely reliable and responsive, with lag and bet slip issues rarely an issue for players; and what's great if you happen to like casino games or slots, is that both your sports account and casino account are linked, so you can transition seamlessly between games and betting whenever you feel like it.
Navigating the various sports markets is also easy thanks to the simplified navigation bar at the top of each screen. The search bar on the right hand side can also come in handy, saving you time when looking for specific events or markets.
Mobile Betting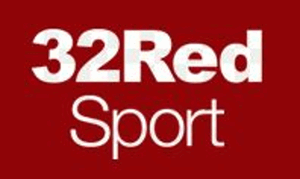 32Red's mobile sports book isn't available as an app. Instead, they have a mobile optimised website that users can access from their mobile phone or tablet, and thanks to state of the art technology the mobile site is compatible with all types of mobile device regardless of the operating system they use.
The mobile website showcases a variety of features that keep betting on the move a pain free experience; so it doesn't matter whether you're chilling in bed at home, or at the airport waiting for a flight, all users can enjoy uninterrupted betting around the clock.
The live in-play feature works perfectly on mobile devices too, allowing you to watch horse racing events in real time, providing you've qualified for access by meeting the minimum bet requirements.
This is particularly useful for international horse races (if and when they are offered), as many worldwide racing fixtures are not available to watch on British TV, or in UK betting shops for that matter.
The mobile site is just as easy to navigate as the desktop version and you will notice when you access it that the loading times are incredibly fast; all thanks to the stripped-back, simplistic yet effective approach that, once again, can be credited to Microgaming.
If you aren't a member already, then signing up via the mobile site is quick and easy – no waiting for pages to load or online forms to appear here – with the sign up form taking less than two minutes to complete.
Best of all, there's no necessity to download any space stealing software to your mobile device; you simply head to the 32Red casino website through your browser, log in or sign up, and you're good to go.
Best Features
Customer service
32Red have one of the most responsive and helpful customer service teams we have ever encountered, and whether you choose to contact them via the live chat option, email or telephone; you can expect a prompt reply from a member of the team who will do all they can to answer any questions you may have.
Cash out
We never thought 32Red's cash out function would be one of our chosen best features, but we simply have to flag it up as it actually puts many of the bigger bookies to shame. Aside from offering some of the top in-game pay outs you will find at any sports book, it is also incredibly reliable, with the event feeds regularly updated, and the game delay just a few seconds.
Payments & Limits
32Red have two different maximum pay-out caps. The first is for the more popular sports events like Horse Racing, Football, Cricket, Tennis – the common events you would expect to find at a bookmaker. For these, the pay-out is capped at £250,000 for a single bet, although be aware that other terms and conditions may apply.
The second payout cap is for any of the games that belong to the following categories:
(v) All other International Tournaments; (vi) All other International Club Tournaments; (vii) Domestic leagues on the top-level in any other country; (viii) Main domestic cups in any other country; (ix) Any domestic league on the 2nd level for men in the following countries: Denmark, England, France, Germany, Italy, Netherlands, Norway, Sweden & Spain; (x) Any International Friendly that is regulated by FIFA.
Both payout caps are actually pretty fair – especially considering 32Red isn't exactly renowned for its big sports book wins – and with no maximum bet (although anything above £50,000 is subject to an automatic security check/hold), there is no limit on how much you can wager.
History & About
32Red is a British casino company that is licensed in Gibraltar and registered on the AIM (Alternative Investment Market), a sub-section of the London Stock Exchange.
Founded in 2002, the company now employs over 100 staff and offers a wide range of betting services on their website, most notably their casino games and video slots.
While the site initially struggled to gain any real traction in the industry, their 2006 and 2008 sponsorship deals with Aston Villa football club catapulted the brand into the spotlight, and since then they've grown exponentially, expanding their site to offer Bingo, Sports, and Poker.
Players can choose to play in a number of currencies, including: Sterling, U.S. Dollars, Canadian Dollars, Australian Dollars, and Japanese Yen; and they are frequently cited for having one of the most helpful and forthcoming customer support teams of any online gambling establishment. It's not hard to understand why the bookie has managed to hold such a strong reputation for so long.
While 32Red was initially only available in the form of a download casino, recent modifications to the website have allowed players to enjoy the action from within their internet browser. Yes, this is most relevant to casino games, but it also marked the beginning of the sportsbook, which under the downloadable client wasn't an option. The download client is still available for players that wish to use it, but it's been largely phased out in favor of an HTML 5 ready design.
The company continue to grow, driving their marketing efforts in a number of directions, focusing heavily on their casino and sports betting arms of the business. The 2015 purchase of Roxy Palace saw the company hand over £8.4 Million, no small change, and while this was thought to be a risky move by many, it turned out to be an extremely lucrative one. In March 2016 32Red announced a net gaming revenue of £48.7 Million, which was up a staggering 52% from the previous year.
Today, the site is attracting new players by the minute thanks to their regular promotions, above average gaming lounge, and the high quality experience and interface that greets all players at the site. Definitely one to watch.